**This post is sponsored by Tyson Foods, Inc., but the content and opinions expressed here are my own.**
Make your next backyard bash a hit with these recipes. Put a tropical twist on your favorite iced tea without tropical iced tea punch or, spice up your hot dog using our pineapple chipotle relish!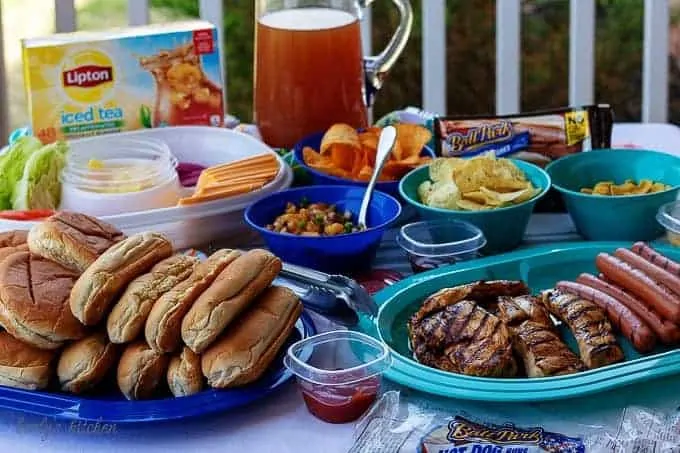 It's a shame not every day can be Memorial Day; however, with the right products and a little know-how in the kitchen, you can make that backyard bash a day to remember.
It all starts with choosing the right ingredients and Walmart is there to help you every step of the way.
Online ordering is just one way Walmart simplifies the whole process.
As you can see, using your laptop or mobile device to order everything you need makes shopping a breeze.
When you get to the store, just pick-up your phone and let them know you've arrived. A friendly Walmart associate will be out shortly with your groceries.
After a quick review of any substitutions, you'll be on your way.
Now, in our house, Tyson® chicken reigns king of all chicken products. For our chicken marinade, we used their Tyson® Boneless Skinless Chicken Breasts.
They were the perfect palate to compliment all those tropical flavors.
For the hot dogs, because let's face it you can't grill in your backyard and not have hot dogs, we prefer Ball Park® Hot Dogs.
Try our pineapple chipotle relish as a topping.
After the chicken has been marinated and cooked, Ball Park® buns are an awesome burger bun.
The buns hold up well to all that juicy grilled chicken.
Now that you have the food covered, you're only missing one thing, the beverages.
Fortunately, Lipton® has your back with their iced tea bags.
In keeping with the tropical feel of this backyard bash, we've got an iced tea recipe below that's sure to please everyone.
Just make sure you're using Lipton® Iced Tea Bags.
With the food and drinks taken care of, you can relax and enjoy what really matters, family and friends.
This Memorial Day, be sure to treat your loved ones to quality Tyson®, Lipton®, and Ball Park® products.
Don't forget to get all those ingredients at Walmart using their quick, simple online order and grocery pick-up services.
If you like these recipes, please leave us a comment. You can also find us on Facebook, Pinterest, Twitter and Instagram searching for Berly's Kitchen!
Looking for more grilling and summertime recipes? Check these out:
Backyard Bash Recipes
Pineapple Coconut Chicken Marinade:
1 Cup Coconut Water
6 Ounces of Pineapple Juice
1/2 Cup Olive Oil
1/2 Cup Red Wine Vinegar
1 Tsp. Sea Salt
1 Tsp. Chili Powder
1 Lb. Chicken Breast
Instructions:
First, clean and trim the chicken breast. Butterfly the breasts to create 6-8 thin chicken breast filets.
Next, in a mixing bowl combine the coconut water, pineapple juice, olive oil, vinegar, salt, and chili powder. Use a whisk to blend the marinade. Alternately, you could put all the ingredients into a mason jar, seal it, and shake vigorously.
Now, pour the marinade into a ziplock bag and add the chicken. Make sure all the filets get coated in the marinade. Refrigerate the chicken in the marinade for at least 30 minutes.
While the chicken marinades, fire up your grill or preheat a griddle over medium-high heat. Grill the chicken for 6-8 minutes on each side or until the breast filets are evenly cooked.
Last serve them on a sandwich or as-is with any sides of your choice.
Spicy Pineapple Jalapeno Hot Dog Relish:
8 Hot Dogs
8 Buns
1 Cup of Diced Pineapple (by volume)
1 Cup of Diced Red Onion (by volume)
1 Cup of Diced Jalapenos (by volume)
1 Tblsp. Lime Juice
1 Tsp. Sea Salt
1 Tsp. Chipotle or Chili Powder
1/4 Tsp. Ground Black Pepper
2 Tblsp. Pineapple Juice
Instructions:
First, start by dicing the pineapples, red onions, and jalapenos.
Next, toss all of the ingredients together in a small mixing bowl.
Then, use a spoon to mix the relish.
Last, grill the hot dogs, place them on the buns, and top them with the relish to serve.
Tropical Iced Tea Punch
2 Tea Bags
4 Cups of Water
6 Cups of Ice
6 Ounces of Pineapple Juice
2 Tblsp. Lemon Juice
1 Tblsp. Cherry Juice
8 Maraschino Cherries
Instructions:
First, in a medium saucepan, bring the water to a boil over high heat.
Next, add the tea bags, turn off the burner, and remove the pan from the heat.
Now, allow the tea to brew for 4-5 minutes and then remove the tea bags.
Then, transfer the tea from the saucepan to a large tea pitcher and stir in the pineapple juice, lemon juice, cherry juice, and add the maraschino cherries.
Last, add the ice and let the cubes melt. Taste the iced tea and add sweetener or sugar if you like because this recipe is not very sweet.