Creating this classic Italian dish doesn't get much easier than this. Try our Instant Pot mushroom risotto. It's rich, creamy, and ready in half an hour!
Earlier this month, we shared a risotto recipe that was made in a pressure cooker. Turns out, people seemed to like the idea.
So, for today's offering, we taking that previous recipe and adding mushrooms and peas to the mix. Much like the previous option, our Instant Pot mushroom risotto has all the flavor you'd expect from a traditional risotto.
As the description implied, it's warm, creamy, and loaded with Parmesan cheese.
Best of all, it now has the added earthiness of mushrooms combined with the sweetness of peas. You really can't go wrong with this dish.
Unless, you don't like mushrooms or peas. But, if that's the case, then why would you be here? I digress, how about we focus on getting started?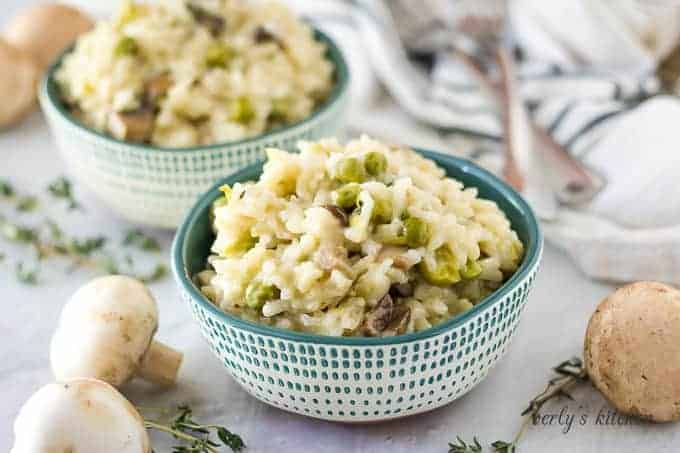 Mushroom Risotto Instructions:
To begin, go ahead a dice the herbs and onions and mince the garlic. Also, measure out the liquids and rice for the recipe.
Once all of the prep work is done, you can turn your pressure cooker on to the sauté function.
When the liner is nice and warm, toss in the butter, onions, and mushrooms. Let them saute for a few minutes before adding the garlic and herbs.
Then let everything sauté for another minute or so.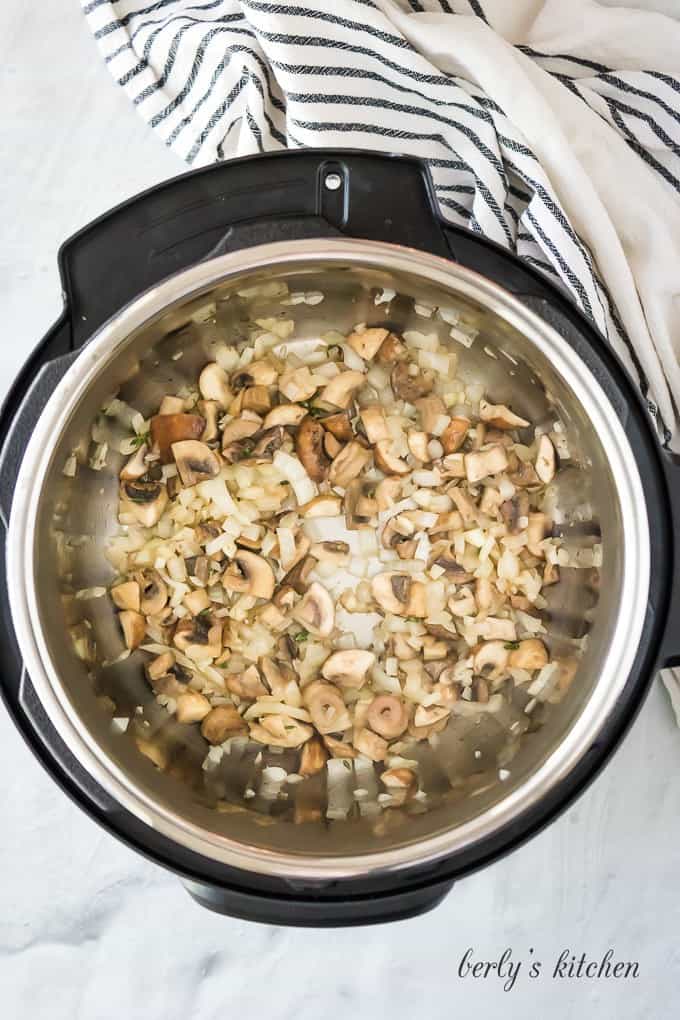 Your whole kitchen should be filled with all kinds of nice aromas. At this point, you can pour in the rice.
Now, while it toasts, you'll want to stir the ingredients. Otherwise, they'll stick to the bottom of the Instant Pot.
After the rice has toasted, carefully pour in the white wine. This should allow the pot to deglaze.
Just be sure to scrape up any bits of food that have adhered to the bottom of the liner.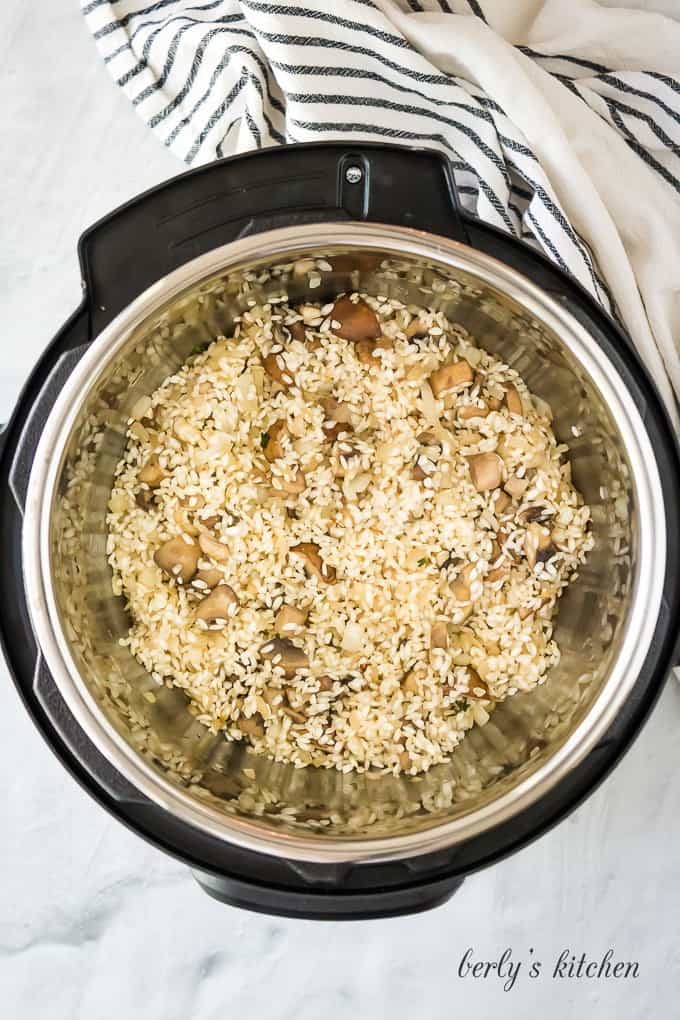 Afterward, turn off the cooker and add the broth and frozen peas to the liner. Once again, stir all the ingredients to make sure nothing sticks.
Seal the pot and set it to Manual/High Pressure cook for five (5) minutes.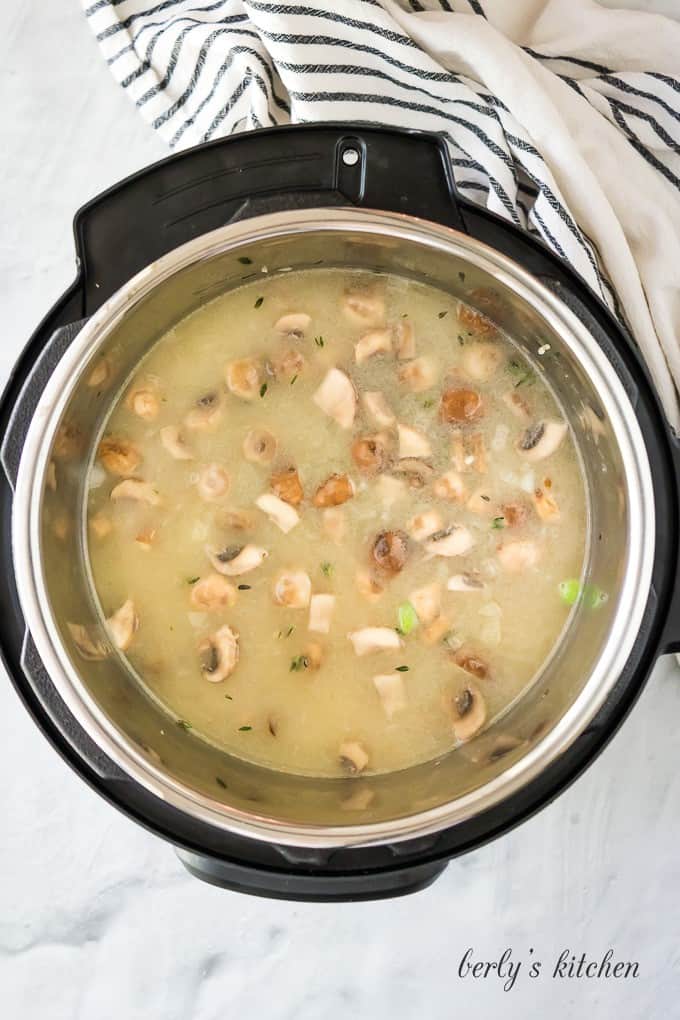 It's important to let the pressure cooker preform a natural release for at least five (5) minutes once the cooking process is complete.
Should you release the pressure too early, your rice might still be crunchy.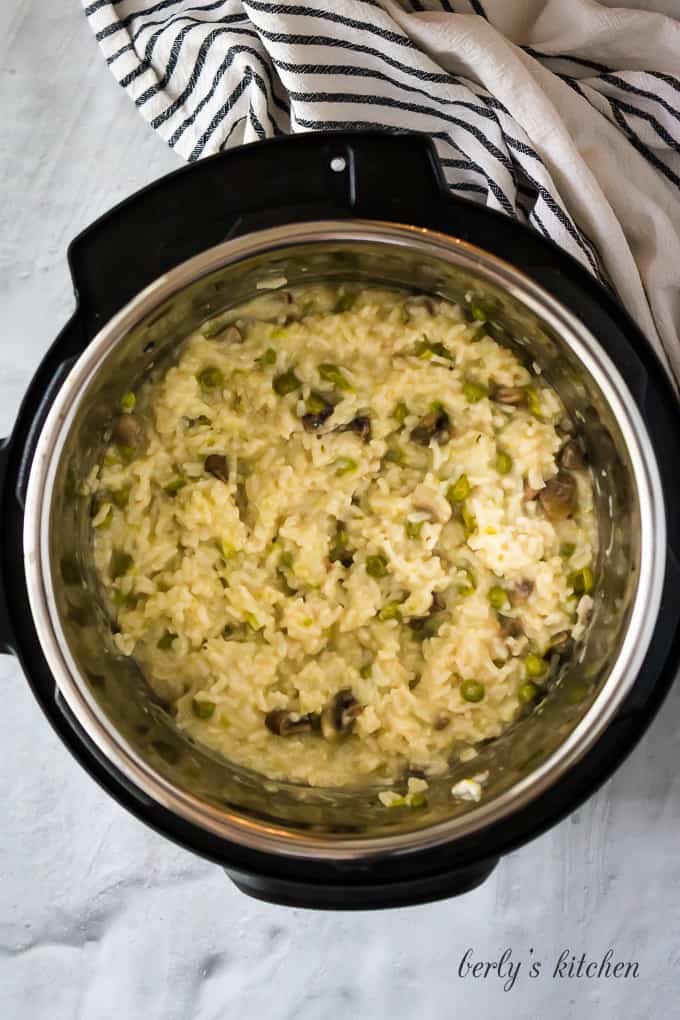 Last, when the natural release is done, unseal the valve letting out any remaining pressure and open the lid.
Stir in the shredded Parmesan cheese until it's completely melted. You should have a creamy, rich risotto.
That's it, you're all done. Kim and I hope you enjoy this offering and we wish all the best 🙂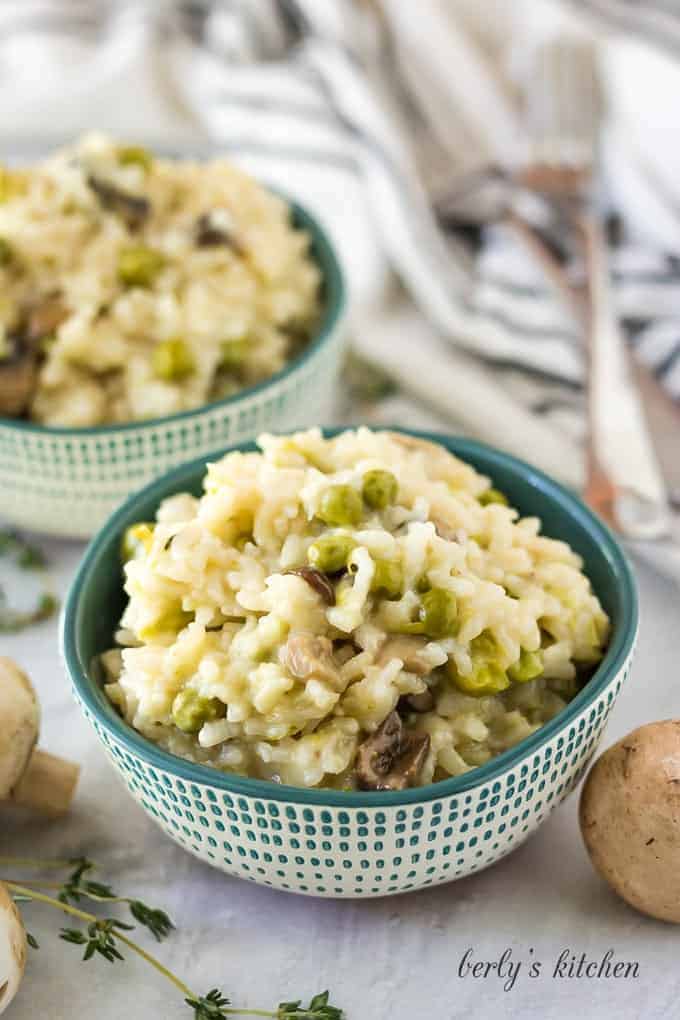 Instant Pot Mushroom Risotto Tips:
There is no substitution for arborio rice. This rice is made for risotto and needs to be used for this recipe to work as intended.
If you don't have fresh herbs, you can substitute one (1) teaspoon of dry herbs.
Parmesan cheese is naturally salty. To lower the sodium, consider using a low-sodium broth or omitting the salt.
If you liked our Instant Pot mushroom risotto recipe, please leave us a comment and rate the recipe card. You can also find on my Facebook, Pinterest, Twitter, and Instagram by searching for Berly's Kitchen!
Yield: 8 Servings
Instant Pot Mushroom Risotto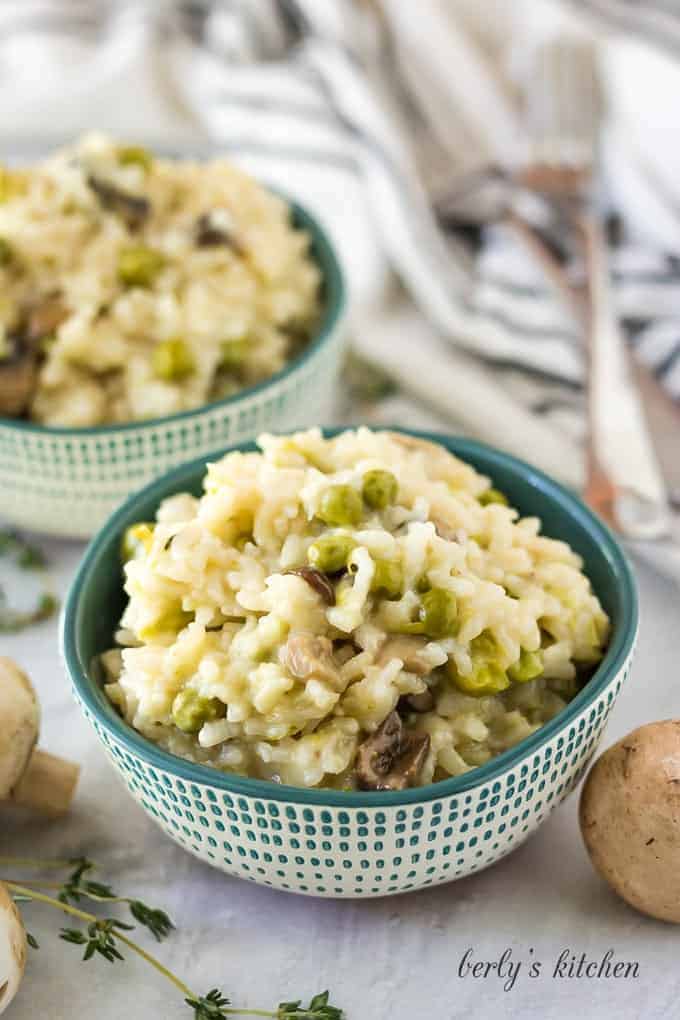 Creating this classic Italian dish doesn't get much easier than this. Try our Instant Pot mushroom risotto. It's rich, creamy, and ready in half an hour!
Come to Pressure/Natural Release
10 minutes
Ingredients
2 Tablespoons Unsalted Butter
1 Cup White Onion, (diced)
2 Cloves Garlic, (minced or jarred garlic about two ((2)) teaspoons)
1 Tablespoon Italian Herbs, (fresh, chopped)
2 Cups Mushrooms, (fresh, diced)
1/2 Cup White Wine, (or broth)
2 Cups Arborio Rice
4 Cups Chicken Broth, (or vegetable broth)
1 Cup Frozen Peas
1 Cup Parmesan Cheese, (shredded, by volume)
Instructions
Turn on the Instant Pot using the "Saute" function. Allow the liner to get hot, then add the butter, mushrooms, and onions. Cook until the onions are soft and translucent, and the mushrooms begin to soften (about 5 minutes). Next, add the garlic and fresh herbs. Cook for an additional 30 seconds to 1 minutes.
Add the rice, and stir continuously for 4-5 minutes to toast.
Pour in the white wine to deglaze the liner. Use a wooden spoon to scrape any bits of rice off the bottom of the pan. Turn off the Instant Pot.
Add the broth and frozen peas, stir the rice and broth (make sure there is no rice stuck to the bottom of the pan), then close the lid. Use the manual/pressure cook button and adjust the time to 5 minutes.
After the time is up, allow the pressure to release naturally for at least 5 minutes before opening the valve to release any remaining pressure.
Open the lid and add the Parmesan cheese. Stir to combine and until cheese is completely melted. Serve hot!
Notes
The calories listed are an approximation based on the ingredients and a serving size of one (1) cup of risotto. Actual calories will vary. The dish can be stored in your fridge, in a sealed container, for up to three (3) days.
Recommended Products
As an Amazon Associate and member of other affiliate programs, I earn from qualifying purchases.
Nutrition Information:
Yield:
8
Serving Size:
1 Cup
Amount Per Serving:
Calories:

302
Total Fat:

7g
Saturated Fat:

4g
Unsaturated Fat:

0g
Cholesterol:

16mg
Sodium:

660mg
Carbohydrates:

47g
Fiber:

3g
Sugar:

3g
Protein:

10g
Want more easy Instant Pot recipes?