*This post may contain affiliate links. As Amazon Associates we earn from qualifying purchases.
Our Instant Pot acorn squash soup is made with squash, carrots, and a mix of spices. A hearty soup that's done in less time than it takes to roast a squash!
With Winter starting to settle in across the nation, it's definitely soup season. In fact, it's squash and soup season.
So, why not prepare a dish that satisfies both cravings? This quick and easy acorn squash soup is sure to please.
A delicious blend of Fall flavors including acorn squash, apples, carrots, cinnamon, nutmeg, and ginger. Shall we get started?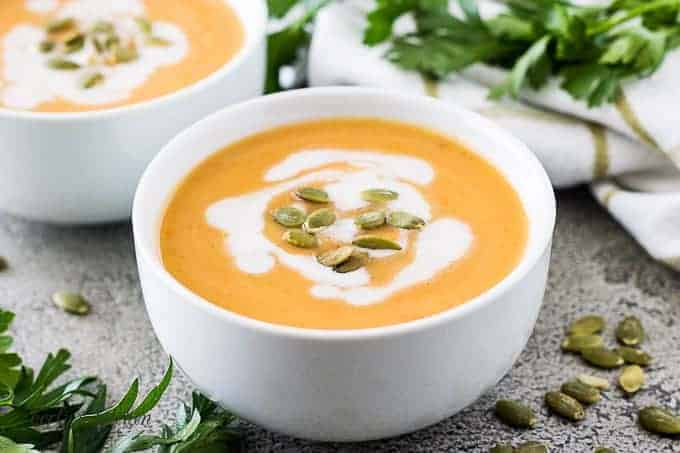 How to make squash soup in an Instant Pot?
First, start by dicing all your veggies and fruit. Cut them into small chunks.
Place the liner into the machine and toss in the apples, carrots, and onions.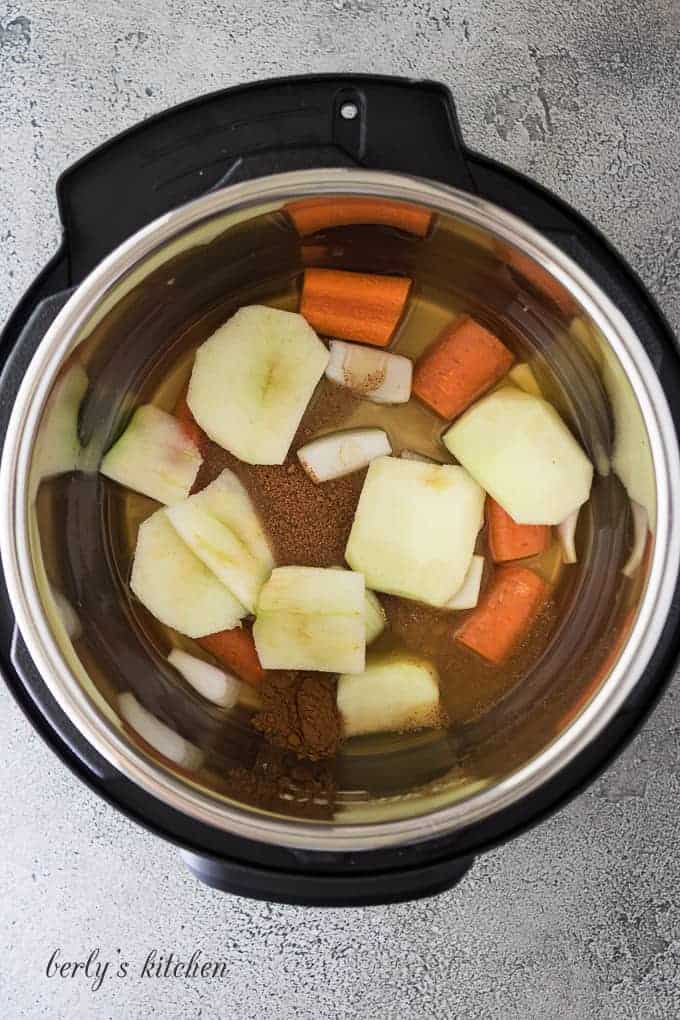 After that, pour in the broth and add the cinnamon, ginger, and nutmeg. Now, put the trivet into the pressure cooker.
Next, halve the acorn squash and place the halves onto the trivet. They can go right in on top of everything else.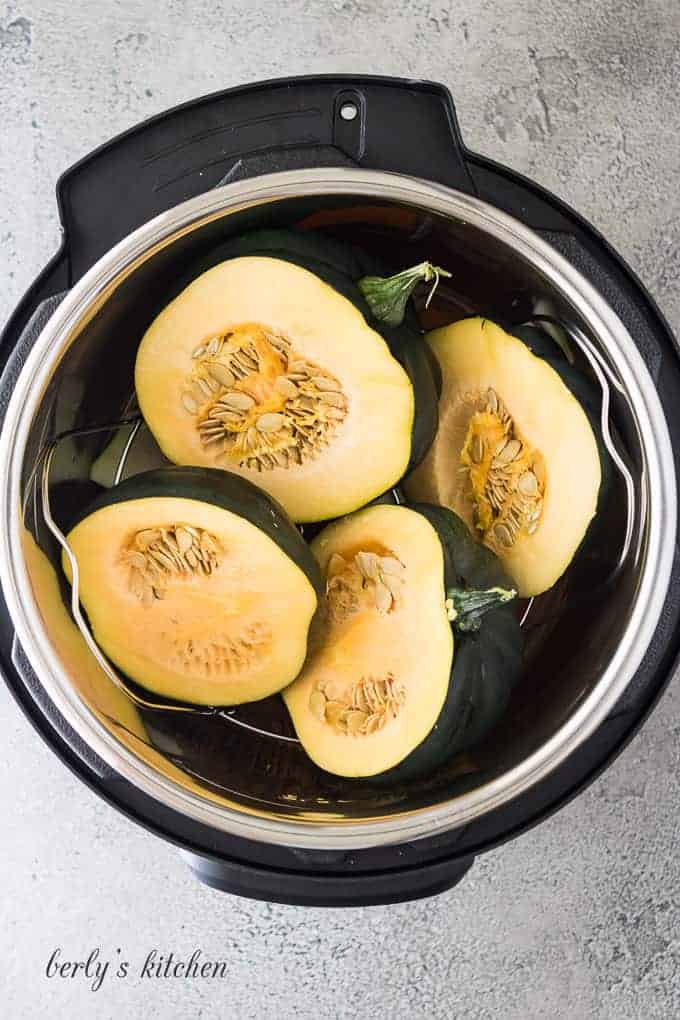 Take a look at the photo above and use it as a reference. As you can see, the squash goes in with its seeds intact.
Close the lid and seal the valve. Set the machine to pressure cook for five (5) minutes.
Then, once done, let it preform a natural release for ten (10) minutes.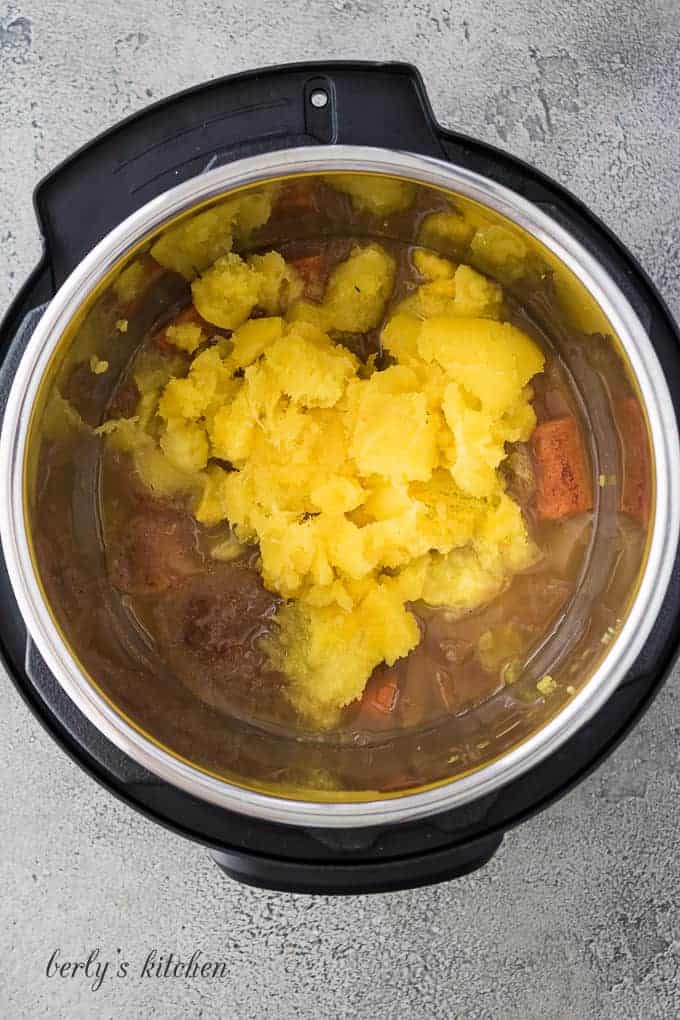 Now, carefully, release the remaining steam. Remove the trivet and squash.
Let it cool for about ten (10) minutes. Scoop out the squash and remove the seeds.
You can toss the seeds in the trash if you don't want to use them for another recipe. Place the squash, "meat," back into the liner.
Afterward, grab your emulsion blender and emulsify (blend) the acorn squash soup.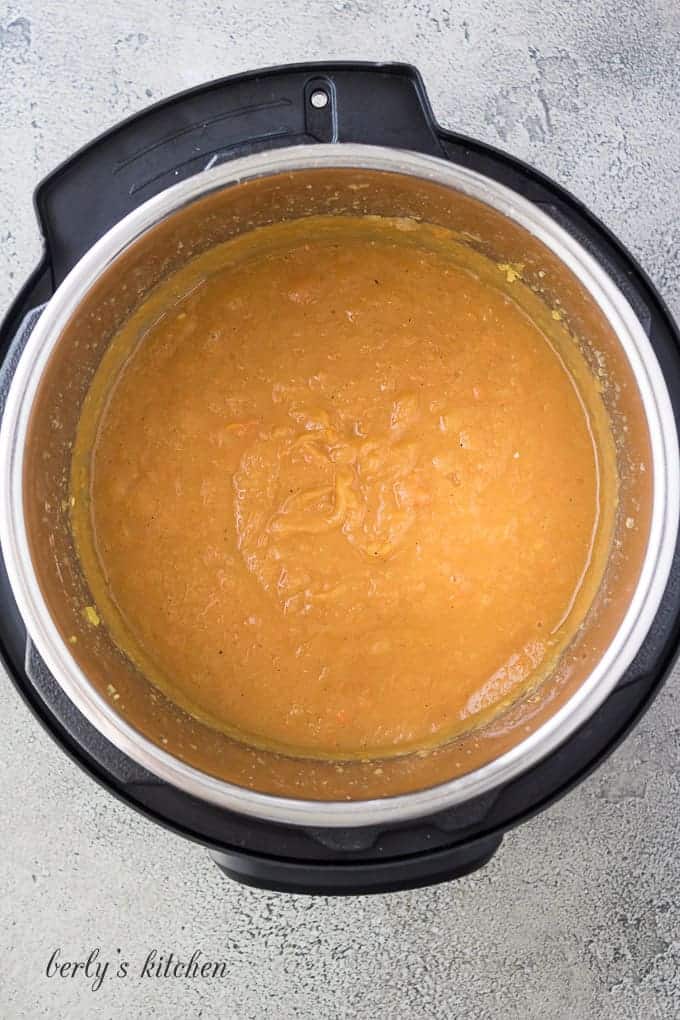 Last, stir in the coconut milk. Do a taste test and add salt and pepper to taste.
That's it, your acorn squash soup is done! Kim and I hope you enjoy the dish and wish you all the best 🙂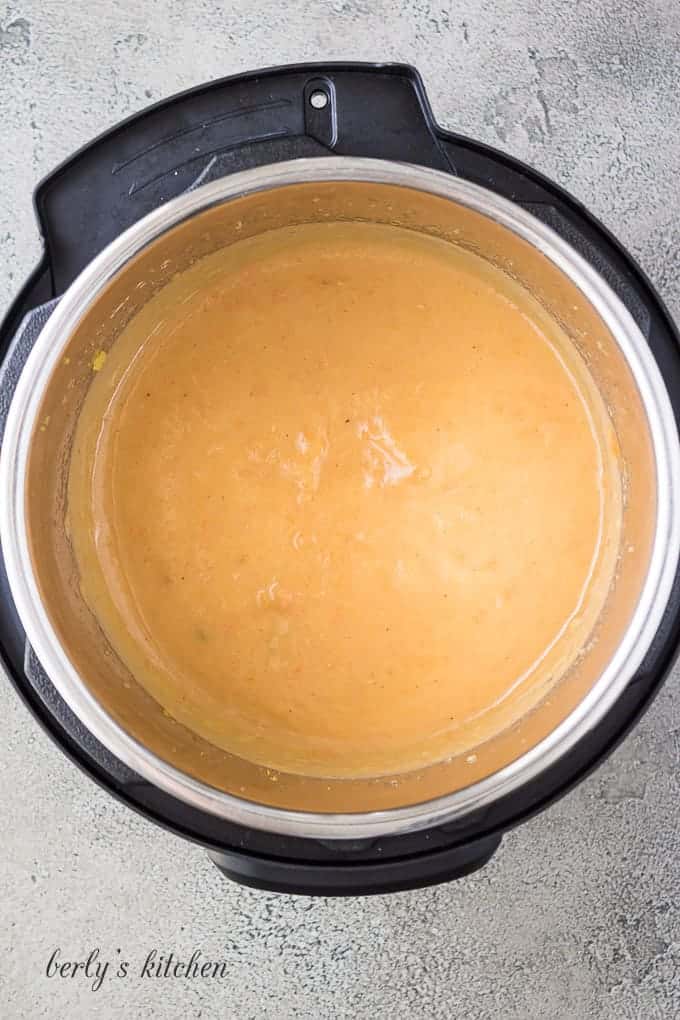 Instant Pot Acorn Squash Soup Tips:
If you don't have an emulsifier, you can use a regular blender. Simply follow the directions until you get to the blending step. Stop and let the soup cool for half an hour. Then transfer everything to a blender and pulse the soup until it's smooth and creamy.
Have an emulsion blender but hate the mess? Well, try taking a paper plate and cutting an, "X," into the center. Then, place it over your liner or pan to make a lid. Poke the blender though it and emulsify the soup.
Cut all the fruit and veggies into small chunks; otherwise, they won't blend into a smooth and creamy soup.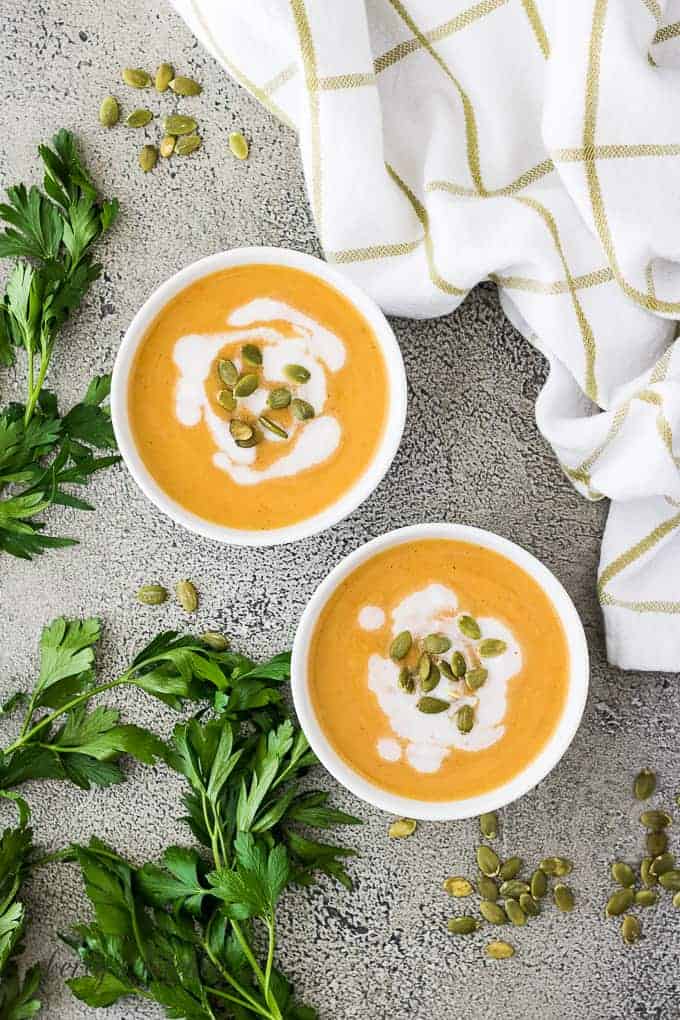 If you like this recipe, please leave us a comment and rate the recipe card. You can also find us on Facebook, Pinterest, Twitter and Instagram searching for Berly's Kitchen!
Join our Facebook group for more recipes from Berly's Kitchen, our new site More Than Meat and Potatoes, and some of our blogger friends!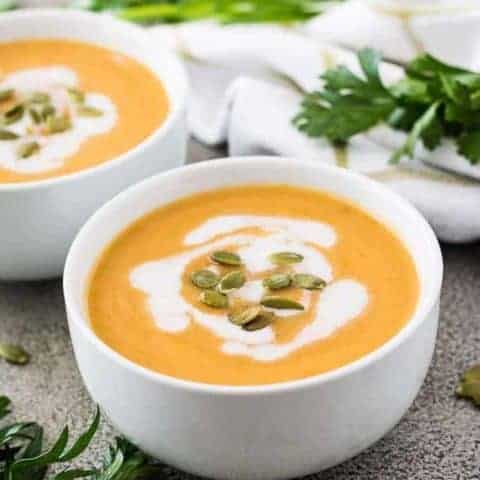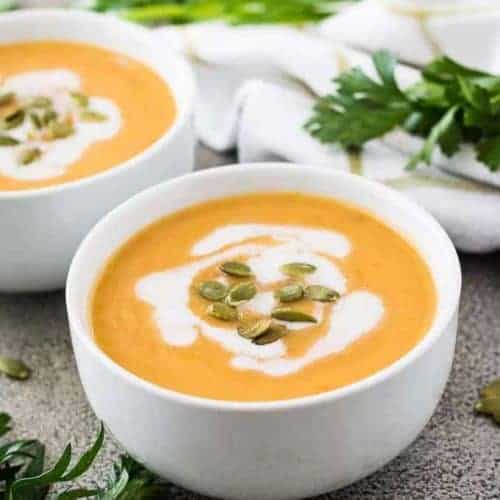 Instant Pot Acorn Squash Soup
Come to Pressure and Natural Release:
25 minutes
Our Instant Pot acorn squash soup is made with squash, carrots, and a mix of spices. A hearty soup that's done in less time than it takes to roast a squash!
Ingredients
1 Large Carrot, (cut into chunks)
1 Large Granny Smith Apple, (washed, cored, peeled, and diced)
1/4 Cup White Onion, (cut into chunks)
1/2 Teaspoon Ground Ginger
1/2 Teaspoon Ground Cinnamon
1/2 Teaspoon Ground Nutmeg, (or to taste)
2 1/2 Cup Vegetable Broth, (or chicken broth)
2 Large Acorn Squash, (halved)
1/2 Cup Coconut Milk
Salt and Pepper to Taste
Instructions
Place the chopped carrot, apple, onion, ginger, cinnamon, nutmeg, salt, and broth into the stainless steel liner.
Set the trivet on top of the vegetables. Then place the squash halves onto the trivet. Close the lid, and set the valve to sealing. Press the manual (pressure cook) button, and adjust the time to 5 minutes. After the time is up, allow a 10 minute natural release before opening the valve to release any remaining pressure.
Carefully open the lid, and use tongs to remove the squash and trivet. Let the squash cool for about 10 minutes or until it's easy to handle.
Use a spoon to scoop the seeds out of the squash. Discard or save for another use. Then, carefully scoop out the flesh and return it to the Instant Pot liner.
Use an immersion blender to blend the soup to the desired consistency. Stir in the coconut milk, and serve.
Notes
The calories listed are an approximation based on the ingredients and a serving size of one (1) cup of acorn squash soup. Furthermore, it does NOT include the extra coconut milk and toasted pumpkin seeds seen in the photos as garnish (toppings). The squash soup can be stored in your fridge, in a sealed container, for up to three (3) days.
Recommended Products
As an Amazon Associate and member of other affiliate programs, I earn from qualifying purchases.
Nutrition Information:
Yield:

6
Serving Size:

1 Cup
Amount Per Serving:
Calories:

128.22
Total Fat:

4.33g
Saturated Fat:

3.66g
Unsaturated Fat:

0g
Sodium:

407.43mg
Carbohydrates:

24g
Fiber:

3.58g
Sugar:

5.6g
Protein:

1.84g