A creamy buffalo cheese spread made with cream cheese, hot sauce, and sour cream. It's the perfect spicy spread for crackers and vegetables.
I don't know about you guys and gals, but I love dips and spreads. The cheesier, the better is my motto. For today, I decided to re-write this post from 2017. Mainly, because Kim just wrapped a video for it and we figured, if we're adding a video, might as well update the writing. When the cheese spread recipe first went out, it wasn't bad, just a little low on the SEO grading scale. Since, both Kim and I have improved in our respective departments, it just makes sense to bring this one up to par.
Now, getting back to the dip, most of us at some point in our lives have asked,"how is cheese spread made?" It's actually quite simple. In fact, most bloggers, companies, and home cooks use similar recipes to create soft, spreadable cheeses. Cream cheese is the obvious choice, because, once it softens a little, it creates a creamy texture. As far as I know, it's one of the few cheeses, in the U.S., that can spread easily over just about anything.
When combined with the right seasonings, you can take boring cream cheese and turn it into a cheese dip. Whether you decide to make savory or sweet, is up to you. Personally, I enjoy both varieties equally. For an example of a sweet cream cheese based dip, check out our turtle cheesecake dip. Well, there's not much more I can say about these yummy offerings. How about we get started?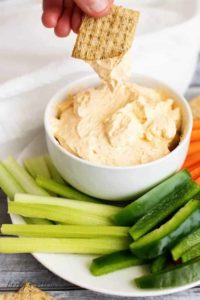 …