Mint Chocolate Fudge is the perfect balance of smooth, semi-sweet chocolate and cool, crème de mint.  It comes together in minutes and makes an excellent gift idea.
Chocolate fudge is a holiday favorite that's been around for a long time. In fact, there are some accounts of it's existence dating back to the mid 1860's. However, nobody really knows it's exact origins. Of course, the most popular opinion is that was made by accident when a candy maker messed up a batch of caramel candies. But, who can say, right? What's important, is how fudge has changed over the years.
What started out as a simple one trick pony, has morphed into a candy that can satisfy just about anyone. From bourbon caramel to peanut butter, there's bound to a be flavor of chocolate fudge you enjoy. Kim and I are huge fudge fans. In fact, we currently feature several different varieties of our favorite candy treat. including a key lime fudge flavor.
For today, we've decided to re-share our mint chocolate fudge with updated photos. Originally, this post came out in November of 2017, but Kim felt it needed a touch-up.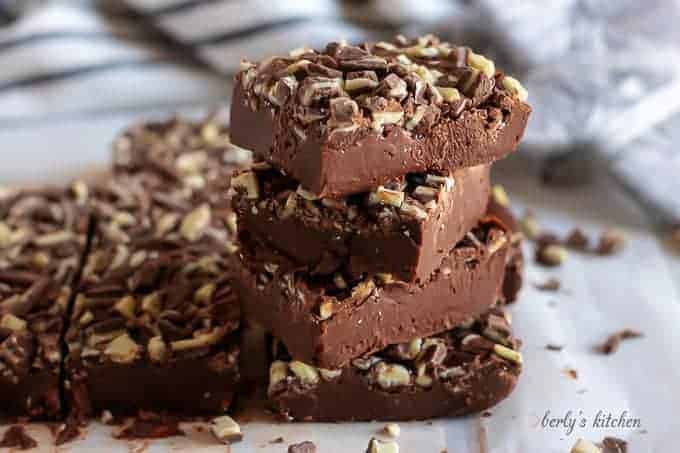 …