A quick and easy crunchy Asian salad made with cabbage, carrots, wonton strips, and a creamy Asian themed dressing. Serve as a side or an entree!
Last Wednesday, we shared an Asian inspired salad dressing. For today, we're going to share a salad mix that works perfectly with our vinaigrette.
Crispy carrots and wonton strips give this dish a satisfying crunch. Combine that with almonds, cabbage, and green onions and you have yourself a pretty darn tasty Asian salad.
Oh, just to be clear, we make no claims on authenticity. Meaning, the recipe is inspired by Asian flavors, not that it's an authentic Asian dish.
It's kinda like our Egg Roll Bowl recipe. That one is super tasty and Asian inspired, but we don't claim that one to be authentic or traditional either.
Just an easy, one-dish, dinner option! Just wanted to get that out of the way before we start cooking.
Speaking of which, it's a cold recipe, so there's cooking involved. That means, you don't have to preheat your oven and heat up your kitchen for this one.
Now, how about we get to work and start making something delicious?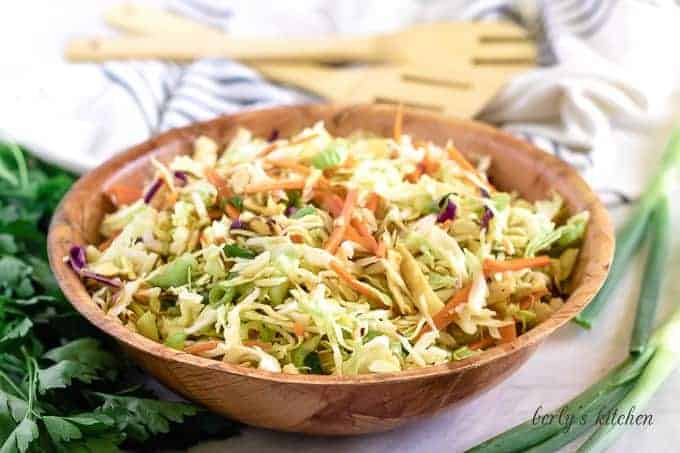 Asian Salad Recipe Instructions:
So, as I stated above, we've already published the Asian dressing recipe. Keeping that in mind, I'm not going to type out those instructions here.
You can either click the link or the Jump to Recipe button (above) to find the dressing directions.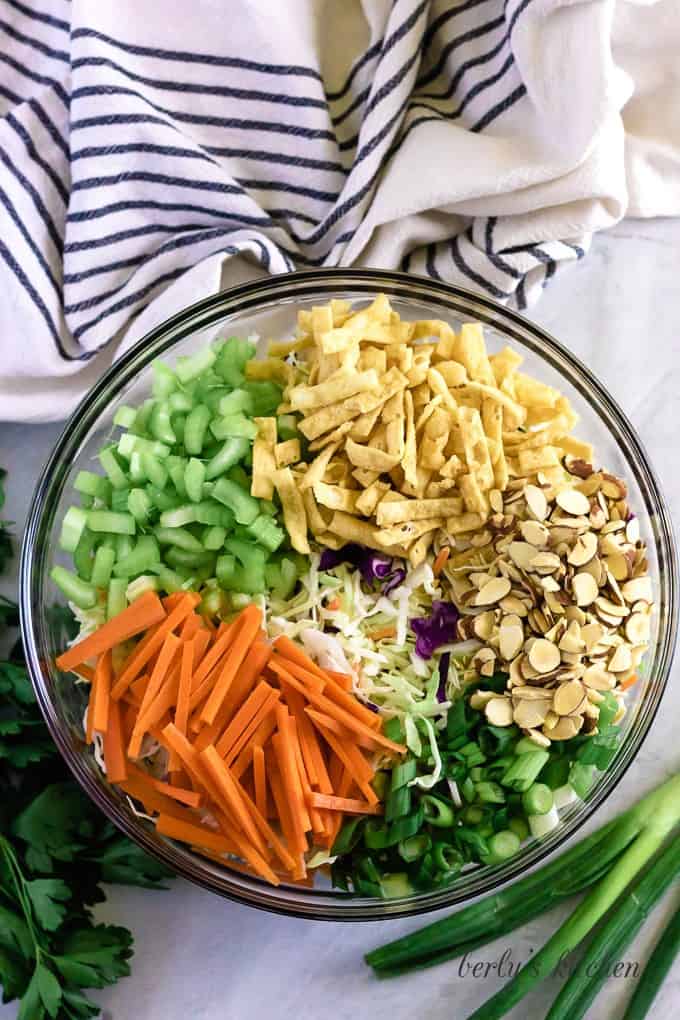 In regards to the salad mix, hopefully, you were able to get most of the vegetables pre-packaged. However, if that wasn't possible, then you have a lot of chopping, dicing, and shredding to complete.
With that being said, if you have a food processor, then most of that can be done with the slicing and shredding attachments. Don't be afraid to shred the carrots and slice the cabbage or celery using the processor.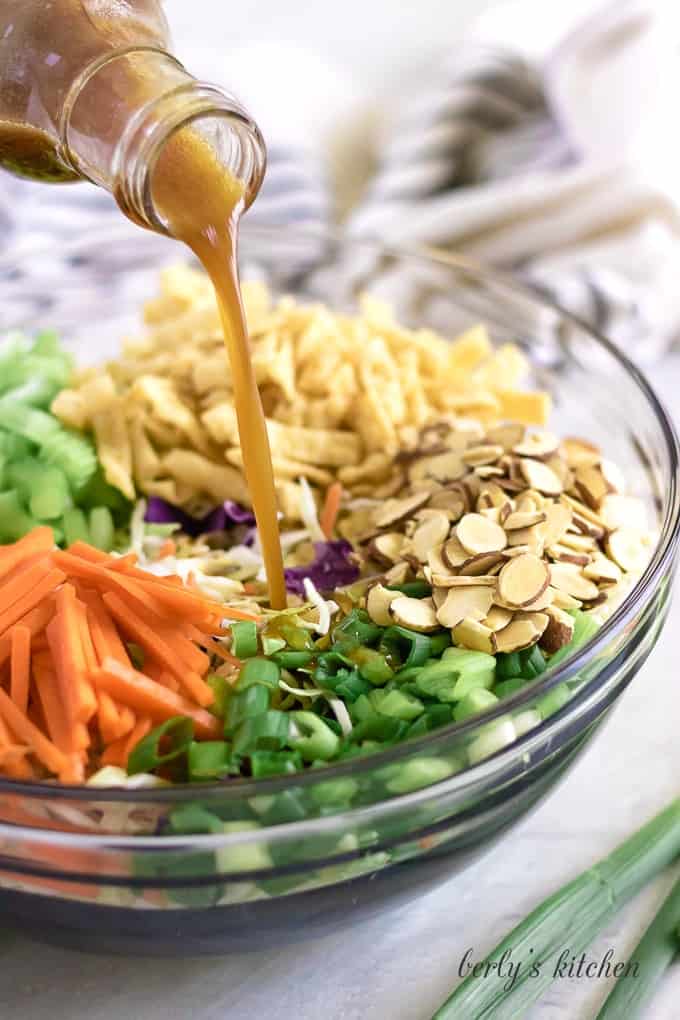 Additionally, don't let time consuming kitchen duties get in the way of enjoying healthy, delicious veggies. Use what's available.
Once all of the prep work is out of the way, including slicing the green onions. Place everything into a large mixing bowl and toss the ingredients with the salad dressing.
That's it, you're Asian salad is done! Kim and I hope you enjoy the recipe and wish you all the best 🙂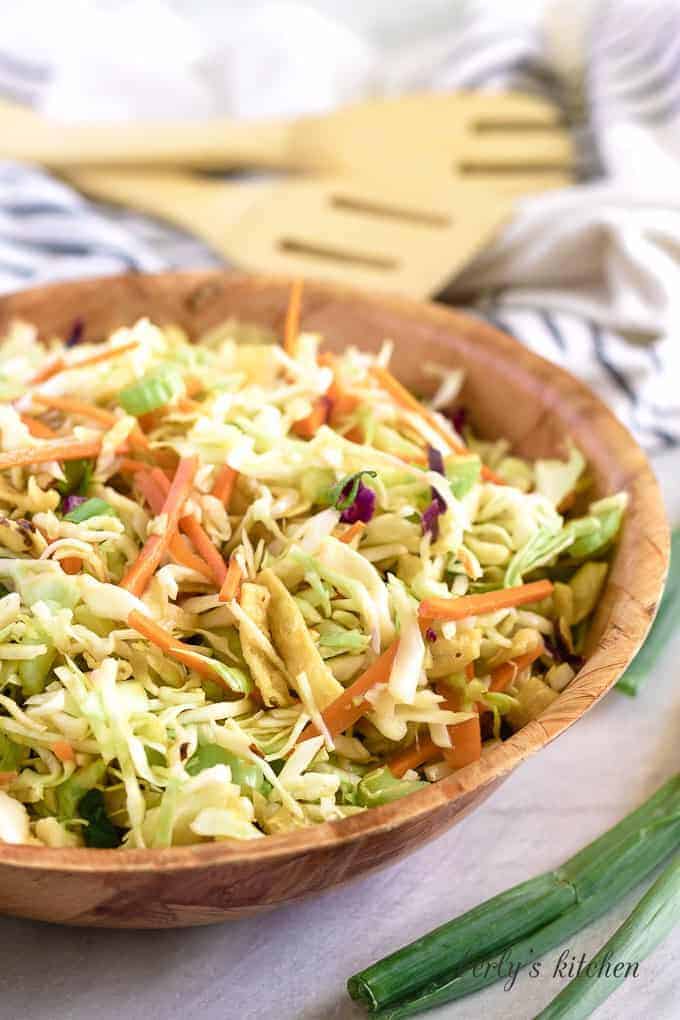 Crunchy Asian Salad Recipe Tips:
If are making this salad in advance (for work or social event), then do not add the dressing until you're ready to serve it. Otherwise, the vegetables will get soggy over time.
Cabbage doesn't usually wilt as fast as lettuce, but eventually, it will degrade.
On the chance you want to add some other ingredients, just to liven things up a bit, then might I suggest: edamame, soy beans, crunchy chow mien noodles, cilantro, or even a drizzle of teriyaki glaze over the top of the dish (for color and sweetness).
Also, it should be noted, if you leave out the almonds and wonton strips, then this recipe can be used as a tasty egg or spring roll filling.
If you like our Crunchy Asian salad recipe, please leave us a comment and rate the recipe card. You can also find us on Facebook, Pinterest, Twitter and Instagram searching for Berly's Kitchen!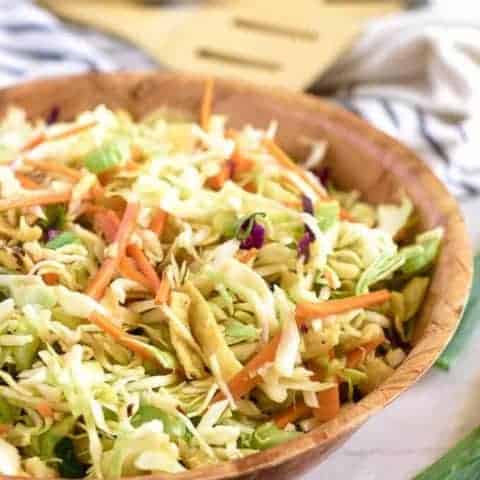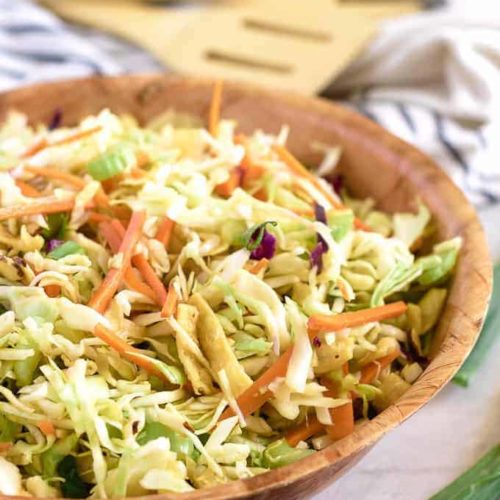 Crunchy Asian Salad Recipe
A quick and easy crunchy Asian salad made with cabbage, carrots, wonton strips, and a creamy Asian themed dressing. Serve as a side or an entree!
Ingredients
Salad Mix
16 Ounces Cole Slaw Mix, (without the dressing)
1 Cup Carrots, (matchstick or thinly sliced)
1 Cup Celery, (thinly chopped)
1 Cup Wonton Strips
1/2 Cup Green Onions, (chopped)
1/2 Cup Almonds, (sliced)
Dressing
1/4 Cup Soy Sauce
1/4 Cup Rice Vinegar
1/4 Cup Olive Oil
2 Tablespoons Honey
2 Teaspoons Toasted Sesame Oil
1/8 Teaspoon Ground Ginger
Instructions
Dressing
Place soy sauce, vinegar, olive oil, honey, sesame oil, and ginger into a medium bowl and whisk to combine. Set aside.
Salad Mix
Combine coleslaw mix, carrots, celery, wonton strips, green onions, and almonds in a large bowl.
Pour Asian salad dressing over the mixture, and toss to combine. Serve immediately. Store any leftovers in a sealed container in the refrigerator for up to 3 days.
Notes
The calories listed are an approximation based on the ingredients and a serving size of one (1) cup of Asian salad. Actual calories will vary. The salad can be stored in your fridge in a sealed container for up to three (3) days.
Recommended Products
As an Amazon Associate and member of other affiliate programs, I earn from qualifying purchases.
Nutrition Information:
Yield:

12
Serving Size:

1 Cup
Amount Per Serving:
Calories:

220
Total Fat:

9g
Saturated Fat:

1g
Unsaturated Fat:

0g
Cholesterol:

3mg
Sodium:

506mg
Carbohydrates:

30g
Fiber:

3g
Sugar:

5g
Protein:

6g