Delicious homemade cornbread muffins are easy to prepare. All it takes is a little know how and a simple recipe with easy to follow directions.
Have you ever wanted to make homemade cornbread muffins to eat with your chili recipe but think it's too complicated or time consuming?
Well, our recipe is here to change your mind. Tasty, moist muffins in about twenty-five (25) minutes.
Compare that to boxed versions and you'll see they take about the same amount of time. So, what not make yours homemade?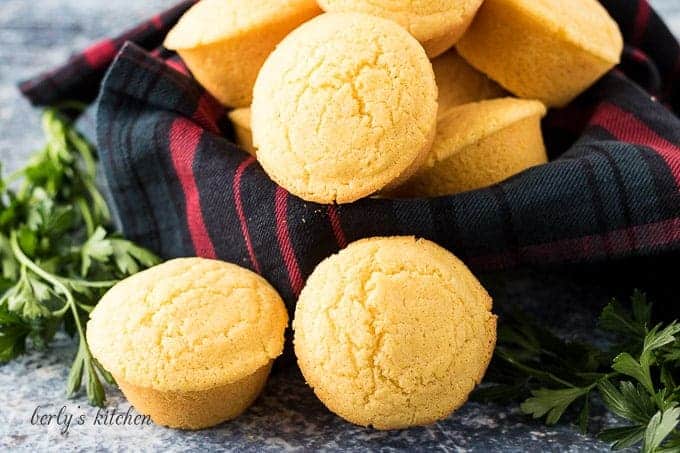 Detailed Cornbread Muffins Recipe:
First, start by preheating your oven to 350°F, and spraying a muffin tin with non-stick cooking spray or use muffin liners.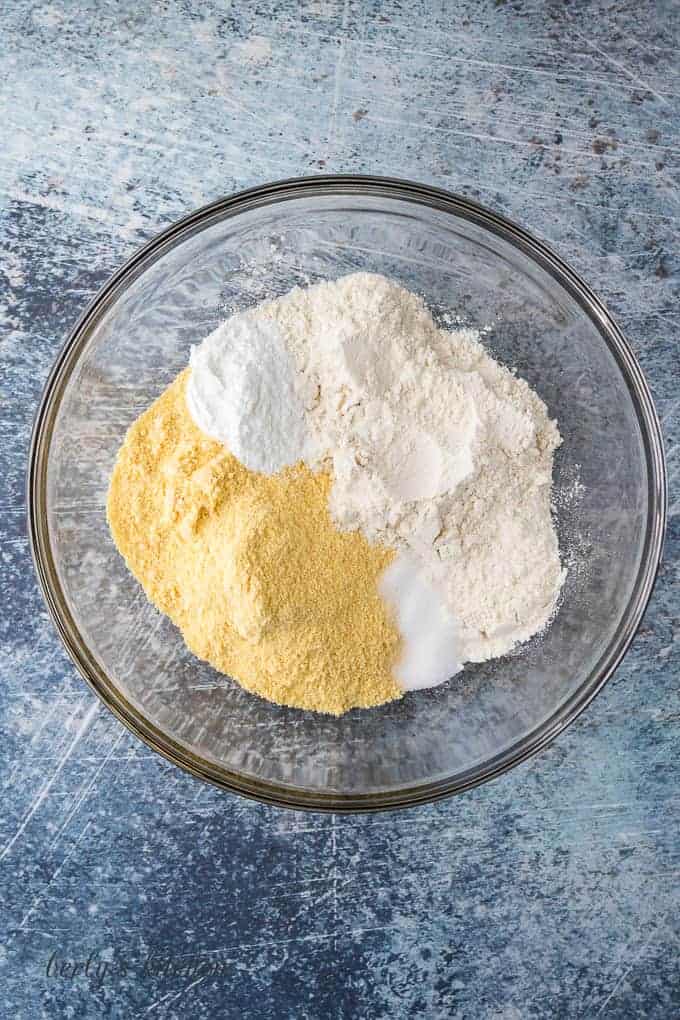 Next, grab a large mixing bowl and whisk together the flour, cornmeal, baking powder, and salt.
After that, in a separate mixing bowl, whisk together the buttermilk, milk, melted butter, and eggs.
Then, when the wet ingredients have been mixed, stir them into the dry ingredients to create your cornbread muffin batter.
Afterward, transfer the batter to the muffin pan. We filled each cavity about two-thirds (2/3) full with the mixture. See the photo below.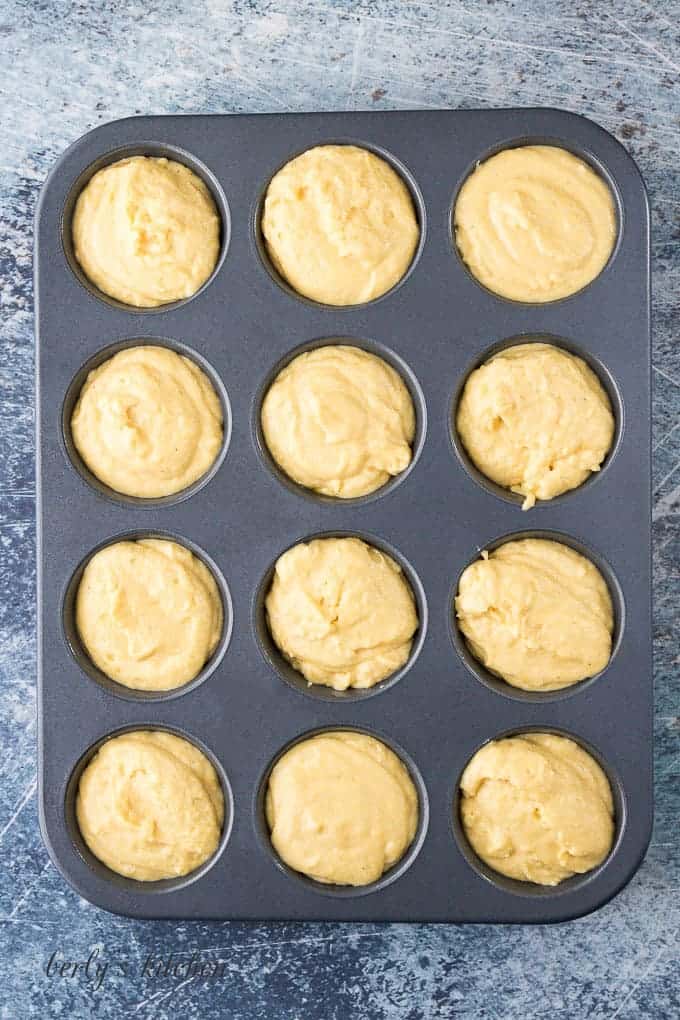 Last, place the pan into the preheated oven to bake for about fifteen (15) minutes or until they pass the, "toothpick," test.
That's it, once the cornbread muffins are done baking, your recipe is finished. You can serve them with butter, honey, or anything you like.
Kim and I hope you enjoy the bread and we wish you all the best 🙂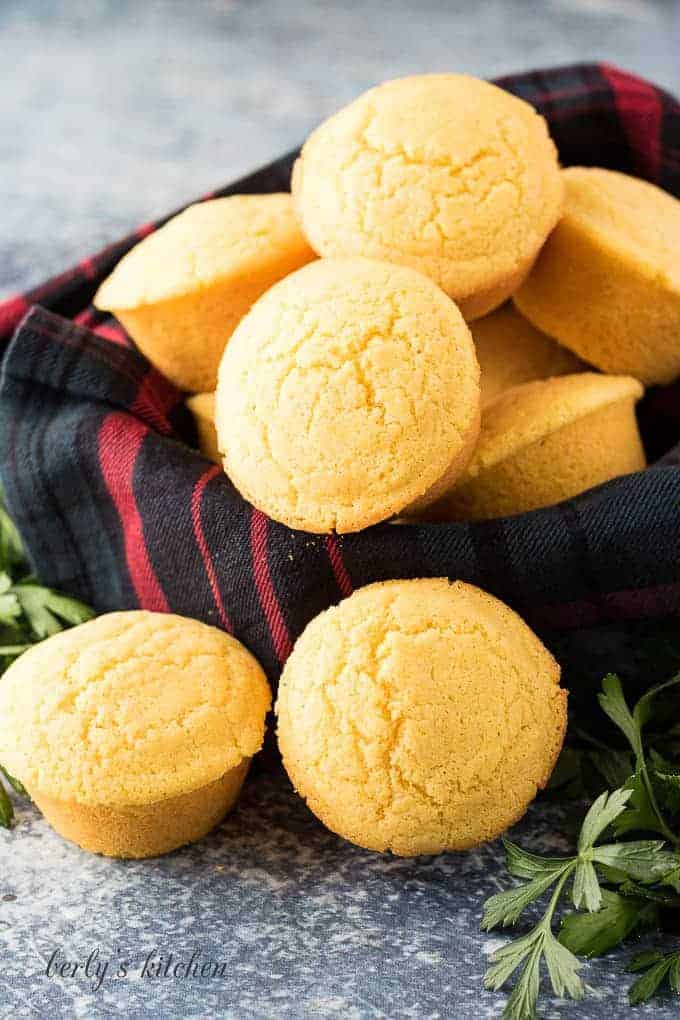 What can I add to cornbread?
Prefer a sweeter cornbread muffin? Perhaps something with a little kick? Then, check out our list of ingredients that you can add to the batter!
Diced Jalapenos (fresh or pickled)
Finely Shredded Cheddar Cheese
Chili Powder
Sugar or Honey
Maple Syrup
Sauteed Onions
Need another dinner roll recipe? Then try our Hawaiian rolls made from scratch!
If you like this recipe, please leave us a comment and rate the recipe card. You can also find us on Facebook, Pinterest, Twitter and Instagram searching for Berly's Kitchen!
Yield: 13 Servings
Easy Homemade Cornbread Muffins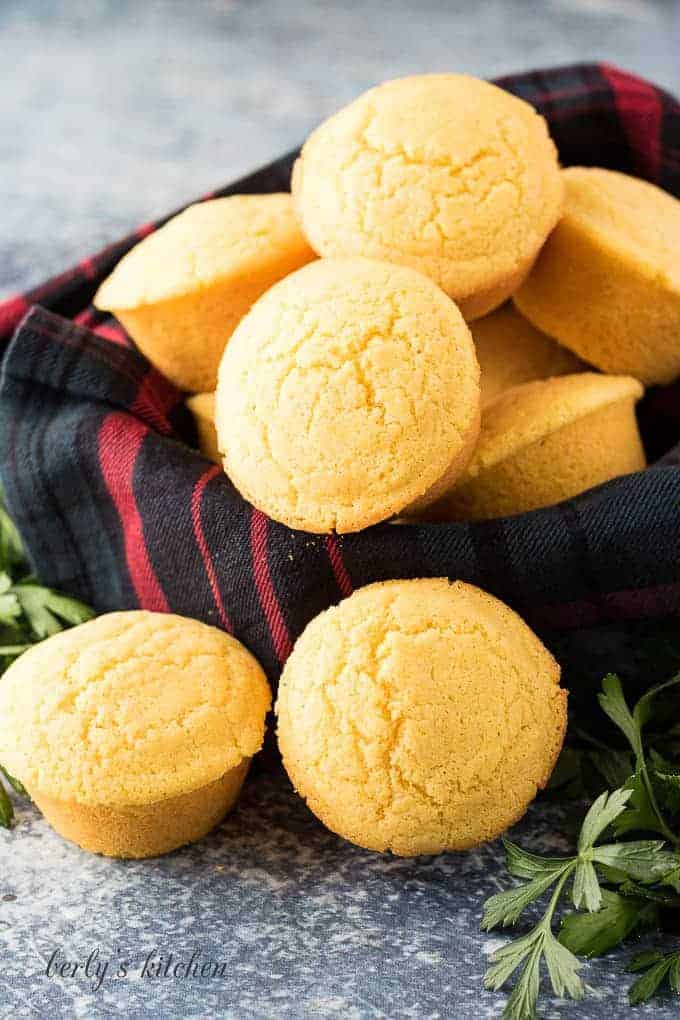 Delicious homemade cornbread muffins are easy to prepare. All it takes is a little know how and a simple recipe with easy to follow directions.
Ingredients
1 1/2 Cups All-Purpose Flour
1 Cup Cornmeal
1 1/2 Tablespoons Baking Powder
1 Teaspoon Salt
2 Large Eggs
2/3 Cup Milk
2/3 Cup Buttermilk
1 Cup Unsalted Butter, (melted and cooled slightly-see tips if needed)
Instructions
Preheat the oven to 350 degrees F., and grease or line a muffin pan with paper liners.
In a large bowl, whisk together the cornmeal, flour, baking powder, and salt. Set aside.
In a separate, medium bowl, combine the eggs, milk, buttermilk, and melted butter. Add the wet ingredients to the dry ingredients, and stir to combine.
Scoop the batter into the muffin pan filling each cavity about ¾ of the way full.
Bake for 15 minutes or until a toothpick inserted in the center of a muffin comes out clean. Remove from the oven, and transfer to a cooling rack and serve when ready.
Notes
The calories listed are an approximation based on the ingredients and a serving size of one (1) cornbread muffin. Actual calories will vary. Additionally, you may get more or less than thirteen (13) muffins based on how large or small you make them.
Tips:
If you're worried about the butter scrambling your eggs, simply add the butter, milk, and buttermilk to the bowl before adding the eggs. The cold liquids will keep the eggs from scrambling due to the warm butter.
Recommended Products
As an Amazon Associate and member of other affiliate programs, I earn from qualifying purchases.
Nutrition Information:
Yield:
13
Serving Size:
1 muffin
Amount Per Serving:
Calories:

254
Total Fat:

17g
Saturated Fat:

10g
Unsaturated Fat:

0g
Cholesterol:

73mg
Sodium:

336mg
Carbohydrates:

22g
Fiber:

2g
Sugar:

2g
Protein:

5g