You've got to try our beer battered onion rings the next time your craving bar grub! They're crunchy, savory, and go great with ranch dip or spicy mustard.
Lately, Kim and I have been craving bar food. There's just something about that style of cooking that we love.
When we first got together, we spent a lot of time eating late night dinners at bars and restaurants.
Which, shouldn't be surprising since we met while working together at a local restaurant. Ask any cook or server, your night usually doesn't end once you finish closing duties.
In fact, for most of us, that's only mid-day and the night is still young, so to speak. Simply put, it's more than a job, it's a lifestyle.
A delicious, tasty lifestyle. Speaking of which, how about we get started on these beer battered onion rings?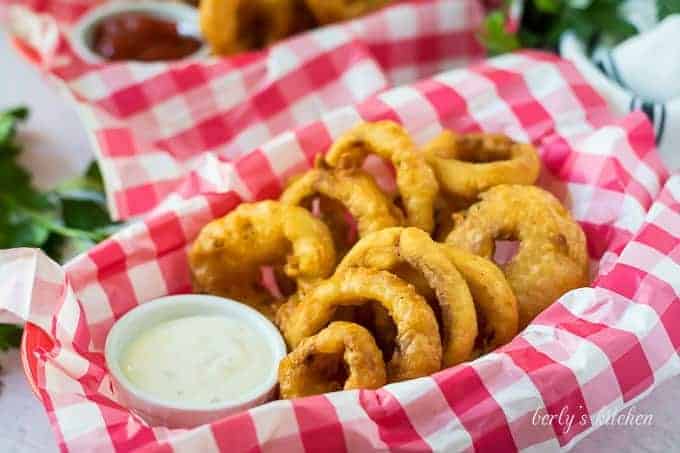 Beer Battered Onion Rings Instructions:
First, to get started, you need to cut the onions into rings. Kim recommends cutting them into circles that are half an inch (1/2) thick.
After that, put them into a bowl and toss them with the buttermilk.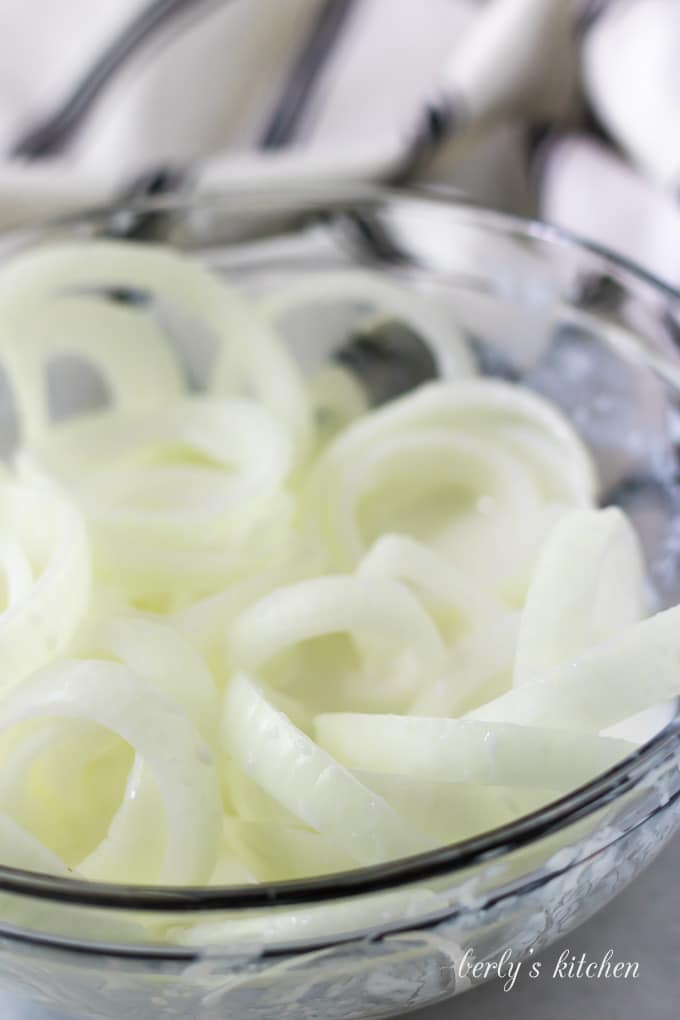 Now, pour enough frying oil into a deep saucepan so it fills it up to the halfway point.
Furthermore, you want to give the oil room to expand as it heats without the risk of it spilling over the sides of your pot.
At this point, the oil is heating over medium heat, so grab a baking sheet and wire rack. Line the pan with foil and place the rack on top of it.
This way, your beer battered onion rings will be placed on the rack once they're done cooking.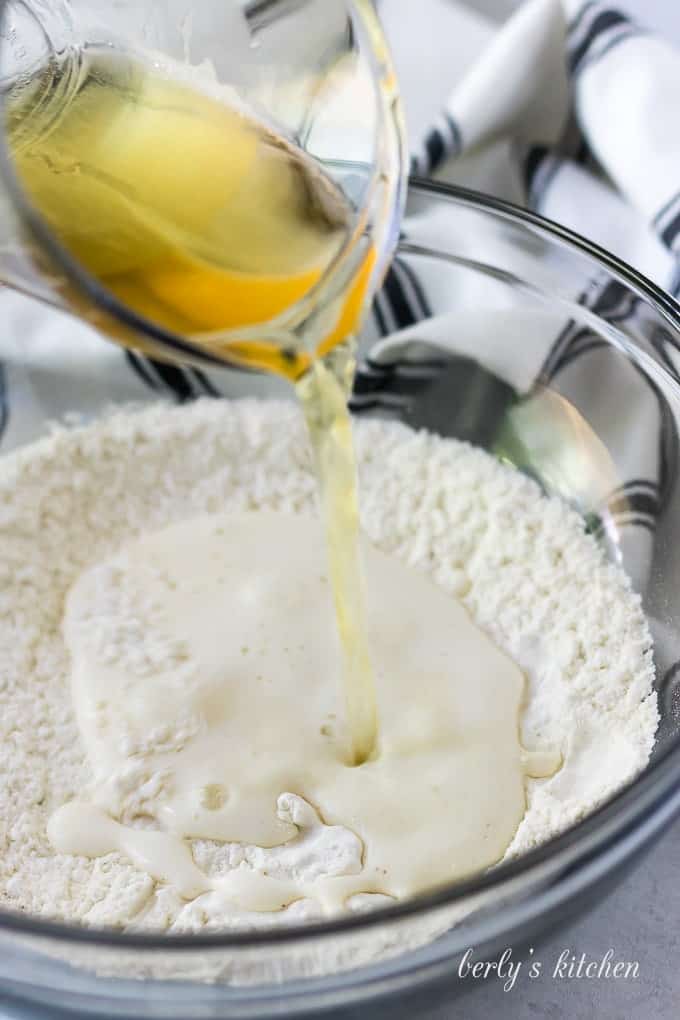 Onward, to the batter. In large mixing bowl combine half the flour with the garlic powder, seasoned salt, and beer. Use a whisk to combine the ingredients.
Instructions Continued:
The reserve flour should be kept in a smaller mixing bowl to dip the onions in, to create a dry coating. Speaking of which, let's get to dipping.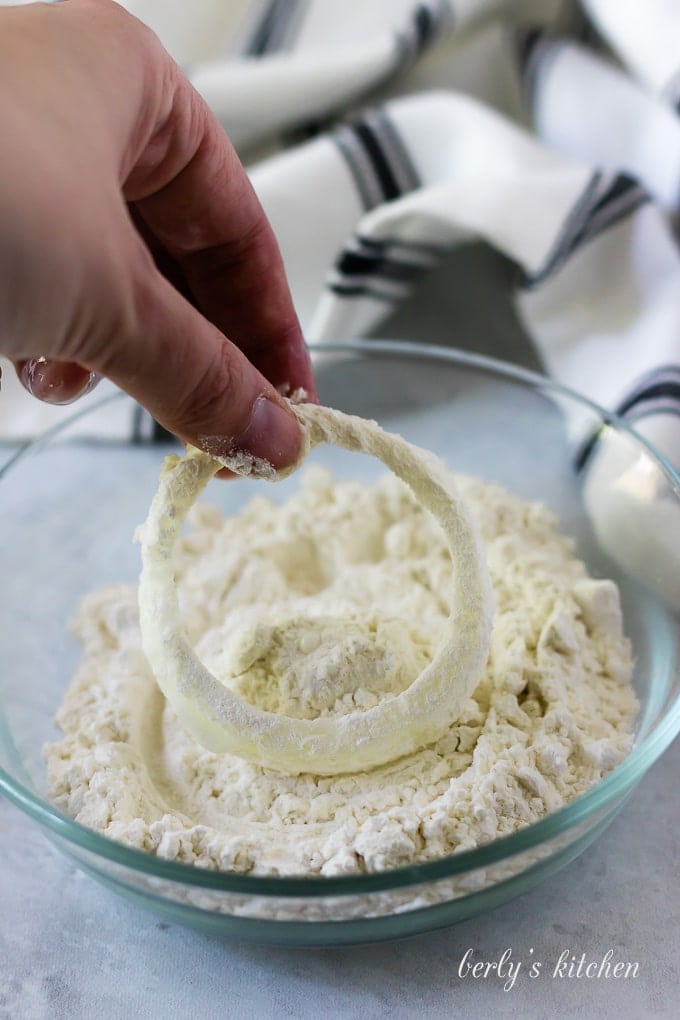 First, grab an onion ring from the bowl and shake off any excess buttermilk.
Next, dip it into the flour and make sure it gets evenly coated. Shake off any excess flour.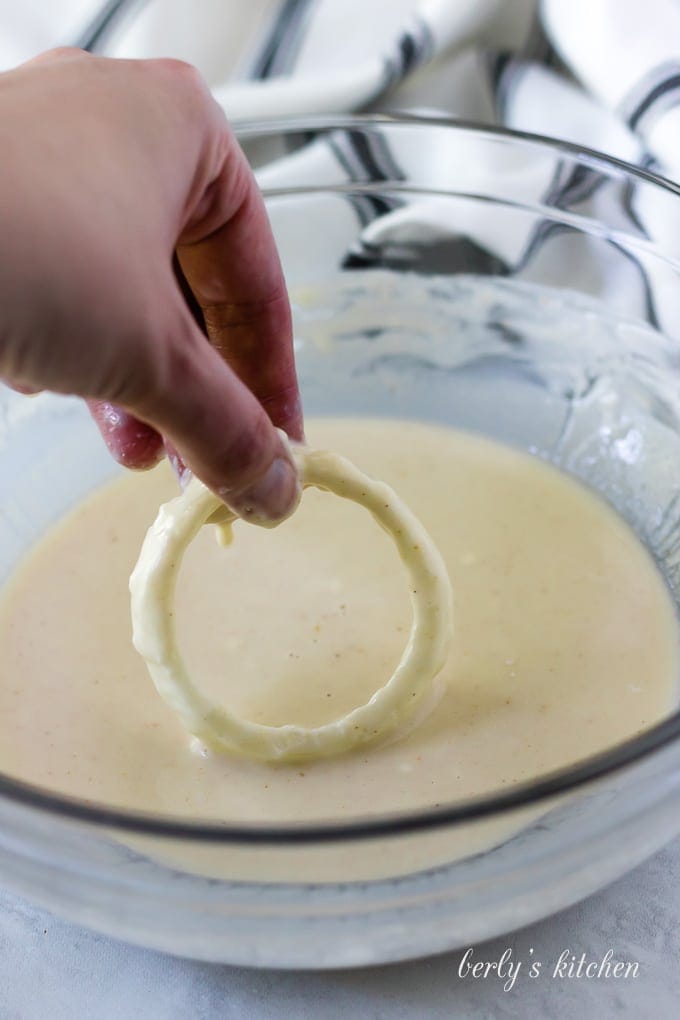 Afterward, dip the dry onion ring into the beer batter and let the extra wet coating drip off. Then, transfer it to the hot oil and let it cook until it's golden brown.
Additionally, you might need to flip it halfway through the frying process to ensure your beer battered onions cook evenly.
Work in small batches, being careful not to overload the saucepan. Last, once the rings are cooked, move them to the cooling rack to drain away any excess grease.
That's it, your beer battered onion rings are done! I recommend pairing them with a stone ground mustard or cheese dip.
Kim and I hope you enjoy this recipe and wish you all the best 🙂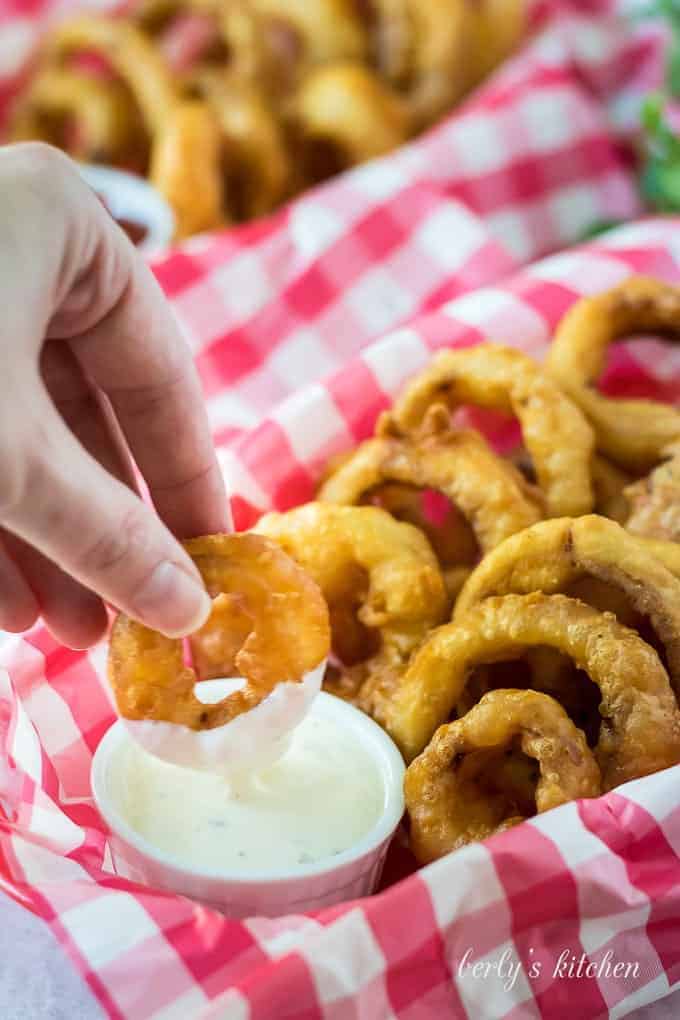 Beer Battered Onion Rings Tips:
The onions are soaked in buttermilk to soften them a bit and take out some of the bite. They can be soaked for several hours if needed.
Don't overcrowd the onion rings in the pan. They'll stick together and won't cook properly. It will also bring down the temperature of the oil.
The onion rings can be reheated by placing them in the oven on baking sheet with a wire rack to be heated at 350 degrees F. for seven (7) to ten (10) minutes.
If you liked our beer battered onion rings recipe, please leave us a comment and rate the recipe card. You can also find on my Facebook, Pinterest, Twitter, and Instagram by searching for Berly's Kitchen!
Yield: 4 Servings
Beer Battered Onion Rings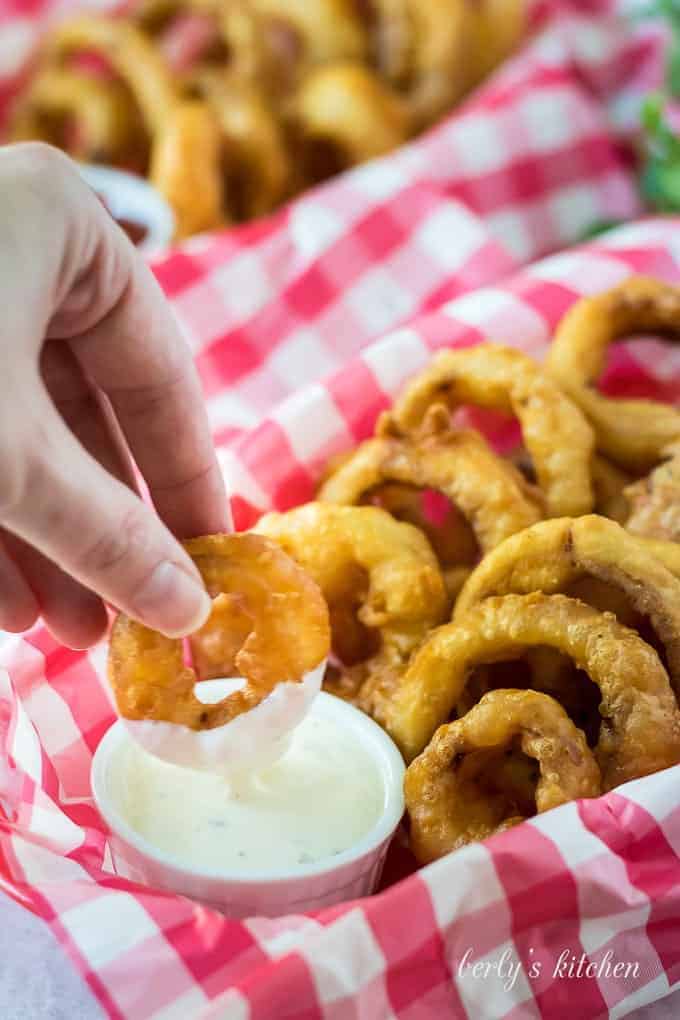 You've got to try our beer battered onion rings the next time your craving bar grub! They're crunchy, savory, and go great with ranch dip or spicy mustard.
Ingredients
1/2 Lb. Sweet Onions, (cut into 1/2 inch rings)
1 Cup Buttermilk
1 Cup All-Purpose Flour, (divided)
1/2 Teaspoon Garlic Powder
1/2 Teaspoon Seasoned Salt
6 Ounces Beer, (your choice)
Oil for Frying
Instructions
Cut the onions into ½ inch thick rings, and place them in a medium-sized bowl. Pour the buttermilk over the onions rings, and toss to coat. Set aside while you work on the beer batter.
Heat about ½ quart to 1 quart of cooking oil over medium heat (The exact amount needed will vary depending the size of pan being used). The oil should come up about 3 inches in a large, heavy-bottomed pan. Line a baking sheet with foil, and place a wire rack on top. Set aside.
While the oil heats, place the ½ cup flour, garlic powder, and seasoned salt in a large bowl. (Reserve the other ½ cup of flour in a smaller bowl for dredging.) Whisk together the ingredients, then slowly add the beer. Whisk again to combine. The batter should resemble thin pancake batter.
Remove an onion ring from the buttermilk and allow any excess buttermilk to drip off. Next, place it in the flour mixture and coat all sides and center evenly. Shake off any excess flour. Working in batches, dip in the the beer batter, and make sure to evenly coat. Place the battered onion ring into the hot oil, and fry until golden brown (about 4-5 minutes per side). The onion ring may need to be flipped halfway through to ensure even cooking. Remove to the prepared wire rack to cool. Repeat with remaining onion rings. Serve hot.
Notes
The calories listed are an approximation based on the ingredients and a serving size of about two (2) ounces of fried onion rings. The calorie count does NOT include the ranch dipping sauce seen in the photos or the oil used for frying. Actual calories will vary. The onion rings can be stored in a sealed container in your fridge for up to three (3) days.
Recommended Products
As an Amazon Associate and member of other affiliate programs, I earn from qualifying purchases.
Nutrition Information:
Yield:
4
Serving Size:
2 Ounces
Amount Per Serving:
Calories:

189
Total Fat:

2g
Saturated Fat:

1g
Unsaturated Fat:

0g
Cholesterol:

7mg
Sodium:

361mg
Carbohydrates:

33g
Fiber:

1g
Sugar:

6g
Protein:

6g