Our chicken bacon ranch pasta salad is loaded with all the flavors you love like ranch dressing, bacon, chicken, and pasta noodles. Enjoy it cold or warm!
This chicken bacon ranch pasta salad recipe was the very first pasta salad to be published on the blog. We always enjoy it after it's been chilled for an hour.
Nothing beats a cold chicken bacon ranch pasta salad during the Summer. Except maybe our Instant Pot easy macaroni salad or the pressure cooker version of this recipe, Instant Pot Chicken Bacon Ranch Pasta. Try that one, some time.
Getting back to this recipe, the part I love the most is how easy it is to prepare. Simply cook the chicken and bacon, chop a few things, and mix.
Now, you can make it using a homemade ranch or with a store-bought version. It's up to you.
If you decide to make your own, I recommend using our homemade ranch dressing mix. As long as it's a cold pasta salad, then it's perfect for Summer.
Recipe Ingredients:
Pasta: We used rigatoni in the photos and penne in the video. Any short or small pasta will work.
Chicken: We generally use raw chicken breasts. However, chicken thighs could also be used. The cook time would vary slightly.
Bacon: As a rule of thumb, I always use center cut bacon. It tends to have less fat and better looking lean meat. Additionally, I tend to shy away from maple, apple wood, or hickory flavored bacon for this pasta salad.
Cheese: Sharp cheddar cheese in my go-to. I've found that mild and medium cheddar tends to get lost with among all the other ingredients.
Ranch Dressing: Sometimes we break down and purchase our favorite bottled ranch dressing from the grocery store.
Green Onions/Chives: These add a nice freshness to the pasta salad. I do use them sparingly, since they can be quite strong.
Also, I recommend saving a little ranch dressing to use the following day to freshen up the cold pasta salad.
The noodles have a tendency to soak up a lot of the dressing after its been placed in the refrigerator.
How to Make Chicken Bacon Ranch Pasta Salad:
First, season the chicken with salt, pepper, and garlic powder. Heat a medium skillet over medium-high heat and add the chicken broth.
Transfer the chicken to the pan, and cook on all sides until cooked completely (about 7-10 minutes on each side). Set aside.
Next, while the chicken cooks, prepare the noodles according to package directions. After they've cooked to your desired texture, drain, then transfer the noodles to an ice bath.
Drain them again and place them into a large mixing bowl.
After that, cook the bacon according to package directions and to desired crispness.
Once the bacon cooks, blot off the grease with a paper towel and cut into pieces. Set the bacon aside.
Then, add the bacon, chicken, shredded cheese, and diced onions to a large bowl, Drizzle everything with ranch dressing.
Toss the ingredients together. Combine the pasta salad well so the ingredients are mixed and evenly coated.
Last, place the pasta salad into a container with a lid, and put the salad into the refrigerator until it's ready to serve. Add optional garnishes just before serving.
That's it, Kim and I hope you enjoy the cold chicken bacon ranch pasta salad and we wish you all the best 🙂
Love chicken? Then try our new cheesy loaded chicken breast recipe!
Other pasta salad recipes you may love:
Don't forget to follow us on FACEBOOK and PINTEREST to see our newest recipes! You can also find us on Facebook, Pinterest, Twitter, and Instagram searching for Berly's Kitchen!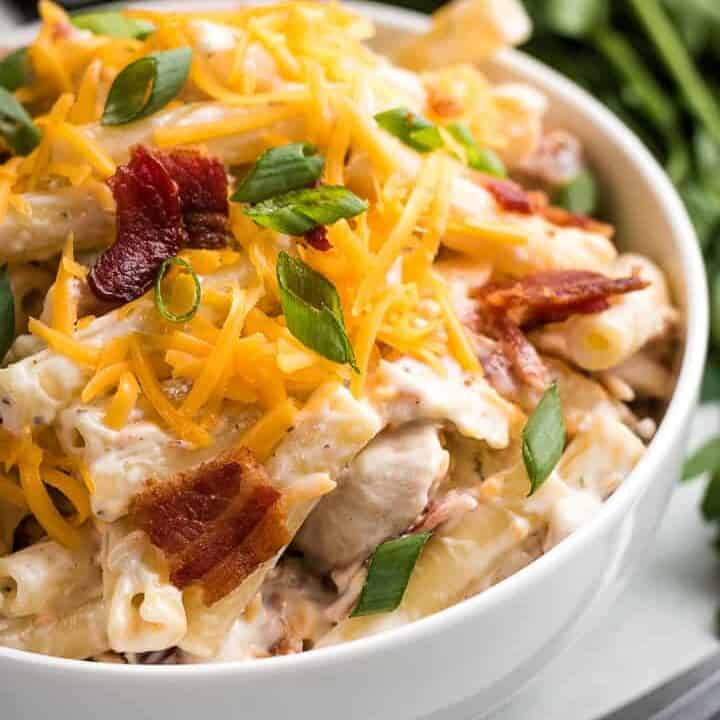 Chicken Bacon Ranch Pasta Salad
Chilling Time:
30 minutes
Total Time:
1 hour
10 minutes
Our chicken bacon ranch pasta salad is loaded with all the flavors you love like ranch dressing, bacon, chicken, and pasta noodles. Enjoy it cold or warm!
Ingredients
1 Lb. Chicken Breast, (cooked, chopped)
1 Teaspoon Garlic Powder
1/2 Teaspoon Salt
1/4 Teaspoon Black Pepper
1 Cup Chicken Broth, (low-sodium)
1/2 Pound Bacon, (cooked, chopped)
1/4 Cup Shredded Cheddar Cheese
1 Cup Ranch Dressing, (store bought or homemade)
8 Ounces Dry, Penne Pasta, (cooked and drained)
1/4 Cup Diced Green Onions or Chives
Instructions
Season the chicken with salt, pepper, and garlic powder. Place it into a medium skillet over medium-high heat. Add the chicken broth. Let chicken cook for 7-10 minutes on each side or until done (165 degrees F. at the thickest point). Chop into bite-sized pieces and set aside.
Cook the pasta per the box instructions. Once done, drain the noodles and place them in an ice bath. Drain the pasta again and set it aside.
Cook the bacon per the package instructions. When it's done, dice it into small pieces.
Place diced chicken, cooked pasta, bacon, cheese, ranch dressing, and onions into a large bowl. Then toss to combine. Mix well to ensure the ingredients are evenly coated with ranch dressing.
Store the pasta salad in the refrigerator in a sealed container until ready to serve. Leftovers can be stored in a sealed container, in your fridge, for up to 3-days.
Notes
*The calories listed are an approximation based on the ingredients in the recipe. Actual calories may vary.
*Pre-cooked bacon and pre-cooked chicken can be used as substitutes.
*The pasta salad can be made in advance and can be stored in your fridge in a sealed container for up to 3 days.
*See post regarding tips, recipe variations, and recommendations for the recipe.
Recommended Products
As an Amazon Associate and member of other affiliate programs, I earn from qualifying purchases.
Nutrition Information:
Yield:

8
Serving Size:

1 Cup
Amount Per Serving:
Calories:

451
Total Fat:

30g
Saturated Fat:

7g
Unsaturated Fat:

0g
Cholesterol:

69mg
Sodium:

859mg
Carbohydrates:

24g
Fiber:

1g
Sugar:

2g
Protein:

21g