Try our easy meatloaf recipe with breadcrumbs, peppers, and onions. Nothing beats a homemade meatloaf loaded with spices and topped with ketchup.
Is there anything better than a homemade meatloaf? Tender, juicy ground beef, mixed with spices, and breadcrumbs.
It really doesn't get much better than that. For today's recipe we're sharing our easy meatloaf with breadcrumbs.
This is the meatloaf I grew up eating and it is delicious! So, shall we get started?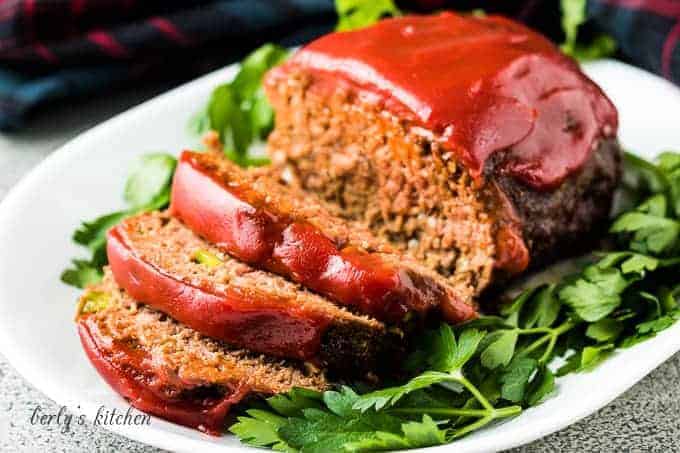 How to make a meatloaf with breadcrumbs:
First, start by dicing the onions and peppers.
Preheat your oven to 350° F. and line a sheet pan with aluminum foil.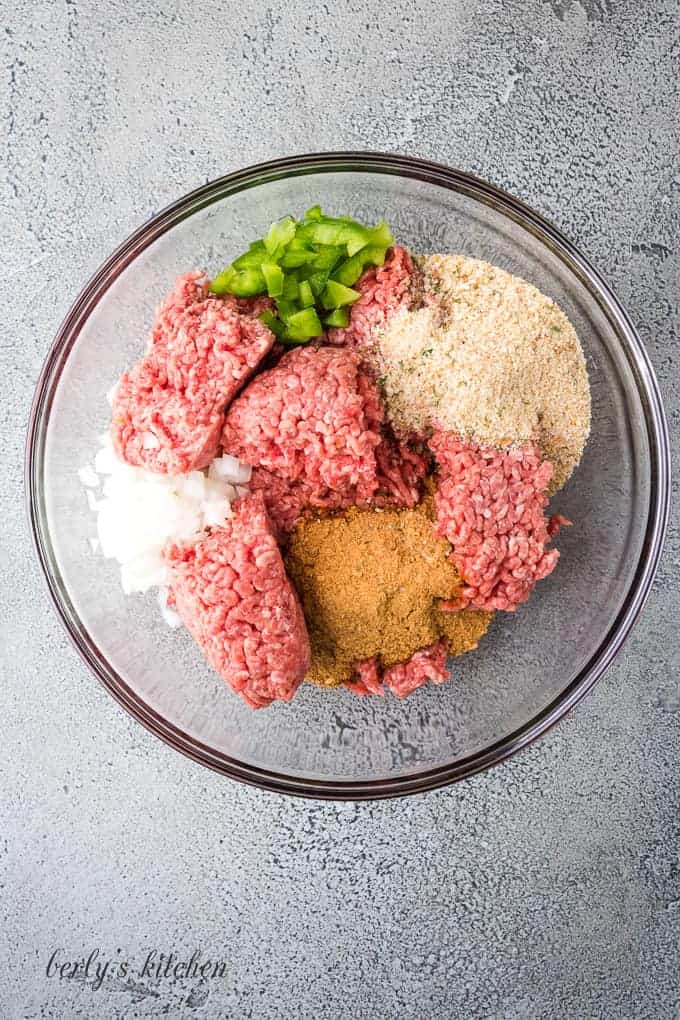 Next, crack the egg into a bowl and whisk it. Transfer the egg into a large mixing bowl.
After that, add the ground meat, onions, peppers, breadcrumbs, and meatloaf spices to the same bowl.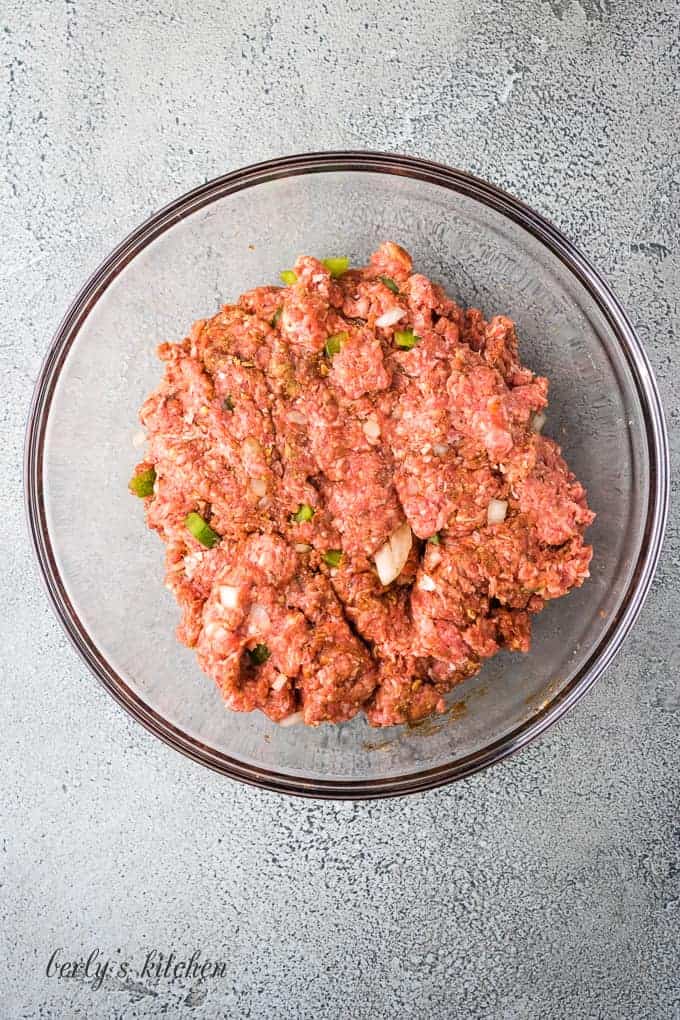 Then, using your hands, mix the everything together (expect the ketchup).
Afterward, place the raw meatloaf onto the sheet pan and shape it into a loaf.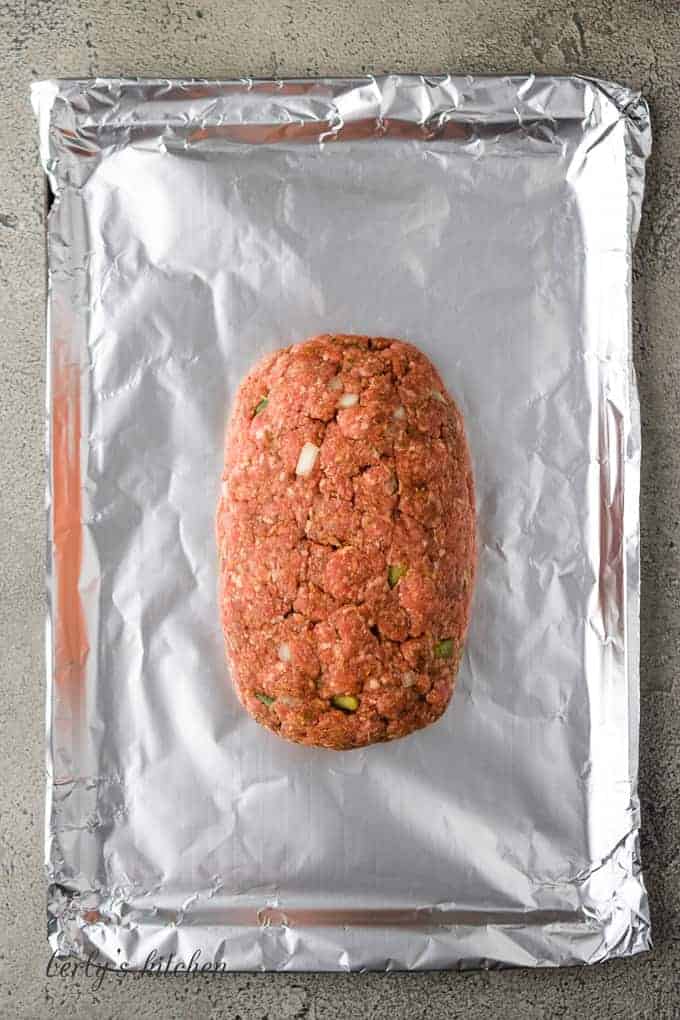 At this point, place the loaf into the oven to bake for at least 50 to 60 minutes.
You might want to bake it longer if you want a well-done meatloaf. See my tips below.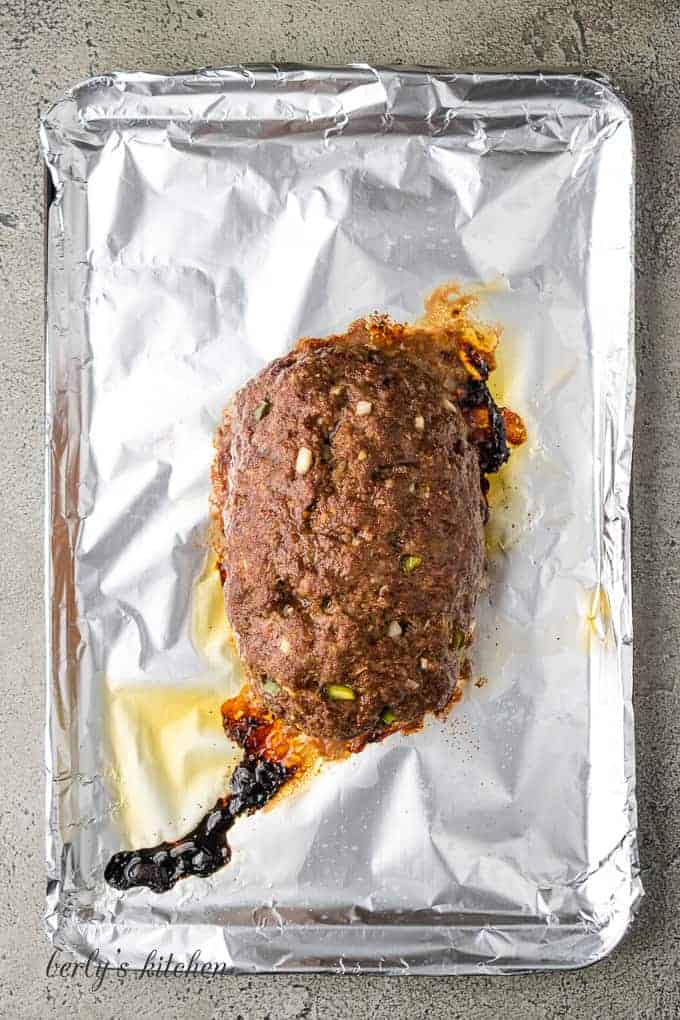 Once the meatloaf with breadcrumbs has cooked, remove it from the oven and top it with ketchup.
Now, place the beef back into the oven to bake for another ten (10) minutes. Keep an eye on it, if the ketchup starts to burn, remove it immediately!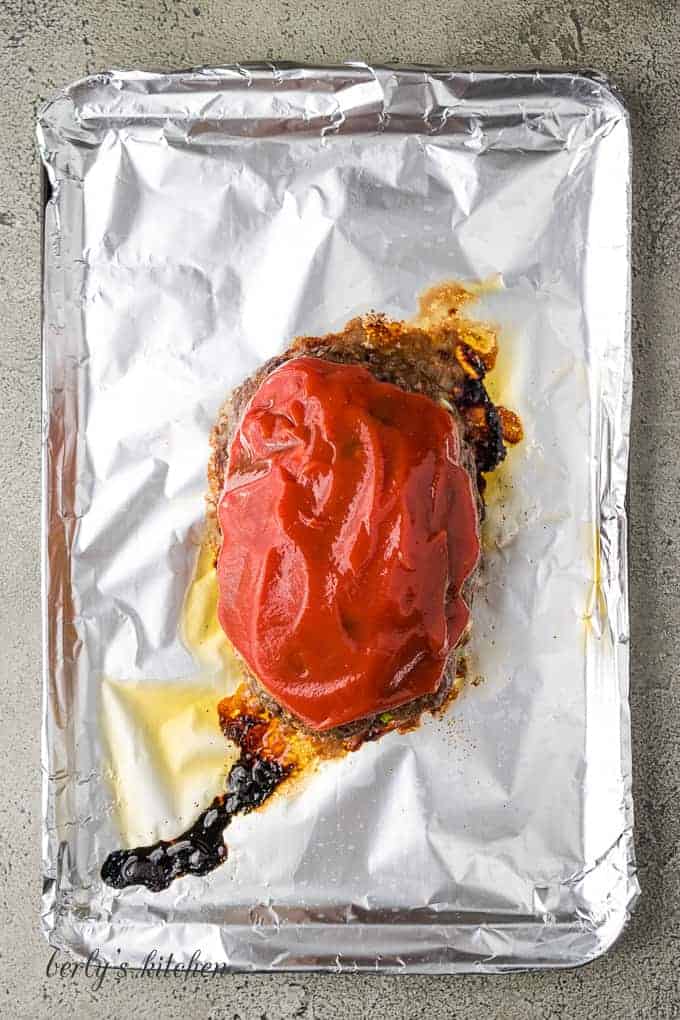 Last, after the ten (10) minutes have passed, remove the beef from the oven and let it rest for five (5) to ten (10) minutes before slicing and serving.
Easy Meatloaf Recipe Tips:
Meatloaf seasoning packets may contain high amounts of sodium. You can make your own blend by using a mixture of salt, pepper, paprika, onion powder, garlic powder, basil, thyme, and oregano.
Kim and I use ground sirloin in our easy meatloaf recipe. But, that's because I prefer a medium to medium-well cook time. Now, you can use whatever blend of ground beef you wish; however, please make sure you cook the meat until it reaches at least 160 degrees F. at its thickest spot.
The peppers and onions in the recipe are optional, you don't have to put them into the dish.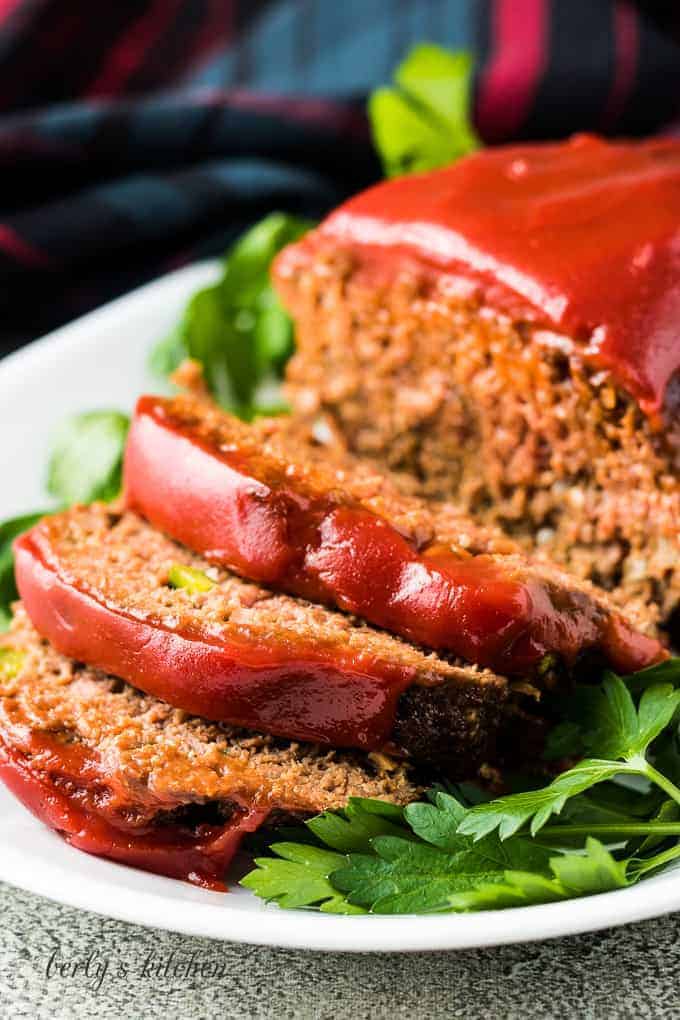 That's it, the easy meatloaf recipe with breadcrumbs is done! Kim and I hope you enjoy this offering and wish you all the best 🙂
Yield: 10 Servings
Easy Meatloaf Recipe with Breadcrumbs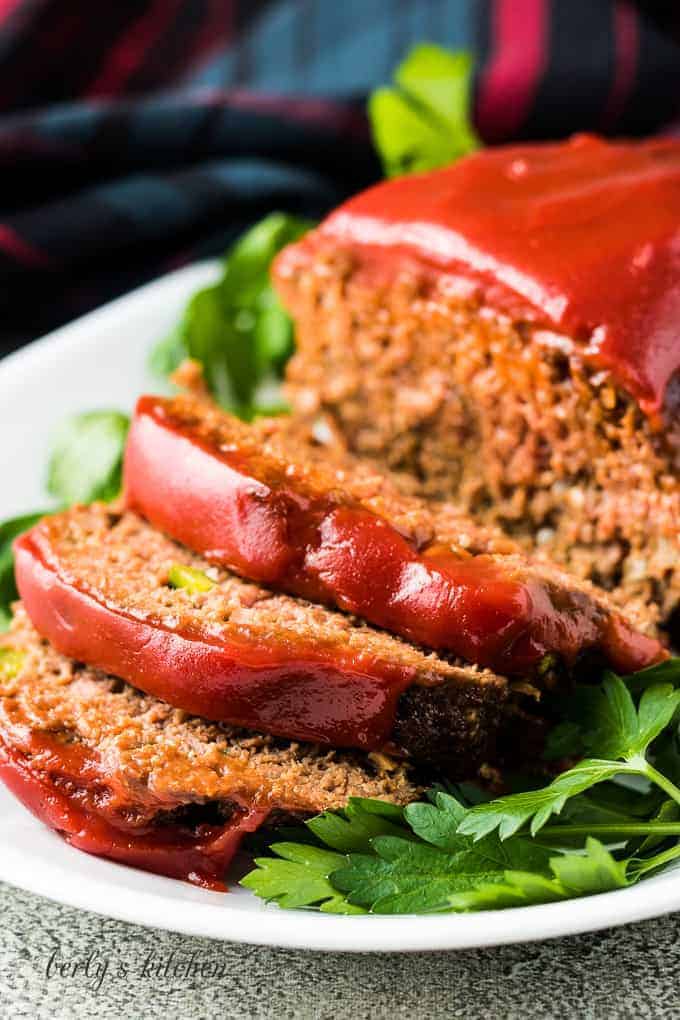 Try our easy meatloaf recipe with breadcrumbs, peppers, and onions. Nothing beats a homemade meatloaf loaded with spices and topped with ketchup.
Cook Time
1 hour
10 minutes
Total Time
1 hour
30 minutes
Ingredients
1 Large Egg, (whisked)
16 Ounces Ground Beef, (we used 90/10 ground sirloin)
1/2 Cup Italian Breadcrumbs
1.5 Ounces Meatloaf Seasoning, (or your own blend)
1/4 Cup Bell Pepper, (diced, we used green)
1/4 Cup White Onion, (diced)
1/2 Cup Ketchup
Instructions
Preheat the oven to 350, and line a baking sheet with foil. Set aside.
In a large bowl, whisk the egg then add the sirloin, meatloaf seasoning, bread crumbs, bell pepper, and onion. Use your hands to mix the ingredients until thoroughly combined.
Shape the mixture into a loaf form, and transfer it to the baking sheet. Bake for 50 to 60 minutes or when an instant read thermometer reaches a safe temperature (160 degrees F.)
Remove the meatloaf from the oven, and brush the ketchup over the top half of the loaf. Return the meatloaf to the oven and bake for an additional 5 to 10 minutes. Remove from the oven, and allow the meatloaf to rest for 10 minutes before slicing.
Notes
The calories listed are an approximation based on the ingredients and a serving size of about one and a half (1 1/2) ounces of the meatloaf. Actual calories will vary.
**We prefer our meatloaf medium to medium-well. However, if you prefer well-done, then you will need to add 10 to 15 minutes of extra cook time BEFORE adding the ketchup.**
**Ground sirloin is recommended, however, feel free to use any type of ground beef but be sure that the meat reaches 160 degrees before serving.**
Recommended Products
As an Amazon Associate and member of other affiliate programs, I earn from qualifying purchases.
Nutrition Information:
Yield:
10
Serving Size:
1.5 Ounces
Amount Per Serving:
Calories:

176
Total Fat:

10g
Saturated Fat:

4g
Unsaturated Fat:

0g
Cholesterol:

53mg
Sodium:

229mg
Carbohydrates:

11g
Fiber:

1g
Sugar:

3g
Protein:

10g