A simple Instant Pot beef and broccoli recipe that comes together in about 30 minutes. Combine it with a serving for rice of tasty meal!
I don't know about you, but from time to time, I get a craving for Asian-inspired dishes like egg rolls or fried rice. While we have a few recipes like that on our site, Kim and I want to add more choices.
So, for today' recipe, we're sharing our Instant Pot beef and broccoli recipe. All you need is a little steamed broccoli and some rice to satisfy that craving for take-out.
Shall we get started?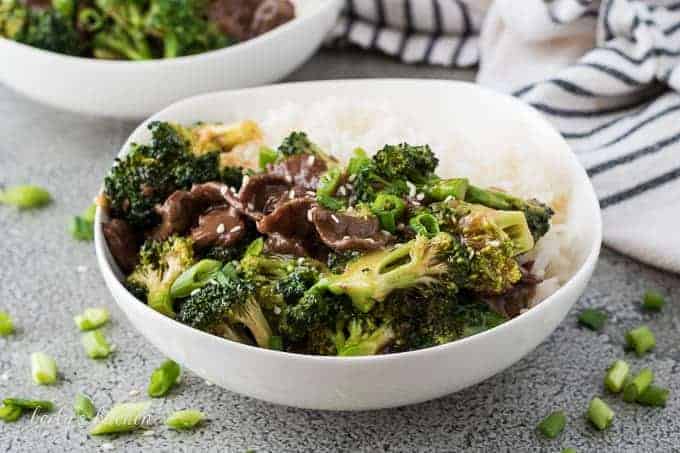 Love the combination of meat and rice? Then take a look at our easy Instant Pot buffalo chicken and rice recipe.
How to make Instant Pot Beef and Broccoli?
First, start by slicing, dicing and mincing the beef, onions, garlic, and fresh ginger if you used that instead of ground.
Furthermore, now is a good time to steam the broccoli. See our tips below on quick methods.
Next, separate the strips of beef and season them with salt and pepper.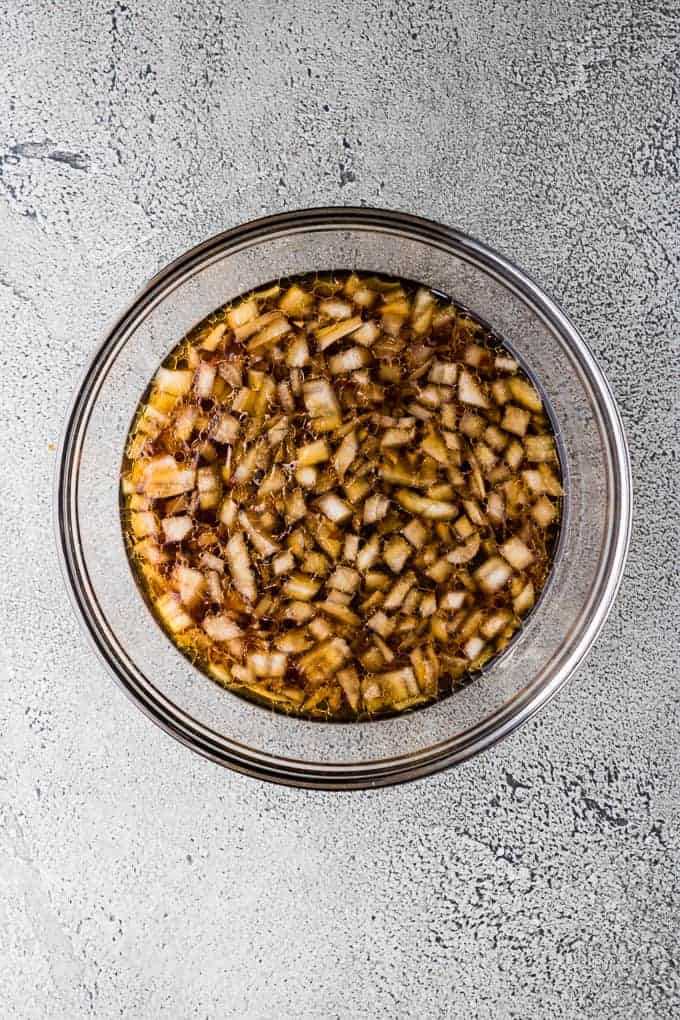 After that, in a mixing bowl, whisk together the onions, garlic, beef broth, soy sauce, brown sugar, sesame oil, ginger, and red pepper flakes.
Now, place the liner into the cooker and add the beef and the sauce. Place the lid on the machine.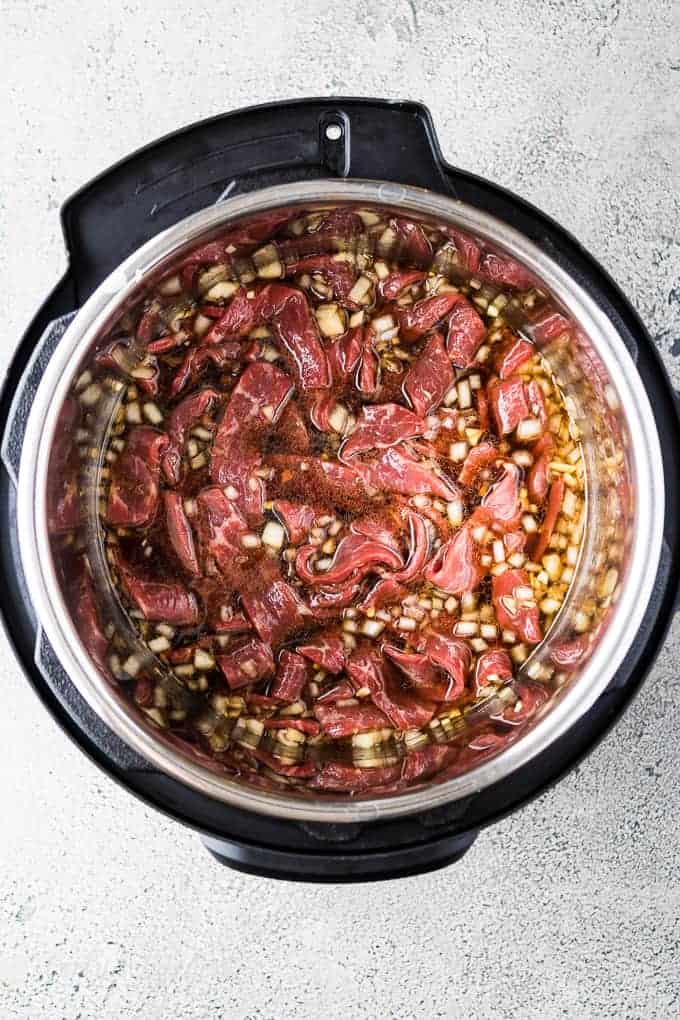 Then, set the Instant Pot to cook for five minutes using the high pressure/manual cook button.
While the beef and broccoli cook, use a whisk to combine the corn starch and water in a small mixing bowl.
Afterward, allow the machine to preform a natural release for five minutes before carefully (using a kitchen towel) opening the valve to release the remaining pressure (quick release).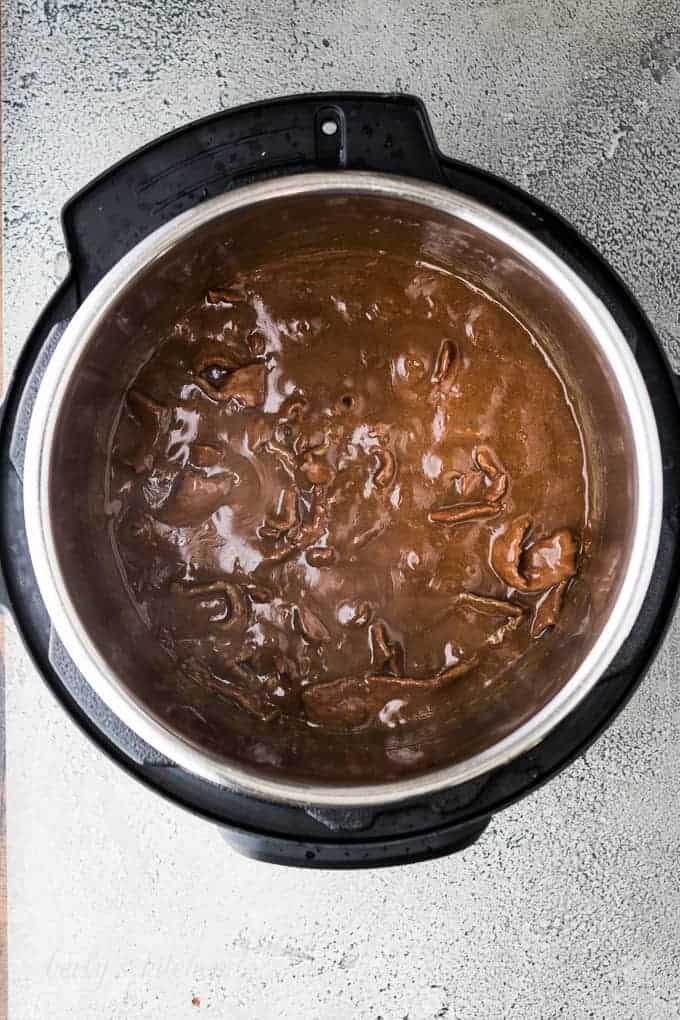 At this point, you can open the lid, pour in the corn starch mixture, and stir the food. Turn the machine on and set it to saute.
Afterward, let the beef broccoli saute until it reaches the desired thickness. Turn off the machine and stir in the steamed broccoli.
Last, serve the dish over rice or any side of your choice.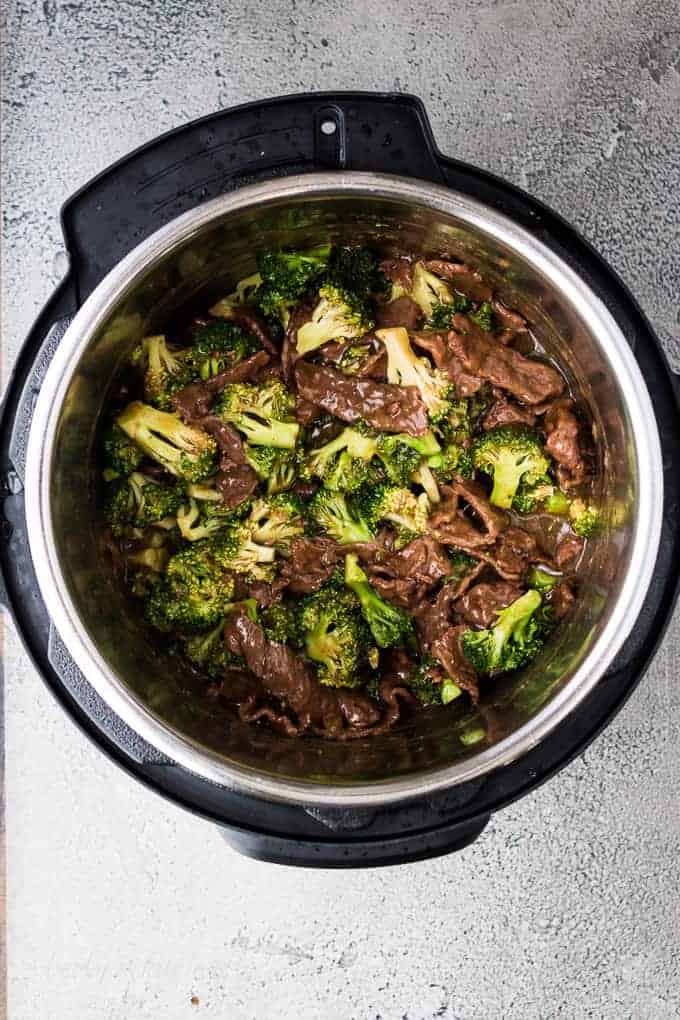 Kim and I hope you enjoyed the recipe and wish you all the best 🙂
Recipe Tips:
Cooking the broccoli separately is best method. Adding it (frozen or raw) to the beef will result in mushy, overcooked broccoli florets. You have a few options to choose from. For example, microwavable steamed broccoli works well. You can lightly boil the vegetable or try steaming broccoli in your pressure cooker using our method.
While we used stir fry meat for our recipe, that option may not be available for you. Try getting the meat thinly sliced, less than 1/4 in. thickness. Otherwise, it may take longer than five minutes to fully cook. Personally, I like my beef medium, so I feel you could get away with a four minute cook time, but we have NOT tested it. So, do so at your own risk.
Similar to the broccoli, feel free to use microwave or even minute rice. It works just fine for this recipe. Also, Kim provided a pot-in-pot option in the recipe notes for cooking rice at the same time as the beef.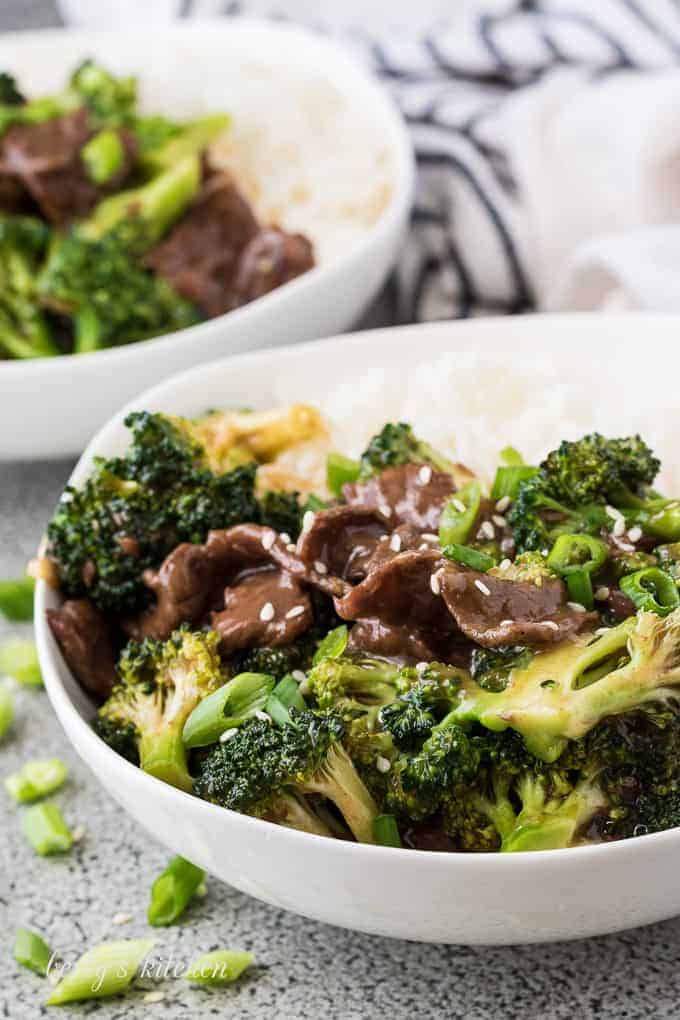 If you like our Instant Pot beef and broccoli recipe, please leave us a comment and rate the recipe card. You can also find us on Facebook, Pinterest, Twitter and Instagram searching for Berly's Kitchen!
Yield: 6 Servings
Instant Pot Beef and Broccoli Recipe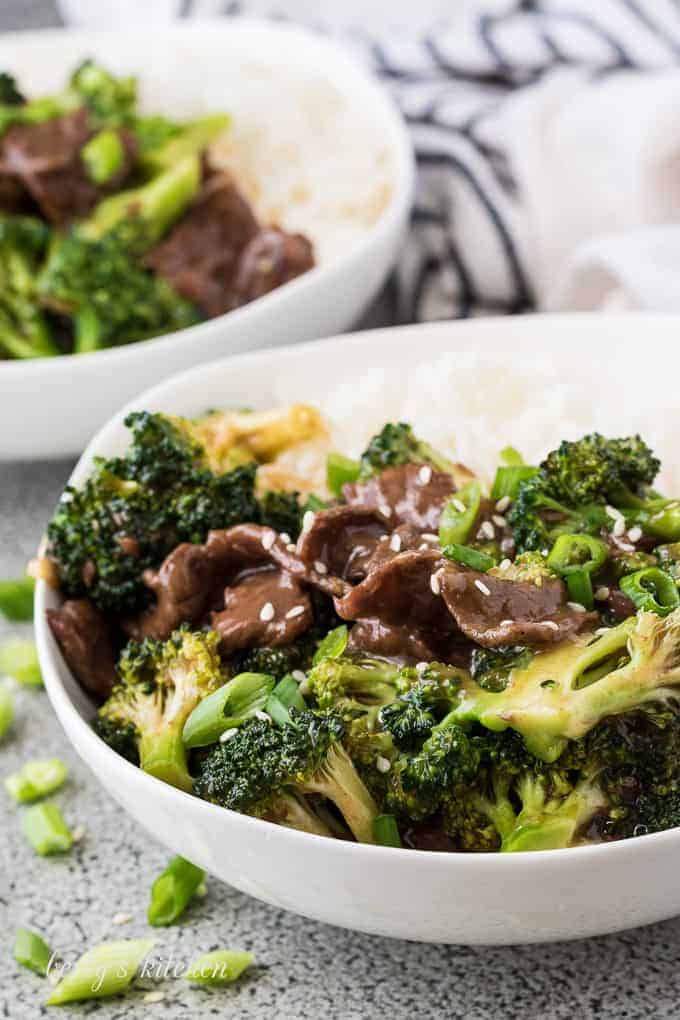 A simple Instant Pot beef and broccoli recipe that comes together in about 30 minutes. Combine it with a serving for rice of tasty meal!
Come to Pressure and Release
15 minutes
Ingredients
Beef
1 Lb. Stir Fry Meat, (thinly beef, cut into 1/4 thick pieces)
1/8 Teaspoon Salt, (or to taste)
1/8 Teaspoon Pepper, (or to taste)
1/2 Cup White Onion, (finely diced)
4 Large Garlic Cloves, (minced or pressed)
1 Cup Beef Broth
1/2 Cup Soy Sauce
1/2 Cup Brown Sugar
2 Tablespoons Sesame Oil
1/4 Teaspoon Ground Ginger, (or 1 tablespoon fresh, minced)
1/8 Teaspoon Red Pepper Flakes
Slurry
3 Tablespoons Water
3 Tablespoons Corn Starch
Broccoli
12 Ounces Broccoli Florets, (steamed or blanched)
Instructions
Separate the strips of beef and ensure they aren't clumped together. Season them with salt and pepper, then set aside.
In a medium bowl, combine the onion, garlic, broth, soy sauce, brown sugar, sesame oil, ginger, and red pepper flakes. Pour the mixture into the stainless steel liner of the Instant Pot.
Add the strips of beef, close the lid, and ensure the valve is set to sealing. Press the manual (pressure cook) button, then adjust the time to 5 minutes* (see note). After 5 minutes, allow a 5 minute natural release.
While the beef cooks, make the cornstarch slurry. Whisk together the cold water and cornstarch then set aside.
After the natural release, open the lid, and stir the contents. Press "Cancel" to turn off the "Keep Warm" function. Then, press "Saute." Pour in the cornstarch slurry, and stir until the desired thickness is reached. Press, "Cancel" again, and stir in steamed broccoli.
Serve over rice or side of your choice.
Notes
The calories listed are an approximation based on the ingredients and a serving size of about one and a half (1.5) cups of the beef and broccoli. Additionally, the calorie count does NOT include the steamed rice or sesame seeds shown in the photos. Actual calories will vary.
*It's important to have the beef thinly cut (¼ inch) in order to keep the cook time at 5 minutes. If the beef is thicker, it may be necessary to increase the cook time.

*Since the beef is so thin, we did not saute it ahead of time. We did test the saute method and found that most of the beef stuck and cooked completely without the need to pressure cook. Therefore, the sauce would not be absorbed as well.

*We recommend cooking the broccoli separate and adding it to the beef at the end. Either broccoli steamed or blanched on the stove top or microwave steamed broccoli works well. If you have two pressure cookers, it can be cooked in a separate pressure cooker while the beef cooks in the other.

*The rice can be cooked at the same time as the beef if it's done pot-in-pot. Simply place a trivet tall enough to sit over the beef into the liner of the Instant Pot. Place a pressure cooker safe bowl onto the trivet with 1 cup of long grain white rice and 1 ¼ cup of water. Follow the cooking instructions as written.

*We have not tested this recipe with any rice other than long grain white rice.
Recommended Products
As an Amazon Associate and member of other affiliate programs, I earn from qualifying purchases.
Nutrition Information:
Yield:
6
Serving Size:
1.5 Cups
Amount Per Serving:
Calories:

274
Total Fat:

9g
Saturated Fat:

2g
Unsaturated Fat:

0g
Cholesterol:

47mg
Sodium:

1346mg
Carbohydrates:

29g
Fiber:

2g
Sugar:

20g
Protein:

21g