Instant Pot Corn Chowder – In less than 30-minutes you can transform simple ingredients into a hearty soup everyone will love!
As I wrote today's post, I couldn't help but notice all those beautiful Fall leaves that have blanketed our backyard. I know I should rake them up, but I just can't bring myself to do it.
After living in Florida for almost a decade, I had forgotten how lovely Fall can be on some days. With the season in full effect, we couldn't wait any longer to share our Instant Pot corn chowder with bacon recipe.
It's perfect for days like today when temperatures aren't freezing but still cool enough to appreciate a warm bowl of soup.
As par for the course, this dish is simple to prepare and hits the spot every time. It's loaded with potatoes, corn, bacon, and onions.
Furthermore, the delicate hints of black pepper and thyme make it a meal you won't regret. For those calorie conscious eaters or families pressed for time, I've included some tips below to cut down on both situations.
Kim and I hope you enjoy today's offering. How about we get started?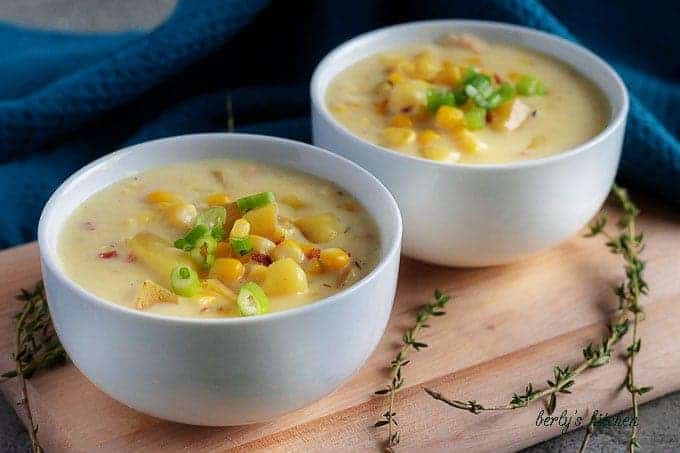 How to Make Instant Pot Corn Chowder:
First, dice up your onions and potatoes, and do any other prep work you need to complete before getting started. Now, turn your pressure cooker to Saute and add the onions to the pot.
Sauté the onions for 3-5 minutes or until they soften a little.
Once the onions are ready, add the minced garlic and sauté everything for another 30-seconds. Turn off your Instant Pot or cooker.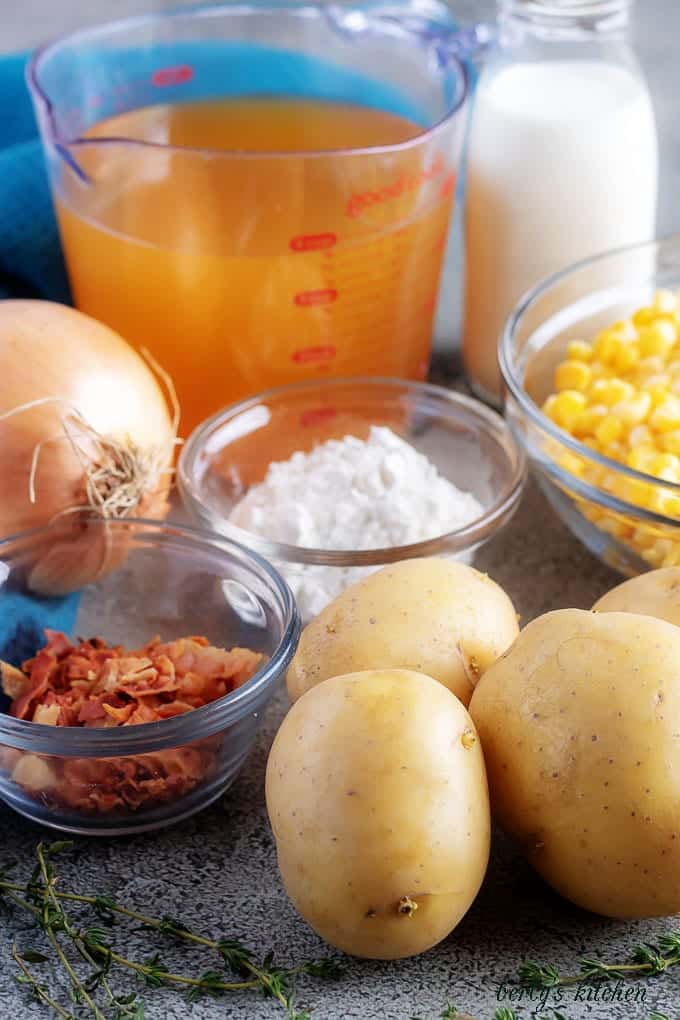 Next, add the bacon, diced potatoes, frozen corn, chicken or vegetable broth, thyme, salt, and pepper to your cooker. At this point, set the valve to sealing and set your Instant Pot to Manual/High Pressure for 5-minutes.
Let the corn chowder with bacon cook and once the timer goes off open the valve and perform a quick release. Be careful, because the steam is hot!
After that, in small mixing bowl or large measuring cup, whisk together the half and half and flour. Be sure to breakdown all the flour, don't leave any clumps.
Set it aside and go back to your pressure cooking device.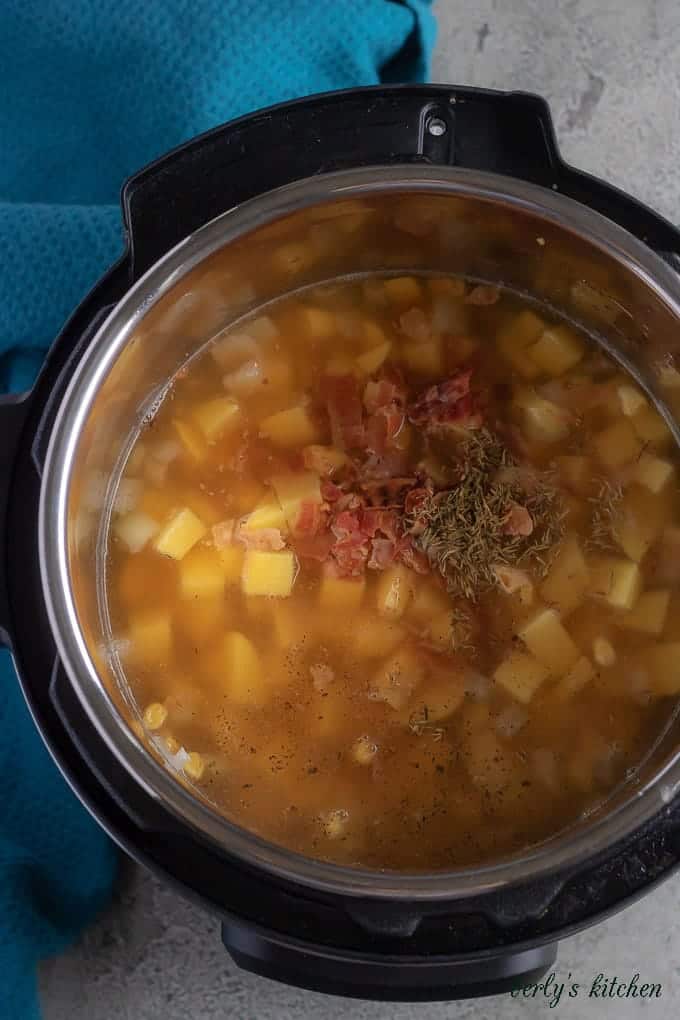 Then, remove the lid to your Instant Pot. You might need to release the pressure valve again, but maybe not.
Turn the cooker onto the sauté function once more and slowly stir in the half and half mixture. As the corn chowder with bacon heats, it will thicken.
Allow it to sauté until it reaches your desired thickness, then turn off the pressure cooker. Last, portion out the soup as needed and top each bowl with a garnish of your choice.
You can store any leftovers in a sealed container in your fridge for up to 3-days. Love corn recipes? Then take a look at our grilled corn on the cob in foil!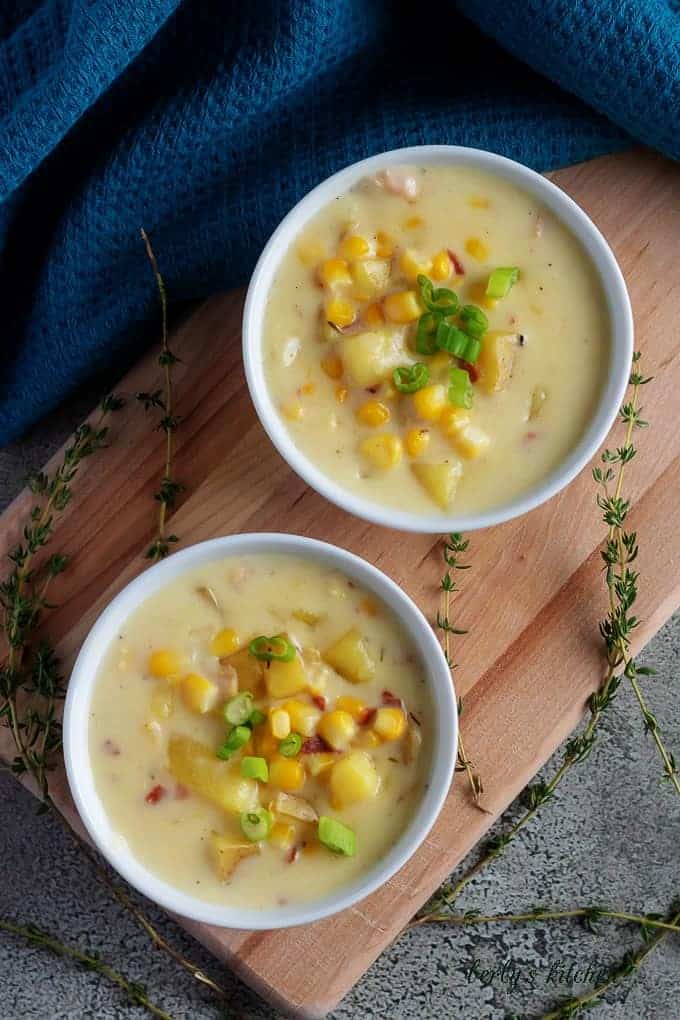 Corn Chowder with Bacon Tips:
To save time in the kitchen and keep this recipe close to the 30-minute mark, buy precooked bacon and microwave it for about 60-90 seconds on high. Give it a quick chop and you're good to go.
Also, to avoid time-consuming knife work, use jarred, minced garlic instead of fresh garlic. Additionally, you can substitute the 4-tablespoons of flour for 2 or 3-tablespoons of corn starch.
Doing so, will remove a small amount of gluten from the soup. If you're serious about reducing the calories in this dish, simply substitute 2% milk for the half and half.
Or, if you want to make the Instant Pot corn chowder vegetarian by omitting the bacon.
If you like this recipe, please leave us a comment and rate the recipe card. You can also find us on Facebook, Pinterest, Twitter and Instagram searching for Berly's Kitchen!
Yield: 6 Servings
Instant Pot Corn Chowder with Bacon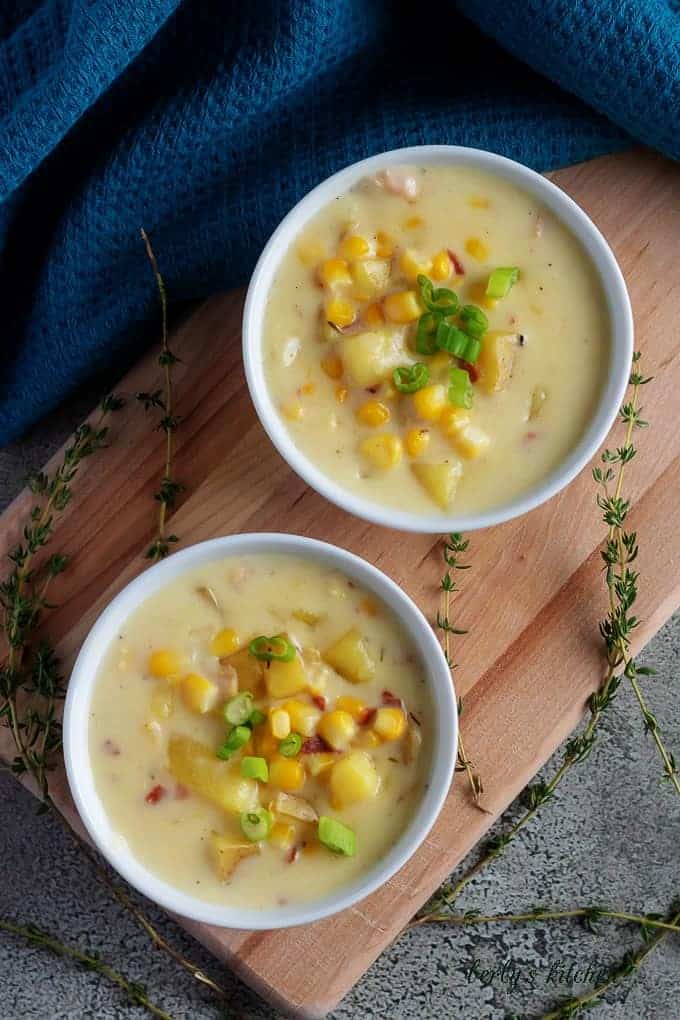 A corn chowder with bacon made in your pressure cooker. In less than 30-minutes you can transform simple ingredients into a hearty soup everyone will love!
Come to Pressure/Saute
13 minutes
Ingredients
1 Tablespoon Olive Oil
6 Slices Bacon, (pre-cooked, diced)
4 Cloves Garlic, (minced, 3-4 Tblsp.)
1 Medium White Onion, (diced,1-cup)
4 Large Yellow or Gold Potatoes, (cut into 1-in. cubes)
12 Ounces Frozen Corn, (1 bag)
4 Cups Vegetable Broth, (or Chicken Broth)
1/2 Teaspoon Dried Thyme, (2-3 sprigs fresh)
Salt and Pepper to taste
1 Cup Half and Half
4 Tablespoons All-Purpose Flour
Instructions
First, turn Instant Pot to saute and add the onions. Saute for 3-5 minutes until they soften. Add the garlic and saute another 30 seconds. Turn off the Instant Pot.
Next, add the bacon, potatoes, corn, broth, thyme, salt and pepper. Set the valve to sealing, and use the manual/pressure cook button to set the Instant Pot to high pressure for 5 minutes. After the timer goes off, open the valve to complete a quick release of the pressure.
Then, in a small bowl or large, glass measuring cup, mix the half and half and flour. Whisk until well-combined. Set aside.
After that, remove the lid from the Instant Pot, and turn on the saute function. Slowly add the half and half/flour mixture while stirring. As the chowder heats and begins to boil, it will thicken. This usually takes about 5 minutes.
Last, garnish with anything you desire and serve. We topped our chowder with diced green onions.
Notes
The calories listed are an approximation based on the ingredients and a serving size of about 1-cup. Actual calories will vary. The chowder can be stored in your fridge for up to 3-days in a sealed container.
Recommended Products
As an Amazon Associate and member of other affiliate programs, I earn from qualifying purchases.
Nutrition Information:
Yield:
6
Serving Size:
1 Cup
Amount Per Serving:
Calories:

257
Total Fat:

16g
Saturated Fat:

6g
Unsaturated Fat:

0g
Cholesterol:

29mg
Sodium:

793mg
Carbohydrates:

23g
Fiber:

2g
Sugar:

2g
Protein:

6g