Snow Ice Cream is a fun Winter treat that's cold, sweet and only comes around a few times a year. Fresh snow is mixed with sweetened condensed milk and a touch of vanilla extract. Top it with some sprinkles for a pop of color!
Snow may be a fairly common occurrence for many in the United States. Here in the South, the Winter precipitation usually comes in the form of ice or a light dusting of snow.
There's not usually enough snow to make a snowball much less a snowman. That's what made a recent snowfall in our area so exciting. We got about 8 inches of snow, so I decided to make snow ice cream.
Our son is 17 and has never tried it. He'll be heading off to college later this year, so this may be the only opportunity he'll have to try this fun Winter treat at home.
You have to be thinking ahead to make snow ice cream. Of course, watch the weather forecast to find out when and if it's going to snow in your area.
Place a couple of large bowls on a table outside, so they can catch the fresh (clean) snow. You can always transfer to the snow to a different container later if needed.
This type of ice cream doesn't require an ice cream maker like our homemade strawberry ice cream. It could be considered "no-churn," but it's not really like pumpkin ice cream, Lucky Charms ice cream, or peppermint ice cream either.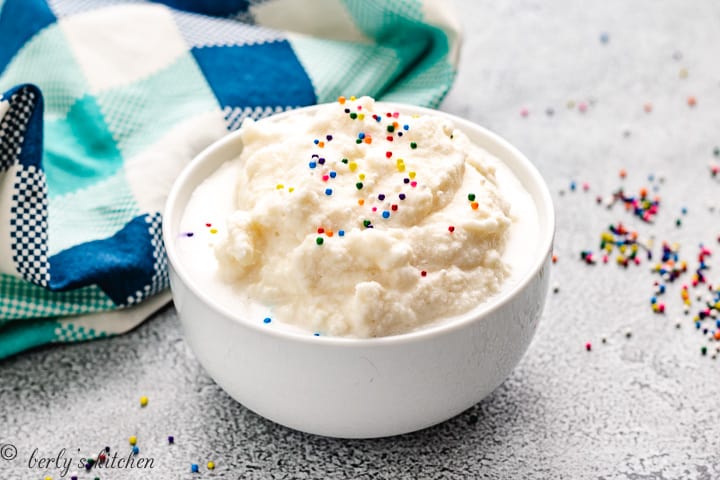 How to make snow ice cream:
You'll need about 16 cups of snow or about a gallon. Just eyeball it; the amount doesn't need to be exact.
Place the snow in a large mixing bowl. Pour in a 14 ounce can of sweetened condensed milk along with a teaspoon of vanilla extract.
Stir the ingredients, and check the taste and texture of the ice cream. Add more sweetened condensed milk if needed.
For this particular recipe, I ended up using 1.5 cans of sweetened condensed milk. Although, when I've made snow ice cream in the past (talking about decades ago) the amount varied.
Scoop the ice cream into individual serving dishes, top with sprinkles, and serve immediately. This stuff melts fast!
What's the best way to store leftover snow ice cream?
Snow ice cream is best enjoyed immediately. It can be placed in the freezer, but it will freeze solid like ice. The consistency will change from it's original texture, and many times, it thaws to a liquid.
Can you make snow ice cream without sweetened condensed milk?
Yes, snow ice cream can also be made using evaporated milk, sugar, and vanilla. This
Quick and Easy Snow Ice Cream recipe
uses those ingredients, and it comes together in minutes.
Another variation is to use any variety of milk, including chocolate or strawberry, with a couple of other ingredients. This
Creamy Snow Ice Cream recipe
shows how to make it using milk as the liquid.
Why is the ice cream watery?
Snow melts quickly and turns to water. It will have a watery or slushy appearance as the ice cream begins to melt. Depending on the type of snow (packed, dry, fluffy, etc.), the ice cream will melt faster and have a different texture.
What toppings are good on snow ice cream?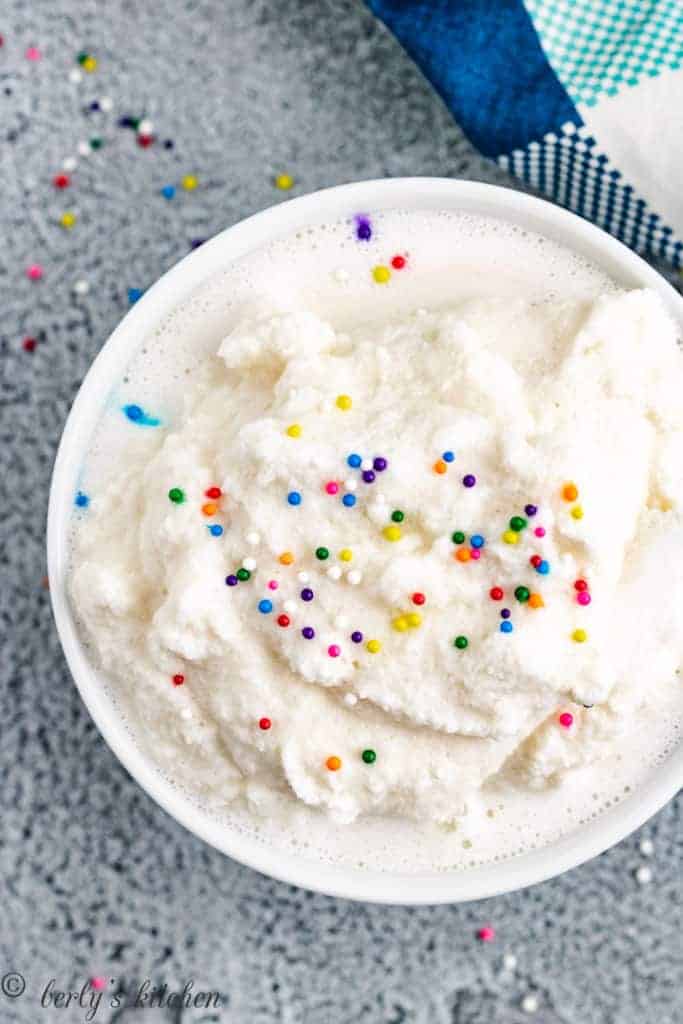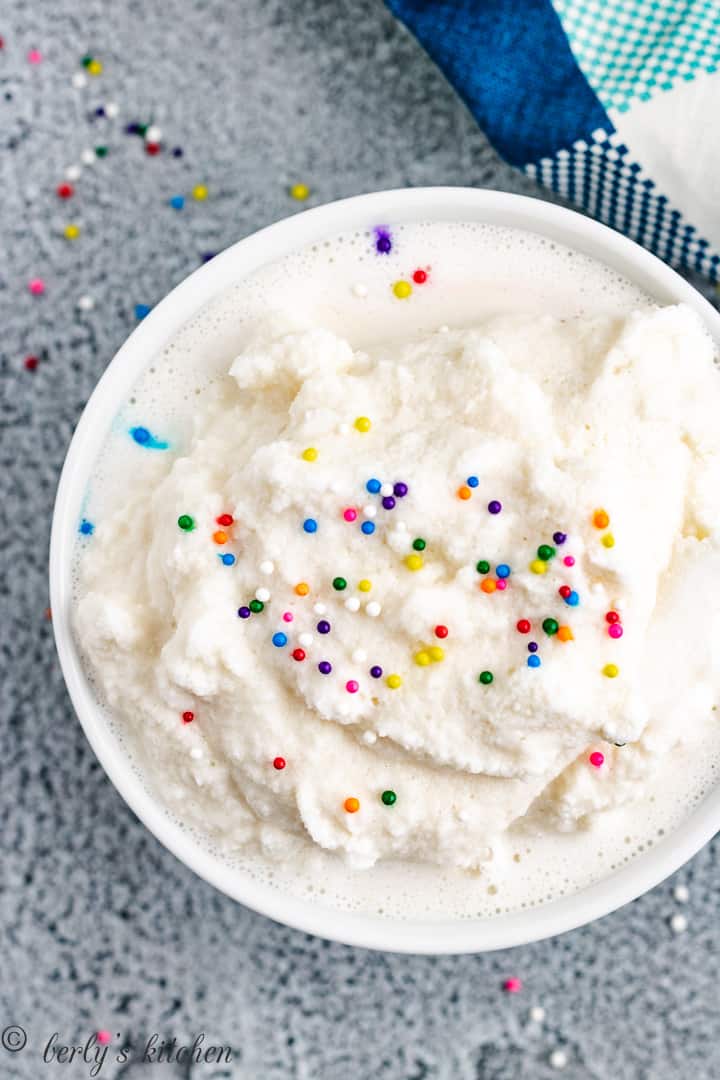 Don't forget to check out our Snow Ice Cream web story!
Yield: 6 Cups
Snow Ice Cream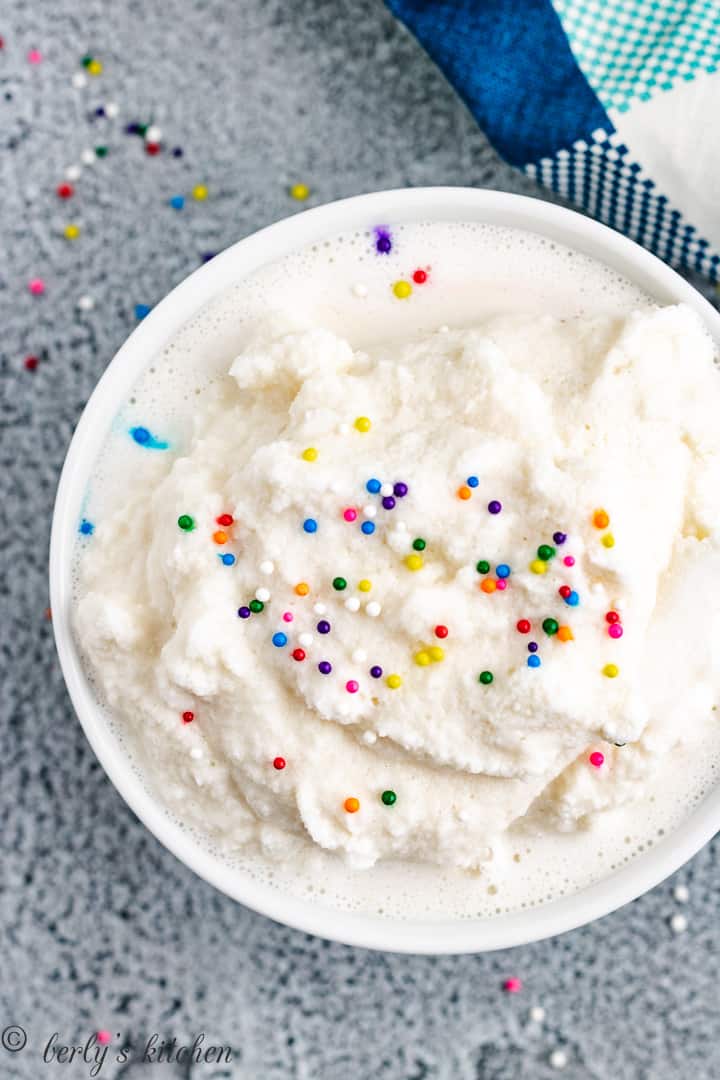 Snow Ice Cream is a fun Winter treat that's cold, sweet and only comes around a few times a year. Fresh snow is mixed with sweetened condensed milk and a touch of vanilla extract.
Ingredients
16 Cups Snow
1.5 (14 Ounce) Cans Sweetened Condensed Milk
1 Teaspoon Vanilla
Instructions
Please see information in the post/article for answers to frequently asked questions.
Gather clean snow, and place in a large mixing bowl.
Pour in sweetened condensed milk (adjust to taste and desired texture), and vanilla extract. Stir to combine.
Top with sprinkles, and divide into individual bowls. Enjoy immediately! Saving and storage is not recommended.
Notes
*The calories listed are an approximation based on the ingredients in the recipe card and a serving size of ½ cup of snow ice cream. Actual calories will vary.
*For more information, tips, and answers to frequently asked questions, please refer to the post.
Recommended Products
As an Amazon Associate and member of other affiliate programs, I earn from qualifying purchases.
Nutrition Information:
Yield:
12
Serving Size:
.5 Cup
Amount Per Serving:
Calories:

165
Total Fat:

4g
Saturated Fat:

3g
Trans Fat:

0g
Unsaturated Fat:

1g
Cholesterol:

17mg
Sodium:

65mg
Carbohydrates:

28g
Fiber:

0g
Sugar:

28g
Protein:

4g
*The calories are an estimate and are based on the ingredients and serving size listed. The calories can vary depending on the brand of product purchased.