This post is sponsored by Del Monte Fresh Produce but the content and opinions expressed here are my own.
Craving a fresh snack or side dish that's creamy and crunchy? Then try our delicious tomato avocado salad dressed with lemon juice and olive oil.
Recently, we created a recipe for Del Monte Fresh Produce. They were so great to provide us with all that fresh fruit.
In fact, we had some leftover ingredients and decided to create another awesome recipe using Del Monte Fresh produce.
For today's post, we're sharing our tomato avocado salad. It's a creamy, crunchy salad with fresh kick of lemon.
We couldn't wait to share it with all of our readers. We hope you love it as much as we do. Let's get started!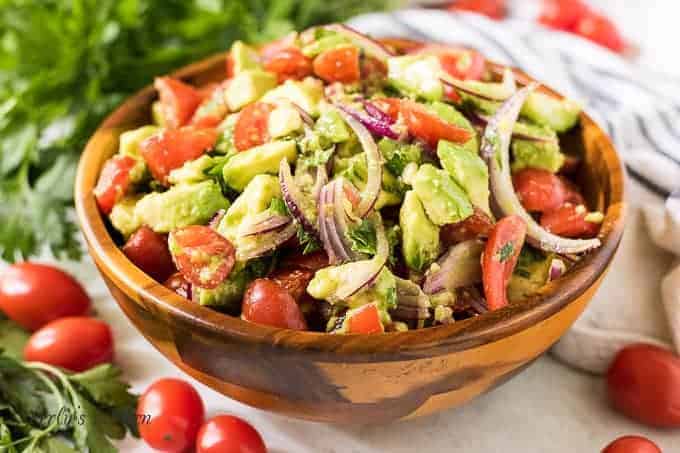 How to make a tomato avocado salad?
It's so easy to create this salad. To begin, grab a small mixing bowl and whisk together the lemon juice, olive oil, and salt and pepper.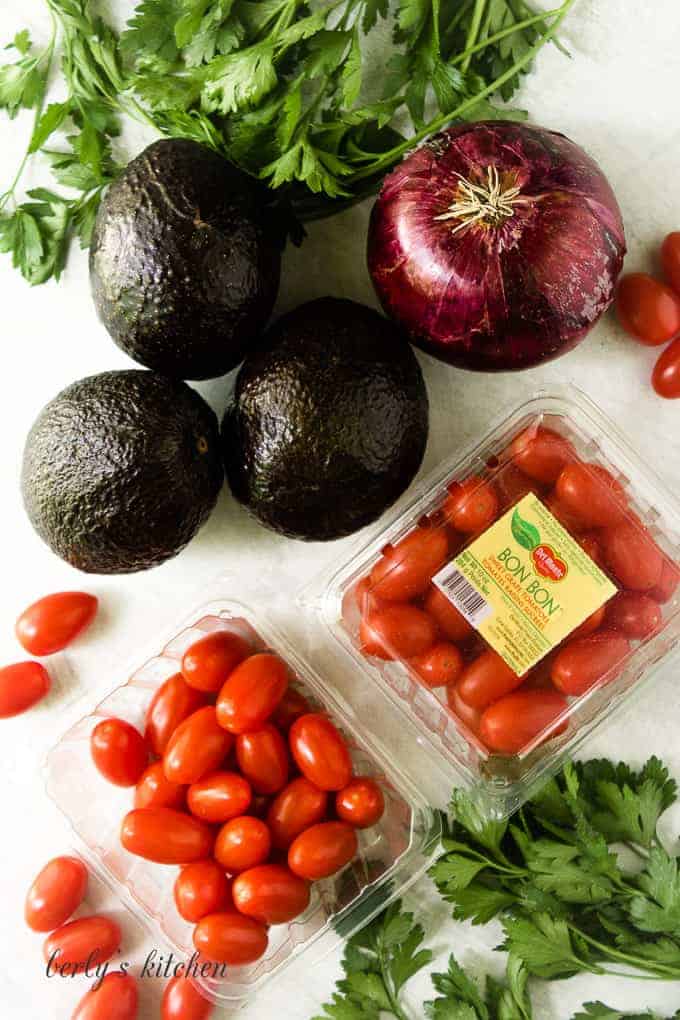 On the recipe card we recommend, "salt and pepper to taste." If you're unsure how much to add start with a pinch of each.
Then, taste test the dressing and add more, if needed.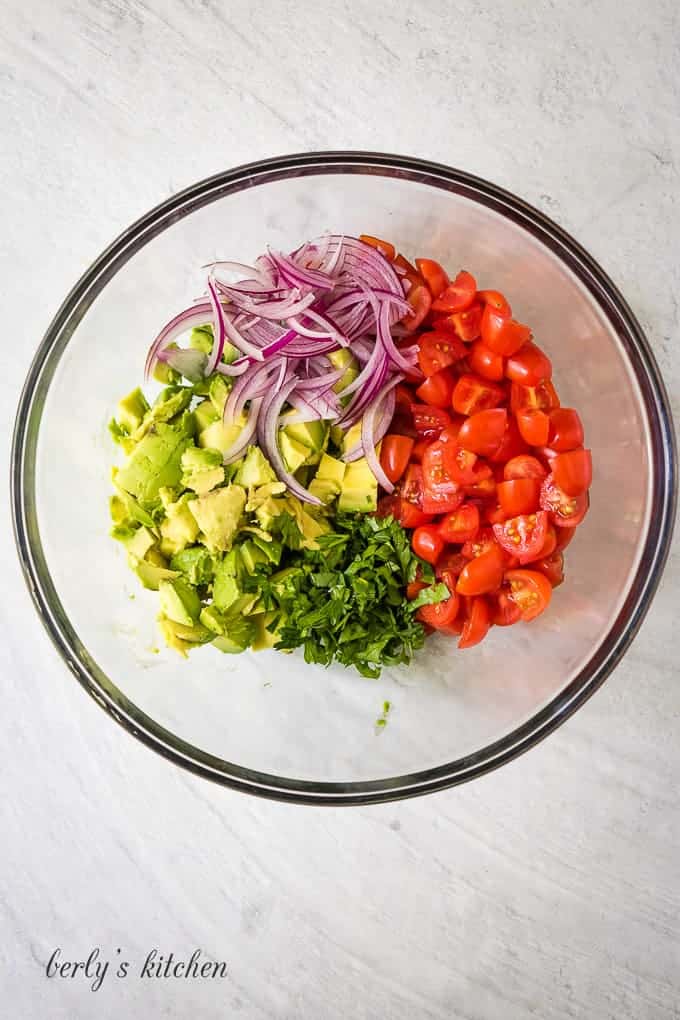 Next, chop the parsley, thinly slice the onions, dice the Del Monte tomatoes, and peel and dice the Del Monte avocados.
After that, combine the fruit and vegetables in a large glass mixing bowl. Don't forget to look at the photos and use them as a guide.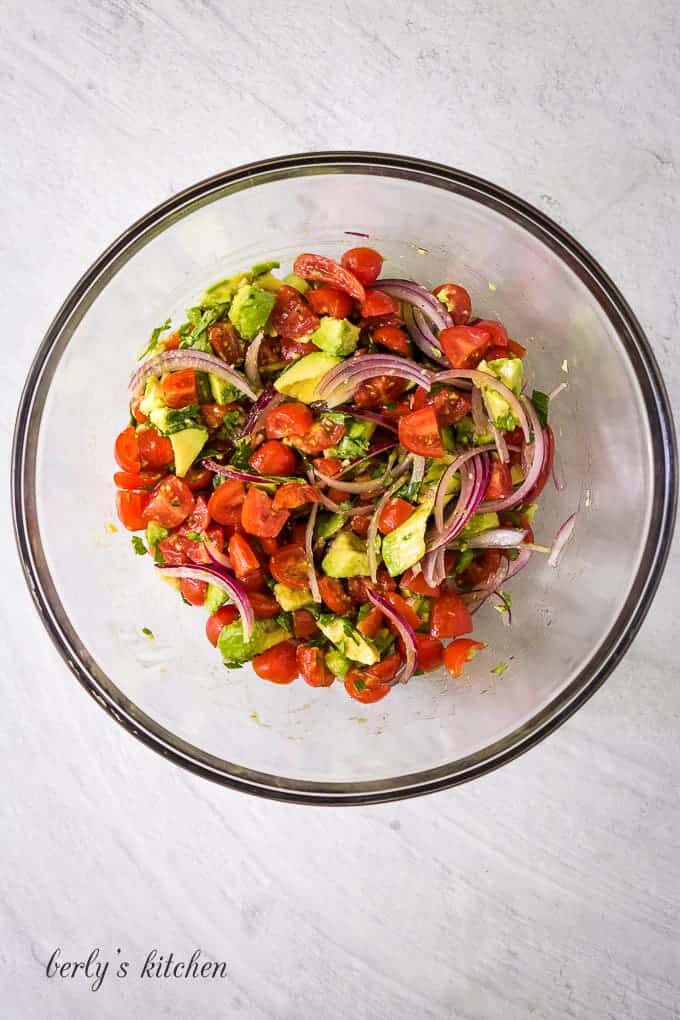 Last, drizzle the lemon juice and olive oil dressing over the other ingredients and give everything a quick toss.
That's it, your tomato avocado salad is done! Kim and I hope you enjoy the recipe and wish you all the best 🙂
How do you keep avocado from turning brown?
Adding a splash of citrus will help the avocado stay fresh and retain that bright green color. That's why we used lemon juice in the dressing.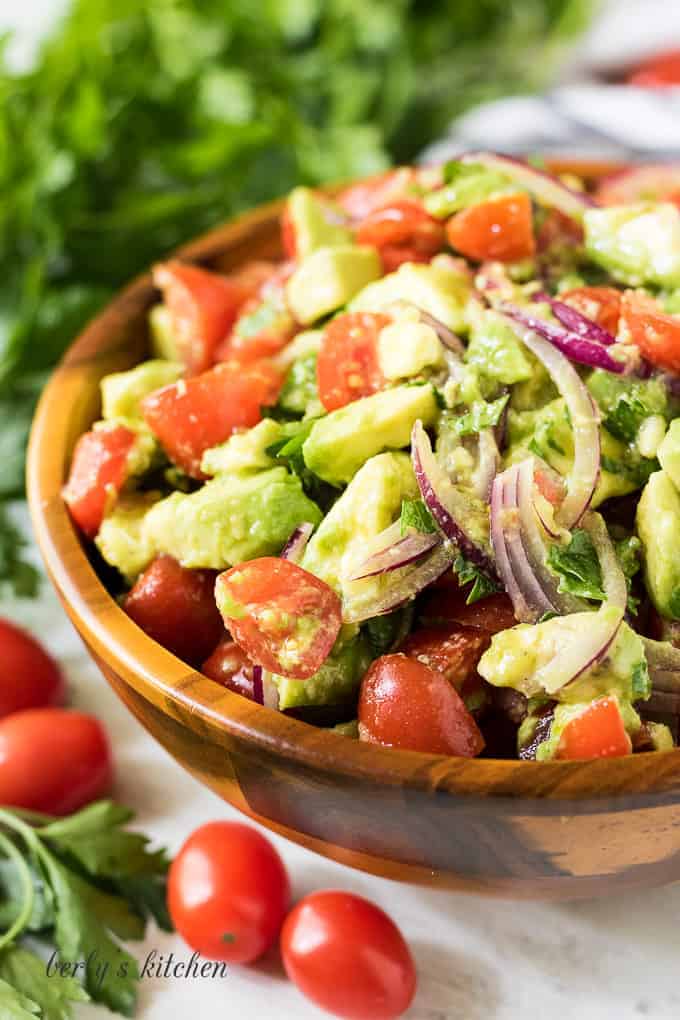 What goes well with avocado?
Honestly, just about anything will go with avocados. They're such a versatile fruit and they can be used in a variety of ways.
For example, spices like cumin and chili powder are perfect for making avocado dips. Or, simply toss them with onions, tomatoes, and salt to create a tasty snack.
My advice is to experiment and find healthy combinations that taste great!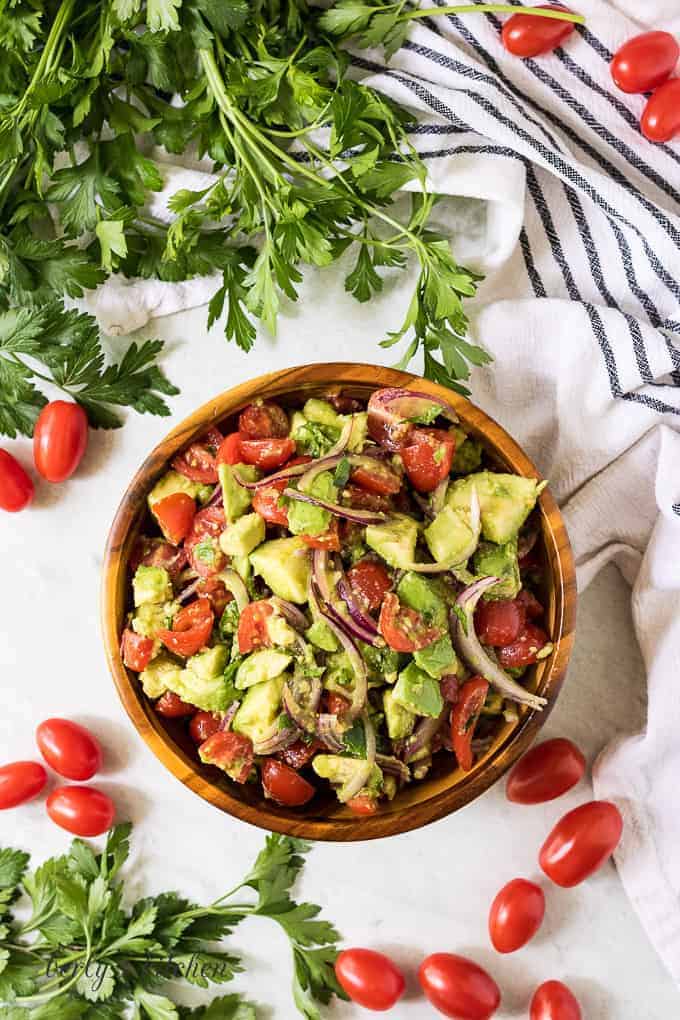 If you like our tomato avocado salad recipe, please leave us a comment and rate the recipe card. You can also find us on Facebook, Pinterest, Twitter and Instagram searching for Berly's Kitchen!
Yield: 8 Servings
Tomato Avocado Salad Recipe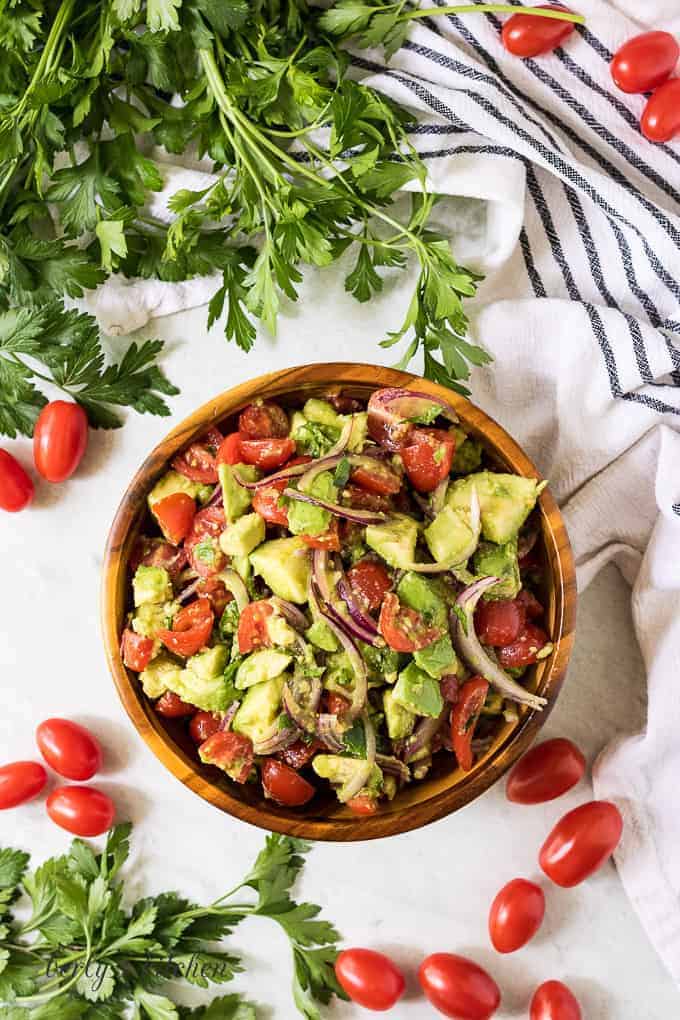 Craving a fresh snack or side dish that's creamy and crunchy? Then try our delicious tomato avocado salad dressed with lemon juice and olive oil.
Ingredients
1 Pint Cherry Tomatoes, (halved or quartered)
2 Large Avocados, (ripe, diced)
1/4 Cup Purple Onion, (thinly sliced)
1/4 Cup Fresh Parsley , (chopped)
2 Tablespoons Lemon Juice, (fresh)
2 Tablespoons Olive Oil, (extra virgin)
Salt and Pepper to Taste
Instructions
In a small bowl, whisk together the lemon juice, olive oil, salt, and pepper. Set aside.
In a separate large bowl, combine the tomatoes, avocados, onion, and parsley. Pour the lemon and olive oil mixture over the vegetables and lightly toss. Add additional salt and pepper if needed.
Serve immediately, and store any leftovers in the refrigerator for up to 3 days.
Notes
The calories listed are an approximation based on the ingredients and a serving size of half (1/2) a cup of the tomato avocado salad. Actual calories will vary. Leftovers can be stored in your fridge, in a sealed container, for up to three (3) days.
Recommended Products
As an Amazon Associate and member of other affiliate programs, I earn from qualifying purchases.
Nutrition Information:
Yield:
8
Serving Size:
0.5 Cup
Amount Per Serving:
Calories:

125
Total Fat:

11g
Saturated Fat:

2g
Unsaturated Fat:

0g
Sodium:

11mg
Carbohydrates:

8g
Fiber:

4g
Sugar:

2g
Protein:

2g