Want a grilled chicken sandwich recipe that's loaded with flavor? We marinated chicken breast in Italian dressing and grilled it to perfection!
Who doesn't love a great sandwich recipe? I know I do and that's why we're sharing today's post.
Like I mentioned before, we marinated chicken breasts in our homemade Italian dressing and grilled them over high heat to keep them moist and tender.
You can serve them on a brioche bun, hoagie, or on their own with a side dish of your choice. So, shall we get started?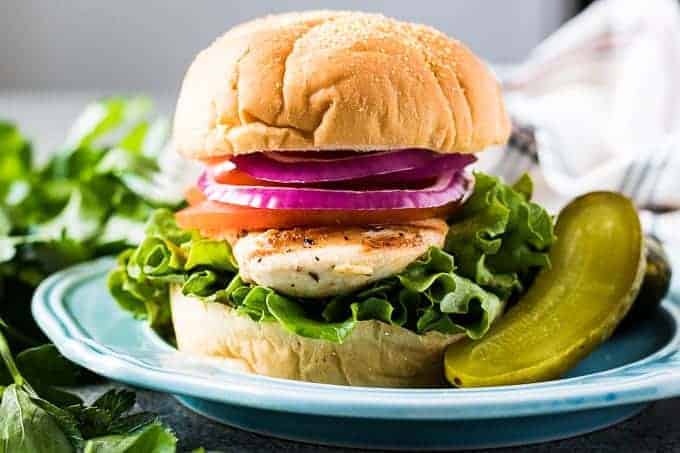 How to make a grilled chicken sandwich?
First, prep your ingredients. Wash and slice the tomatoes, wash the lettuce, slice the onion, and trim away any fat from the chicken breasts.
Next, grab a zip-top freezer bag or container with a lid and pour in the dressing.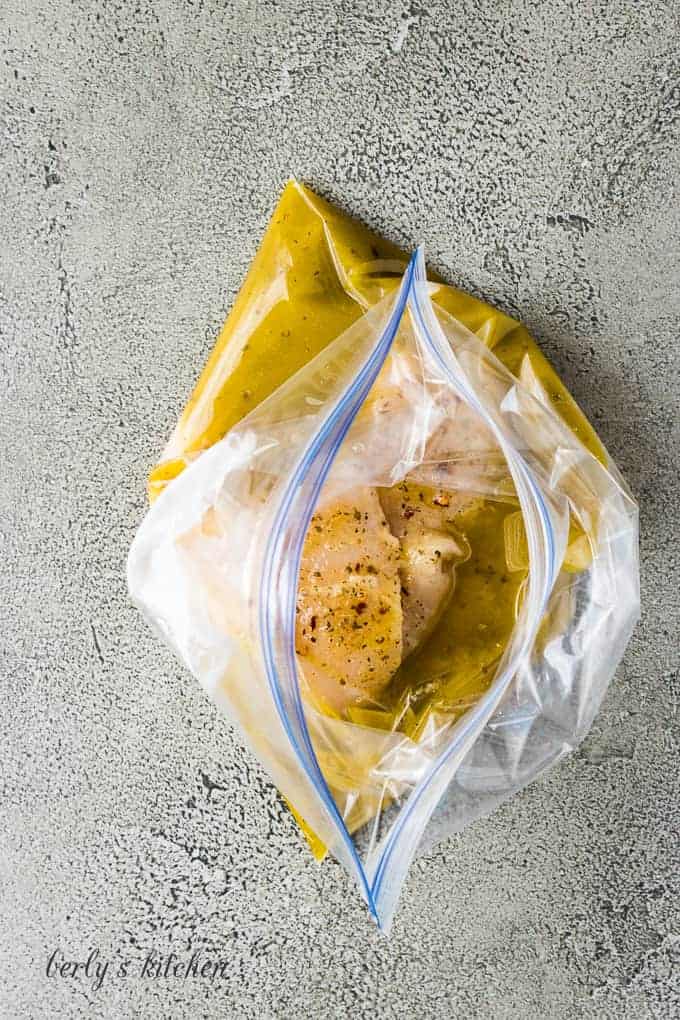 After that, seal the bag or container. If possible, try to press out any extra air from the bag.
Now, place the marinating chicken into your fridge for one hour.
Afterward, remove them from fridge and preheat your grill or griddle over medium heat.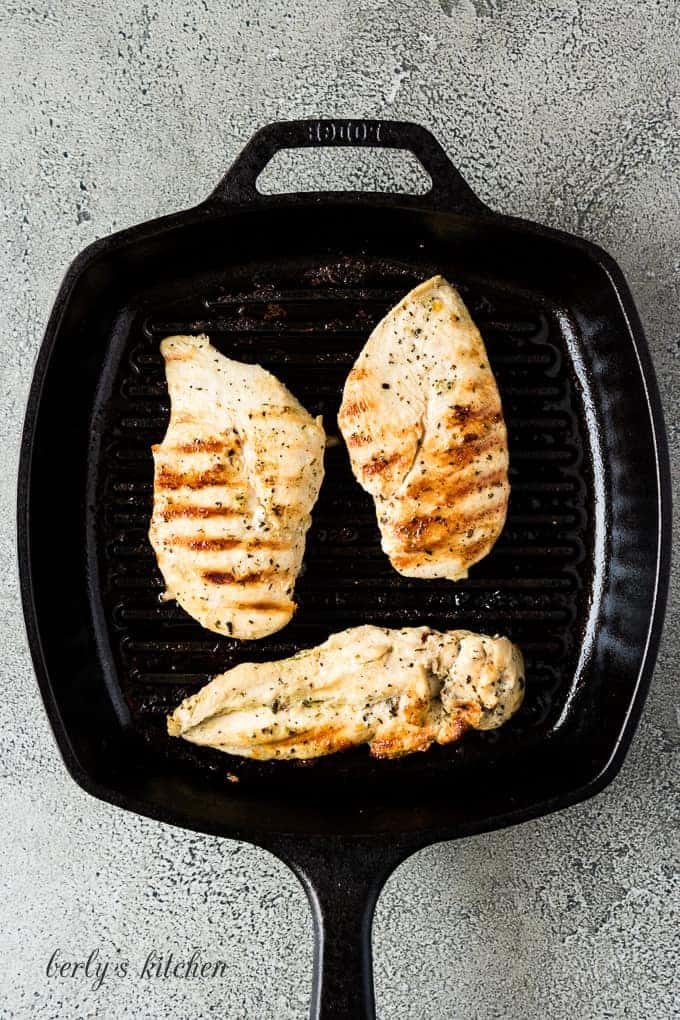 Then, once your grill or pan is hot, cook the chicken for six (6) to eight (8) minutes on each side or until they're done.
Use a meat thermometer to ensure each piece has an internal temperature of 165° F. at the thickest point.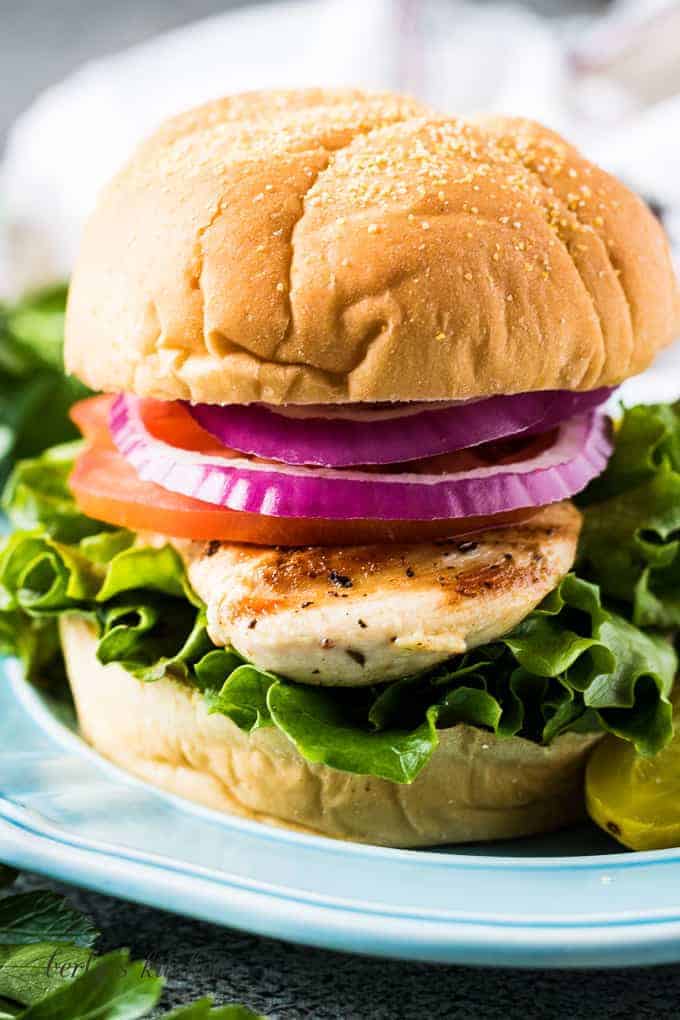 Last, when the meat is done, remove it from the grill or pan and let it rest while you build the sandwiches.
That's it, your grilled chicken sandwich recipe is done! Kim and I hope you enjoy the meal and wish you all the best 🙂
Recipe Tips:
Always wash your cutting board and knife with warm, soapy water every time you cut something new. For example, wash it right after slicing the tomatoes, before using them to cut the onions.
A meat thermometer is a wonderful tool. I recommend buying one as soon as possible.
If you don't want to make your own Italian dressing, then use a store bought one. But, try to get one with a low-sugar count. Otherwise, the sugar will burn and stick to your grill.
Leftovers should be stored separately so the buns don't get soggy in the fridge.
Yield: 4 Servings
Grilled Chicken Sandwich Recipe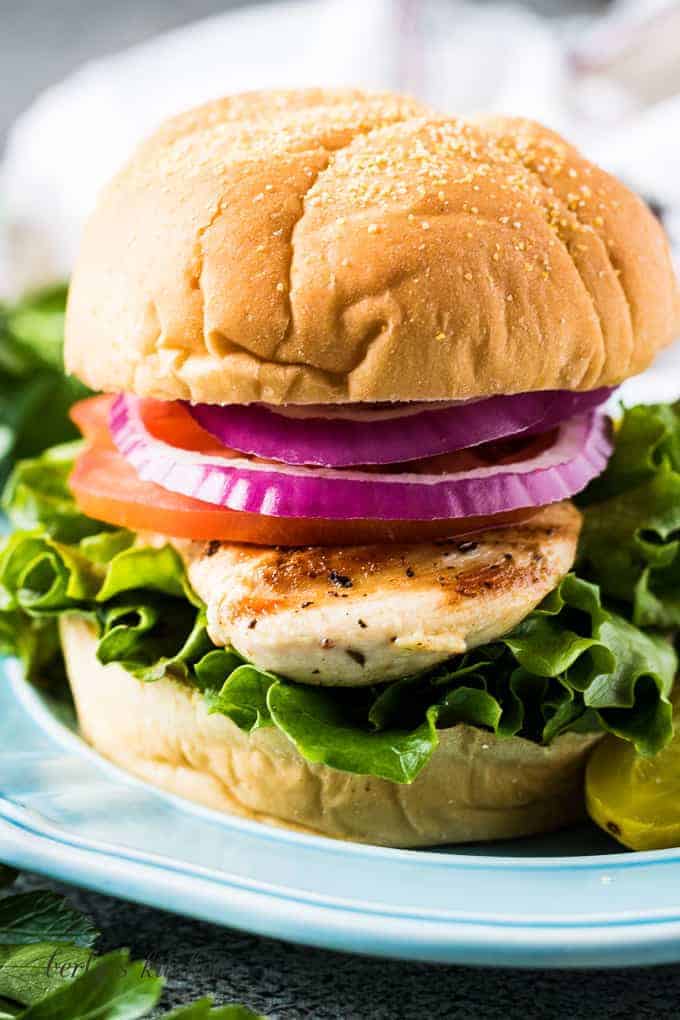 Want a grilled chicken sandwich recipe that's loaded with flavor? We marinated chicken breast in Italian dressing and grilled it to perfection!
Ingredients
1 lb Chicken Breast, (cleaned and trimmed)
4 Large Buns
2 Cups Lettuce
1 Large Tomato
1/2 Cup Purple Onion
Instructions
First, remove the chicken from its package and trim off any excess fat. Wash and slice the lettuce, tomato, and onion.
Next, combine the chicken with the Italian dressing in a freezer bag. Place the bag into your fridge to marinate for 1 hour.
Now, once an hour has passed, preheat your grill on medium heat and remove the chicken from the fridge.
Transfer the meat to the hot grill and let it cook for approximately 6-8 minutes on each side or until it is completely done.
Last, let the chicken rest for a few minutes. Build your sandwiches and enjoy!
Notes
The calorie count listed is an approximation based on the ingredients and a serving size of one (1) finished grilled chicken sandwich. Actual calories will vary. Leftovers can be stored in a sealed container for up to three (3) days.
Recommended Products
As an Amazon Associate and member of other affiliate programs, I earn from qualifying purchases.
Nutrition Information:
Yield:
4
Serving Size:
1 Sandwich
Amount Per Serving:
Calories:

596
Total Fat:

29g
Saturated Fat:

4g
Unsaturated Fat:

0g
Cholesterol:

73mg
Sodium:

1557mg
Carbohydrates:

51g
Fiber:

2g
Sugar:

19g
Protein:

31g