Have you ever wanted to make your own salad dressing? If so, try our homemade Italian dressing recipe. All the flavor you want without the extra additives.
After a weekend of heavy meals, it's time for something light and fresh. At least that's how I feel about things. For today, Kim and I sharing our Italian dressing recipe.
Similar to our poppy seed salad dressing or even our Homemade Caesar Dressing, it works perfectly over just about any bed of greens. From crisp Romaine to leafy Spring mixes, this dressing is sure to satisfy.
It can be left on your counter top for about a week and doesn't require refrigeration. If your not in the mood for a salad later on, it can also double as a marinade for meat and vegetables.
Just make sure to give it a quick shake before using. Now, how about we get this dressing started?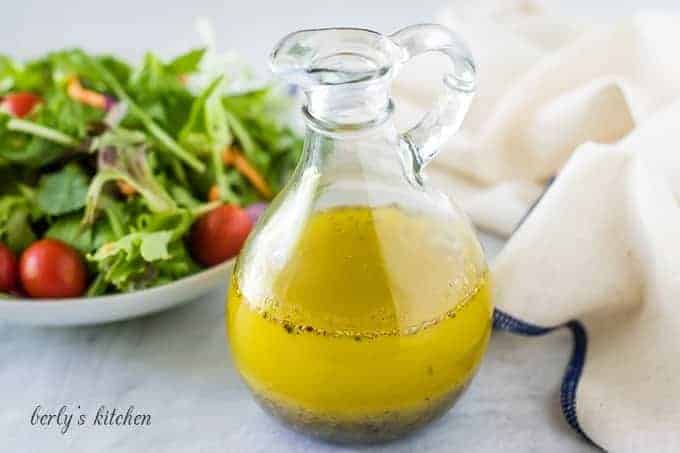 Homemade Italian Dressing Recipe Instructions:
Alright, so this recipe is pretty much dump and shake (or whisk). However, I'm going to go through the instructions based on the photos you see below.
First, grab two (2) measuring cups, some measuring spoons, and all your Italian dressing ingredients. In a measuring cup add the olive oil.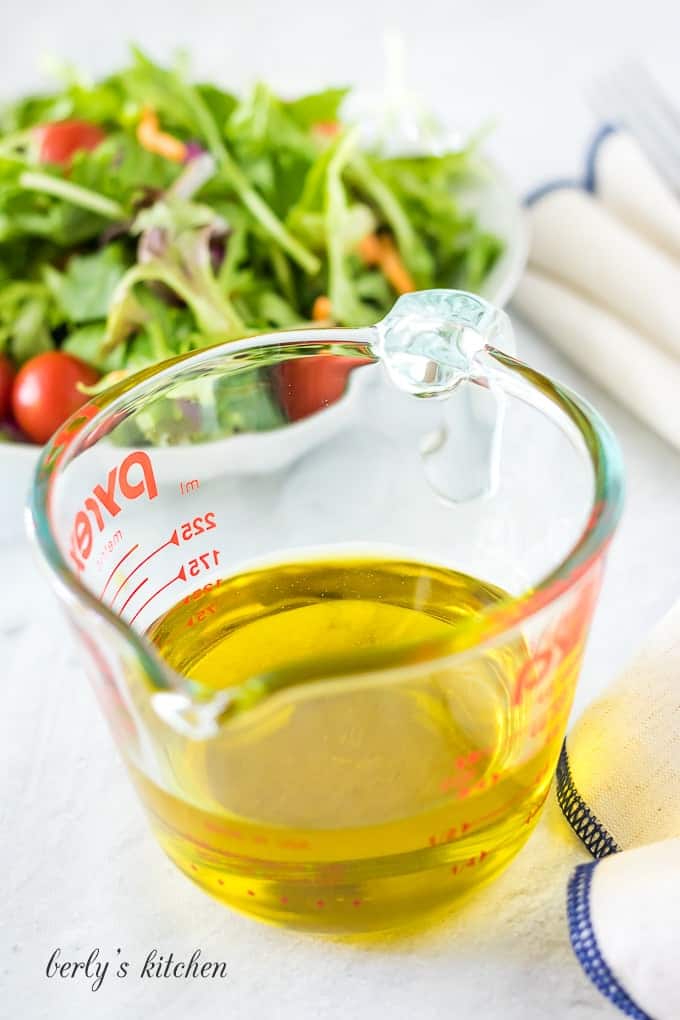 Next, add the white wine vinegar to the extra virgin olive oil.
After that, start measuring out the dry ingredients.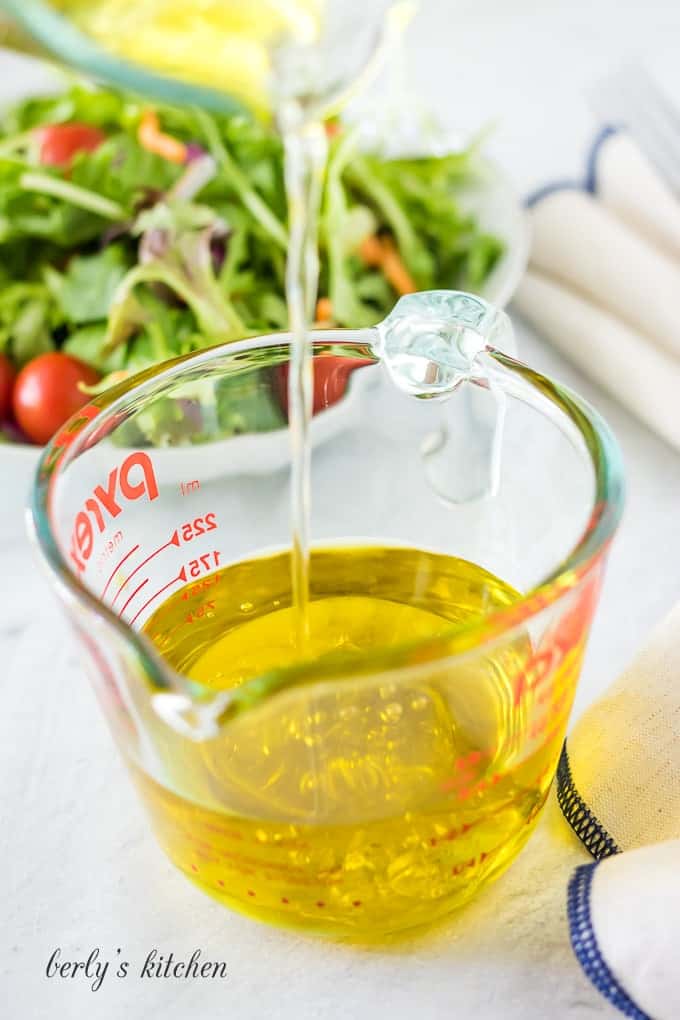 Then, start adding them to the olive oil and white wine vinegar mixture.
At this point, your Italian dressing recipe should look the same as ours in the photo below.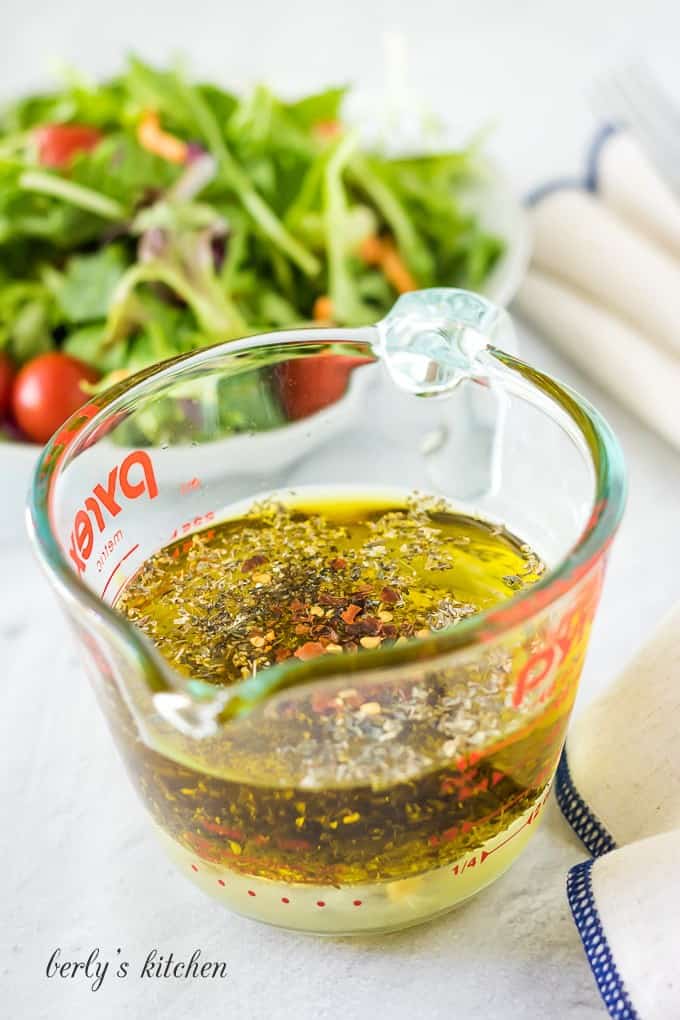 Last, once you have all the ingredients added to the same container, you can use a whisk to blend everything together. Or, if the container can be sealed, simply put the lid on it and shake the mixture vigorously.
That's it, your homemade Italian dressing recipe is done. Don't forget, you can use it on more than just salads. It can used as a marinade for chicken, fish, or veggies as well.
Kim and I hope you enjoy the recipe and wish you all the best 🙂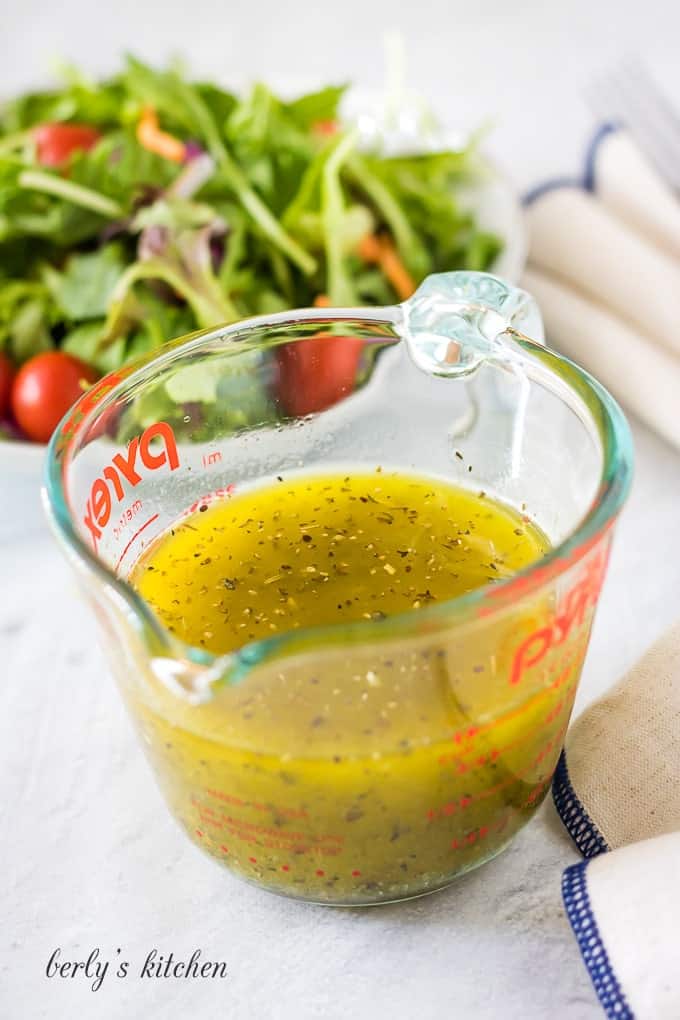 Italian Dressing Recipe Tips:
My first tip involves the olive oil. Keep in mind that a great olive oil creates a great dressing. Simply put, if you want a tasty dressing, then buy a good quality olive oil.
Also, I recommend using extra virgin olive oil to make this dressing. Regular or virgin olive oil feels too greasy to me.
Most, if not all, basic vinaigrette dressings use oil and vinegar. So, armed with that knowledge, you should be able to create all kinds of salad dressings. For example, a balsamic vinaigrette can be made using olive oil, balsamic vinegar, and various seasonings. Experiment and learn to make you own dressings at home.
Not everyone has fancy salad dressing containers (like the cruet seen in the photos). While they might be cute, their not needed to make your own dressings. A mason jar or any other container with a lid is all you need to store your creations.
If you liked our homemade Italian dressing recipe, please leave us a comment and rate the recipe card. You can also find on my Facebook, Pinterest, Twitter, and Instagram by searching for Berly's Kitchen!
Yield: 8 Servings
Homemade Italian Dressing Recipe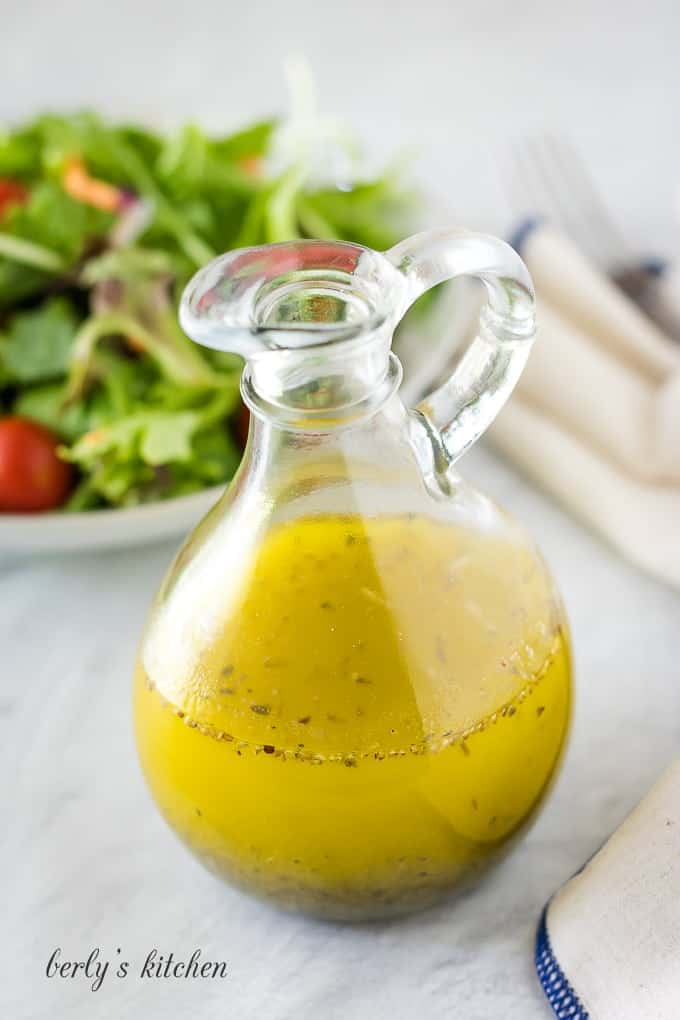 Have you ever wanted to make your own salad dressing? If so, try our homemade Italian dressing recipe. All the flavor you want without the extra additives.
Ingredients
3/4 Cup Extra Virgin Olive Oil
1/4 Cup White Wine Vinegar
1 Teaspoon Dried Oregano
1 Teaspoon Dried Basil
1 Teaspoon Garlic Powder
1 Teaspoon Lemon Juice, (preferably fresh squeezed)
1/2 Teaspoon Onion Powder
1/2 Teaspoon Salt
1/4 Teaspoon Black Pepper
1/4 Teaspoon Dried Red Pepper Flakes
Instructions
Place all ingredients in a glass jar with a lid or a small bowl. Shake the jar or whisk to combine. Serve immediately over salad or use as a marinade over chicken. Store in an airtight container for up to 7 days.
Notes
The calories listed are an approximation based on the ingredients and a serving size of about one (1) ounce or two (2) tablespoons of Italian dressing. Furthermore, the calorie count does NOT include the salad seen in the photos. Actual calories will vary.
Recommended Products
As an Amazon Associate and member of other affiliate programs, I earn from qualifying purchases.
Nutrition Information:
Yield:
8
Serving Size:
1 Ounce
Amount Per Serving:
Calories:

184
Total Fat:

20g
Saturated Fat:

3g
Unsaturated Fat:

0g
Sodium:

148mg
Carbohydrates:

1g
Fiber:

1g
Sugar:

1g
Protein:

1g