Our apple cider mimosas feature champagne, apple cider, and caramel vodka. Make them individually or in a pitcher for a party!
Kim and I enjoy the occasional mimosa. Usually, we drink them over brunch or when we're having appetizers for dinner.
For today, Kim is sharing a Fall-themed twist on this classic cocktail. It's her apple cider mimosas. To add a little kick of flavor and alcohol, she added caramel flavored vodka.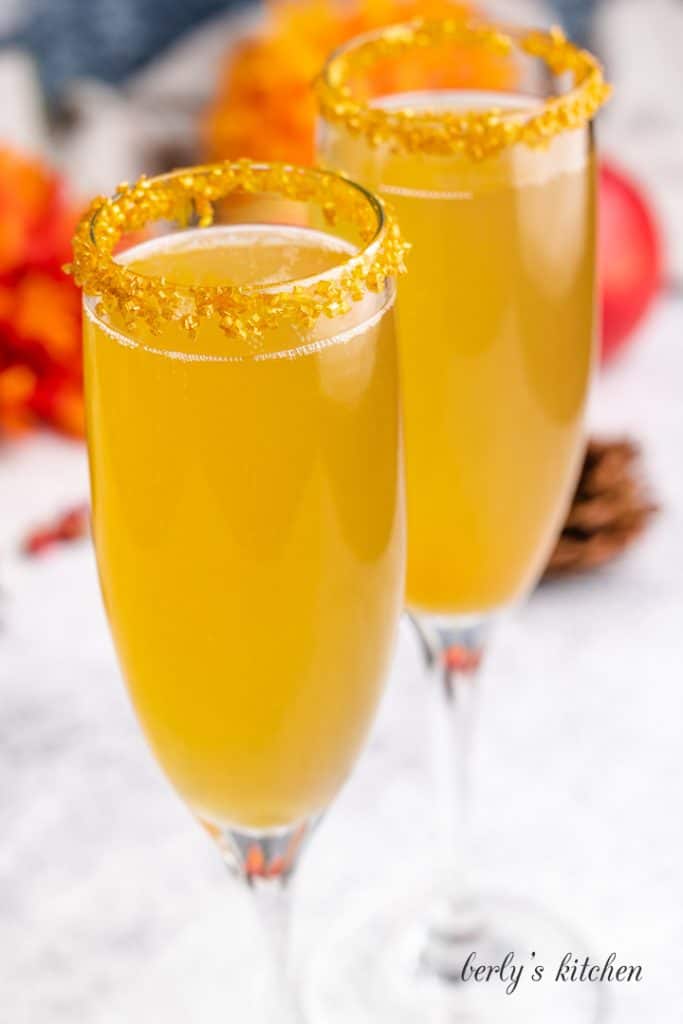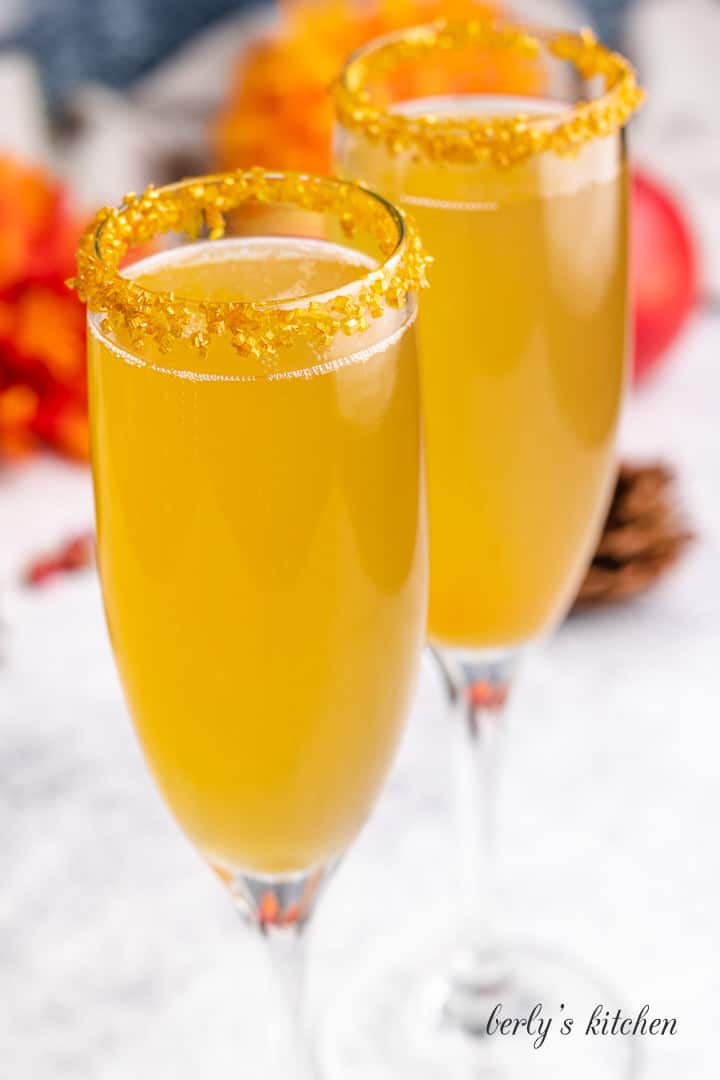 How to rim the glasses in decorative sugar:
To begin, grab two small bowls. Just keep in mind they have to be large enough to dip the flutes into them. Afterward, add water (or simple syrup) to one bowl and a few tablespoons of decorative sugar to the other bowl.
Finally, dip the rim of the glass into the water and then the sugar. Once you've done that, you'll have sugar rimmed glasses. Kim and I hope you enjoy the mimosas responsibly and wish you all the best 🙂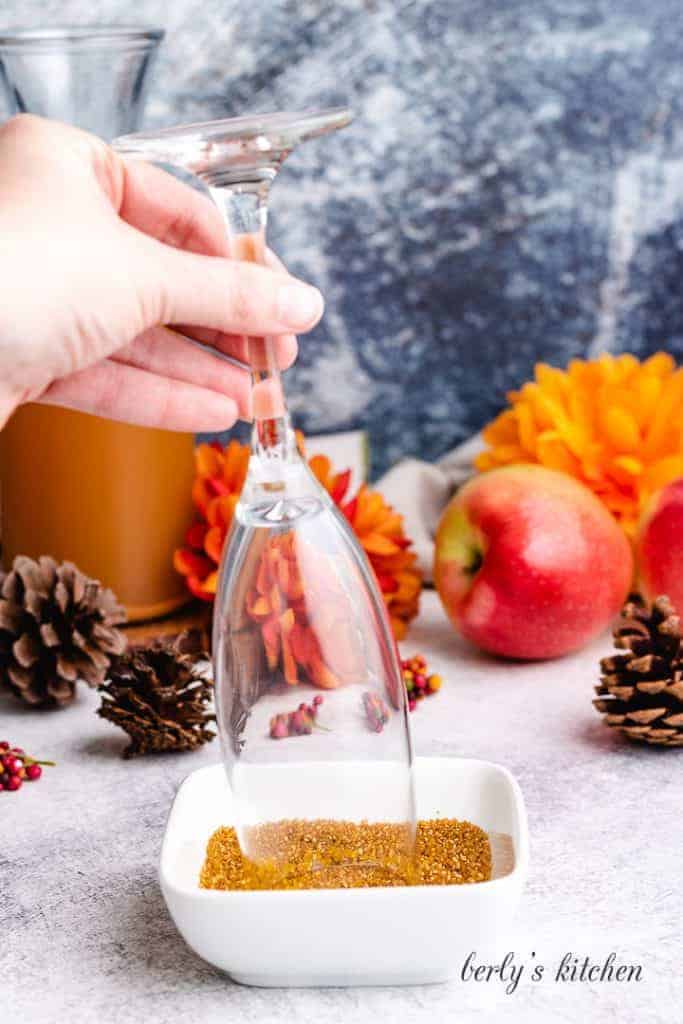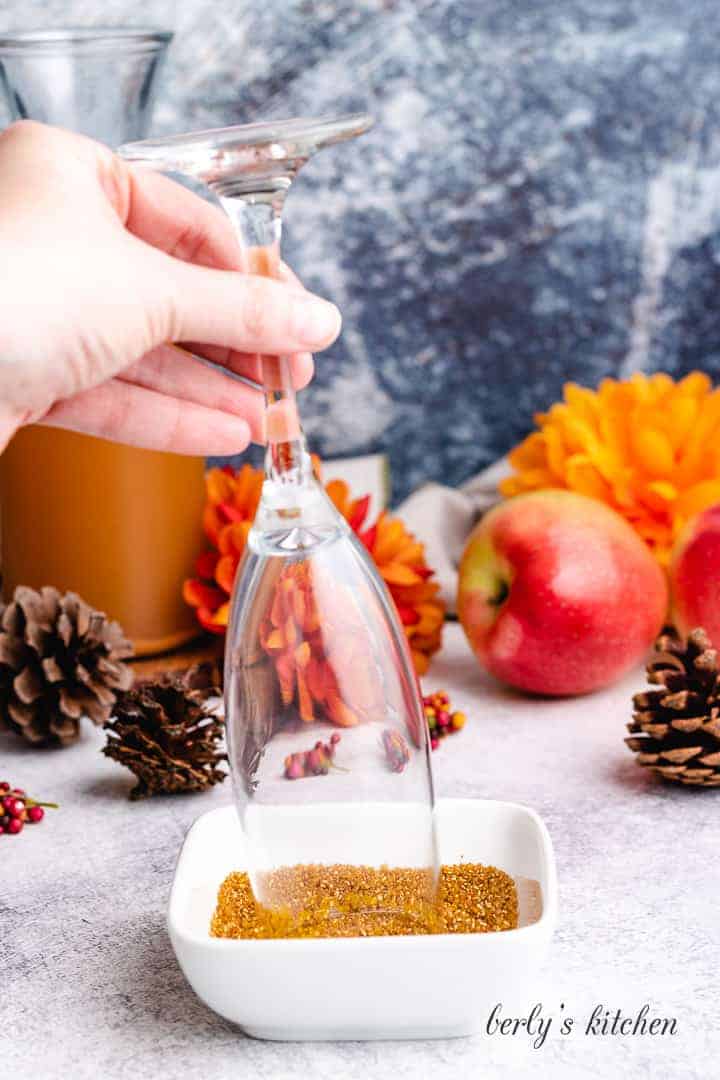 How to make individual apple cider mimosas:
First, we're going to go over how to make the drinks individually. After that, I'll explain how to make them by the pitcher.
Start by pouring 1.5 ounces of apple cider into a champagne flute. Be careful and don't splash it all over the place.
Next, add 1/2 an ounce of caramel flavored vodka to the cider. You can use a bar spoon to mix them together. But, that's optional.
Last, top off the mimosa with chilled champagne. That's it, the apple cider mimosa is done!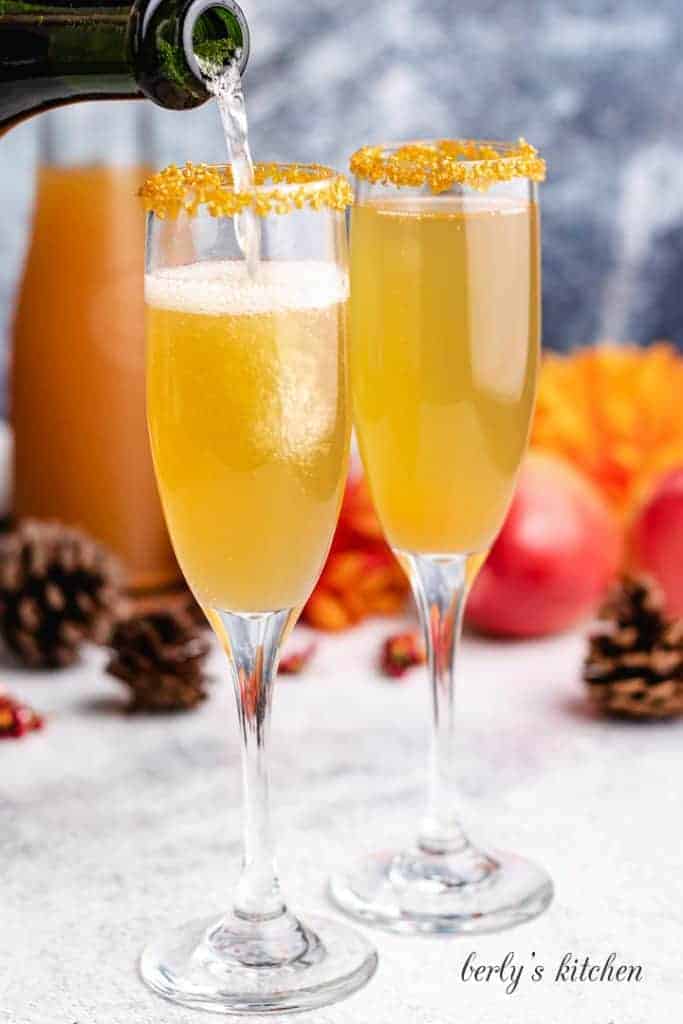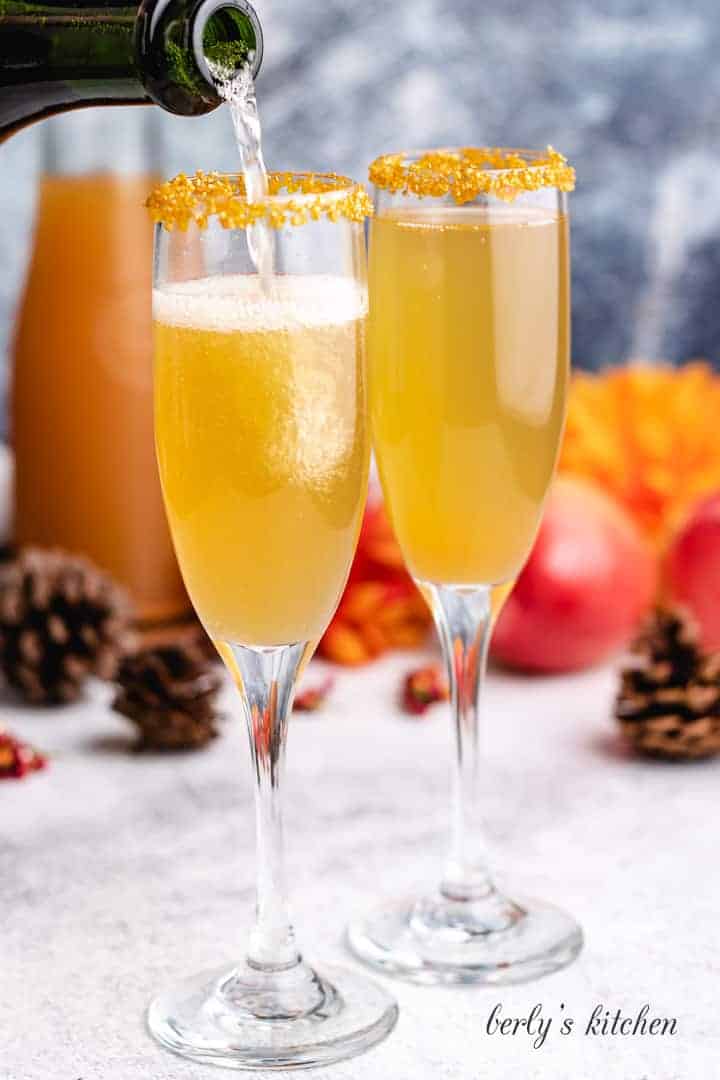 How to make the recipe in a pitcher:
To make this drink by the pitcher, here's what you'll need:
750 mL Bottle of Champagne (preferably chilled)
6 Ounces Apple Cider (chilled)
2 Ounces Caramel Vodka (chilled)
All you need to do is combine all the ingredients together in a large pitcher and serve. Pretty easy, right?
Well, that's all there is to making these drinks. With that being said, I'm going to go over how to rim your glasses in sugar.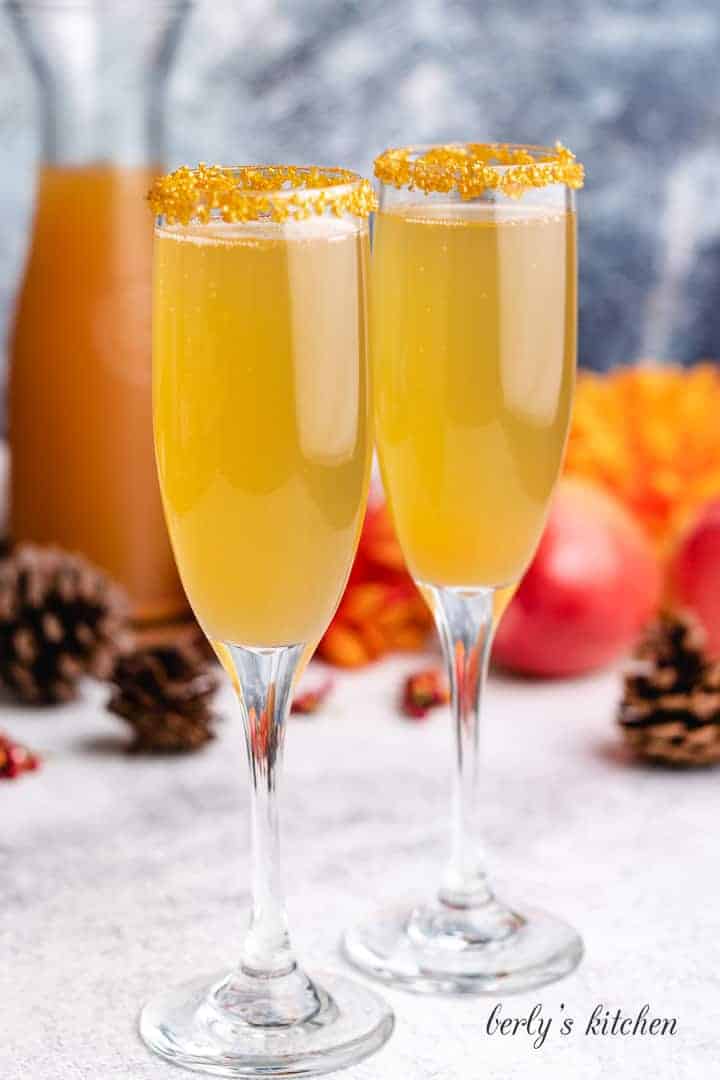 Apple Cider Mimosa Tips:
For chilled mimosas, simply place the ingredients into your fridge at least 2 hours before preparing. Do not prepare the drinks and then refrigerate them; otherwise, the champagne will go flat. Additionally, we don't recommend adding ice to the drinks because it will dilute the flavor as it melts.
As always, use the best champagne and vodka that you can afford. The cheaper the alcohol, the cheaper the flavor.
Adding garnishes, like sugar around the rim, are always optional. Feel free to skip that step if you wish.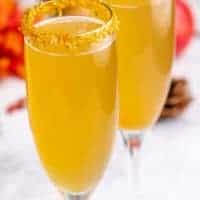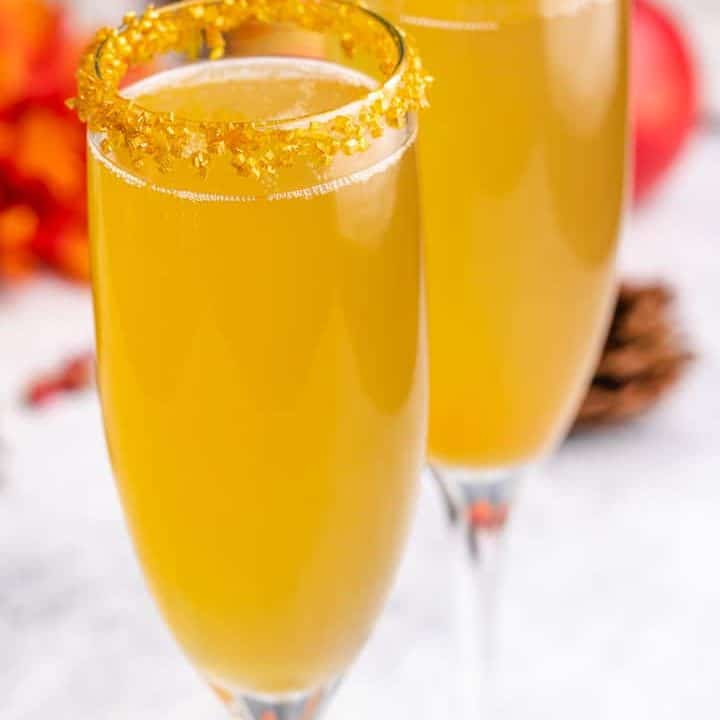 Apple Cider Mimosas
Print
Save
Saved!
Pin
I earn a commission from Amazon and Instacart from qualifying purchases.
Ingredients
1 ½

Ounces

Apple Cider

½

Ounce

Caramel Vodka

6

Ounces

Champagne
For Rimming the Glasses
4

tablespoons

Water

4

tablespoons

Sugar

decorative
Instructions
For Individual Drinks:
Dip the rim of each glass in water, and shake off the excess. Then, dip each watered rim into gold sprinkles.

Pour apple cider and vodka into a tall champagne glass. Top off with champagne.

Serve immediately.
For a Pitcher:
Pour the champagne, apple cider, and vodka into a large pitcher. Stir to combine, and pour into individual glasses when ready to serve.
Notes
Ingredients for a Pitcher:
750 mL Bottle Champagne
6 Ounces Apple Cider
2 Ounces Caramel Vodka
*The calories listed are an approximation based on the ingredients in recipe ingredients section and a serving size of about 1-cup of apple cider mimosa. Actual calories will vary.
*For more information and tips, please refer to the post.
Nutrition
Serving:
1
g
|
Calories:
98
kcal
|
Carbohydrates:
15
g
|
Sodium:
3
mg
|
Sugar:
14
g