These cheddar dill biscuits are quick, easy, tart, and cheesy! Simple drop biscuits flavored with dill, cheddar cheese, and dill pickles!
Biscuits are always a good idea. At least, I think that's the case. In fact, I would eat them all the time if I could.
We already have a number of biscuit recipes on the site. Like our jalapeno cheddar biscuits.
Today, we're adding these cheddar dill biscuits. Now, the base of the recipe is a simple drop biscuit.
To that, Kim added a couple of spices, dried dill, cheddar cheese, and diced dill pickles.
I have to say, the flavor combination is absolutely delicious! The pickles are a nice surprise when you take that first bite.
So, shall we get started?
How to make cheddar dill drop biscuits?
First, start by preheating your oven to 350 degrees F. and line a sheet pan with parchment paper.
After that, grab a large bowl and wooden spoon.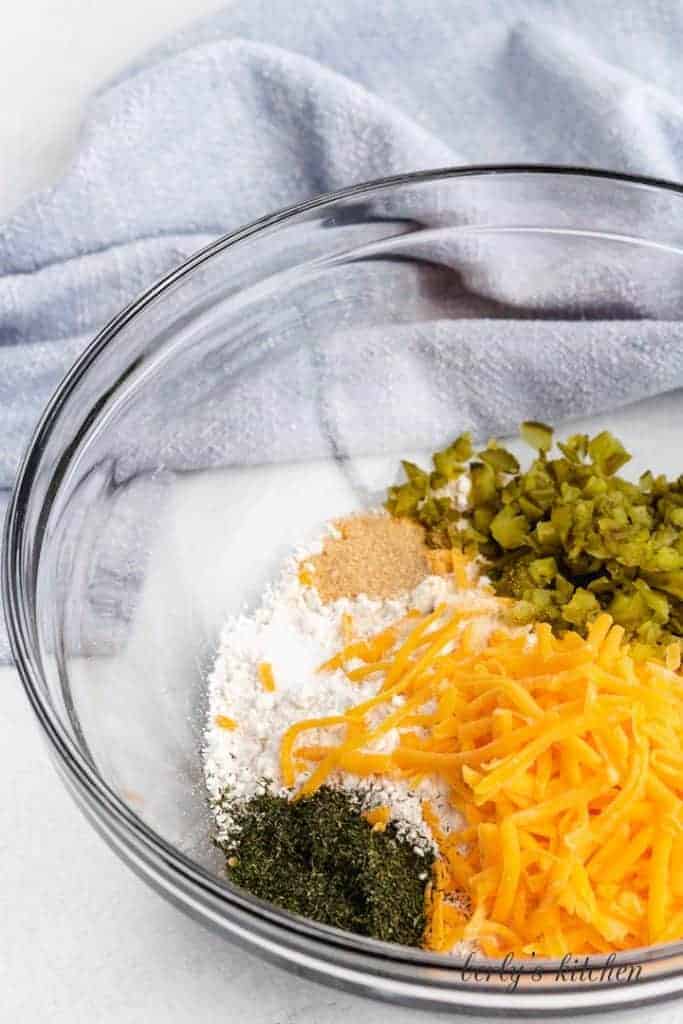 Next, use the spoon to combine the baking mix, milk, pickles, cheddar cheese, dill, garlic powder, onion powder, and salt.
Then, once the biscuit dough is mixed, start placing the drop biscuits on the sheet pan.
Typically, we use about 2-tablespoons per biscuit and get about 12-biscuits on average.
Afterward, place the dill biscuits into the oven to bake for 12-14 minutes or until they're done.
Last, when the cheddar biscuits are done, remove them from the oven and serve them while they're still warm.
They can be stored in a sealed container, in your fridge, for up to 4-days.
Recipe Tips:
Don't have time to dice pickles, no problem. Feel free to use dill relish instead.
Cheddar cheese was a great addition to the recipe. However, you could try gouda or even mozzarella for a different flavor.
If your biscuits don't rise, it's not a big deal. We've tested this recipe a number of ways (using baking mix and homemade) and they didn't rise for us either.
If you like this recipe, please leave us a comment and rate the recipe card. You can also find us on Facebook, Pinterest, Twitter and Instagram searching for Berly's Kitchen!
Join our Facebook group for more recipes from Berly's Kitchen, our new site More Than Meat and Potatoes, and some of our blogger friends!