Tired of using salty condensed soups in your casseroles? Then use our homemade cream of onion soup instead and add as little or as much salt as you want!
Imagine digging into a plate of fiesta chicken casserole only to be overwhelmed with the flavor of salt.
But, you can avoid that problem by making your own cream of onion substitute!
Best of all, once you learn to make a cream of soup base, you can use that to create any sort of soup you need. Like cream of bacon soup!
If you need a baking mix recipe, then try our homemade bisquick mix.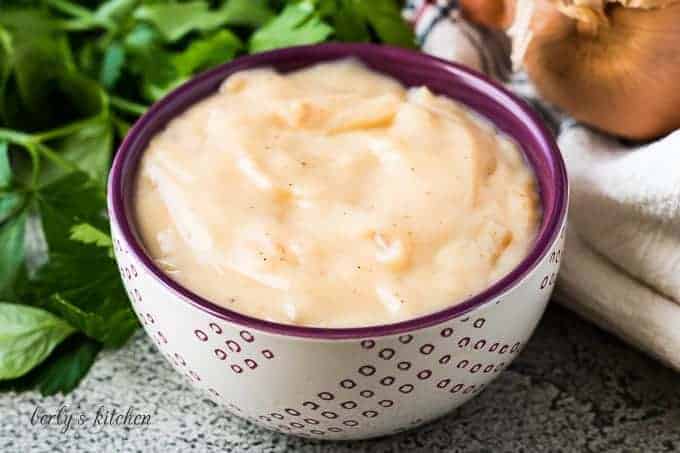 How to make cream of onion soup?
Start by combining the flour and milk in a small mixing bowl.
Use your whisk for this step because it will help break up the flour.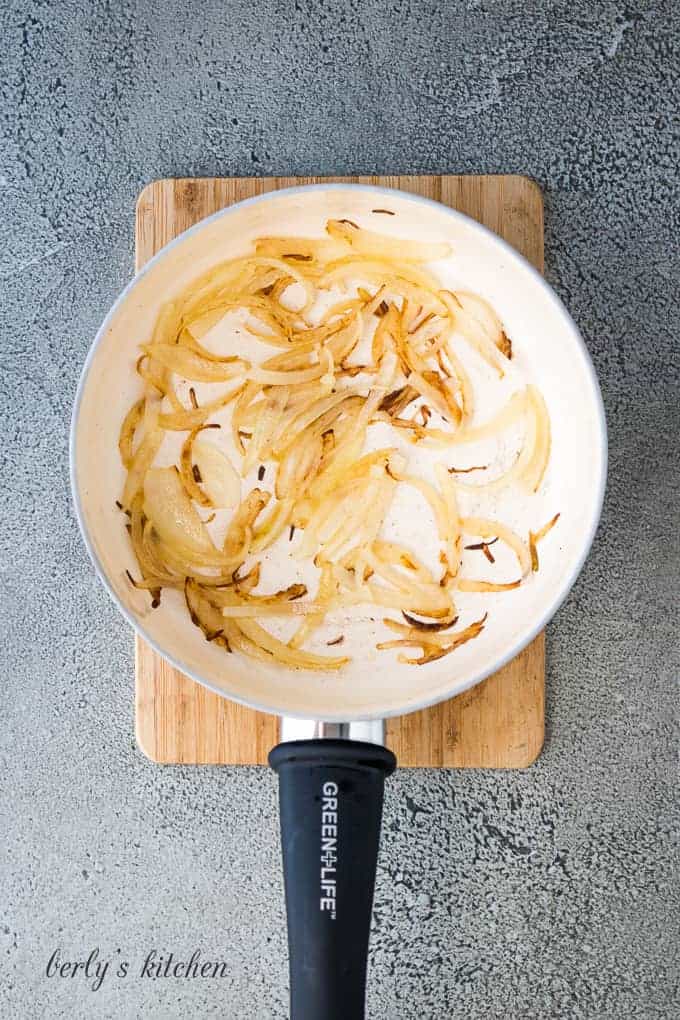 Next, grab a medium saucepan and place it over low to medium heat. Place the butter into the pan and let it melt.
After that, add the onions to the pan and let them cook until they're soft and partially caramelized. Use your wooden spoon to stir them occasionally.
Also, take a look at the photo above as reference for your cream of onion soup.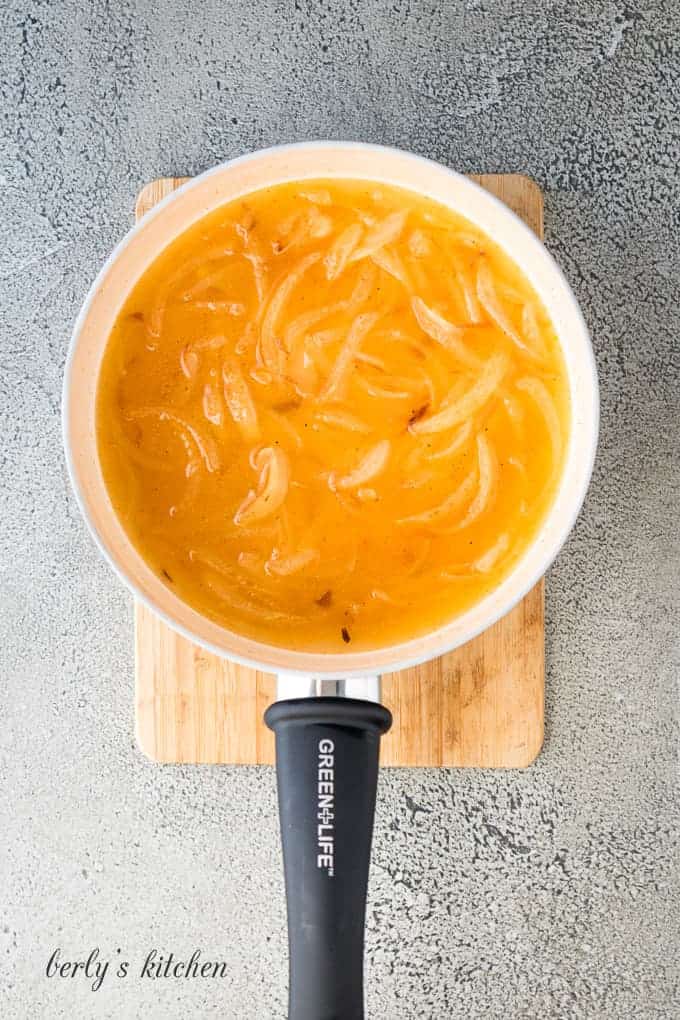 Now, once the onions have cooked, pour in either vegetable or chicken broth. If you use vegetable broth then the soup is vegetarian.
Go ahead and stir in the garlic powder, smoked paprika, and any salt and pepper you want to add flavor to the soup.
Then, let the ingredients continue to cook until the broth starts to simmer. When that happens, stir in the flour and milk mixture from earlier.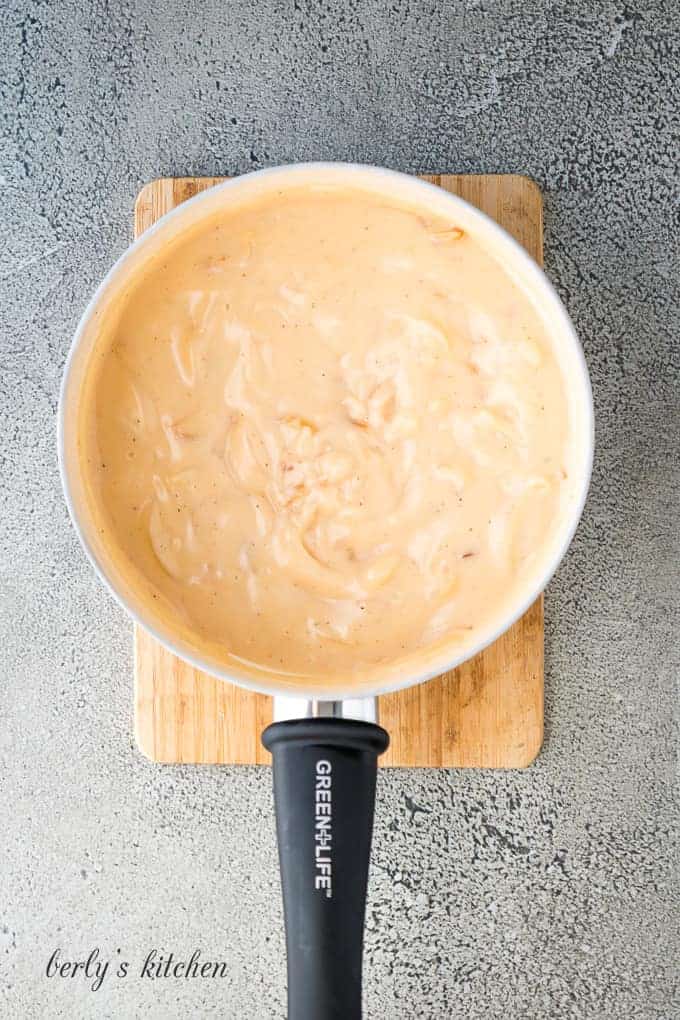 Last, keep stirring for about three to five minutes or until your cream of onion soup has thickened.
Turn off the heat because you are done! That's it, Kim and I hope you enjoy this recipe and wish you all the best 🙂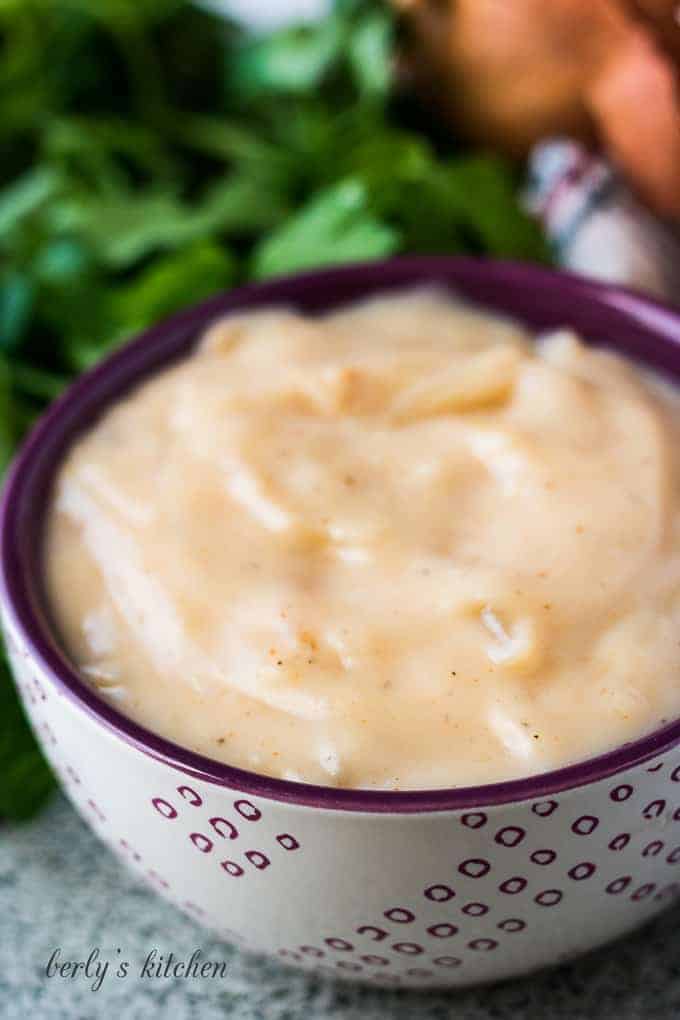 Cream of Onion Soup Substitute Recipe Tips:
If you wish to eat this recipe as a regular soup, then consider adding a cup of extra broth to thin it out a little.
While the recipe can be made in a pressure cooker, it's easier to do it on the stove-top.
Feel free to add extras to the recipe like cooked bacon, sautéed mushrooms, or anything else you desire.
Don't forget to check out our Cream of Onion Soup web story!
Yield: 1 Serving
Cream of Onion Soup Substitute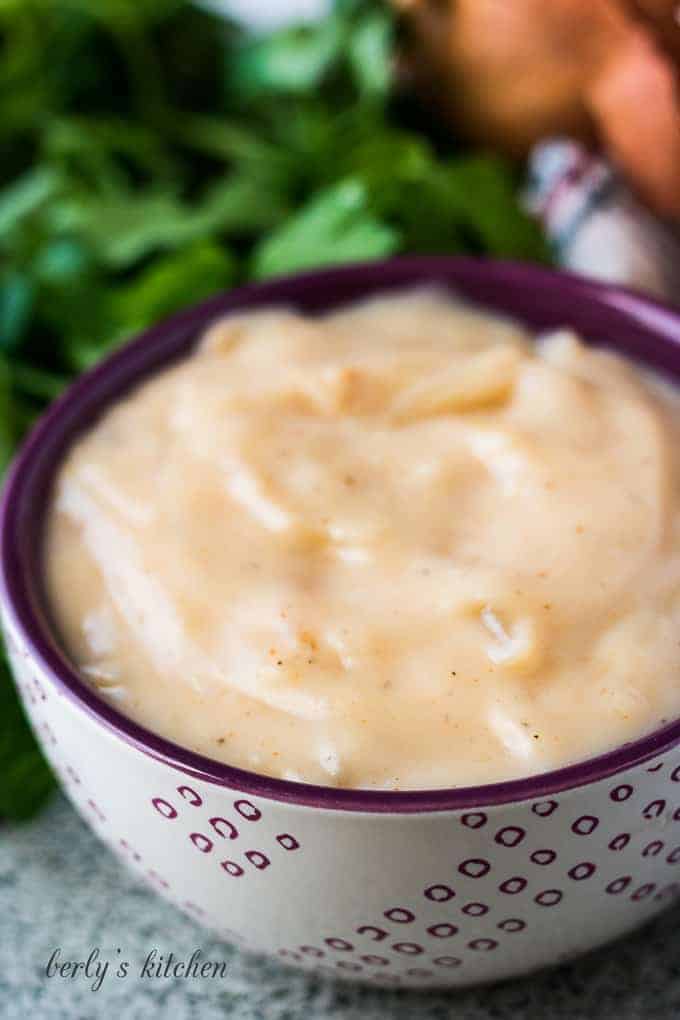 Tired of using salty condensed soups in your casseroles? Then use our homemade cream of onion soup instead and add as little or as much salt as you want!
Ingredients
1/2 Cup Milk, (we used whole)
1/4 Cup All-Purpose Flour
1/2 Cup White Onion, (diced or thinly sliced)
1 Tablespoon Unsalted Butter
3/4 Cup Vegetable Broth, (or chicken broth)
1/8 Teaspoon Garlic Powder
1/8 Teaspoon Smoked Paprika, (or a dash)
Salt and Pepper to Taste
Instructions
In a small bowl or measuring cup, whisk together the milk and flour until smooth. Set aside.
Heat a medium saucepan over low-medium heat. Melt the butter in the pan, then add the onions. Stir the onions every couple of minutes until they begin to caramelize and brown slightly. After the onions caramelize a bit, add the broth, garlic powder, paprika, salt, and pepper. Stir to combine, and allow the broth to come to a simmer.
When the broth begins to simmer, pour in the milk and flour mixture and stir constantly until the soup thickens, about 3 to 5 minutes.
Use the soup in place of canned cream of onion soup in casseroles or other dishes. Store in the refrigerator for up to 4 days until ready to use.
Notes
The calories listed are an approximation based on the total recipe. Since it is intended to be used as a full substitute for canned soup, individual serving sizes were not calculated. Actual calories will vary. The soup can be stored in your fridge, in a sealed container, for up to four (4) days.
Recommended Products
As an Amazon Associate and member of other affiliate programs, I earn from qualifying purchases.
Nutrition Information:
Yield:
1
Serving Size:
10.5 Ounces
Amount Per Serving:
Calories:

331
Total Fat:

16g
Saturated Fat:

10g
Unsaturated Fat:

0g
Cholesterol:

42mg
Sodium:

862mg
Carbohydrates:

40g
Fiber:

2g
Sugar:

11g
Protein:

8g