*This post may contain affiliate links. As Amazon Associates we earn from qualifying purchases.
Want to make your favorite casserole but don't feel like using a canned soup? Then use our cream of bacon soup instead of the condensed stuff!
Before we get started, I want to offer a word of warning about this soup. Depending on the types bacon and broth you use, it can turn out salty.
So, if you plan on eating the soup by itself, take a look at my tips section below on how to tone done that salty flavor.
Now that we have that out of the way, how about we started on the next addition to our. "cream of soup," recipes?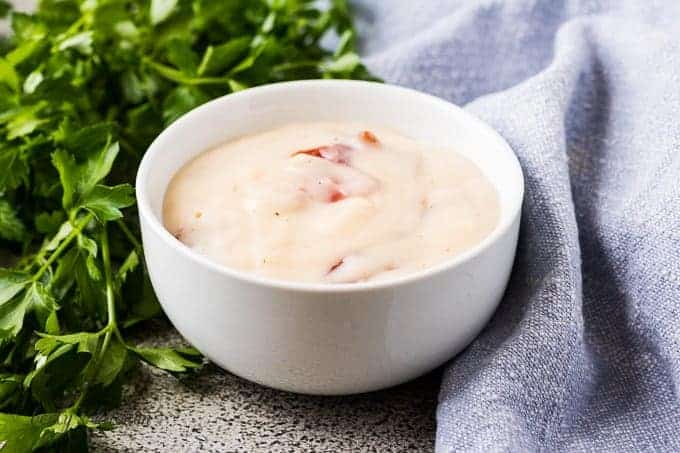 How to make cream of bacon soup?
First, grab a small mixing bowl and use a whisk to combine the flour and milk.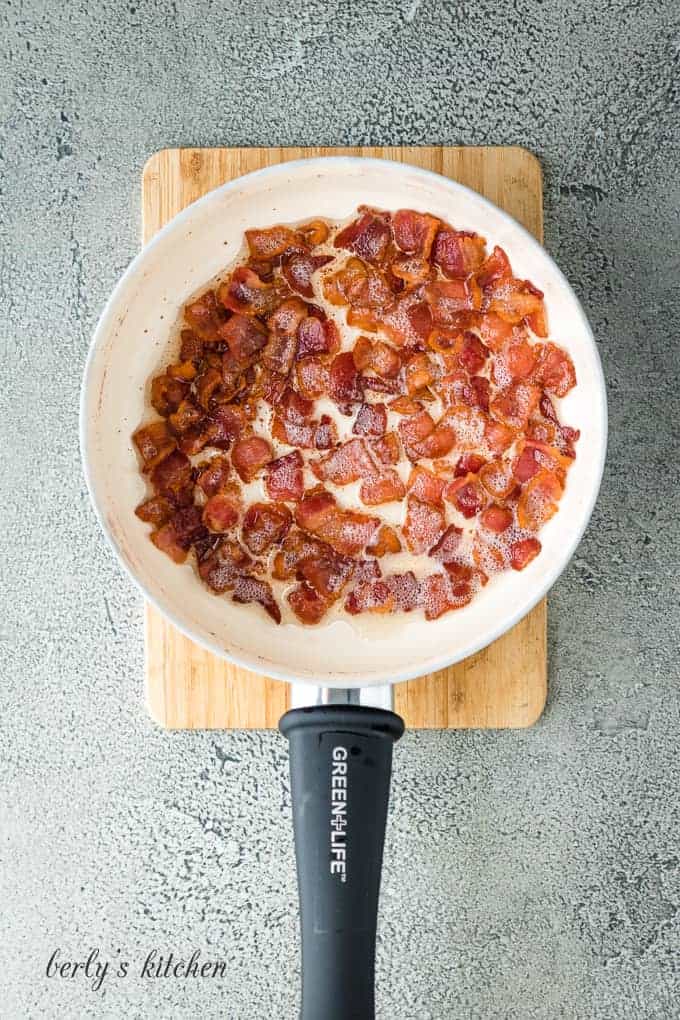 Next, chop the bacon into little pieces and place them into a small saucepan. Cook the bacon over medium heat.
Now, they should take about ten (10) minutes to cook. Be sure to stir the bacon from time to time to keep it from burning.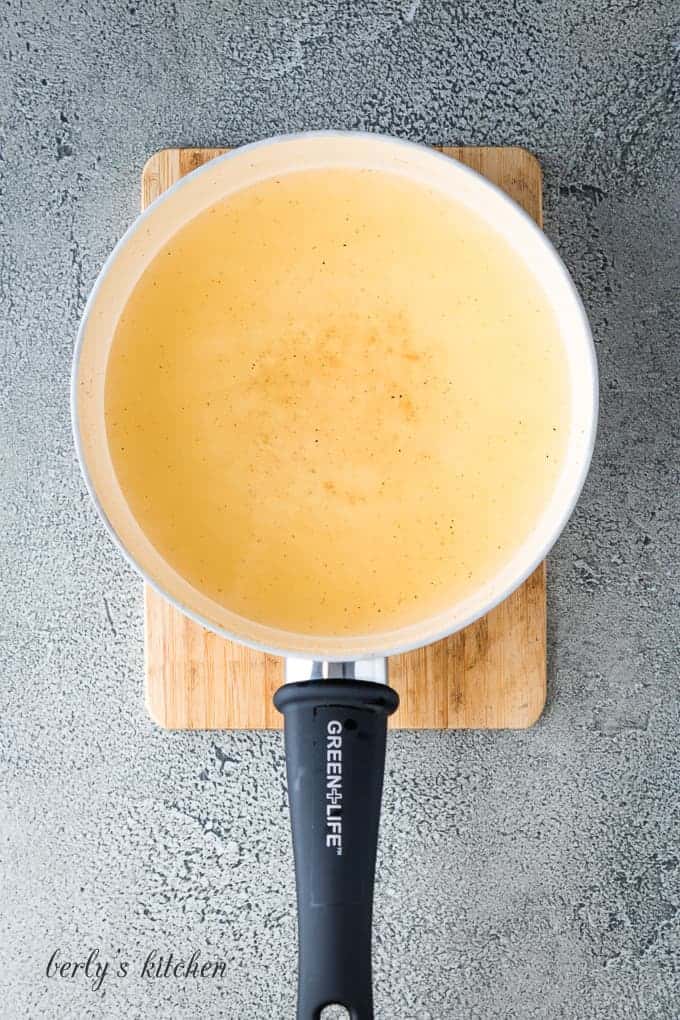 After that, when bacon has cooked, carefully remove it from the pan and place in on a paper towel to drain.
Drain the extra grease out of the pan and pour in the chicken broth. Also, stir in the garlic powder, onion powder, and smoked paprika.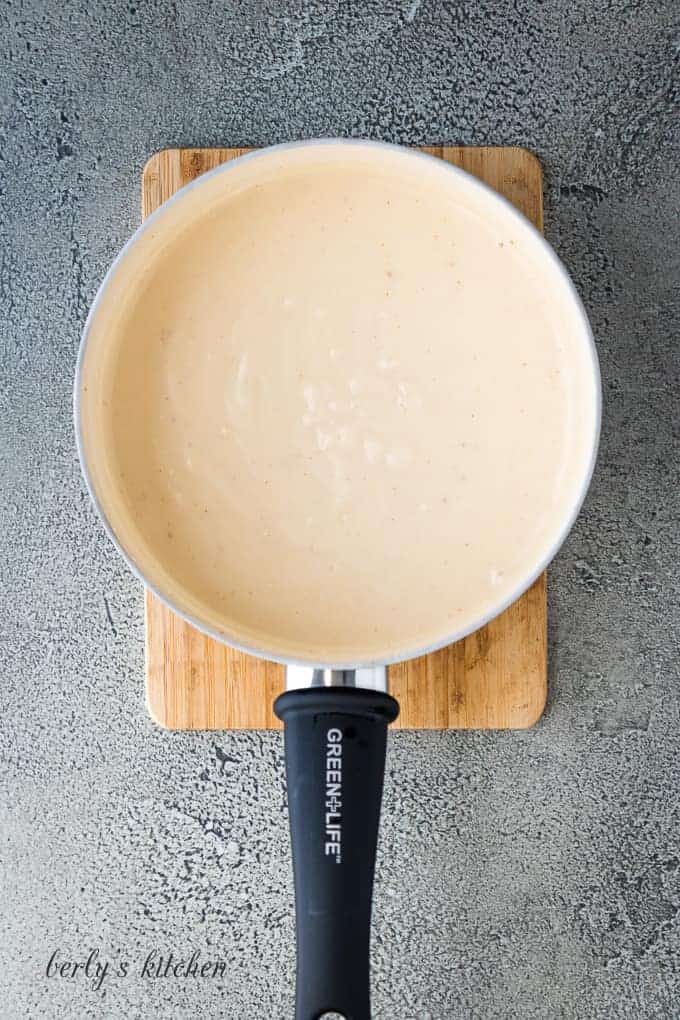 Afterward, reduce the heat to low-medium and bring the broth to low simmer.
Then, whisk in the milk and flour mixture. Keep whisking as the cream of soup thickens. It should take about seven (7) minutes.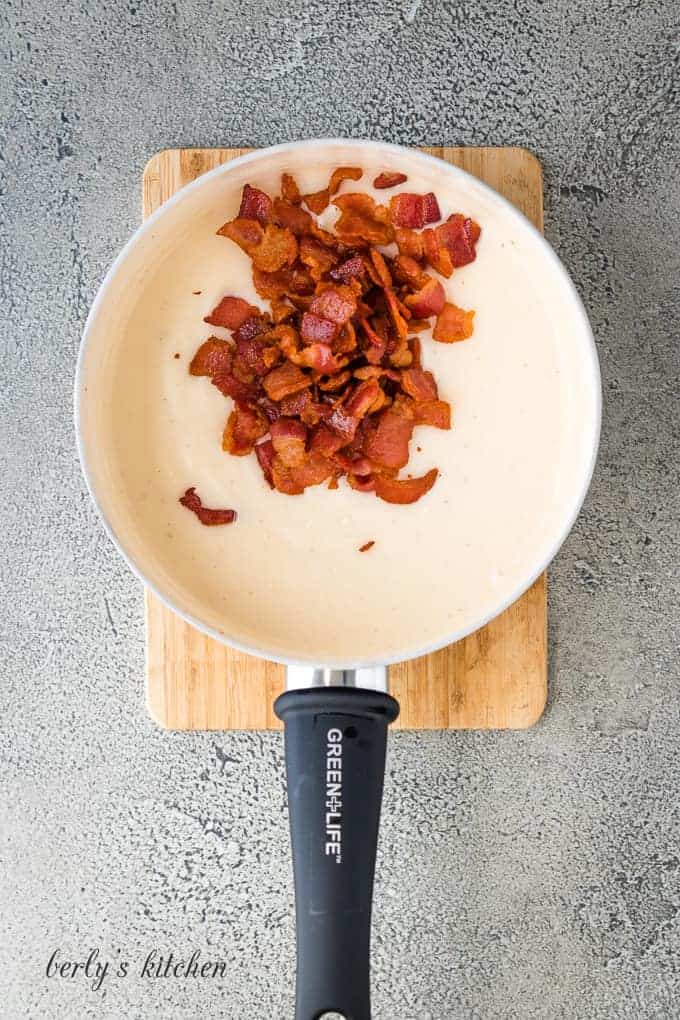 Last, once the soup is warm and creamy, turn off the heat and stir in the cooked bacon.
That's it, your cream of bacon soup is done! Kim and I hope you enjoy the recipe and wish you all the best 🙂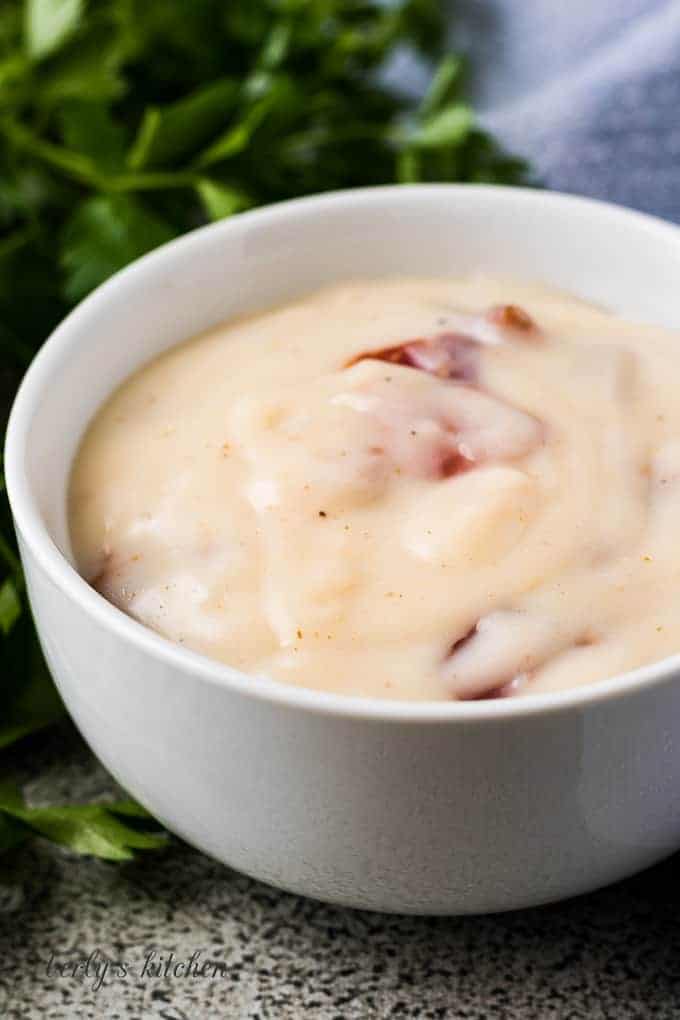 Recipe Tips:
So, if you want to eat the soup or need to keep the sodium low in your cooking then try using low-sodium broth and low-sodium bacon. Read the labels and compare products to reach the desired amount of salt. Also, if you're using this in a casserole, consider lowering the salt in that recipe as well.
Another tip for eating this cream of soup as side dish is to increase the milk in the recipe. This may also reduce the flavor of salt added by the bacon.
For rich and creamy soup substitute heavy cream or half and half in place of the milk. Just don't let the soup come to a boil or it could curdle (break).
Looking for more ingredient substitutions? Then check out our how to make brown sugar 3 different ways.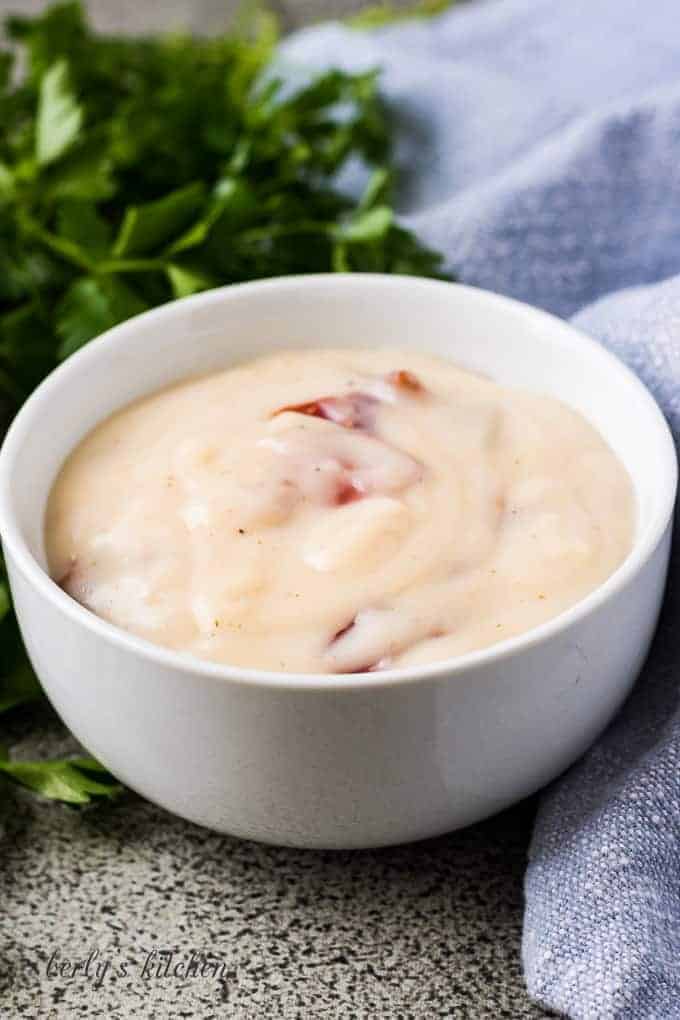 If you like our cream of bacon soup recipe, please leave us a comment and rate the recipe card. You can also find us on Facebook, Pinterest, Twitter and Instagram searching for Berly's Kitchen!
Join our Facebook group for more recipes from Berly's Kitchen, our new site More Than Meat and Potatoes, and some of our blogger friends!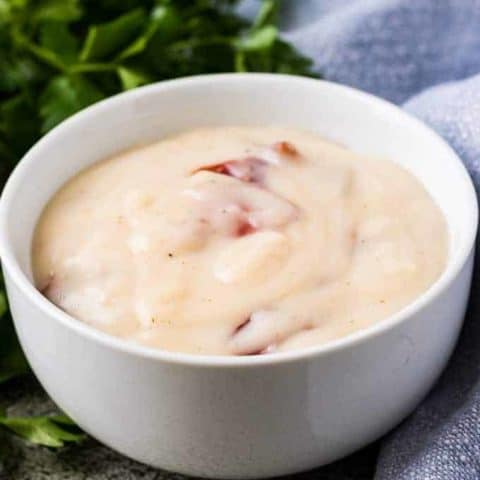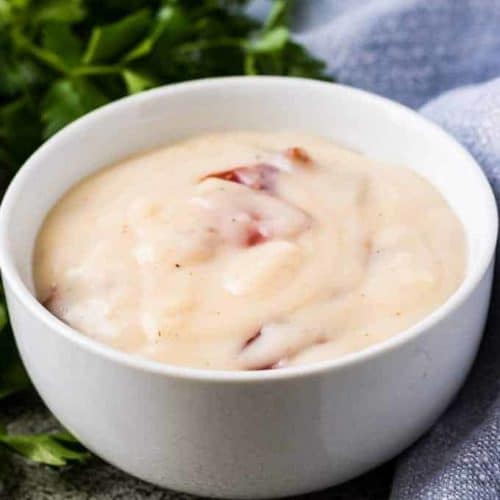 Cream of Bacon Soup
Want to make your favorite casserole but don't feel like using a canned soup? Then use our cream of bacon soup instead of the condensed stuff!
Ingredients
1/2 Cup Milk, (we used whole)
1/4 Cup All-Purpose Flour
1/2 Cup Bacon, (4-6 slices, diced)
3/4 Cup Chicken Broth, (or low-sodium chicken or veggie broth)
1/8 Teaspoon Garlic Powder
1/4 Teaspoon Onion Powder
1/8 Teaspoon Smoked Paprika, (dash, optional)
Instructions
In a small bowl, whisk together the milk and flour until the ingredients are thoroughly mixed and there are no flour lumps. Set aside.
In a small saucepan, cook the bacon pieces over medium heat stirring occasionally, so they don't burn. Cook for 7 to 10 minutes until bacon reaches the desired consistency. Remove the bacon pieces from the pan and place on a paper towel. Drain the grease from the pan.
Add the broth, garlic powder, onion powder and paprika to saucepan. Bring the broth to a low simmer, then pour in the milk mixture. Continue to stir until the mixture begins to thicken, about 5 to 10 minutes, then add the bacon pieces back in. Stir to combine.
Use immediately, or stove in the refrigerator for up to 3 days for use in casseroles or any dish that needs condensed cream of bacon soup.
Notes
The calories listed are an approximation based on the ingredients. The recipe is equivalent to one (1) ten and a half (10.5) ounce can of condensed cream of bacon soup. Actual calories will vary based on individual serving sizes.
Recommended Products
As an Amazon Associate and member of other affiliate programs, I earn from qualifying purchases.
Nutrition Information:
Yield:

1
Serving Size:

10.5 Ounces
Amount Per Serving:
Calories:

259
Total Fat:

10g
Saturated Fat:

4g
Unsaturated Fat:

0g
Cholesterol:

21mg
Sodium:

792mg
Carbohydrates:

31g
Fiber:

1g
Sugar:

6g
Protein:

10g
Want more "cream of soup" recipes?
Cream of celery soup substitute is an easy way to add flavor to any casserole. This recipe cooks up quickly, so you can swap out in place of canned, condensed cream of celery soup in minutes.
Tired of using salty condensed soups in your casseroles? Then use our homemade cream of onion soup instead and add as little or as much salt as you want!
A quick and simple cream of mushroom soup substitute recipe that can be made in minutes and saves you a trip to the store.