Our easy oatmeal chocolate chip cookies are chewy, soft, and loaded with semi-sweet chocolate chips. This is one of the best cookie recipes you'll ever try!
The other day, Kim and I were looking over the blog and realized we haven't shared a cookie recipe in quite a while. So, Kim decided she wanted to share her oatmeal chocolate chip cookies.
These cookies are what you would expect, chewy oatmeal combined with hints of cinnamon and tons of chocolate chips. There's no going wrong with this one.
The hardest part is waiting for the dough to chill in the fridge. Once that's out of the way, it's just bake and go.
All in all, it takes about an hour from start to finish. Which, isn't a bad trade off for a plate of cookies. Well, enough chit chat, let's get to baking!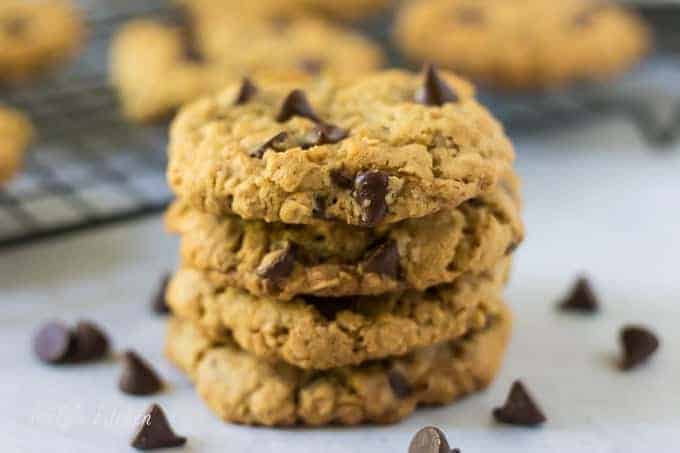 Chocolate Chip Oatmeal Cookie Instructions:
Alright, let's get started. To begin, preheat your oven to 350° F. and line two (2) cookie sheets with parchment paper.
Alternatively, you can use silicone mats or sheet pans with cooking spray.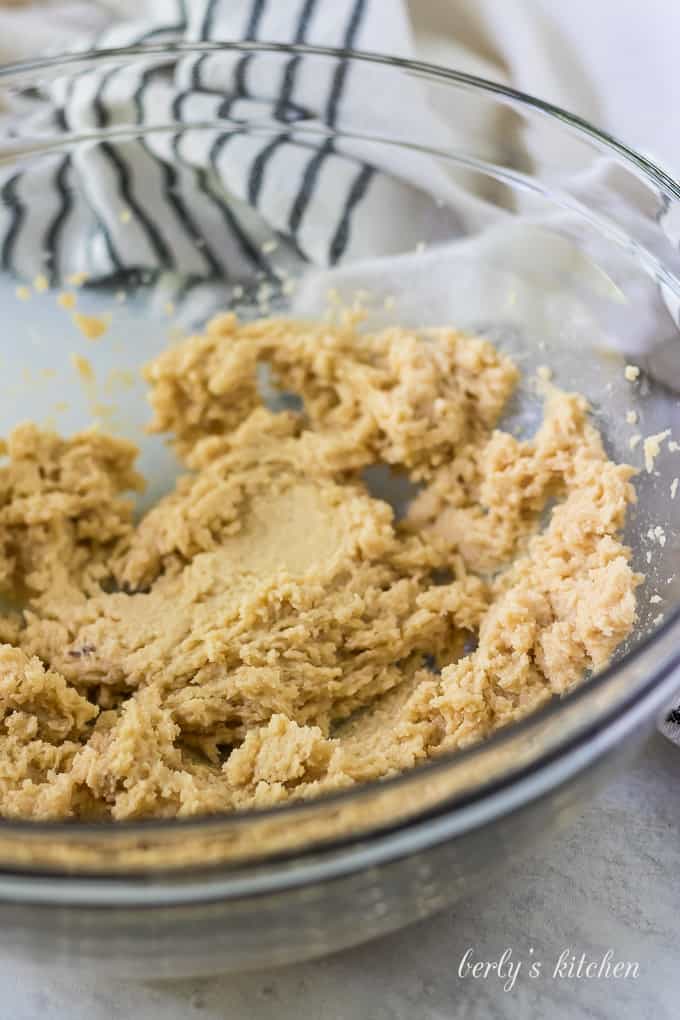 After that, grab a mixing bowl and combine the softened butter with the both the brown and granulated sugars.
Now, you'll want to mix them together for close to five (5) minutes. That way, you cream together the butter and sugar.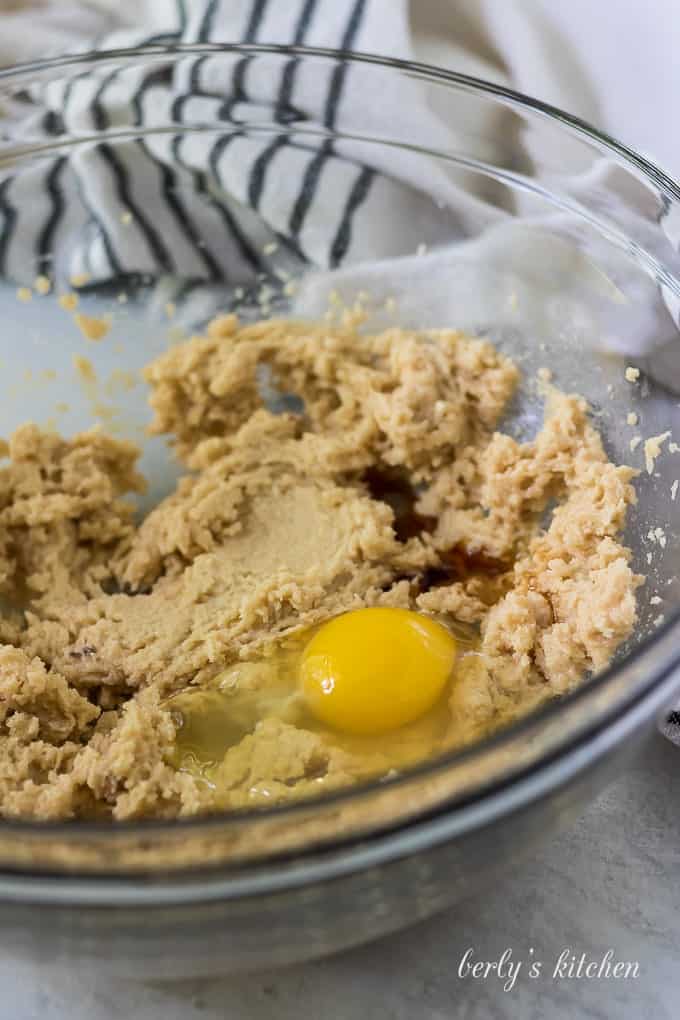 Then, add the egg and vanilla extract to the mix. Whip them into the butter and sugar mixture.
With most of the wet ingredients blended, it's time to add the dry ingredients.
In the same bowl, add the flour, both kinds of oats, cinnamon, baking soda, and salt.
It should be noted you can use a stand mixer or hand mixer to combine everything in this recipe.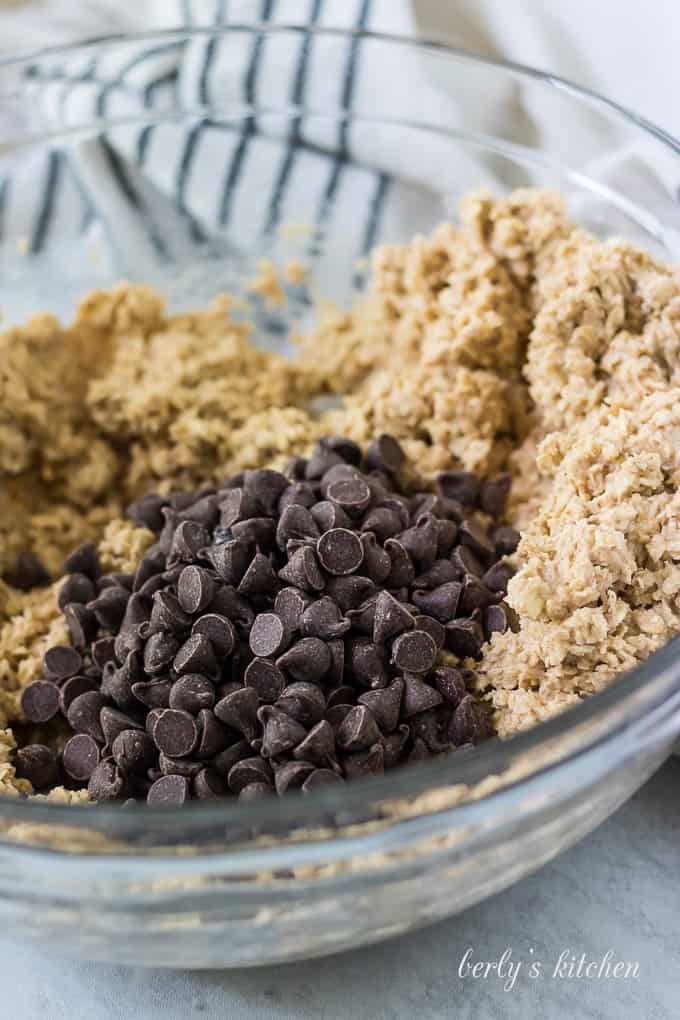 Instructions Continued:
Once the dry ingredients have been incorporated into the dough, fold in the chocolate chips. I typically use a rubber spatula for this step.
Don't over work the dough, just fold the oatmeal cookie dough in on itself a few times to evenly distribute the chocolate chips.
Go ahead and place the bowl into your fridge to chill for at least thirty (30) minutes. Believe it or not, we're almost done.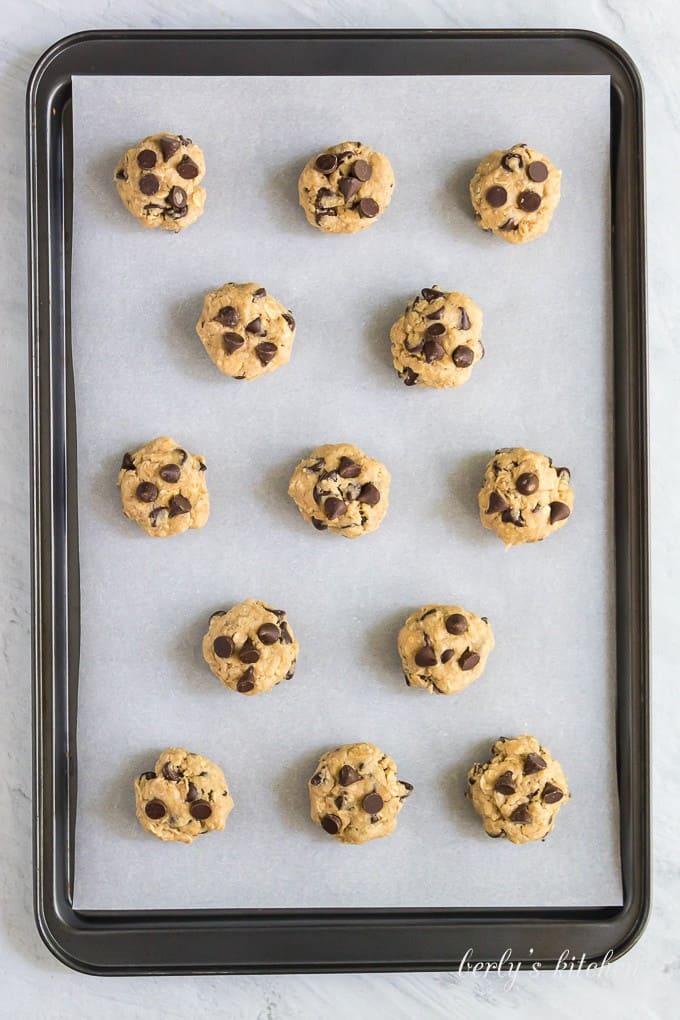 Once the oatmeal cookie dough has chilled, roll it into balls and place them on your cookie sheets. Bake them in the oven for about fifteen (15) minutes.
Last, remove the cookies from the oven and let them rest on the pan for five (5) minutes before transferring the cookies to a cooking rack.
That's it, your oatmeal chocolate chip cookie recipe is done! Kim and I hope you enjoy them and wish you all the best 🙂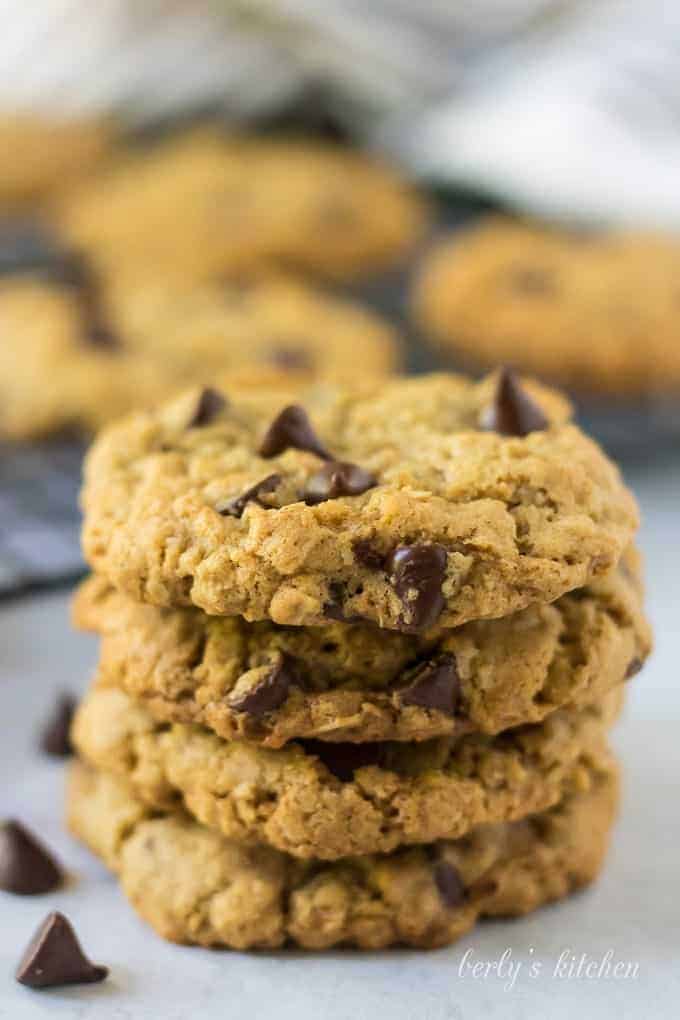 Easy Oatmeal Chocolate Chip Cookies Tips:
The reason you refrigerate the dough before baking is to allow the butter to firm up again. Otherwise, the cookies would spread out and become too thin. Basically, unless you want one giant cookie, it's best to chill the butter before placing the oatmeal cookies into the oven.
Unfortunately, not everyone can consume eggs. Some people have an egg allergy. Well, you can substitute ground flax seed and water for the egg. Simply, combine one (1) tablespoon of ground flax seed with three (3) tablespoons of water.
Mix them together and let the flax egg sit for ten (10) to fifteen (15) minutes before using it in the recipe. If you want to dress up your cookie recipe, then try using dark chocolate chunks instead of semi-sweet chocolate chips.
You could also add almond slivers or crushed walnuts to the batter.
Other recipes you may love:
Yield: 12 Servings
Easy Oatmeal Chocolate Chip Cookies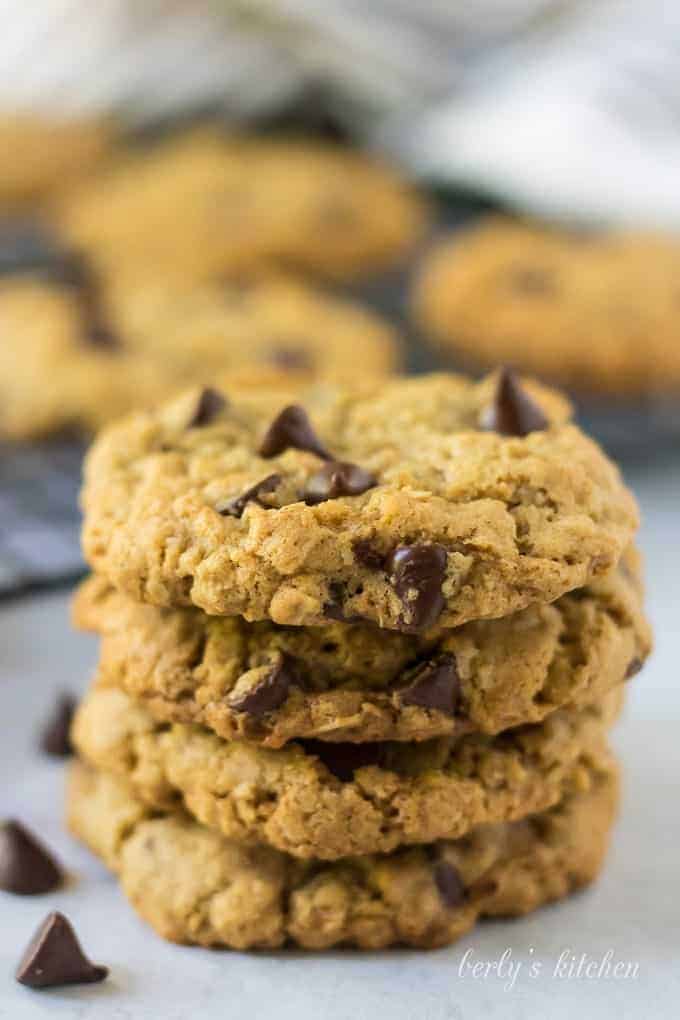 Our easy oatmeal chocolate chip cookies are chewy, soft, and loaded with semi-sweet chocolate chips. This is one of the best cookie recipes you'll ever try!
Ingredients
1/2 Cup Unsalted Butter, (one ((1) )stick softened)
1/2 Cup Brown Sugar
1/2 Cup Granulated Sugar
1 Large Egg
1 Teaspoon Vanilla Extract
1 Cup All-Purpose Flour
1 Cup Quick Oats
1/2 Cup Rolled Oats
1 Teaspoon Ground Cinnamon
1/2 Teaspoon Baking Soda
1/4 Teaspoon Salt
1 Cup Semi-Sweet Chocolate Chips
Instructions
Preheat oven to 350 degrees, and line two baking sheets with parchment paper or non-stick, silicone mats.
Using a hand mixer or stand mixer, cream together the butter, brown sugar, and granulated sugar until fluffy (about 3 minutes). Add the egg and vanilla, and combine to mix until combined.
Add the flour, quick oats, rolled oats, cinnamon, baking soda, and salt. Mix on low speed until just combined, scraping down the sides if needed.
Add the chocolate chip, and use a spoon or spatula to stir into the dough. Transfer the dough into the refrigerator to chill for at least 30 minutes.
After the dough has chilled, remove it from the refrigerator. Take 1 ½ tablespoons at a time, and roll it into balls. Place it on the prepared baking sheets about 2 inches apart. Press down slightly to flatten the balls.
Place the baking sheets in the oven, and bake for 13-15 minutes. The cookies will start to become slightly brown around the edges but still be soft in the center. Allow them to cool on the baking sheets before transferring to a cooling rack.
Notes
The calories listed are an approximation based on the ingredients and a serving size of two (2) cookies. Actual calories will vary. The oatmeal chocolate chip cookies can be stored in an airtight container for up to four (4) days.
Recommended Products
As an Amazon Associate and member of other affiliate programs, I earn from qualifying purchases.
Nutrition Information:
Yield:
12
Serving Size:
2 Cookies
Amount Per Serving:
Calories:

305
Total Fat:

15g
Saturated Fat:

8g
Unsaturated Fat:

0g
Cholesterol:

39mg
Sodium:

173mg
Carbohydrates:

40g
Fiber:

3g
Sugar:

23g
Protein:

4g