Our favorite garlic asparagus pasta recipe made with fresh asparagus, garlic, olive oil, and Parmesan cheese. A delicious dinner in less than an hour!
As you may have noticed, we recently published a sautéed asparagus recipe. Since we had some of the fresh veggies leftover, Kim and I decided to share my garlic asparagus pasta recipe.
I've been making it for a few years now. Originally, the recipe was a great way to get our son to eat asparagus.
Those of you with children understand how challenging it can be to get kids to enjoy vegetables. Well, it turns out adding butter, cheese, and pasta works pretty well.
I also use that formula for my broccoli mac and cheese. While it might not be the most, "health conscious," way to incorporate vegetables into a diet, by God it works.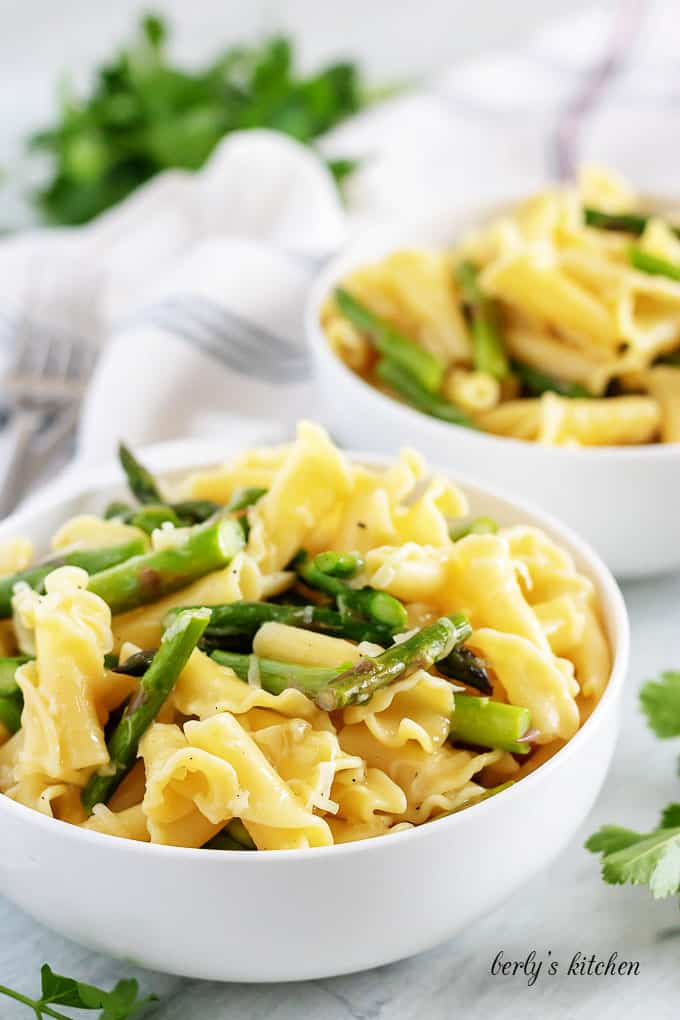 Garlic Asparagus Pasta Instructions:
Personally, I consider this recipe to be extremely simple. The hardest part is the prep work.
Begin by boiling the pasta. Of course, you want to use the package instructions.
However, I always add salt to my water. Doing so, will properly flavor the pasta and reduce the amount of salt added later on.
Once the pasta is done, drain it and set it aside. It's time to work on the asparagus.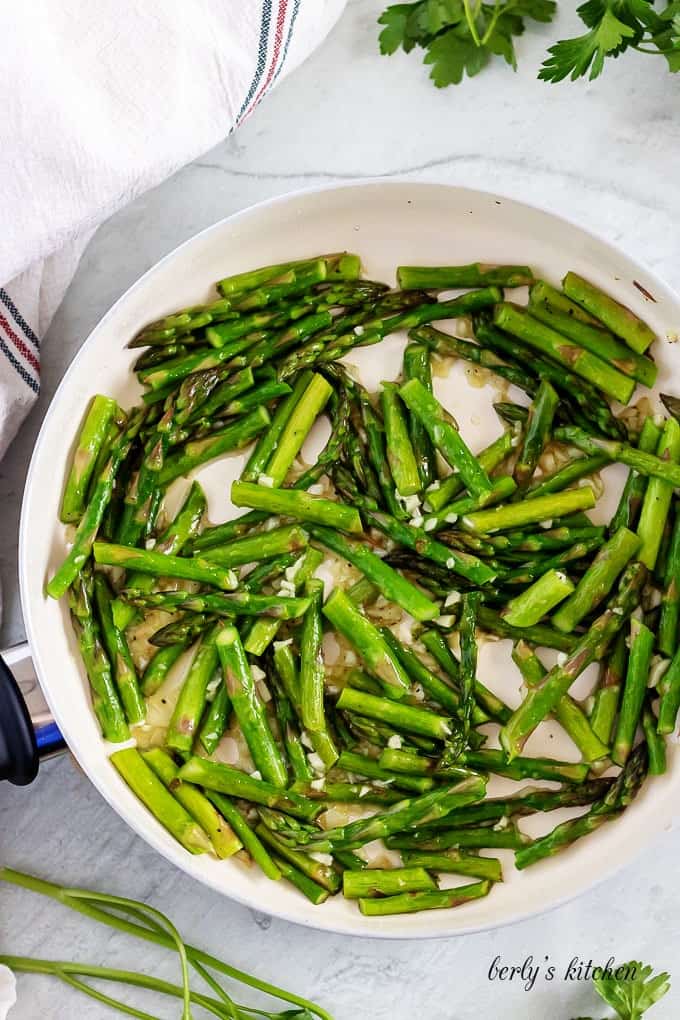 In a large sauté pan, over medium heat, combine the chopped asparagus, olive oil, and sea salt. Let them sauté for about seven minutes, then add the minced garlic.
Don't overcook your garlic. The minced bulb only needs about a minute to a minute and a half to saute.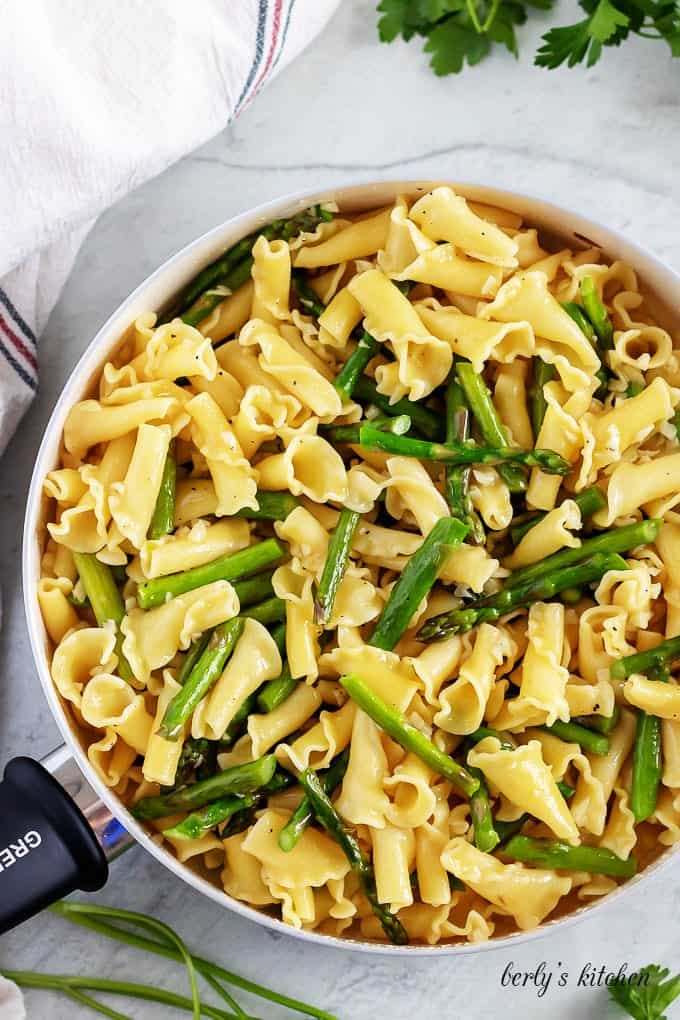 At this point, you can add the butter and drained pasta to the pan. Toss the pasta and allow the butter to melt.
This step ensures that your asparagus pasta is properly coated in the butter and olive oil sauce.
After you've coated the noodles in sauce, top the pasta with grated or shredded Parmesan cheese. That's it, your garlic asparagus pasta is done!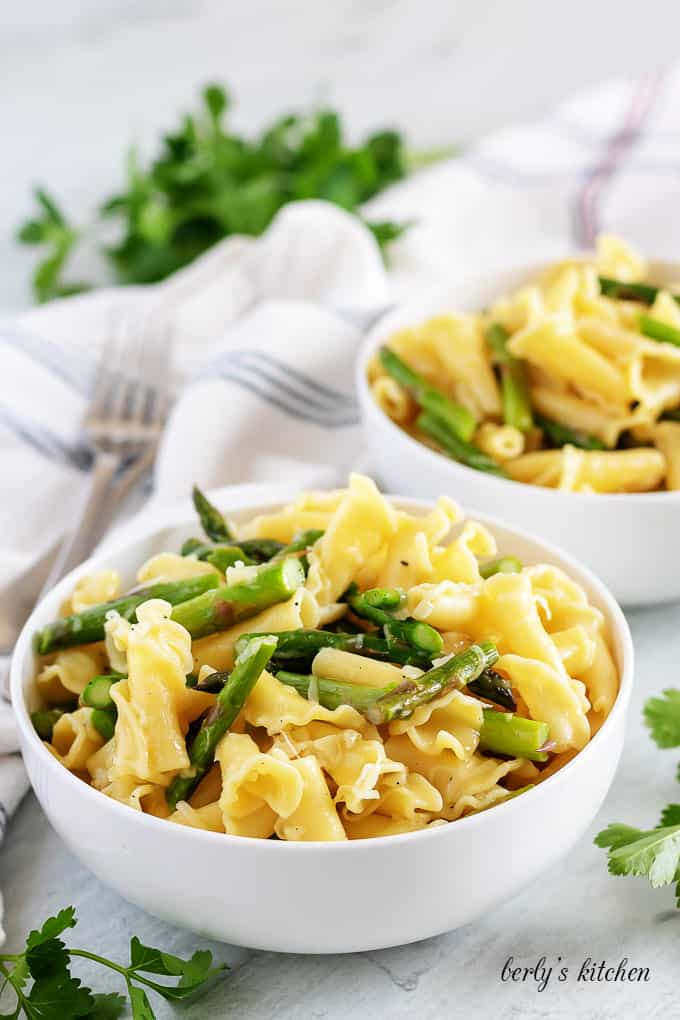 Garlic Asparagus Pasta Tips:
So, not everyone loves the butter and olive oil combination. If you want to remove the butter but are afraid of losing flavor, then try drizzling fresh lemon juice over the pasta.
It add a fresh kick of citrus to the dish. Another way to flavor pasta is to boil it in broths or stocks.
Whether you choose beef, chicken, or vegetable, your going to add an extra layer of flavor to the asparagus pasta. Give it a try sometime.
If you want to add a protein to the pasta, then I recommend chicken. You could season it with an Italian herb blend and that would mix perfectly with the garlic and olive oil in our dish.
Don't forget to check out our Asparagus Pasta web story!
If you enjoyed our garlic asparagus pasta recipe, please leave us a comment and rate the recipe card. You can also find us on Facebook, Pinterest, Twitter, and Instagram by searching for Berly's Kitchen!
Yield: 4 Servings
Garlic Asparagus Pasta Recipe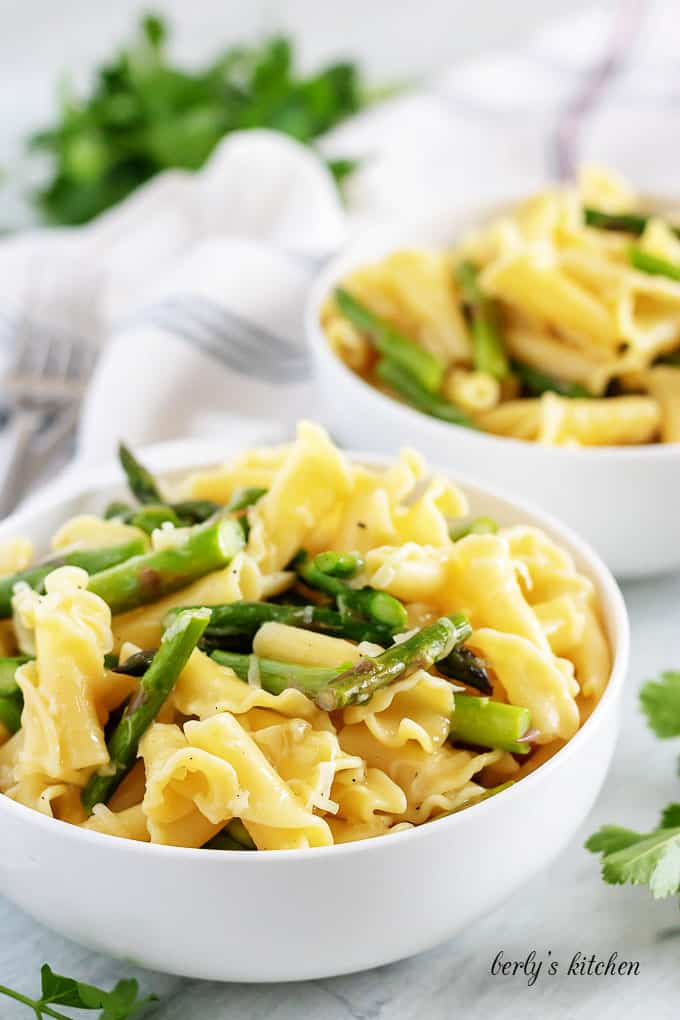 Our favorite garlic asparagus pasta recipe made with fresh asparagus, garlic, olive oil, and Parmesan cheese. A delicious dinner in less than an hour!
Ingredients
8 Ounces Dry Pasta, (We used Campanelle.)
1 Pound Asparagus, ends trimmed then cut into bite-sized pieces
3 Tablespoons Olive Oil
1/4 Teaspoon Sea Salt
5 Large Garlic Cloves, minced
4 Tablespoons Unsalted Butter
3 Ounces Parmesan, (grated or shredded)
Instructions
Cook the pasta according to the package directions. Drain, and set aside.
Heat a large skillet over medium heat. Add the olive oil, asparagus, and salt.
Sauté for 5 to 7 minutes, then add the garlic. Cook for an additional minute, and remove from heat.
Add the butter and cooked pasta. Toss to combine, then add the Parmesan cheese. Give everything a good stir.
Serve hot with extra Parmesan cheese, and freshly squeezed lemon juice if desired.
Notes
*The calories listed are an approximation based on the ingredients and a serving size of 2 ounces of pasta with ¼ of the veggies and sauce. Actual calories will vary.
*The asparagus pasta can be stored in your fridge for up to 3 days.
*We've partnered with Farmbox Direct, a fresh produce delivery service, to bring fresh and organic fruits and veggies right to your door. Receive 10% off your first order when you use code BERLYS10 at checkout!
Recommended Products
As an Amazon Associate and member of other affiliate programs, I earn from qualifying purchases.
Nutrition Information:
Yield:
4
Serving Size:
2 Ounces
Amount Per Serving:
Calories:

515
Total Fat:

28g
Saturated Fat:

12g
Unsaturated Fat:

0g
Cholesterol:

44mg
Sodium:

592mg
Carbohydrates:

48g
Fiber:

4g
Sugar:

3g
Protein:

17g