Creamy mashed potatoes and savory fried cabbage combined to create a tasty side. Try our quick and easy homemade colcannon recipe, ready in under an hour!
Before we decided to make this dish, I had no idea what was in a colcannon recipe. It was Kim who looked it up and explained that colcannon was made with mashed potatoes and kale or cabbage.
Well, I love both mashed potatoes and cabbage. So, we decided to go with that combination for our colcannon recipe.
Honestly, this is side that I will be making on regular basis. It's buttery, salty, and rich. I can imagine it would great with just about any entree.
Personally, I feel like a spiral cut ham or a nice steak would pair perfectly with colcannon. Then have something sweet like a Lucky Charms Treat for dessert. Now, enough talk, let's get cooking!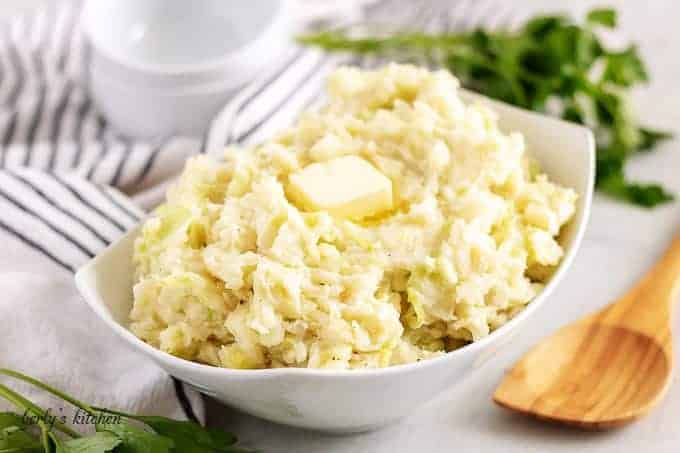 Homemade Colcannon Recipe Instructions:
Alright, for starters, let's gather up all our ingredients and prep those veggies. Wash and dry your potatoes and cabbage.
Then bust out your slicer or chef's knife and a cutting board. Dice your potatoes into one (1) inch cubes and slice your cabbage and onions.
It's okay if you cut the onions a little thicker than the cabbage, because the onions will cook faster.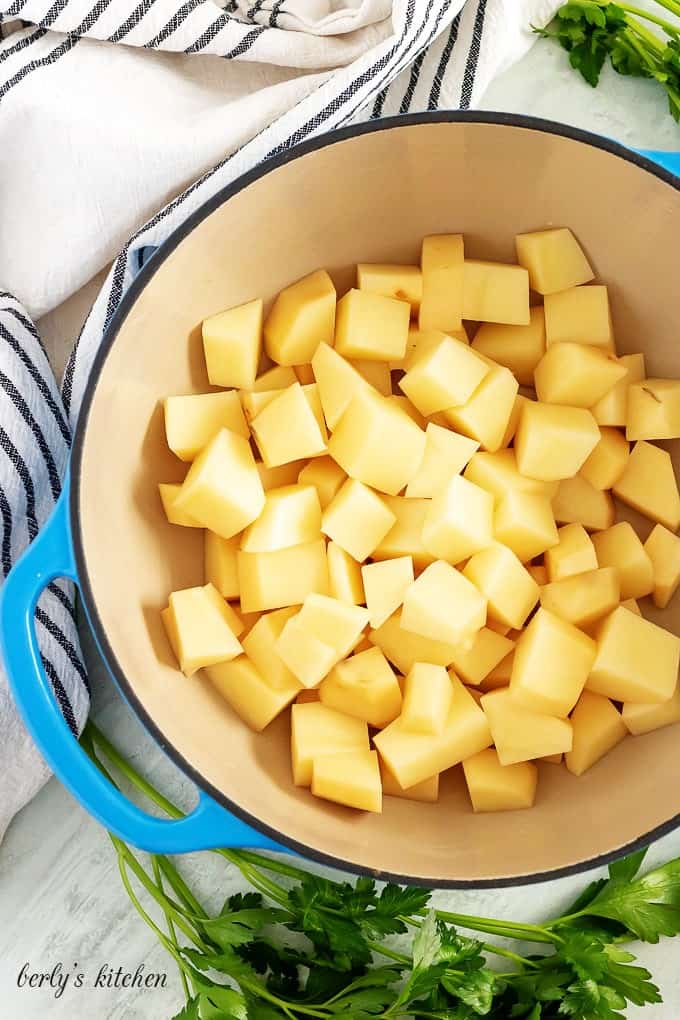 Once everything is prepped, get the taters into a pot of salted water and boil them over high heat until they are fork tender.
Now, while they boil, get the fried cabbage going. It should take between fifteen (15) and twenty (20) minutes.
In another pan, toss in three (3) tablespoons of butter and heat it over medium-low heat. Add the cabbage and onions to that pan and let them cook until they reduce by half in volume.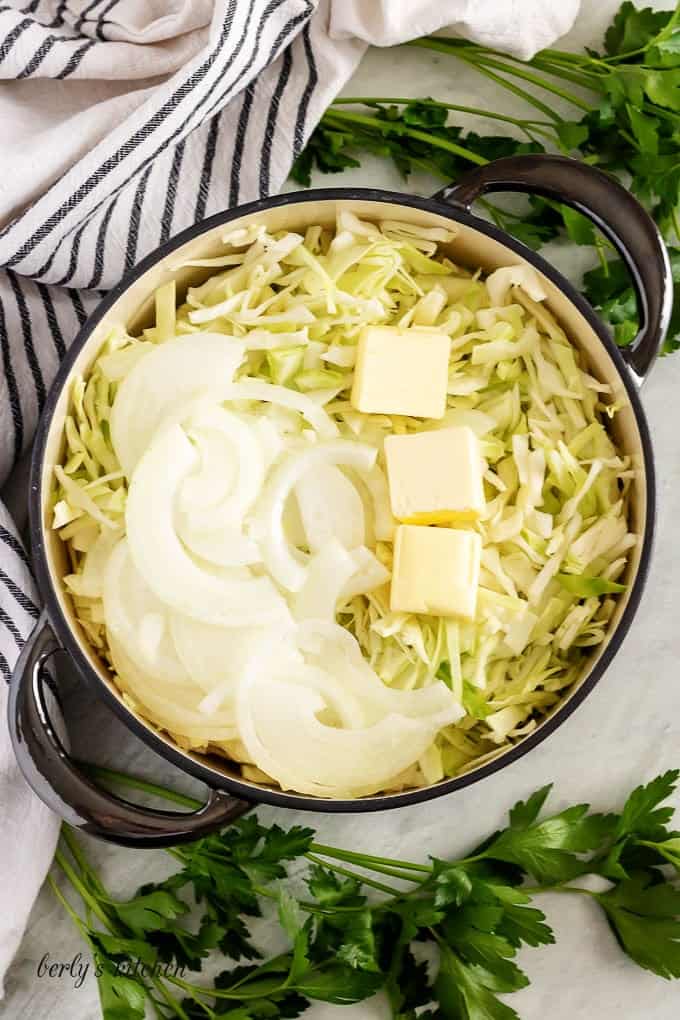 Instructions Continued:
The fried cabbage and potatoes should finish around the same time. When they're both close to being done, heat your heavy cream and the other four (4) tablespoons of butter.
The cream should only be warm enough to melt the butter. At this point, the taters and cabbage should be done. Turn off the heat on the cabbage.
Drain the potatoes, then add the cream and butter mixture to them, and start mashing.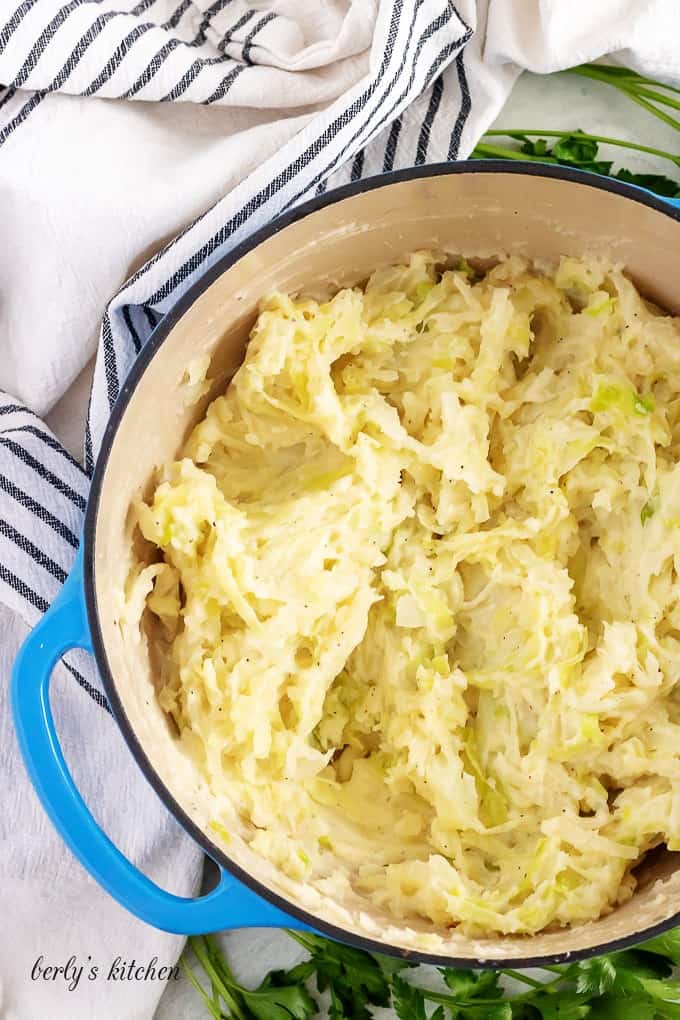 Once the mashed potatoes are nice and creamy, it's time to combine everything. Stir in the cabbage and onions.
Do a taste test and add salt and pepper as needed. That's it, your homemade colcannon recipe is done!
See, it didn't take long at all. And, best of all, you made it from scratch. I suppose you didn't make the cream and butter, but hey, I won't tell if you won't.
We hope you enjoy this recipe as much as we did and invite you to check out some of our other recipes below. Take care and thanks for dropping by.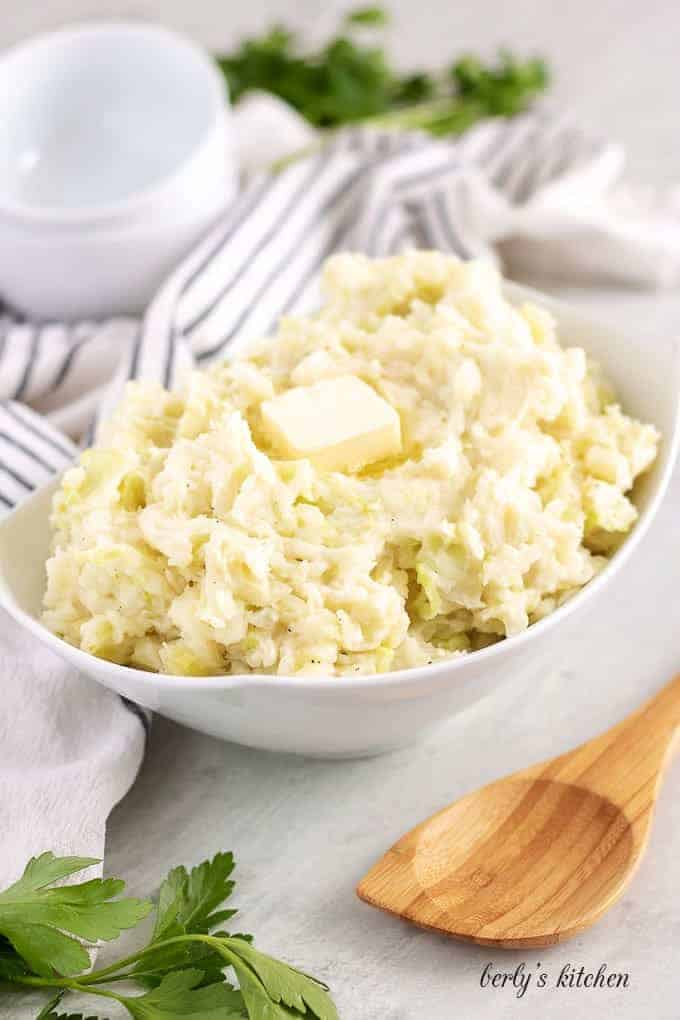 Colcannon Recipe Tips
I've heard some people ask, "What do you serve with colcannon?" According to what I've found, most people eat corned beef with this potato and cabbage side dish.
In order for your potatoes to cook evenly, make sure you cut them into equal sized chunks. Otherwise, some of the diced taters will cook quickly while others will still be too firm to mash.
Want to add even more flavor? Consider frying a couple pieces of bacon and give them a rough chop.
Then, fry your cabbage and onions in the bacon fat. When you combine the cabbage and potatoes, toss in the fried pork for an extra kick of savory, smoky, flavor.
If you enjoyed our homemade colcannon recipe, please leave us a comment and rate the recipe card. You can also find us on Facebook, Pinterest, Twitter, and Instagram by searching for Berly's Kitchen!
Yield: 8 Servings
Homemade Colcannon Recipe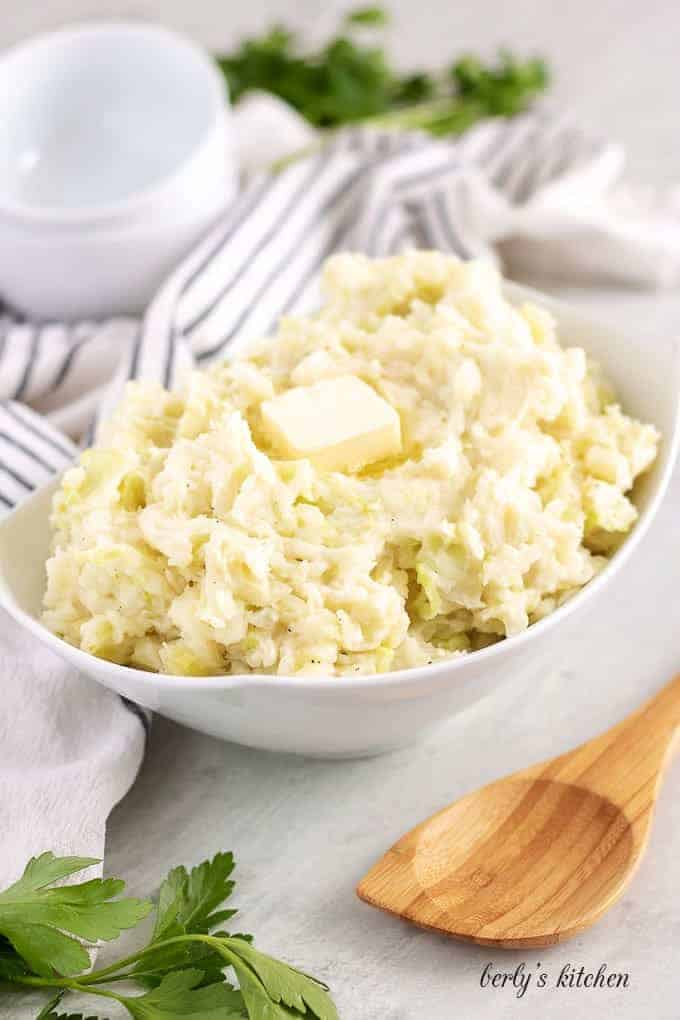 Creamy mashed potatoes and savory fried cabbage combined to create a tasty side. Try our quick and easy homemade colcannon recipe, ready in under an hour!
Ingredients
3 Lbs. Russet Potatoes, (washed, dried, diced into cubes)
6 Cups Green Cabbage, (half a head, washed, shredded)
1 1/2 Cups White Onion, (thinly sliced)
3 Tablespoons Unsalted Butter, (for cabbage)
1/2 Cup Heavy Cream
4 Tablespoons Unsalted Butter, (for mashed potatoes)
Salt and Pepper to taste
Instructions
Boil potatoes in a large pot of salted water until they are fork tender (usually about 15-20 minutes depending on size).
While the potatoes boil, begin cooking the onions and cabbage. In a medium to large pan or skillet, heat 3 tablespoons of butter until melted over low-medium heat. Add the onions, shredded cabbage and salt and pepper to taste. Stir occasionally until the mixture is reduced in volume by half or the cabbage is the desired texture. The cabbage should be finished cooking about the same time as the potatoes.
Just before the potatoes and cabbage finish cooking, use a microwave safe container or a small pan on the stove to heat the heavy cream and remaining 4 tablespoons of butter. Heat until the heavy cream is warm but not boiling or scalding.
Once the potatoes are fork tender, drain off the water. Use a potato masher or hand blender to mash the potatoes. Add the warm heavy cream and butter as you're mashing.
After the potatoes are mashed, stir in the cabbage. Add any additional salt and pepper if needed. Serve while hot.
Notes
The calories listed are an approximation based on the ingredients and a serving size of about one (1) cup. Actual calories will vary. The colcannon can be stored in your fridge in a sealed container for up to three (3) days.
Recommended Products
As an Amazon Associate and member of other affiliate programs, I earn from qualifying purchases.
Nutrition Information:
Yield:
8
Serving Size:
1 Cup
Amount Per Serving:
Calories:

298
Total Fat:

15g
Saturated Fat:

9g
Unsaturated Fat:

0g
Cholesterol:

46mg
Sodium:

112mg
Carbohydrates:

37g
Fiber:

4g
Sugar:

4g
Protein:

5g