Our Flat Iron Steak Recipe is quick and delicious made with a custom blend of homemade steak seasonings, seared to perfection in a flat iron skillet. It makes for an excellent weeknight dinner option.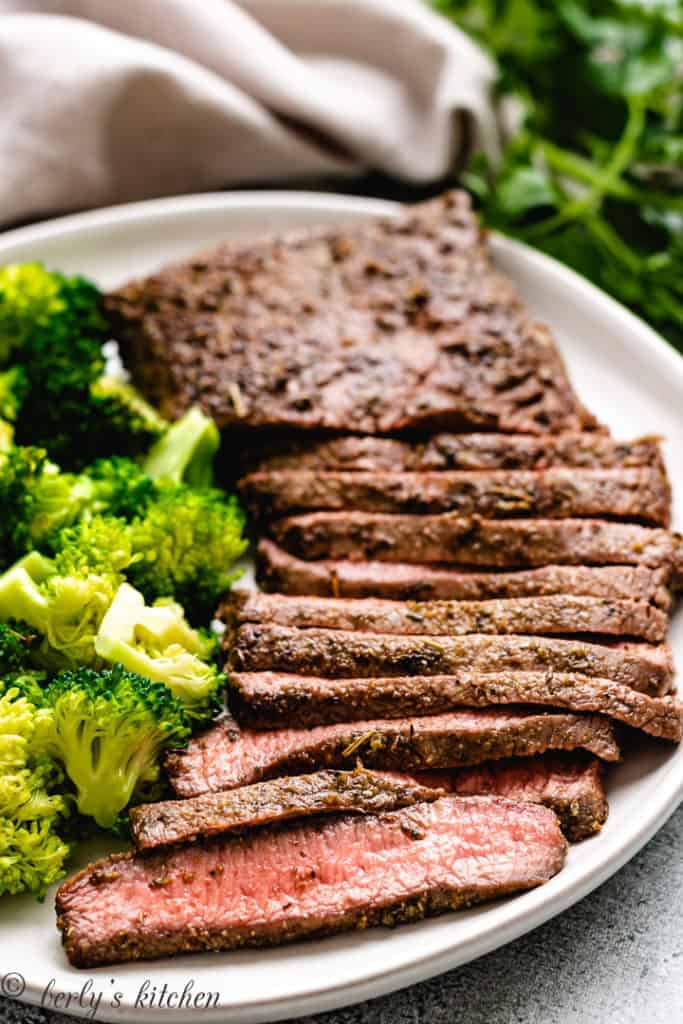 Best Flat Iron Steak
A few years ago, we lived in a condo community that didn't allow grills. At first, this was kind of frustrating because we loved to grill outdoors.
However, the living situation taught us how to create homemade burgers, pan seared steak, and steak fajitas using my regular cooktop.
This flat iron steak recipe is one of those examples that prove you don't have to use an outdoor grill to make a perfectly seared steak.
Combine a little know-how, with a custom seasoning mix, and melted butter and you've got yourself a pretty amazing steak. Pair it with a batch of baked sweet potato fries or oven baked home fries, and you have a full meal!
Ingredients You'll Need:
You may need to adjust the seasoning blend depending on exactly how much steak you use. You may need a little more or a little less. It's easy to make extra!
The exact amounts of each ingredient are in the recipe card further down the page.
Seasonings: We use a variety of seasonings for the seasoning blend. Adjust or omit any of these to taste. You'll need seasoning salt, Italian seasoning, ground black pepper, garlic powder, and onion powder to create a nice seasoning for steak.
Steak: You'll need about 1 ½ pounds of flat iron steak.
Butter: We cook the steak in 3 tablespoons of unsalted butter. Salted butter also works, but you may need to lessen the amount of seasoned salt.
How to Cook Flat Iron Steak:
Scroll to the recipe card below for full instructions and ingredient amounts!
Before we get started, let me start off with a little note about the steak. In the recipe, we have it listed as a 1 ½ pound steak or steaks. When we originally made this recipe, that's what we used.
It just so happens that we are living in a different part of the country now, and the only flat iron steak available was just barely over half a pound. That's what's used in the updated photos and video.
The recipe stayed the same, except the size of the steak which can be adjusted. You just won't use as much of the seasoning. Now, back to how to make our flat iron steak recipe! 🙂
In a small bowl combine the seasoned salt, Italian seasonings, black pepper, garlic powder, and the onion powder. Give them a quick mix with a fork to blend the seasonings.
Liberally season both sides of each steak, making sure to use ALL the spice mix (assuming you're using the full 1 ½ pounds of meat).
Preheat a flat iron skillet or griddle over medium heat and melt the butter.
Once the butter is melted, add the steaks to pan. Cook them for 5-6 minutes on each side or to your desired doneness.
When the steaks are done, let them rest for 5-10 minutes then serve them with a side of your choice.
Tips and Variations:
Start with a high-quality cut of steak with good marbling. Marbling helps keep the steak from drying out while it cooks and provides flavor.
Use butter while cooking flat iron steak as it prevents sticking and adds extra flavor.
Avoid moving the steak around too much in the pan before it's seared (i.e., first side down). You want to get a good sear on the first side before flipping it to the second side.
Let the steak cook undisturbed on each side until it's time to flip - use an instant read thermometer if necessary.
Let your cooked steak rest covered for at least 5-10 minutes before serving. Otherwise, all the juices will run out and your steak will be dry.
Slice against the grain when ready to serve which helps keep the texture tender.
For an extra flavorful steak, apply the seasoning mix then place the steaks in your fridge for 30 minutes to rest before cooking.
Heat the pan to medium or medium-high. You'll know the skillet is hot enough when the butter begins to clarify (separate) in the pan.
Create a marinade by simply adding ½ cup of olive oil and ¼ cup of red wine vinegar to the seasoning mix. Submerge the steaks in the marinade in your fridge for 30 minutes before cooking.
How to Store Flat Iron Steak:
Refrigerator: Store leftover steak in the refrigerator for up to 3 days.
Reheat: Reheat on the stovetop over low heat until heated through.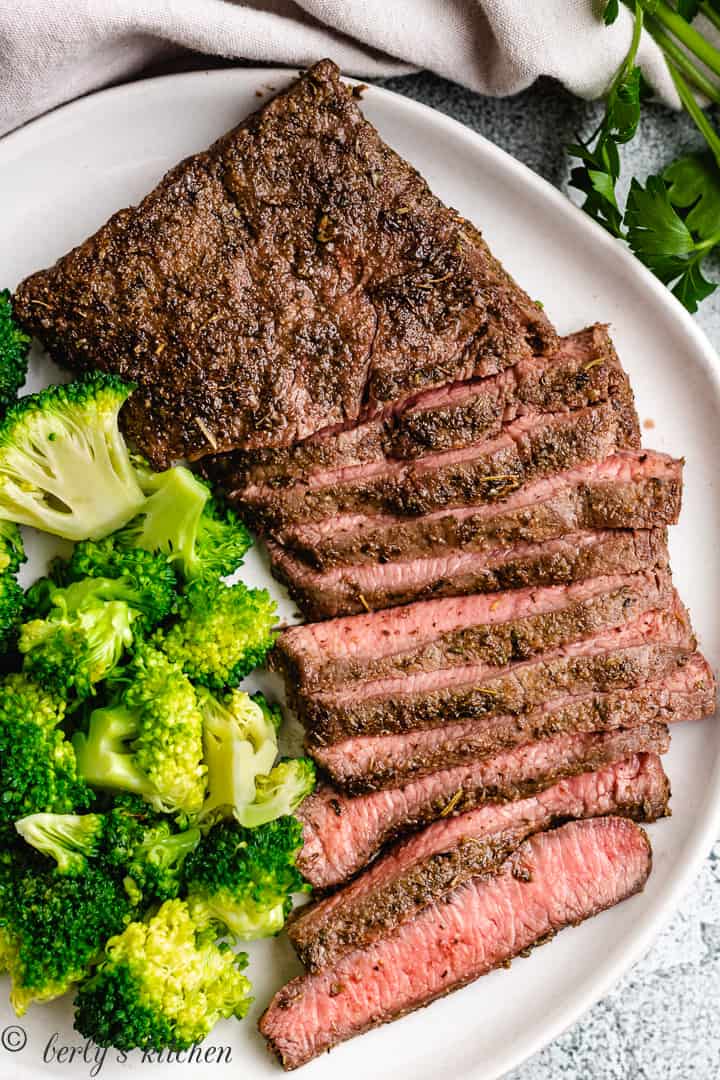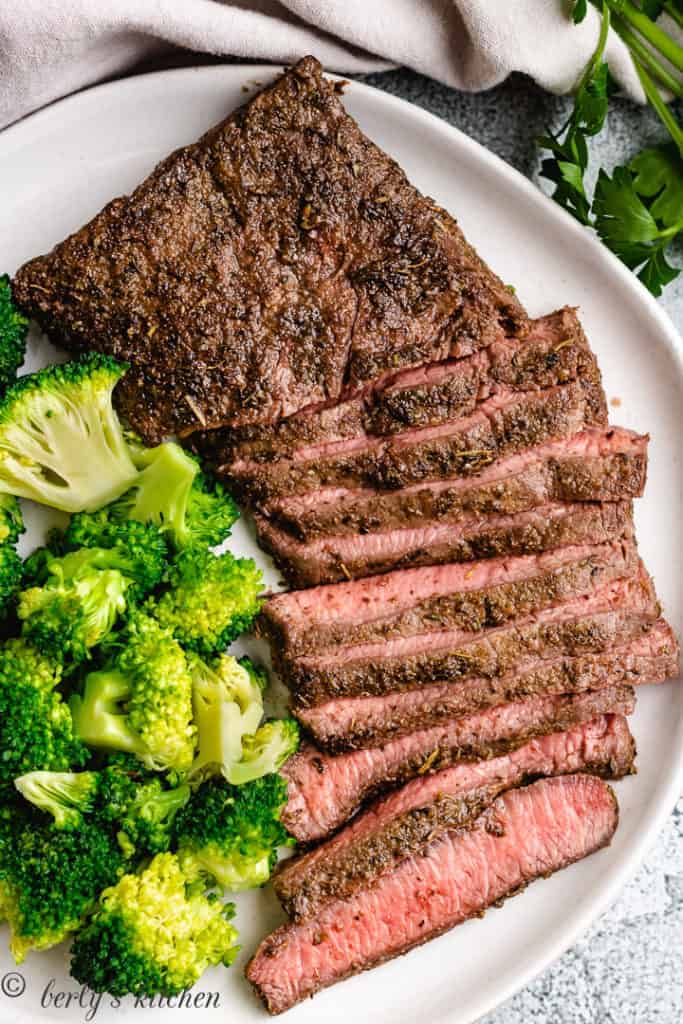 Are flat iron steak and flank steak the same?
No, flat iron steak and flank steak are taken from different areas of the cow.
A flat iron steak is cut from the top blade (shoulder) of a cow. A flank steak is cut from the stomach or abdominal area.
Can another cut of beef be used for this recipe?
Yes, absolutely! This seasoning and cooking method in this recipe works well for any cut steak. We love it on sirloin, New York strip, fajita meat, ribeye, and even filet.

If there happens to be a seasoning you don't love, we have an amazing beer marinade that works well, too.
Is flat iron steak tender?
Yes, flat iron steak is a tender cut of steak. Look for a piece that has nice marbling or thin ribbons of fat running throughout. As the steak cooks, the fat melts and keeps it moist and adds flavor.
Other Dinner Recipes You May Love:
Recipe Card with Ingredient Amounts and Instructions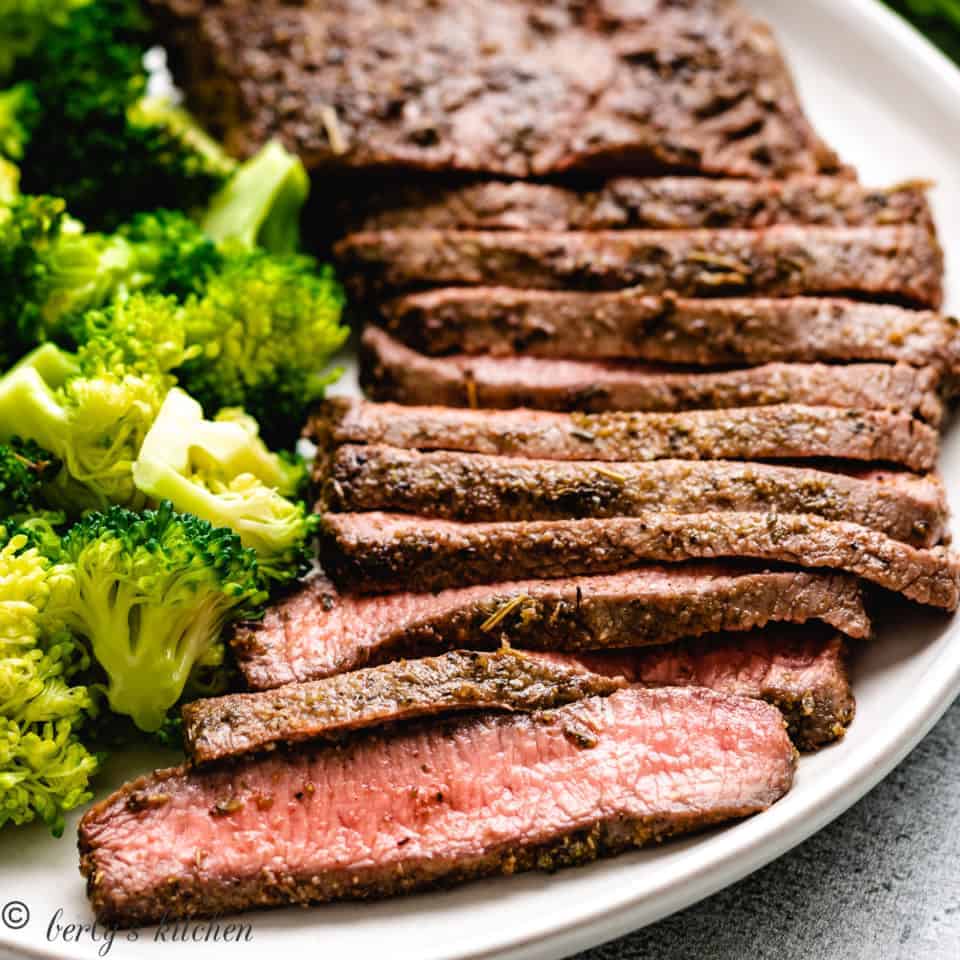 Ingredients
1

tablespoon

seasoned salt

1

tablespoon

Italian seasoning

½

teaspoon

ground black pepper

½

teaspoon

garlic powder

½

teaspoon

onion powder

1 ½

pounds

flat iron steak

,

or cut of your choice

3

tablespoons

unsalted butter
Instructions
Combine the salt, Italian seasonings, pepper, garlic powder, and onion powder in a small bowl.

1 tablespoon seasoned salt

1 tablespoon Italian seasoning

½ teaspoon ground black pepper

½ teaspoon garlic powder

½ teaspoon onion powder

Season the steak(s) on all sides with the seasoning mix; be sure to use all of the spices.

1 ½ pounds flat iron steak

Preheat an iron skillet over medium heat, and melt the butter in the pan. Add the steaks to the hot pan. Cook for about 5 to 6 minutes on each side, or to your desired doneness.

3 tablespoons unsalted butter

Allow the steaks to rest for 10-minutes then serve with sides.

Scroll up and see the post for tips, FAQs, and storage options.
Notes
*The calories listed are an approximation based on the ingredients in the recipe card and a serving size of 4 to 6 ounces of steak. Actual calories will vary.
*For more information, tips, and answers to frequently asked questions, please refer to the post.
Nutrition
Serving:
4
Ounces
|
Calories:
381
kcal
|
Carbohydrates:
2
g
|
Protein:
33
g
|
Fat:
26
g
|
Saturated Fat:
12
g
|
Polyunsaturated Fat:
1
g
|
Monounsaturated Fat:
9
g
|
Trans Fat:
1
g
|
Cholesterol:
135
mg
|
Sodium:
1938
mg
|
Potassium:
554
mg
|
Fiber:
1
g
|
Sugar:
0.1
g
|
Vitamin A:
285
IU
|
Vitamin C:
0.1
mg
|
Calcium:
36
mg
|
Iron:
5
mg
Don't Lose This Recipe!
Save it on Pinterest! Follow us at @berlyskitchen!