This easy recipe for Grilled Mahi Mahi shows you exactly how to grill Mahi Mahi using a griddle pan or outdoor grill. Serve grilled mahi-mahi in tacos or burritos, or as the main protein along with your favorite side dishes.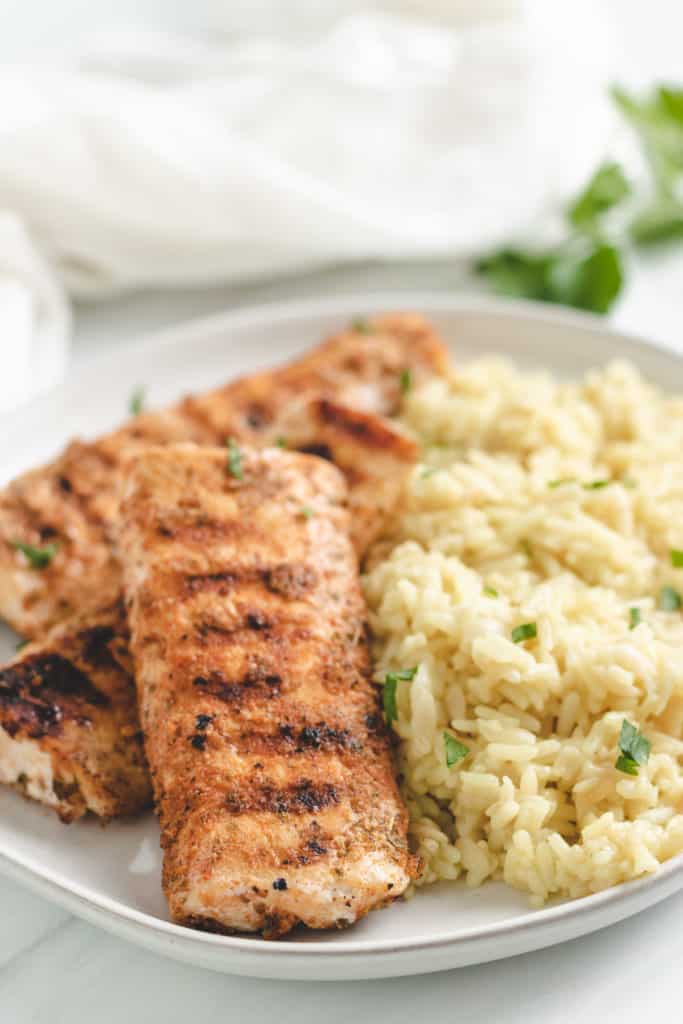 Mahi Mahi Recipe
After we published the recipe for our Sweet and Spicy Pineapple Salsa, we wondered what would be the perfect compliment to those flavors.
Our first thought was to pair it with a simple piece of grilled white fish and Mahi Mahi was the perfect match! Mahi Mahi is known as dolphin on the east coast of Florida and is a flaky white fish that is also very sturdy. This means it's able to take on flavor well and hold up to grilling much better than other delicate white fish.
Mahi Mahi is one of the easiest fish to grill! All you have to do to cook the fish is coat it with olive oil, sprinkle it with the spices, and cook it on a grill for about five to seven minutes on each side. When accompanied by a Oven Roasted Broccoli, pan fried gnocchi, or brown rice, this fish makes a great low-calorie, high protein meal option for a healthy lifestyle.
How To Make Grilled Mahi Mahi
Prepare for grilling: Heat an indoor griddle pan over medium heat. If cooking on an outdoor grill, preheat over medium-low heat around 350°F-400°F.
Prepare the fish: Using a paper towel, pat the fish dry to get rid of excess moisture. Brush each side with olive oil and set aside.
Add the spice mixture: In a small bowl, combine all of the spices together. Then sprinkle the spices on the surface of the oiled fish gently pressing in with your hands to ensure it sticks.
Grill the Mahi Mahi: Apply a thin layer of cooking oil to the outdoor grill or to the griddle pan to keep the fish from sticking. Place the seasoned fish on the grill and cook for 4-7 minutes on each side. The internal temperature of fish should reach 145°F for it to be fully cooked and safe.
Rest and serve: Remove the grilled fish with tongs or a fish spatula, then let it rest on a plate for 5-10 minutes in order to redistribute the juices properly. Serve hot with fresh lemon wedges or your favorite toppings.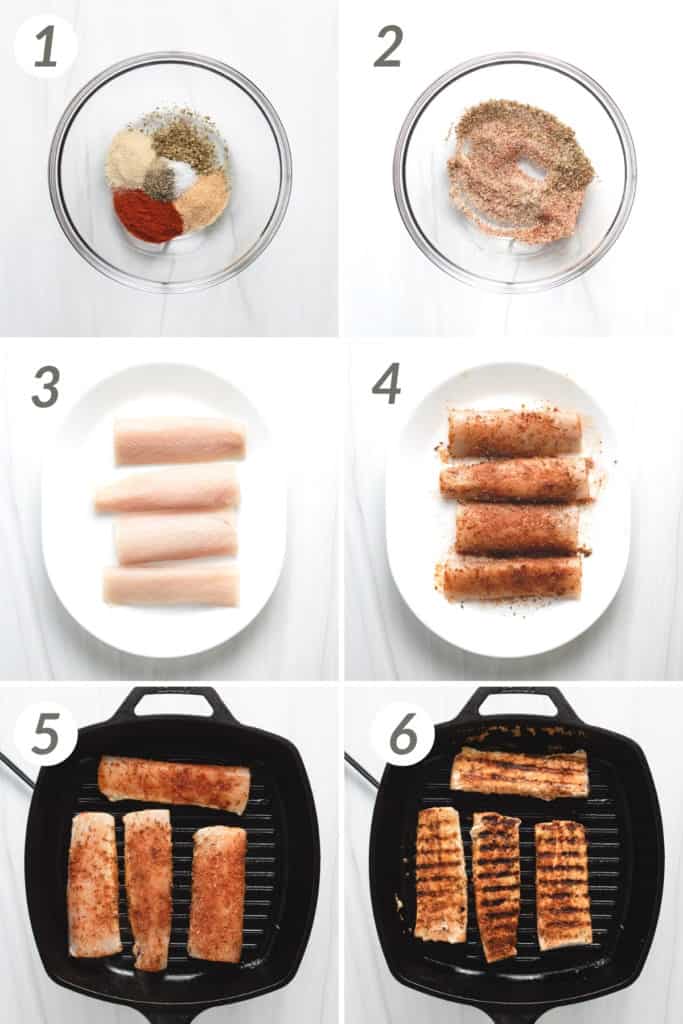 Grilled Mahi Mahi Tips
Fresh mahi mahi may not be available in your area so you can use frozen fillets. If using frozen fish, make sure to thaw it completely and pat it dry to get as much of the excess moisture out as possible.
This recipe will work with fresh/skin on mahi mahi. Cook the non-skin side first then flip it to cook the side with the skin to prevent it from sticking.
The amount of time it takes to cook Mahi will depend on how thick it is. Overcooking this type of fish could make it dry very quickly, so it's important to use a kitchen thermometer the first few times.
When seasoning the fish, it's very important to make sure excess moisture is removed with a paper towel. This not only will help the seasoning stick, but it will help keep the fish from burning when grilling.
Variations and Serving Suggestions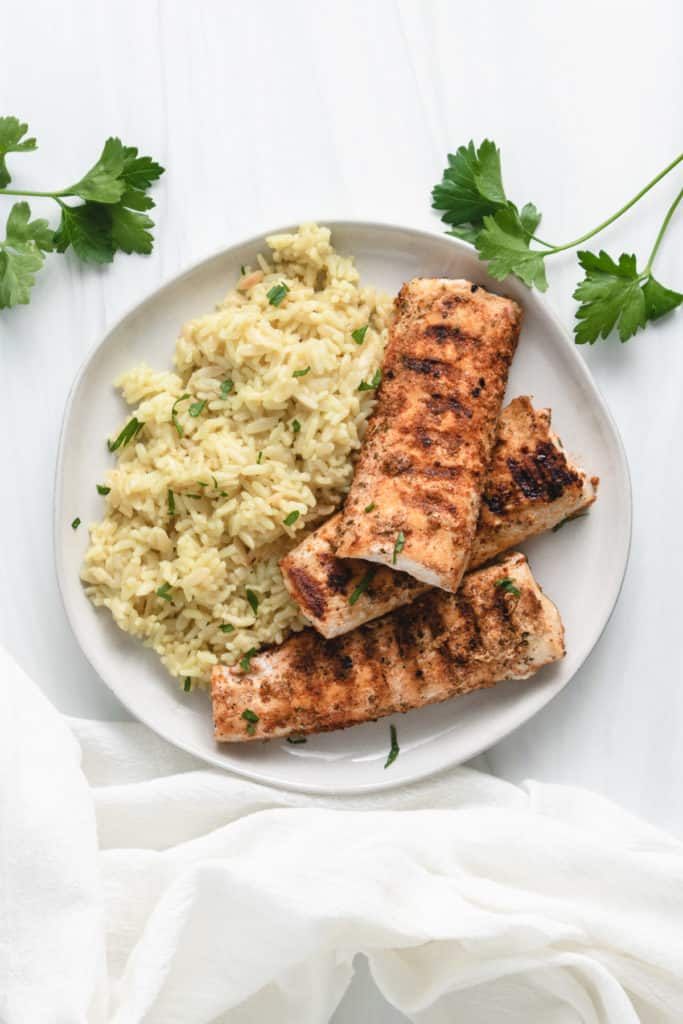 What temperature do you cook Mahi on the grill?
The best temperature for cooking Mahi on the grill is about 350°F or medium-low heat.
How do you know when Mahi Mahi is done?
The internal temperature will read 145°F when the fish is done cooking. It will also be a white throughout and flake easily with a fork.
Storing and Freezing
Storing: Grilled Mahi Mahi will only last up to 2 days in the fridge, so it's best to make what you'll be eating as best as you can.
Freezing: Mahi Mahi filets will not hold up well in the freezer as their protein structure will break down too much when thawing, therefore freezing is not recommended.
Yield: About 1 Pound
Grilled Mahi Mahi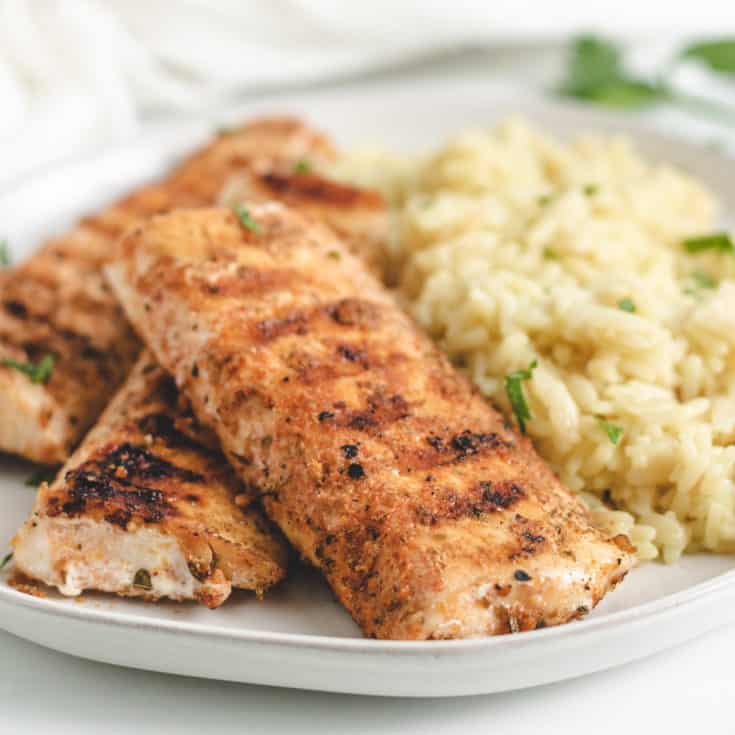 This easy recipe for Grilled Mahi Mahi shows you exactly how to grill Mahi Mahi using a griddle pan or outdoor grill. Serve grilled mahi-mahi in tacos or burritos, or as the main protein along with your favorite side dishes.
Ingredients
1 pound mahi mahi fillets, fresh or frozen
1 tablespoon olive oil
½ teaspoon garlic powder
½ teaspoon onion powder
½ teaspoon smoked paprika, optional
½ teaspoon oregano
½ teaspoon salt
¼ teaspoon black pepper
Cooking oil for the grill/griddle
Instructions
Heat a grill or griddle pan over low to medium heat.
Pat the mahi mahi fillets dry with a paper towel, and apply the olive oil with a pastry brush.
In a small bowl, combine the garlic powder, onion powder, smoked paprika, oregano, and black pepper. Sprinkle the spices over the mahi mahi, and pat gently to ensure the spices adhere to the fish.
Apply a thin layer of cooking oil to the grill, and add the fish. Cook for 4 to 7 minutes on one side until the fish then flip to cook on the opposite side. The fish is cooked through when the internal temperature reaches 145°F on an instant read thermometer, and the meat flakes easily.
Remove the fish from the grill, and allow it to rest for at least 5 to 10 minutes prior to serving.
See post for storage recommendations.
Notes
*The calories listed are an approximation based on the ingredients in the recipe card and a serving size of ¼ pound grilled mahi mahi. Actual calories will vary.
*For more information, tips, and answers to frequently asked questions, please refer to the post.
Recommended Products
As an Amazon Associate and member of other affiliate programs, I earn from qualifying purchases.
Nutrition Information:
Yield:
4
Serving Size:
1/4 pound
Amount Per Serving:
Calories:

188
Total Fat:

8g
Saturated Fat:

1g
Trans Fat:

0g
Unsaturated Fat:

6g
Cholesterol:

107mg
Sodium:

393mg
Carbohydrates:

1g
Fiber:

0g
Sugar:

0g
Protein:

27g
*The calories are an estimate and are based on the ingredients and serving size listed. The calories can vary depending on the brand of product purchased.