Our sweet and spicy pineapple salsa recipe is a cinch to prepare and bursting with tropical flavors. It serves as a fresh topping or stand-alone salsa.
Have you ever had a craving for something spicy and sweet? Of course you have, so we've decided to share a recipe that will satisfy both your sweet tooth and that desire for a little heat.
Our pineapple salsa recipe has the best of both worlds. Sugary fruit is combined with spicy vegetables in this tropical condiment that only takes a few minutes to prepare.
Whether you decide to serve it with chips or use it as a topping on meat, we feel you'll enjoy it either way. Now that you know what you're getting, how about we get started?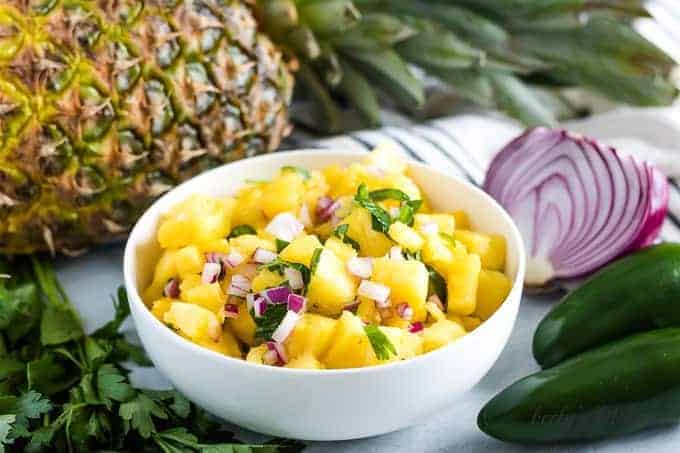 Pineapple Salsa Instructions:
First, begin by prepping the fruit and vegetables. Cut the top off the pineapple and slice away the tough outer rind.
Next, remove the bottom of the pineapple as well. This step will make it easier to dice. Quarter the fruit into four large chunks.
The insides are part of the core and have to be trimmed away because they are inedible.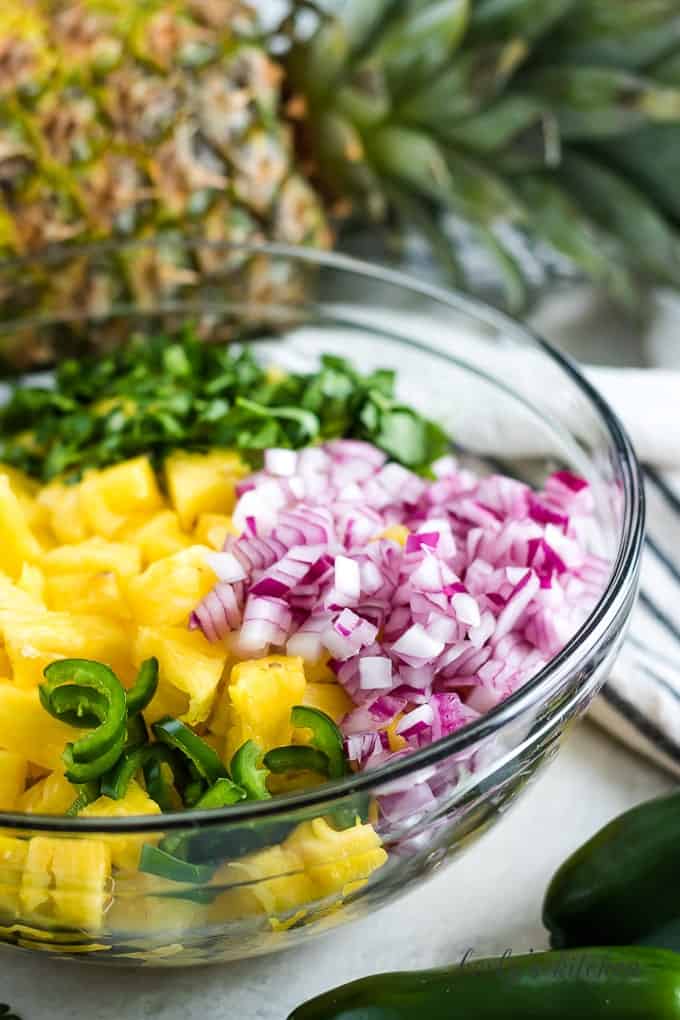 After that, dice the pineapple into small cubes and put them into a large mixing bowl. Now that you've completed that part of the recipe, grab the jalapeno and get to work.
Slice off the stem and split the pepper in half. Pick a side and then dig out the seeds and the membrane.
Afterward, slice the half into thin slices and add them to the same bowl.
At this point, the onion will need its skin discarded and then be diced into small pieces. You only need about 1/4 cup worth of the purple or red onion.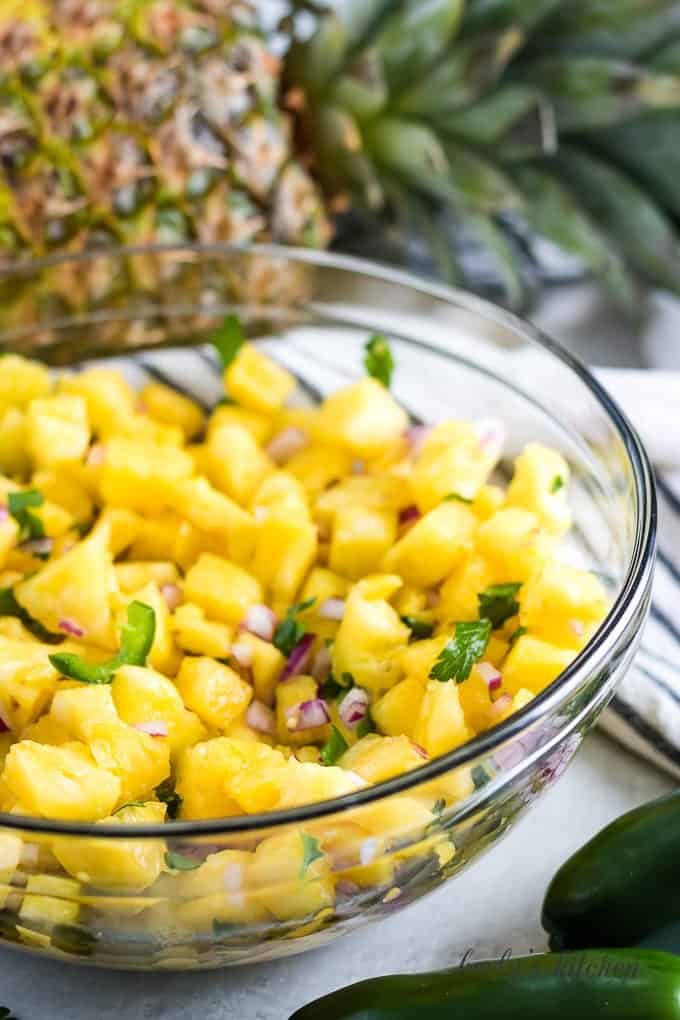 Add that ingredient to the mix pineapple in the bowl. The parsley leaves need to be diced now that you have everything else done.
The recipe should only need about two tablespoons of parsley. Combine the salt and parsley with the rest of the mixture and toss everything together.
That's it, your pineapple salsa recipe is done! Try it out with Mahi Mahi recipe, you may like the combination.
As always Kim and I wish you all the best 🙂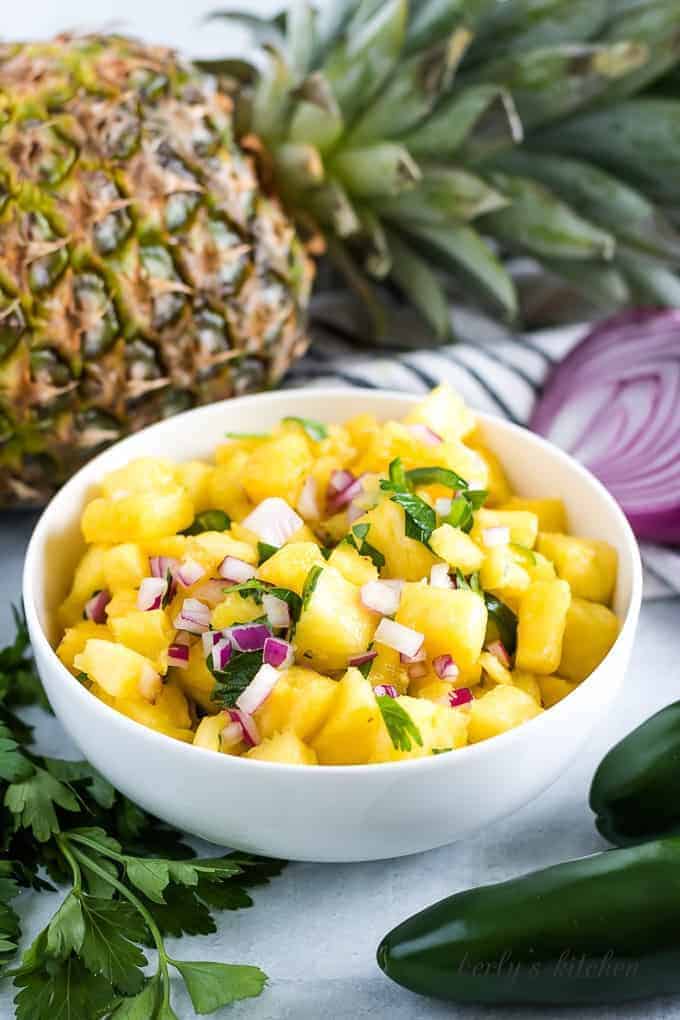 Pineapple Salsa Tips:
When cleaning and dicing the jalapenos, I suggest using latex gloves to keep the pepper oils off your fingers.
For a spicier pineapple salsa, you can leave the jalapeno seeds and membrane intact.
In order to save time and effort, you can buy canned pineapple chunks and drain the liquid. Additionally, you can use canned or jarred jalapenos.
If you like this pineapple jalapeno salsa recipe, please leave us a comment and rate the recipe card. You can also find us on Facebook, Pinterest, Twitter and Instagram searching for Berly's Kitchen!
Yield: 16 Servings
Pineapple Salsa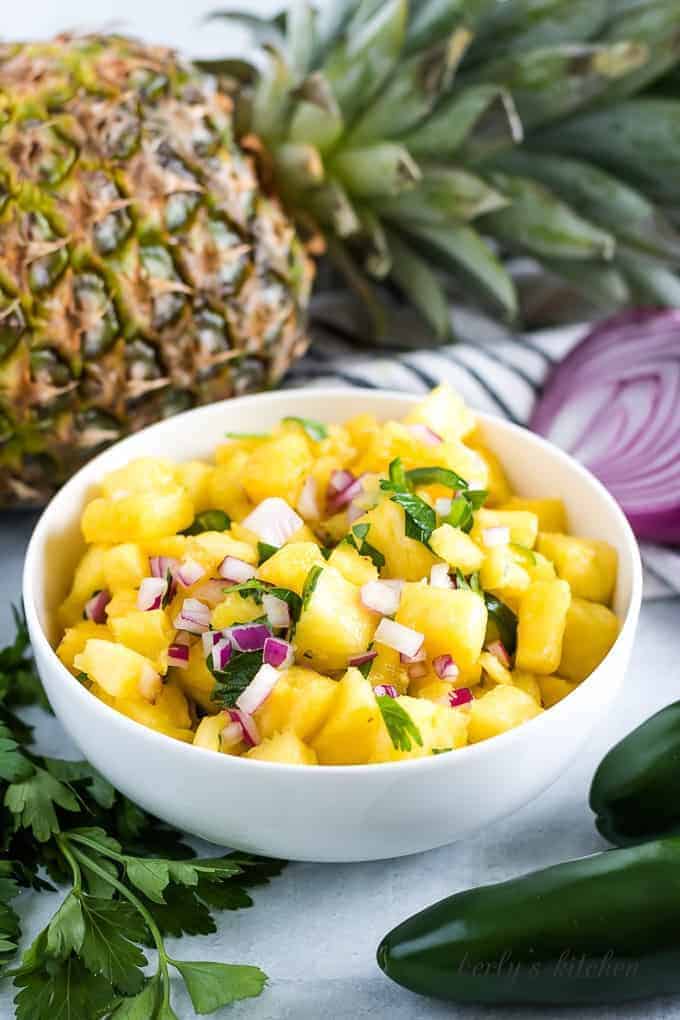 Our sweet and spicy pineapple salsa recipe is a cinch to prepare and bursting with tropical flavors. It serves as a fresh topping or stand-alone salsa.
Ingredients
1 Whole Pineapple, (rind and core removed)
1/2 Medium Jalapeno, (seeds removed)
1/4 Cup Purple or Red Onion, (diced)
2 Tablespoons Parsley, (diced)
1/4 Teaspoon Salt
Instructions
First, remove the top and spiny rind from the pineapple. Then, slice it into quarters and remove the core sections.
Next, dice the pineapple into 1/4 inch cubes.
Afterward, remove the stem and slice the jalapeno in half. Take one-half of the pepper and clean out the seeds and membranes. After that, slice it into thin pieces.
Once the pineapple and jalapenos are in a large mixing bowl, clean a purple onion by removing the skin. Dice enough onion to measure out 1/4 cup and add it to the other ingredients.
Last, dice the parsley and add it and the salt into the bowl. Mix everything together. It serves as a condiment for chicken, fish, or even a stand-alone salsa.
Notes
The calories listed are an approximation based on the ingredients and a serving size of one-fourth (1/4) of a cup. Actual calories will vary. The salsa can be stored in your fridge for up to three days in a sealed container.
Recommended Products
As an Amazon Associate and member of other affiliate programs, I earn from qualifying purchases.
Nutrition Information:
Yield:
16
Serving Size:
0.25 Cup
Amount Per Serving:
Calories:

54
Unsaturated Fat:

0g
Sodium:

36mg
Sugar:

35g