Oven Roasted Broccoli with walnuts is a quick and healthy side dish that everyone will love. It's crunchy, nutty and takes less than 20 minutes to make!
I can't tell you how many times I've heard someone ask, can you oven roast broccoli? The short answer is yes, but there are a few things to keep in mind when making our side dish.
Oven temperature, cooking time, and choosing the right oil are the key factors to a great oven roasted broccoli recipe.
There are so many vegetables that taste great after they've been roasted. We keep fresh veggies on rotation, and prepare roasted vegetables several times a week.
A subscription box from Farmbox Direct is a great way to have fresh produce delivered directly to your home each month. Use the Farmbox Direct promo code BERLYS10 at checkout to receive 10% your first order!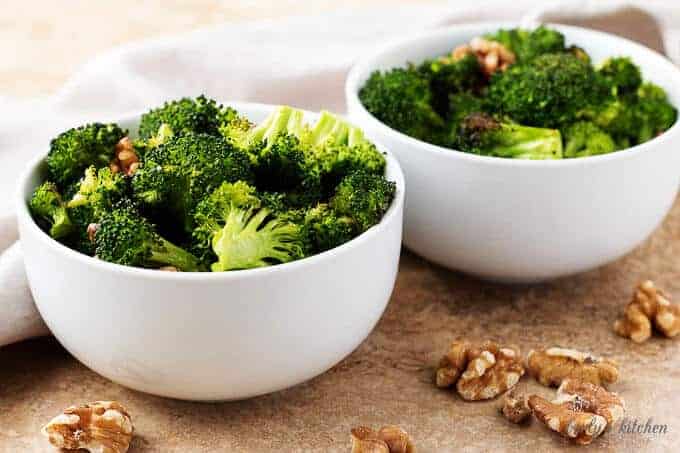 As you will see in the photos, we chose a high-quality olive oil for our roasted broccoli. Additionally, Kim cooked them at 425 degrees F., the perfect roasting temp.
She only let them cook for 8 to 10 minutes, any longer and the walnuts would burn.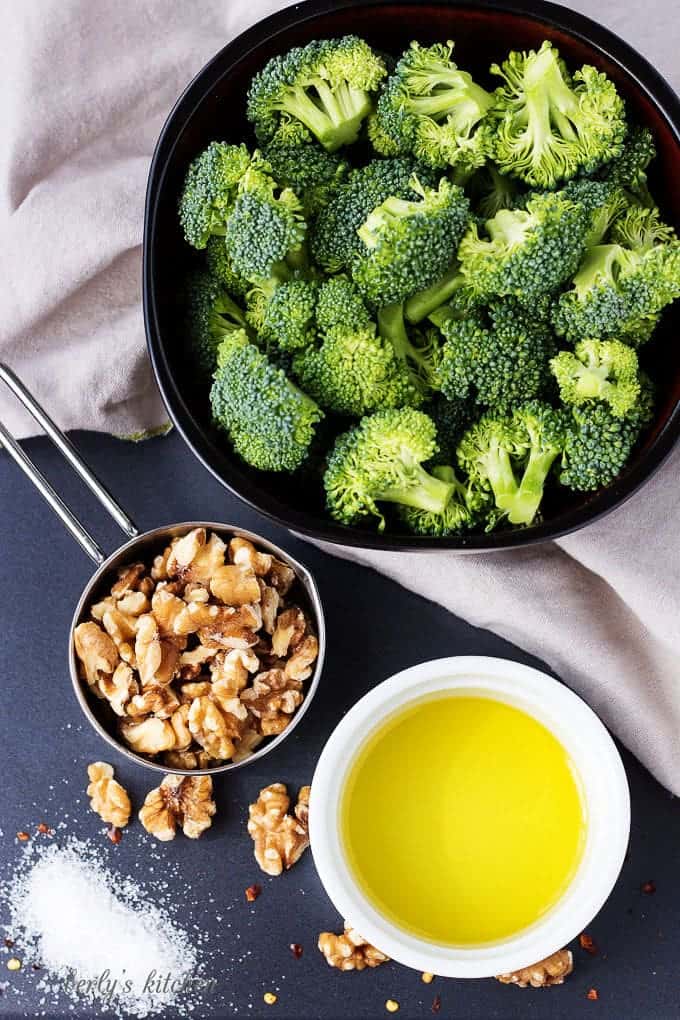 How to Make Oven Roasted Broccoli:
Start by preheating your oven to 425 degrees F. Next, wash, dry, and cut your broccoli into bite-sized pieces.
Then, in a mixing bowl, combine the broccoli, oil, and walnuts. Toss everything together.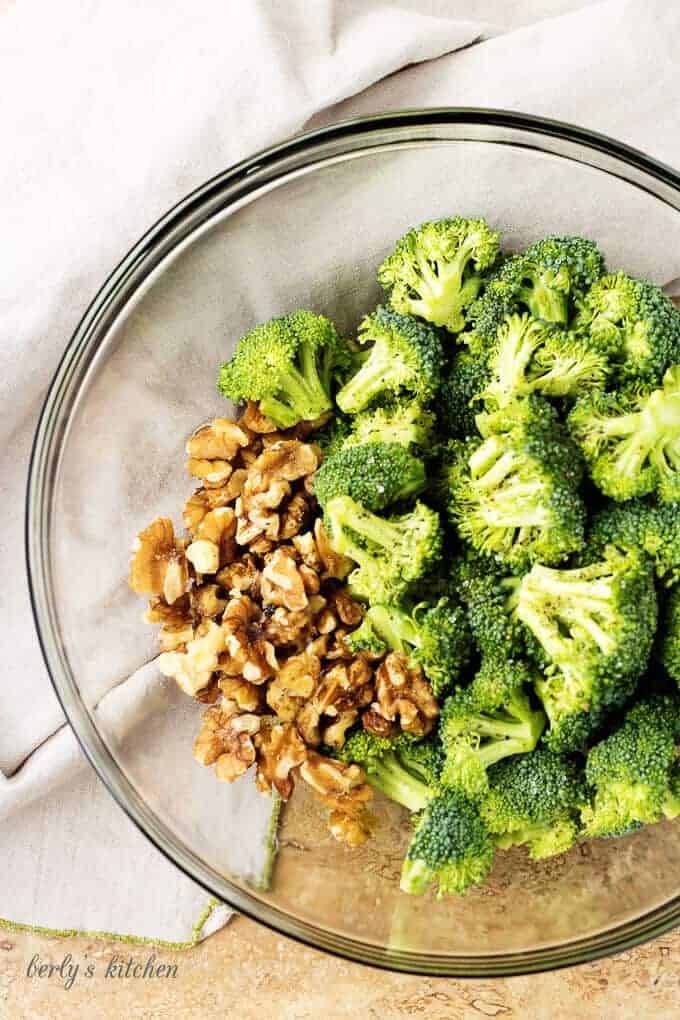 Now, spread the mixture evenly on a sheet pan.
Last, put the pan in the oven for 8 to 10 minutes or until the florets begin to brown. Don't overcook the dish!
Serve while hot and add salt and pepper to taste.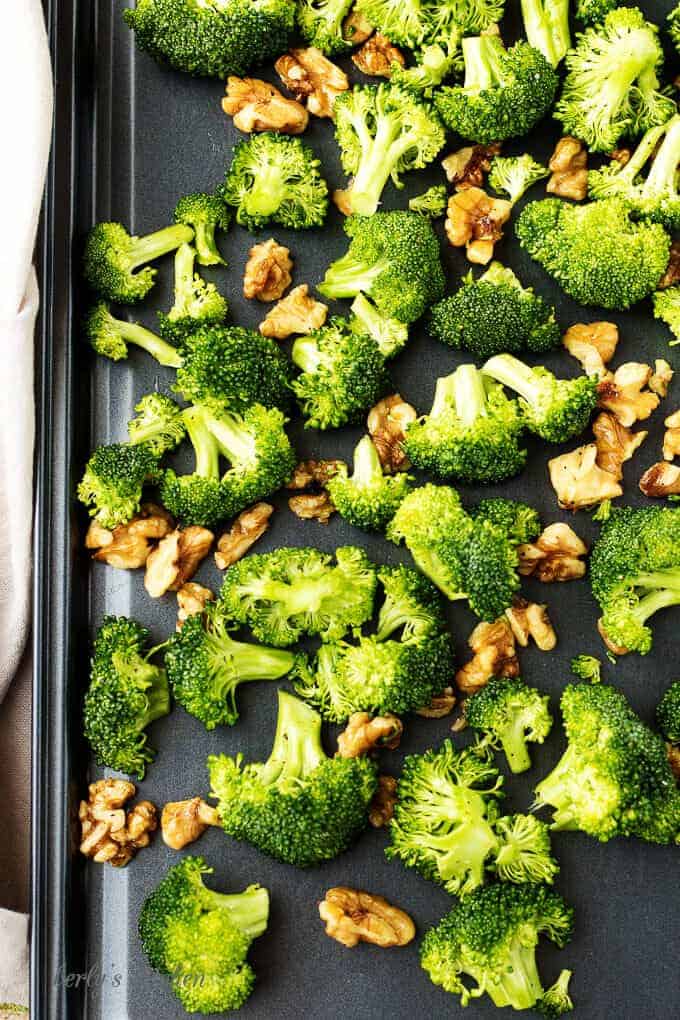 Tips:
Be sure to dry the broccoli completely or it will steam, not roast.
If the dish cooks too long, the walnuts will burn.
Consider adding red pepper flakes for a little kick of spice.
Grated parmesan as a topping adds another layer of flavor to our oven roasted broccoli.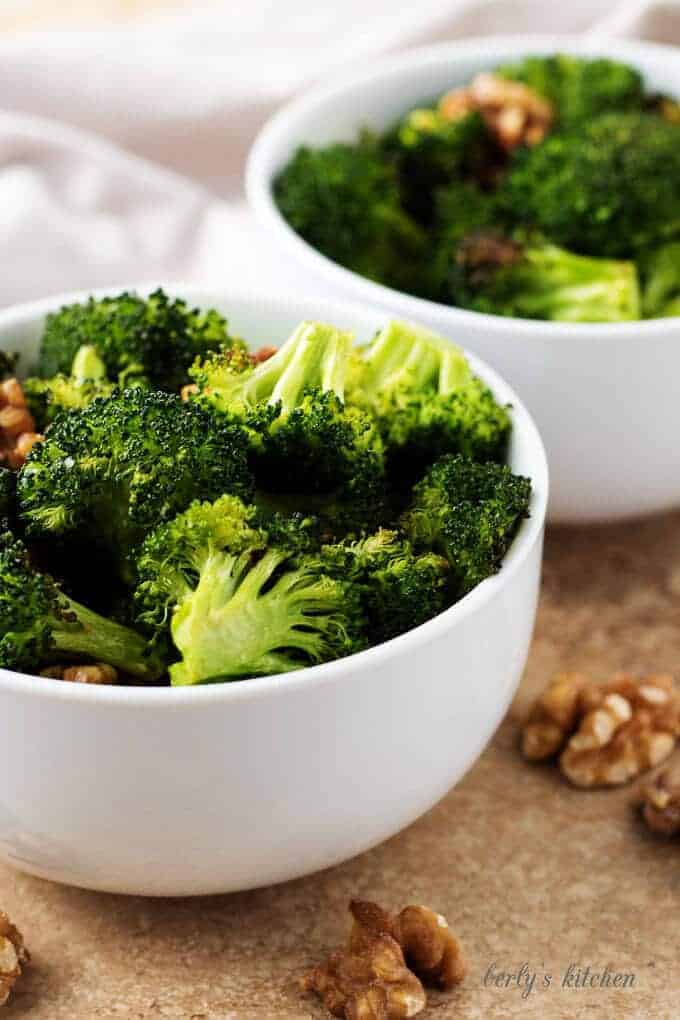 Side dish recipes like broccoli, Brussels sprouts, and salads are great options to have on-hand. Kim and I invite you to try our oven roasted broccoli and see for yourself that healthy can be delicious!
If you like this recipe, please leave us a comment and rate the recipe card. You can also find us on Facebook, Pinterest, Twitter and Instagram searching for Berly's Kitchen!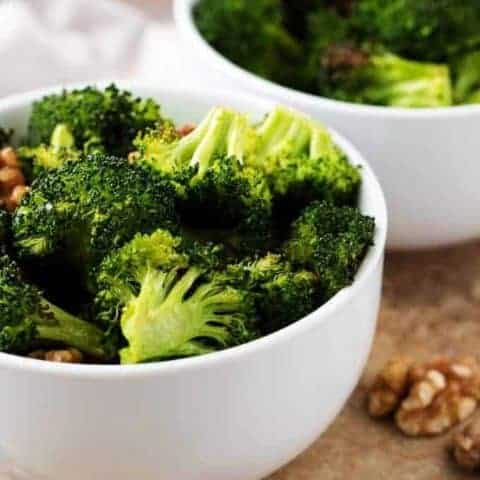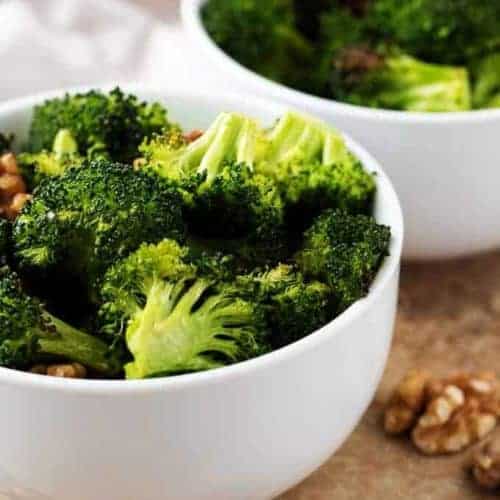 Oven Roasted Broccoli
Oven Roasted Broccoli with walnuts is a quick and healthy side dish that everyone will love. It's crunchy, nutty and takes less than 20 minutes to make!
Ingredients
4 cups Broccoli florets
1/2 cup Chopped walnuts
3 Tablespoons Olive oil
Salt, (to taste)
Instructions
First, preheat oven to 425 degrees.
Next, wash and dry broccoli florets.
Then, place broccoli, walnuts, and olive oil in a large mixing bowl and toss the ingredients together.
Afterward, pour the broccoli mixture on a baking sheet and place in a preheated oven.
Last, bake for 8-10 minutes or until broccoli tops begin to brown. Remove the roasted broccoli from the oven and serve while hot.
Notes
The calories listed are an approximation based on the ingredients and a serving size of one cup. Actual calories will vary if substitutions are made.
Roasted broccoli can be stored in your fridge in a sealed container for up to two days.
Want to try Farmbox Direct? Get 10% off your first order by using our code, BERLYS10, at checkout!
Recommended Products
As an Amazon Associate and member of other affiliate programs, I earn from qualifying purchases.
Nutrition Information:
Yield:

4
Serving Size:

8 Ounces
Amount Per Serving:
Calories:

219
Total Fat:

20g
Saturated Fat:

2g
Unsaturated Fat:

0g
Sodium:

30mg
Carbohydrates:

8g
Fiber:

3g
Sugar:

1g
Protein:

4g