Dill Salad Dressing is a spin on buttermilk ranch dressing. It's creamy, easy to make, and full of dill flavor.
This salad dressing will add a hearty dose of dill flavor to your favorite salad or dish. Serve it with dill pickle pasta salad, loaded potato nachos, a chef salad, or with air fryer pickle spears.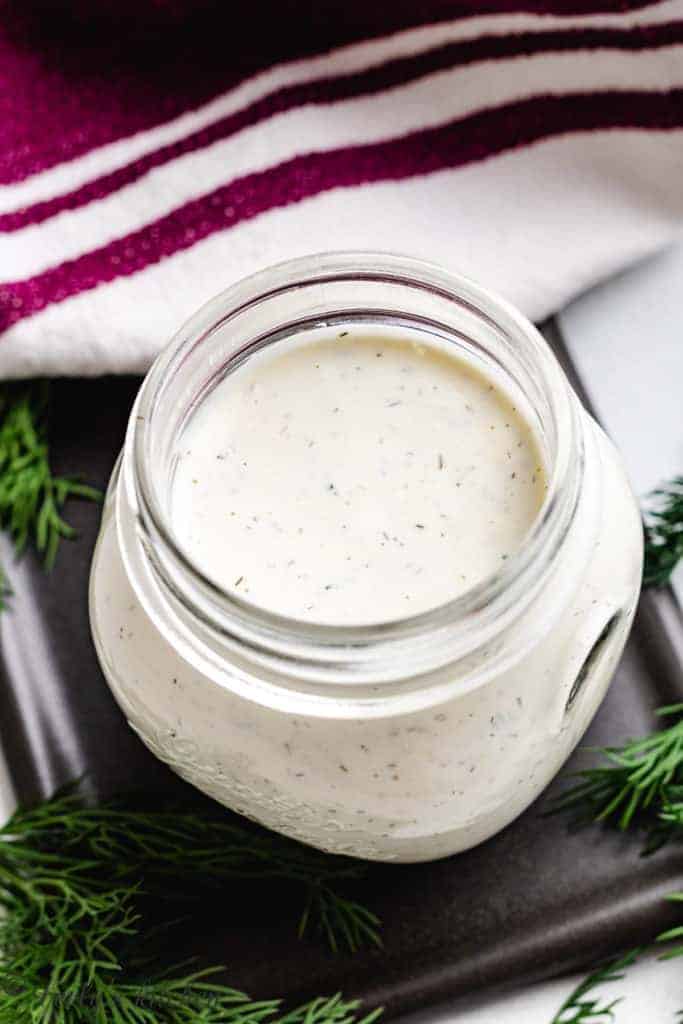 Dill Salad Dressing Recipe:
Homemade salad dressing recipes are the best! That is especially true with this dill salad dressing recipe. It's incredibly easy to make, and the only equipment you need is a bowl, whisk, some measuring spoons, and measuring cups.
It only takes about 10 minutes to prepare from start to finish, and lasts about 4 to 5 days in the fridge. This recipe is simple, delicious, and full of fresh flavors. The BEST part is you can control the ingredients. If you want more dill, add a little more. If you like less garlic, use a little less.
Make this dressing gluten-free by using all gluten-free ingredients. It's easy to control the sodium, too! That's not the case with store bought salad dressing.
Dill Salad Dressing Ingredients:
This dressing can easily be halved or doubled, so you have the exact amount that you need.
Mayonnaise: Full-fat mayonnaise works best and makes this dressing nice and creamy.
Buttermilk: Full-fat buttermilk works great and gives this dressing a slightly tangy flavor while thinning out the mayo.
Dill Pickle Juice: Adds a punch of dill flavor in liquid form which further thins out the dressing.
Fresh Dill: Gives a burst of fresh dill flavor.
Dried Dill Weed: More concentrated dill flavor to compliment the pickle juice and fresh dill.
Garlic Powder: Adds a hint of garlic flavor without using raw garlic.
Onion Powder: Gives this dressing a hint of onion flavor without using diced onion.
Salt: Enhances the flavor of the other ingredients.
How to make dill salad dressing:
Place the mayonnaise, buttermilk, pickle juice, fresh dill, dried dill weed, garlic powder, and onion powder in a medium bowl.
Whisk until well combined. Taste, and add salt if desired. Adjust any flavors to your liking.
Store in an airtight container in the refrigerator for 4 to 5 days.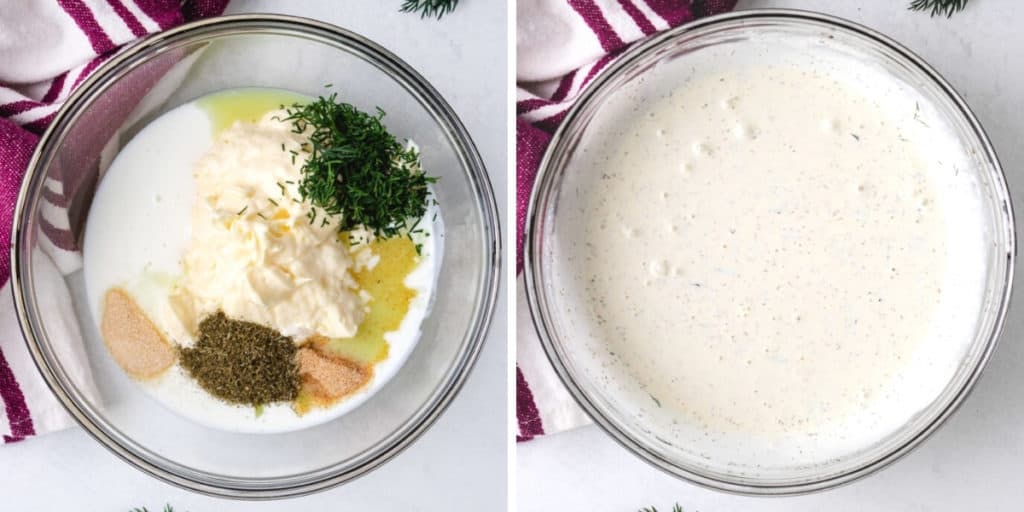 Dill Salad Dressing Tips and Variations:
Mayonnaise: Keep this full-fat, but use your favorite brand. Don't try to substitute mayo with Miracle Whip or something similar, because the end dressing won't taste the same.
Buttermilk: This is going to be the best option, but if you need to substitute it use whole milk. Don't try to make sour milk with vinegar and milk. It's not going to work the same or taste the same.
Fresh Dill: There's not a great substitution for fresh dill. Even dried dill won't give the same fresh flavor that fresh dill provides. Fresh is best here along with the dried.
Herbs and Spices: Adjust these to your tastes, add more, use less, or omit them. It's important to make this recipe, so you'll enjoy it. You can even add a pinch of smoked paprika to add some smokey flavor.
Dill Pickle Juice: If you don't have pickle juice, use a tablespoon or two of whole milk instead and add a little extra fresh or dried dill if you want more dill flavor. Make sure you're using dill pickle juice, not sweet pickle juice.
Salt: This is an optional ingredient, so make sure to add it last after you've tasted the dressing. Start with a small amount (about 1/8 teaspoon), and add more from there.
Consistency: Start with less buttermilk (about 1/4 to 1/3 cup) to start and add more to reach the desired consistency. The dressing will thicken some once it chills in the refrigerator.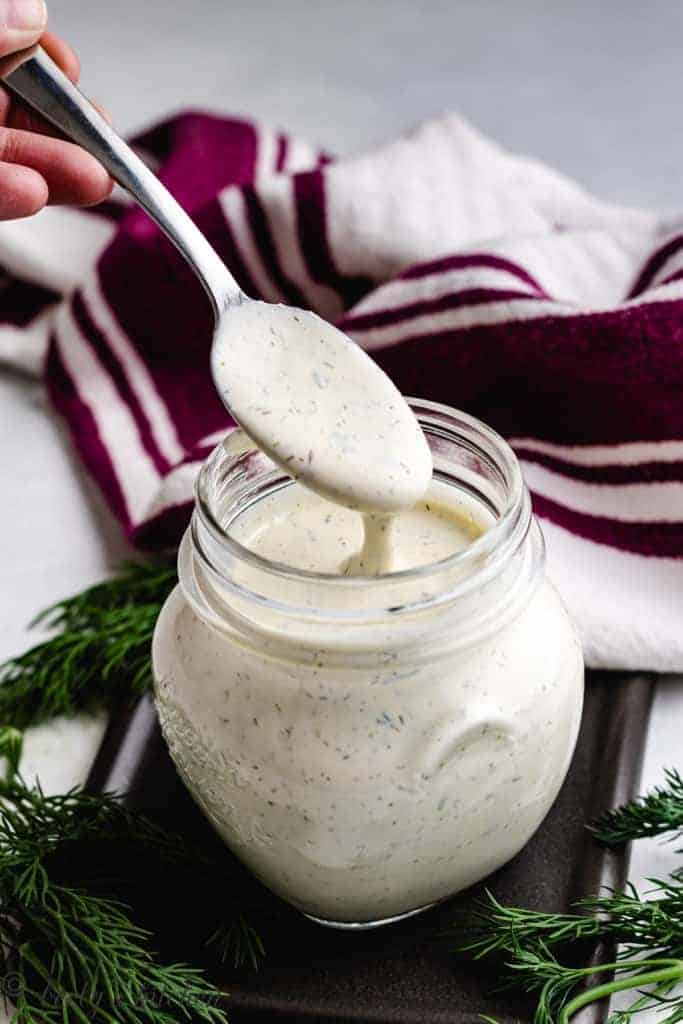 Storage:
Refrigeration: Dill salad dressing should be kept in a sealed container in the refrigerator and used within 4 to 5 days. Make sure to check the expiration date on the buttermilk. If the buttermilk expires sooner than 4 to 5 days, the dressing will also go bad sooner.
Freezer: We do not recommend freezing this salad dressing.
Yield: About 1.25 Cups
Dill Salad Dressing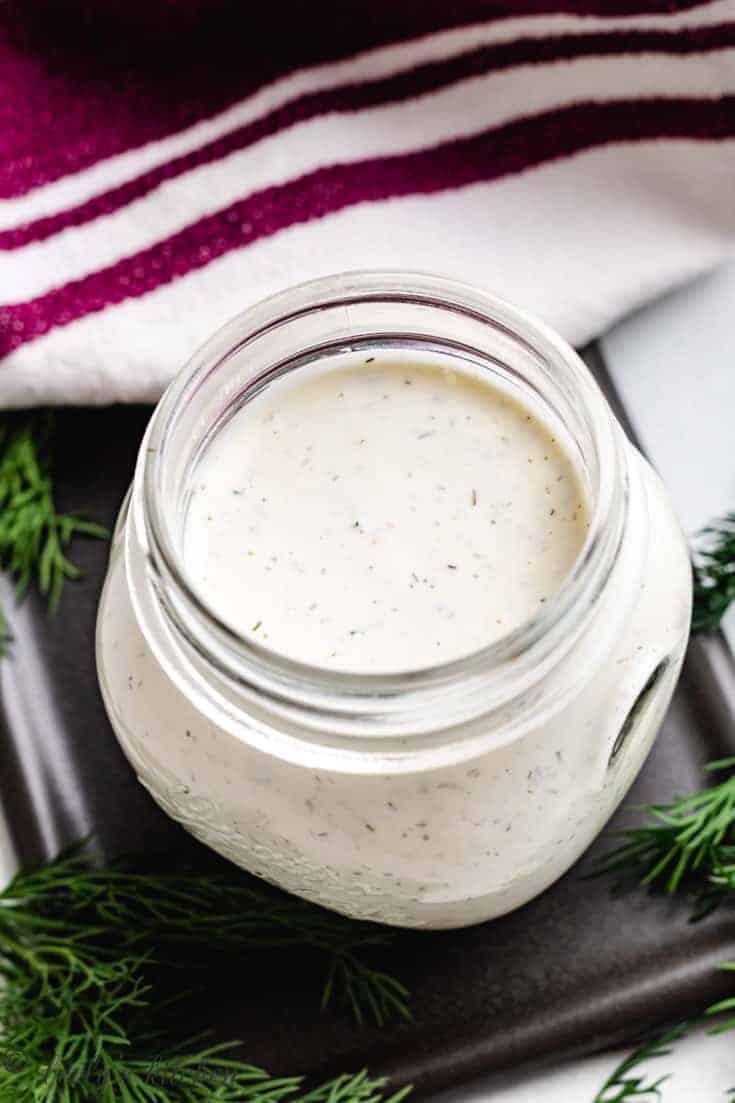 Dill Salad Dressing is a spin on buttermilk ranch dressing. It's creamy, easy to make, and full of dill flavor.
Ingredients
1 Cup Mayonnaise
½ Cup Buttermilk look this up
2 Tablespoons Dill Pickle Juice
1 Tablespoon Fresh Dill
½ Teaspoon Garlic Powder
1 Teaspoon Dried Dill Weed
¼ Teaspoon Onion Powder
Salt to taste, optional
Instructions
Place all the ingredients, except salt, in a medium bowl.
Whisk until well combined. Taste, and add salt if desired.
Transfer to a sealable container, and refrigerate for 4 to 5 days.
Notes
*The calories listed are an approximation based on the ingredients in the recipe card and a serving size of 2 tablespoons of dressing. Actual calories will vary.
*For more information, tips, and answers to frequently asked questions, please refer to the post.
Recommended Products
As an Amazon Associate and member of other affiliate programs, I earn from qualifying purchases.
Nutrition Information:
Yield:
10
Serving Size:
2 Tablespoons
Amount Per Serving:
Calories:

158
Total Fat:

17g
Saturated Fat:

3g
Trans Fat:

0g
Unsaturated Fat:

14g
Cholesterol:

10mg
Sodium:

309mg
Carbohydrates:

2g
Fiber:

0g
Sugar:

1g
Protein:

1g
*The calories are an estimate and are based on the ingredients and serving size listed. The calories can vary depending on the brand of product purchased.