John's Onion Burgers are flavorful, juicy with pieces of caramelized onion in each bite.  It's the only homemade burger you'll want to make.
For those of you that know me personally, you know I don't eat hamburgers.  Don't let this blog post mislead you.  I didn't eat the hamburgers we made for this post but my husband and son, John and Kale, did.  Those two would eat burgers several times a week if we had the meat, buns and toppings readily available.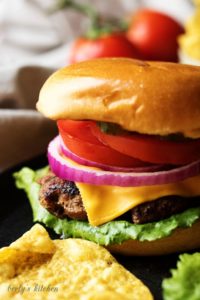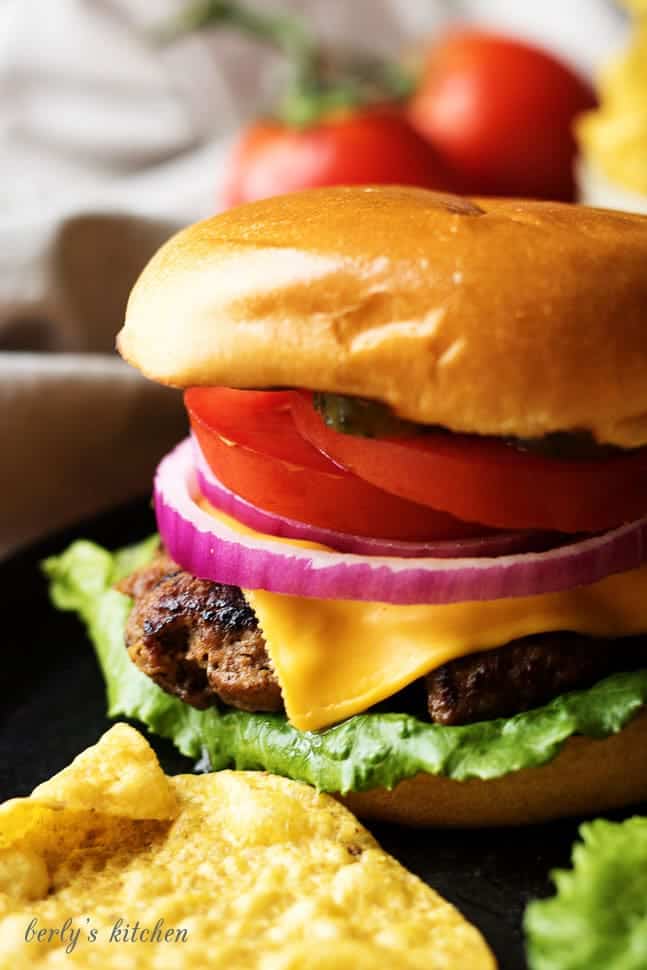 At our house, hamburgers are an "anytime" food.  By "anytime" I mean breakfast, lunch, or dinner.  Spring, summer, fall, or winter.  Holidays or no holidays, weekdays or weekends.  Anytime is a good time for a thick, juicy, onion burger.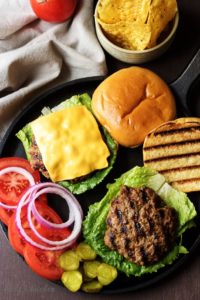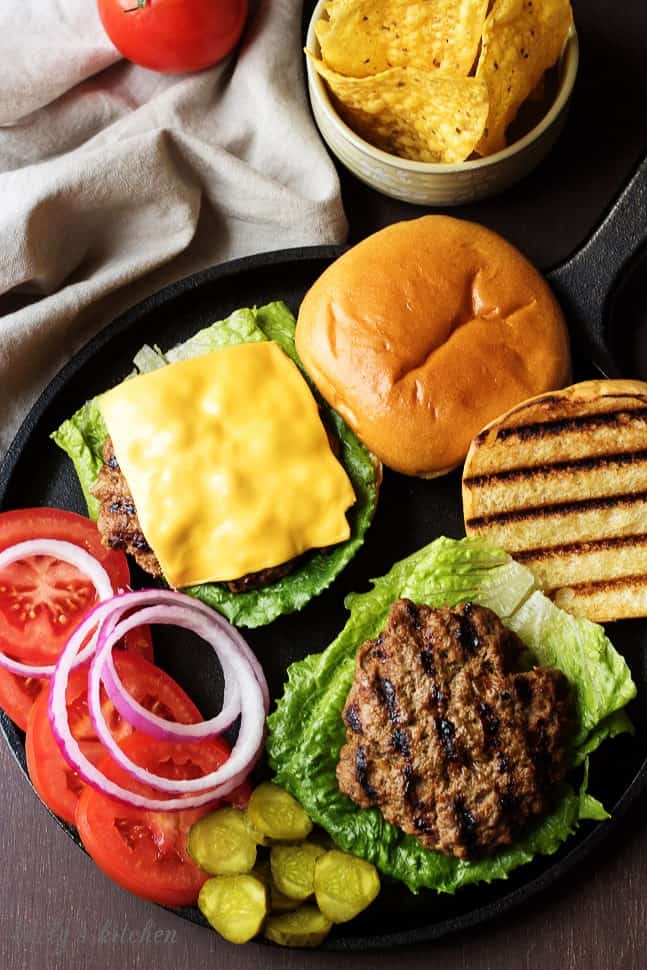 John has always been particular about his burgers, so he developed this recipe.  I lovingly refer to it as John's Onion Burgers.  Yes!  You guessed it.  This burger has onions.
Not only are there onions on the burger but there are pieces of onion cooked in the meat.  I must admit; it smells wonderful as it cooks and it makes a delicious looking burger.
There is a slight crust on each side of the patty and the sugar in the onions caramelize and give each bite a little sweetness.  Unfortunately, my picky eating has gotten the best of me, because  I still can't make myself try one of these tasty looking burgers.
But I bet you could.  I'm fairly confident you aren't nearly as picky as me!  Who knows? Maybe this will be one of your new favorites.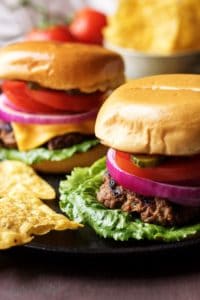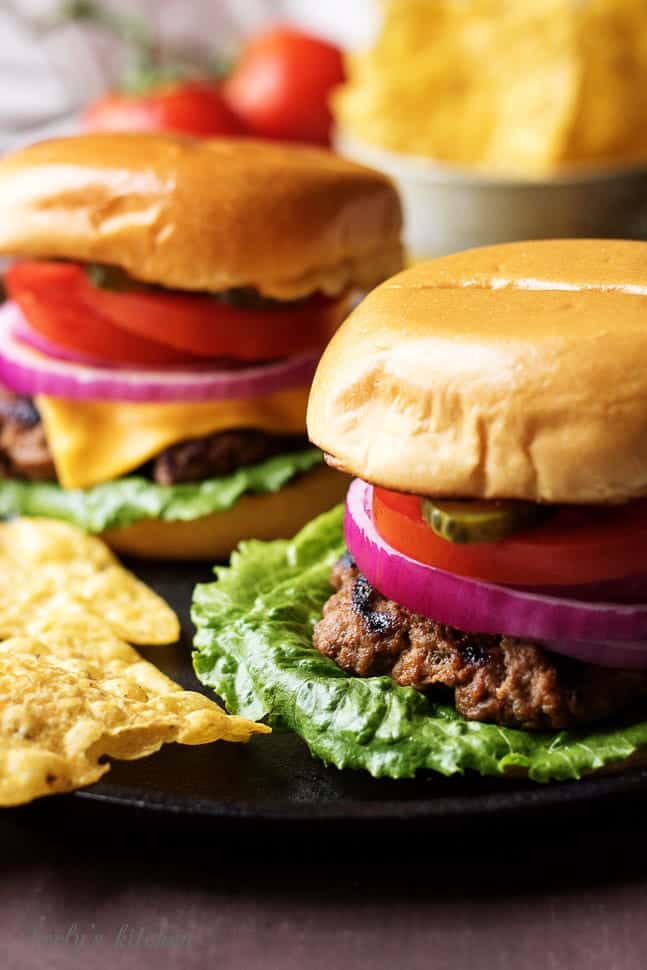 Even though making hamburgers looks and sounds simple, there is some technique involved.
First, start with good quality meat.  For a juicy, moist patty choose meat with a good fat content.  As the meat cooks, the fat will melt into the lean portions of the meat. That imparts flavor and moisture.  John prefers to grind his meat at home rather than purchase packaged ground beef.
We have a Norpro Meat Grinder, and it works well on small cuts of meat.  By grinding your meat at home, you can control what cuts you use.  For this particular post, we bought ground beef.
Second, be sure to season the meat; otherwise, your burgers will end up looking awesome, but tasting bland.  Season the meat before it's cooked.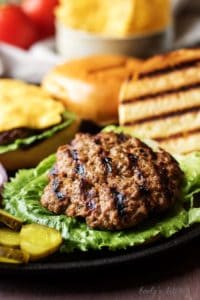 Third, and probably most important, don't press the meat while it's cooking.  All the hard work you did to choose a good meat and seasoning it well will be for nothing if you press all the juices out.  Pressing the patty will release all the flavor and dry out your burger, and no one wants that.  After the meat finishes cooking, let it rest for a few minutes.
Resting helps the juices to return to the center of the patty.  After the meat rests, it's time to assemble. John likes to use buttered and grilled hamburger buns with plenty of toppings to build his perfect burger.  And there you have it, John's Onion Burgers.
Oh, I almost forgot.  I told John I would mention the correct way to build a hamburger and limit bun sogginess. Start with the bottom, grilled bun and add your favorite condiments.  Next, add the lettuce.  On top of the lettuce add the tomato.  The meat patty follows along with cheese of your choice.
Place onions and pickles on top of the cheese.  Add more condiments, if desired and finish off with the top grilled bun. Voila!
Have you seen our other sandwiches?  We also have a pulled pork sandwich and a pot roast sandwich.
If you like this recipe, please leave us a comment and rate the recipe card. You can also find us on Facebook, Pinterest, Twitter and Instagram searching for Berly's Kitchen!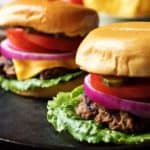 John's Onion Burgers
John's Onion Burgers are flavorful, juicy with pieces of caramelized onion in each bite. It's the only homemade burger you'll want to make.
Ingredients
Hamburger Ingredients
8

oz

ground beef or meat of your choice

(We used 75% lean 25% fat for this recipe.)

1/8

cup

finely diced white or Spanish onion

1/4

teaspoon

ground mustard

1/4

teaspoon

smoked paprika

1/4

teaspoon

black pepper

1/2

teaspoon

onion powder

1/2

teaspoon

garlic powder

1/4

teaspoon

seasoned salt

1

teaspoon

liquid smoke

1

teaspoon

Worcestershire sauce

2

slices

of your favorite cheese

(optional)
Toppings
2

hamburger buns

1

Tablespoon

unsalted butter

Sliced pickles

Sliced onions

Sliced tomatoes

Lettuce

2

slices

of your favorite cheese

optional
Instructions
Preheat a non-stick skillet on low-medium heat.
Hamburger Ingredients
Place meat, spices, liquid smoke and Worcestershire sauce in a medium bowl. Mix until well combined.

Separate mixture into two equal amounts and roll each into a ball. Each ball should weigh about 1/4 lbs.

Lay each ball between two pieces of parchment paper and flatten into circle patties.

Remove patties from parchment paper and place in hot skillet. Preheating skillet will give a nice crust on the burgers, but don't let it get too hot, or the meat will burn.

Cook for 7-8 minutes on each side for a well-done interior.

Remove from pan and let rest on a plate or cutting board while you grill the buns.
Toppings
Melt 1/2 Tablespoon of butter in skillet or saucepan on medium heat. Place hamburger bun in pan and toast until it reaches desired brownness.

Repeat with the second bun.

Place condiments, toppings and hamburger patty on the bun. Feel free to add a couple of olives as garnish if you'd like.

Enjoy! Happy Eating!
Nutrition Facts
John's Onion Burgers
Amount Per Serving
Calories 494
Calories from Fat 243
% Daily Value*
Total Fat 27g 42%
Cholesterol 118mg 39%
Sodium 791mg 33%
Potassium 470mg 13%
Total Carbohydrates 24g 8%
Protein 34g 68%
* Percent Daily Values are based on a 2000 calorie diet.