Homemade Hamburgers are flavorful, beef burgers, and have pieces of caramelized onion in each bite. We think this is the best homemade beef hamburger recipe out there!
Homemade hamburgers are one of the most common foods made during the summer months. However, we like to cook burgers year round.
Why wait for summer to enjoy a great burger?
It seems like a lot of people have a favorite burger recipe, and they usually make that same one time and time again.
These easy homemade hamburgers are John's favorite. He's been making them for years along with bacon cheddar stuffed burgers, the juicy lucy, and cheesy pepper jack burgers with a side of homemade sweet potato fries!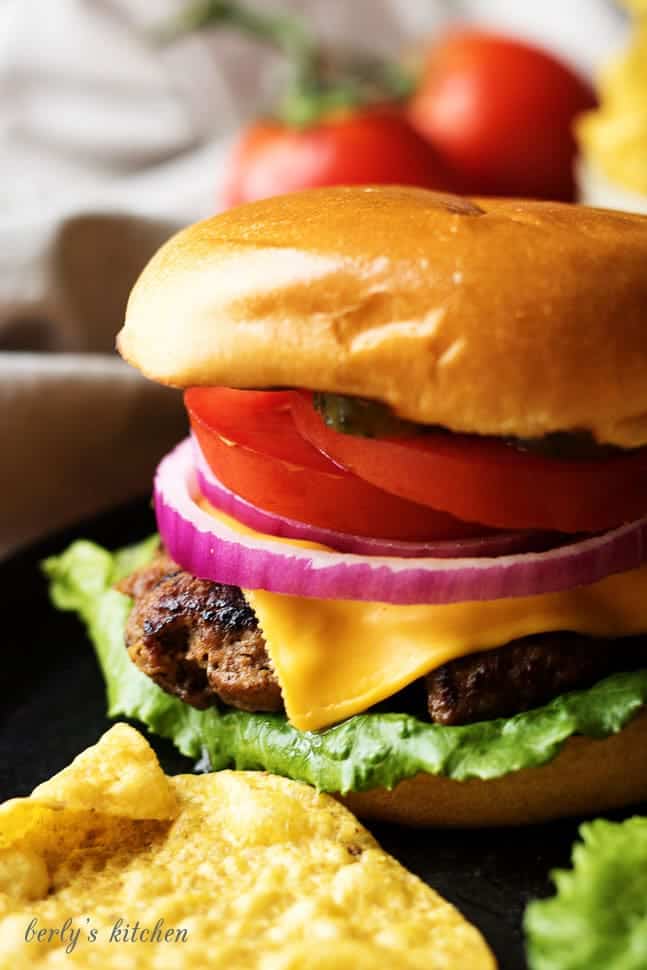 One of the things that sets John's homemade burgers apart from the rest are how juicy they are.
When I started making his burgers years ago, he taught me his secret to juicy burgers.
I'll share it with you in the "tips" section below. For now, let's chat about how to make John's homemade hamburger recipe.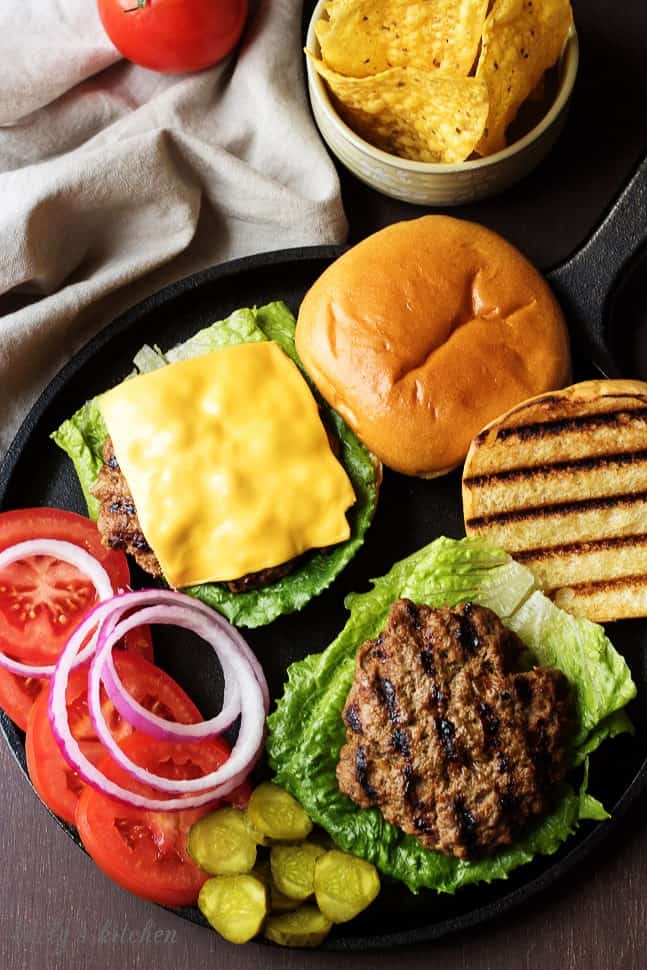 How to Make the Best Homemade Hamburgers:
Start by preheating a non-stick skillet over low-medium heat.
Place the beef, onions, spices, liquid smoke, and Worcestershire Sauce in a medium bowl, and mix until well combined.
Separate the mixture into two separate balls (about 1/4 pound each). Lay each ball between two pieces of parchment, and press flat into circle patties.
Remove the patties from the parchment, and place in the hot skillet. For a well-done burger, cook for 7-8 minutes on each side.
Remove from the pan, and let rest on a cutting board while preparing the buns.
Place 1/2 tablespoon of butter into a skillet over low heat, and allow it to melt. Add one bun, and allow the bun to toast. Remove, and set aside.
Repeat with the second bun. Build the burgers using your favorite toppings and condiments.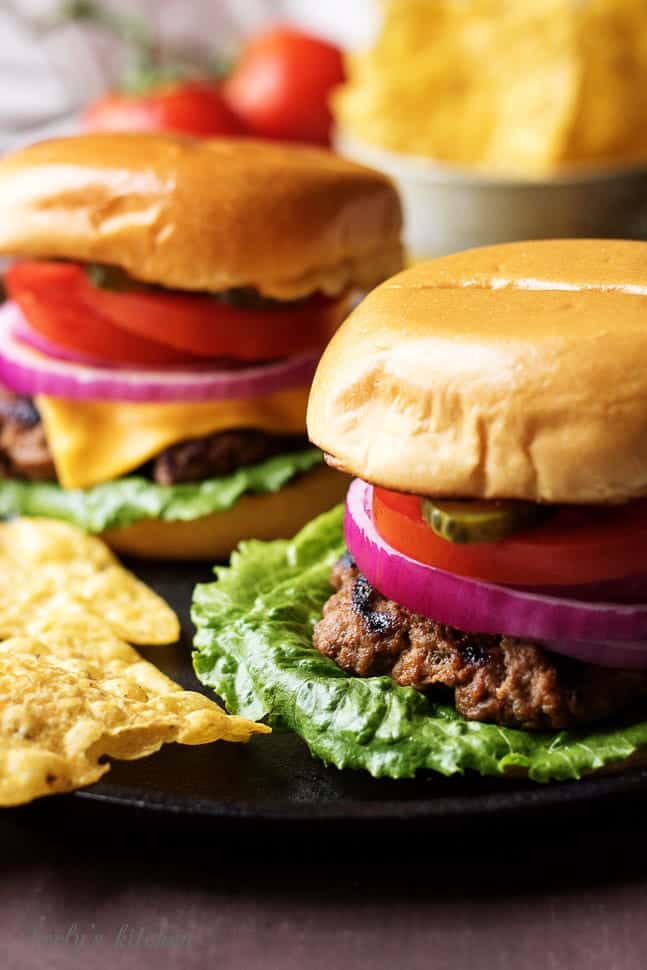 Tips and Variations for Making Homemade Hamburgers:
Don't want to use beef? Use chicken or turkey instead. It's easy to switch this up, and use your favorite meat.
Make sure the burger doesn't dry out: It's important to use a ground beef that's higher in fat content. The fat will melt into the beef which adds moisture and flavor. Additionally, don't press on the patty while it cooks. Pressing pushes all the juices out into the pan, and they can't be put back into the patty. Let the patties rest before digging in! More of the juices will stay in the burger if it sits for a few minutes before it's eaten.
Don't like one of the spices: Omit it. It's okay to switch out the spices or leave one or two out completely.
Use your favorite cheese: We like to use American or cheddar, but feel free to use your favorite.
75/25 Beef Not Your Thing? Substitute it with a lower fat beef, like an 80/20 or 85/15.
Build the Best Burger: I promised John I would mention this. Here's his recommendation for building the best burger to reduce bun sogginess. Start with the bottom, grilled bun and add your favorite condiments. Next, add the lettuce. On top of the lettuce add the tomato. The meat patty follows along with cheese of your choice. Place onions and pickles on top of the cheese. Add more condiments, if desired and finish off with the top grilled bun. Voila!
Other Burger and Sandwich Recipes to Try:
Yield: 2 Servings
Easy Homemade Hamburgers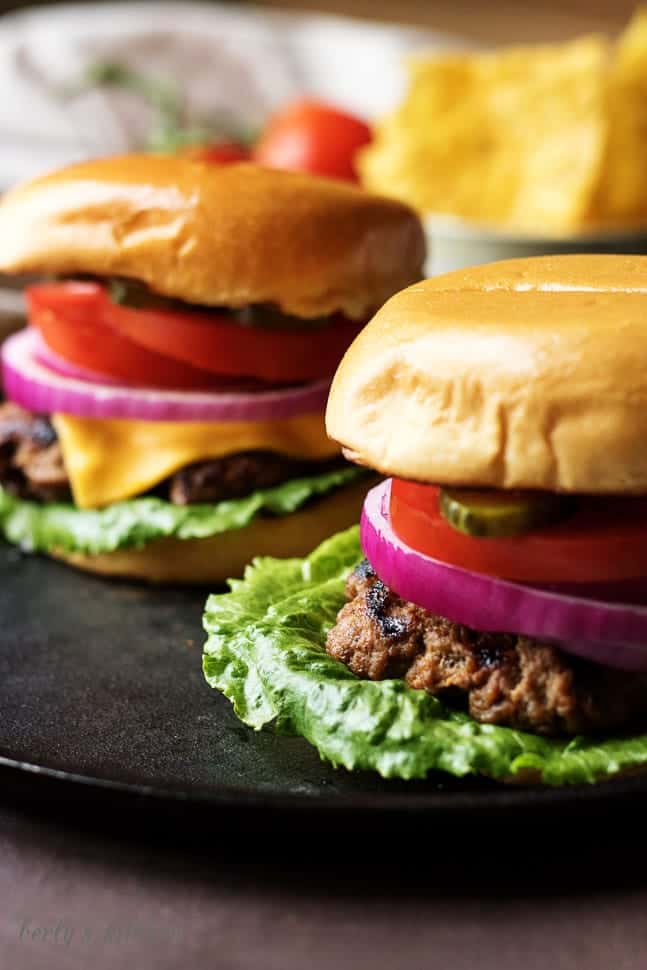 Homemade Hamburgers are flavorful, beef burgers, and have pieces of caramelized onion in each bite. We think this is the best homemade beef hamburger recipe out there!
Ingredients
Hamburger Ingredients
8 oz ground beef or meat of your choice, (We used 75% lean 25% fat for this recipe.)
1/8 cup finely diced white or Spanish onion
1/4 teaspoon ground mustard
1/4 teaspoon smoked paprika
1/4 teaspoon black pepper
1/2 teaspoon onion powder
1/2 teaspoon garlic powder
1/4 teaspoon seasoned salt
1 teaspoon liquid smoke
1 teaspoon Worcestershire sauce
2 slices of your favorite cheese, (optional)
Toppings
2 hamburger buns
1 Tablespoon unsalted butter
Sliced pickles
Sliced onions
Sliced tomatoes
Lettuce
2 slices of your favorite cheese, optional
Instructions
Preheat a non-stick skillet on low-medium heat.
Hamburger Ingredients
Place meat, onions, spices, liquid smoke and Worcestershire sauce in a medium bowl. Mix until well combined.
Separate mixture into two equal amounts and roll each into a ball. Each ball should weigh about 1/4 lbs.
Lay each ball between two pieces of parchment paper and flatten into circle patties.
Remove patties from parchment paper and place in hot skillet. Preheating skillet will give a nice crust on the burgers, but don't let it get too hot, or the meat will burn.
Cook for 7-8 minutes on each side for a well-done interior.
Remove from pan and let rest on a plate or cutting board while you grill the buns.
Toppings
Melt 1/2 Tablespoon of butter in skillet or saucepan on medium heat. Place hamburger bun in pan and toast until it reaches desired brownness.
Repeat with the second bun.
Place condiments, toppings and hamburger patty on the bun. Feel free to add a couple of olives as garnish if you'd like.
Enjoy! Happy Eating!
Notes
*Calories listed are an approximate and based on the ingredients and servings listed.
*See post for more detailed tips, best practices, and information.
Recommended Products
As an Amazon Associate and member of other affiliate programs, I earn from qualifying purchases.
Nutrition Information:
Yield:
2
Serving Size:
1 burger
Amount Per Serving:
Calories:

821
Total Fat:

44g
Saturated Fat:

19g
Trans Fat:

1g
Unsaturated Fat:

19g
Cholesterol:

196mg
Sodium:

927mg
Carbohydrates:

45g
Fiber:

5g
Sugar:

12g
Protein:

60g
*The calories are an estimate and are based on the ingredients and serving size listed. The calories can vary depending on the brand of product purchased.