Stuffed Burgers are perfectly seasoned hamburger patties with melted cheese oozing from the center. Add your favorite toppings for the ultimate cheeseburger.
We are a house filled with burger lovers! A few of our other favorites are Easy Homemade Hamburgers, Ultimate BBQ Bacon Cheeseburgers, and Bacon Cheddar Stuffed Burgers.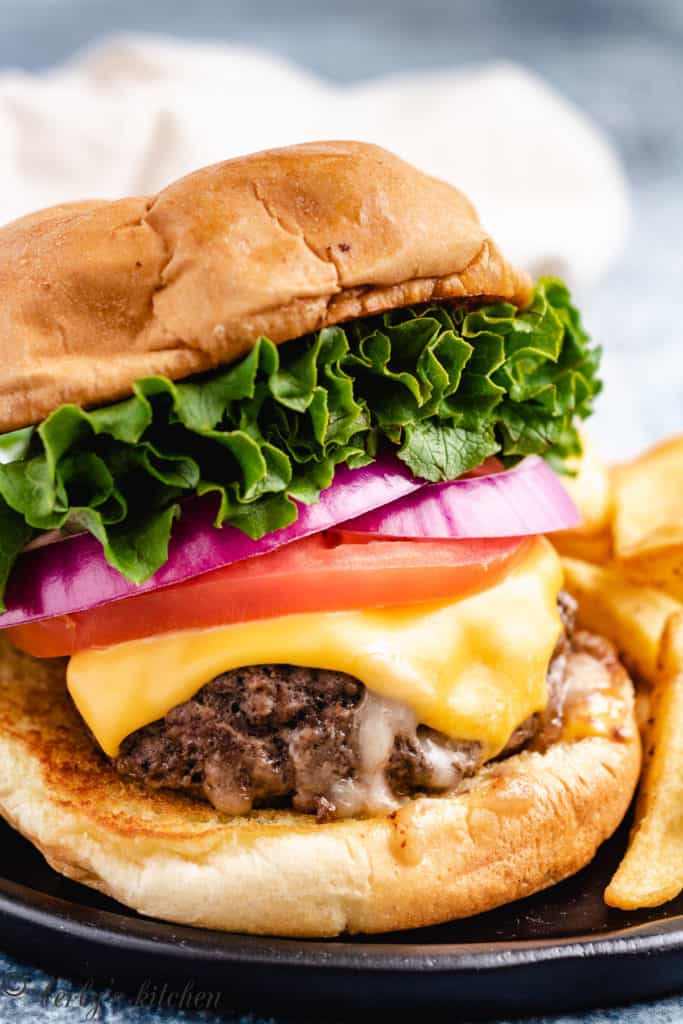 Stuffed Burgers Recipe:
John and Kale are the hamburger fans in our house. They like to mix and match flavors, varieties of cheese, toppings, and buns to get different types of burgers. John found a pre-made cheeseburger at a local supermarket a few years back. It was a burger patty mixed with shredded cheddar cheese.
He liked it, but the cheese melted away and disappeared as the burger cooked. That's when he decided to make these stuffed burgers using cubed cheese in place of the shredded cheese. John also swapped the cheddar cheese for pepper jack to give the burgers a bit of a kick.
These stuffed burgers turned out great, and we've been making them this way ever since. They're a wonderful way to change up your family's burger routine, and they're totally customizable! Everyone will love these cheesy hamburgers.
Ingredients for Stuffed Hamburgers:
Ground Beef: Ground beef, ground chuck, or ground sirloin will work. Just make sure there's a good fat to lean ratio.
Burger Seasoning: McCormick Grill Mates Worcestershire Pub Burger Seasoning is our go-to. It's the perfect seasoning mix for these burgers.
Pepper Jack Cheese: This cheese is the right amount of spicy, melty, and gooey!
Hamburger Buns: Go for your favorite! We like a nice Kaiser roll, potato bun, onion bun, or anything hearty that will hold up to the weight of the burgers.
Toppings: Add your favorites. Green leafy lettuce, beefsteak tomatoes, purple onions, mayonnaise, ketchup, and mustard come to mind.
How to Make Cheese Stuffed Burgers:
Mix the ground beef and burger seasoning.
Divide the meat into 4 equally sized balls.
Take one ball and divide it in half.
Flatten out one half of the ball into a thin patty, then place several cubes of cheese in the center of the patty.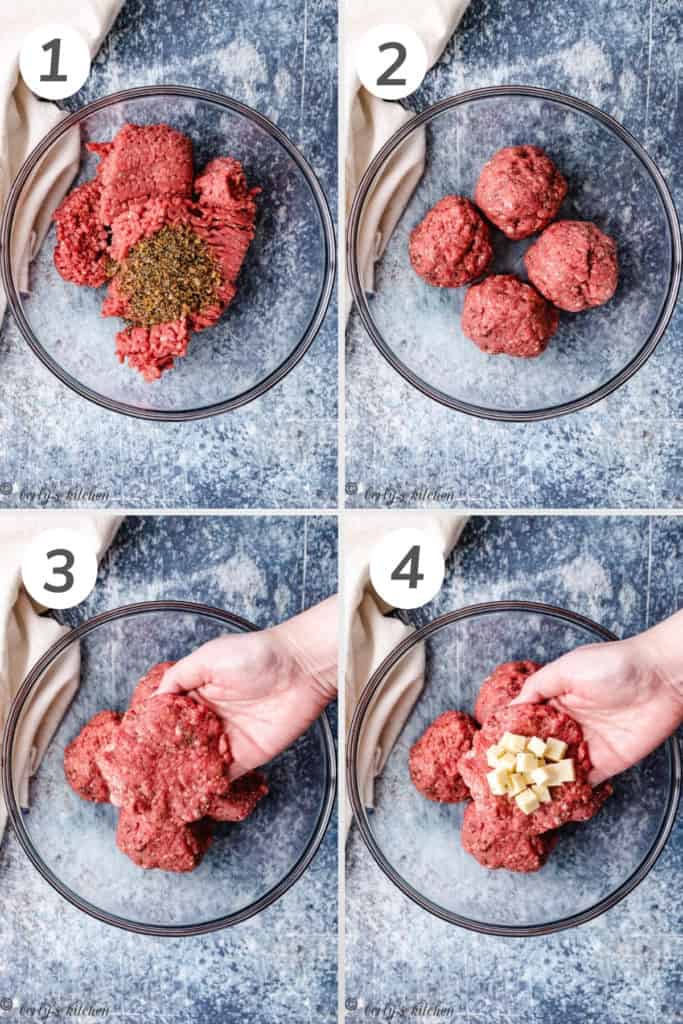 Place the second flattened patty on top, and tightly crimp the edges shut.
Repeat with the remaining meat and cheese.
Place the patties in a hot pan, and cook for 6 to 8 minutes on each side.
Transfer the patties to toasted buns, and add your favorite toppings.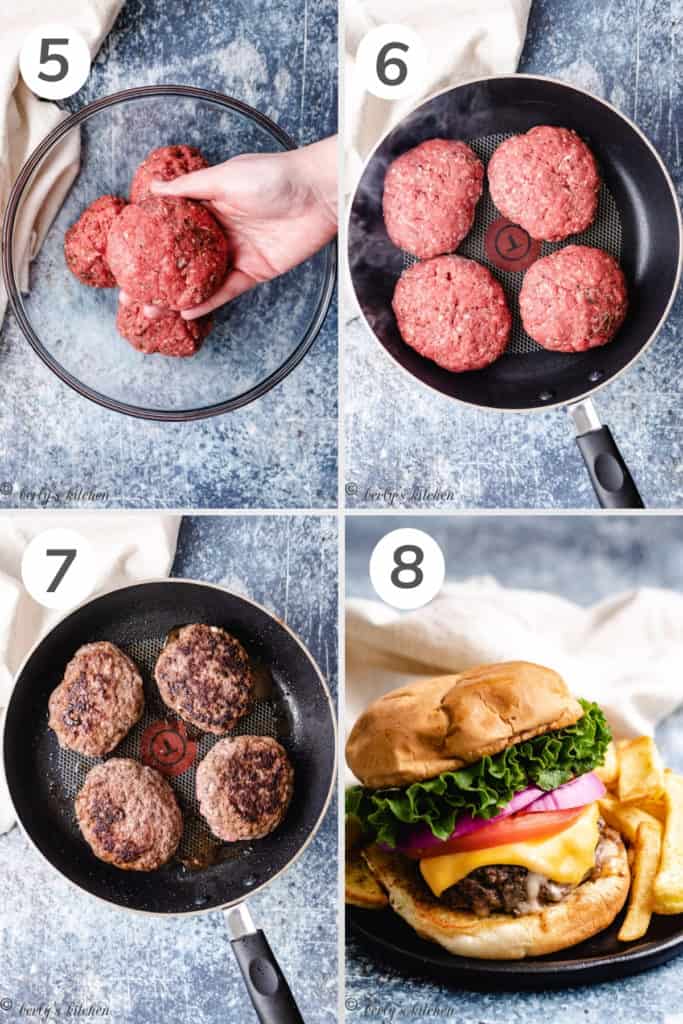 Stuffed Burgers Variations and Tips:
Meat: For a juicer burger, use a meat with a higher fat content. Ground beef with a lower fat content will yield a drier burger.
Buns: Melt some butter in a pan, and toast the buns before layering on the ingredients. The toasted buns provides a barrier and helps keep them from getting soggy.
Cheese: Swap out the pepper jack for your favorite cheese. Cheddar is a great option. Monterey jack cheese or American cheese are other options and both melt nicely.
Crimp the Edges: I can't state this enough, crimp the edges of the patties and crimp them well. Them crimp them again; otherwise, the cheese will ooze out while the burgers cook, and you'll have a pool of hot cheese in the skillet.
Seasoning: Season the ground beef before forming it into patties. This will make a huge difference in the taste of the burgers. If you can't find Worcestershire Pub Burger Seasoning, use your favorite seasoning mix. Garlic powder, onion powder, seasoning salt, and pepper are great backups.
Put a Lid on It: If you're worried about the hamburger patties cooking all the way through, add a lid to the pan and allow the steam to cook the burgers.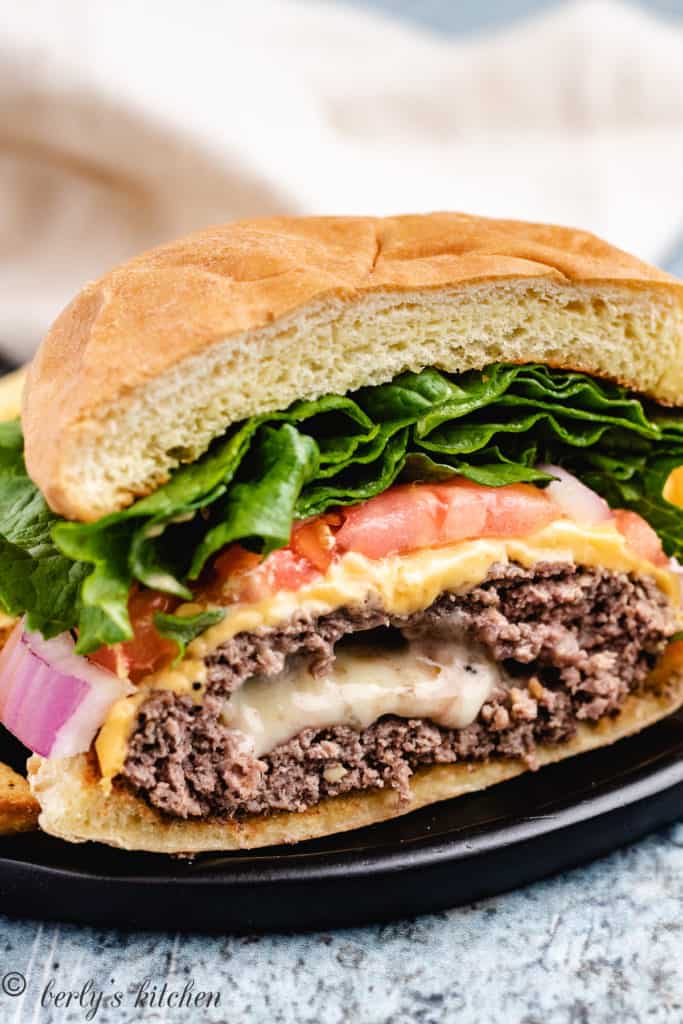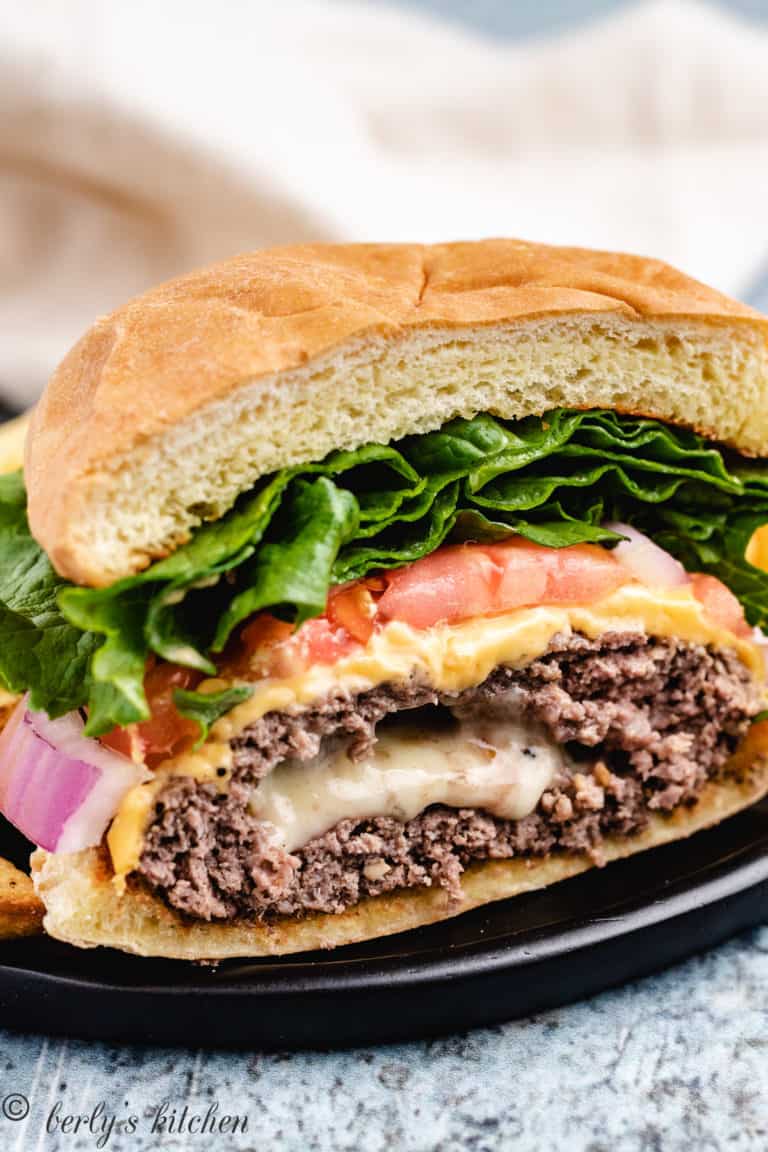 Storage Recommendations:
Room Temperature: We do not recommend storing the burgers (cooked or uncooked) at room temperature.
Refrigeration: The uncooked, stuffed hamburger patties can be stored in an airtight container in the refrigerator for up to 1 day. Place a piece of parchment or waxed paper in between each patty. The cooked patties can be stored in the refrigerator in an airtight container for up to 3 days.
Freezer: The uncooked, stuffed hamburger patties can be placed in the freezer for up to 3 months when properly stored. Make the patties, and place them on a parchment or waxed paper lined baking sheet. Place the baking sheet in the freezer for 30 minutes to 1 hour.
Remove the patties from the baking sheet, and assemble them in a stack with sheets of parchment paper between each patty. Wrap the entire stack with parchment or freezer paper, then place it in a large, Ziploc bag. Place the bag in the freezer.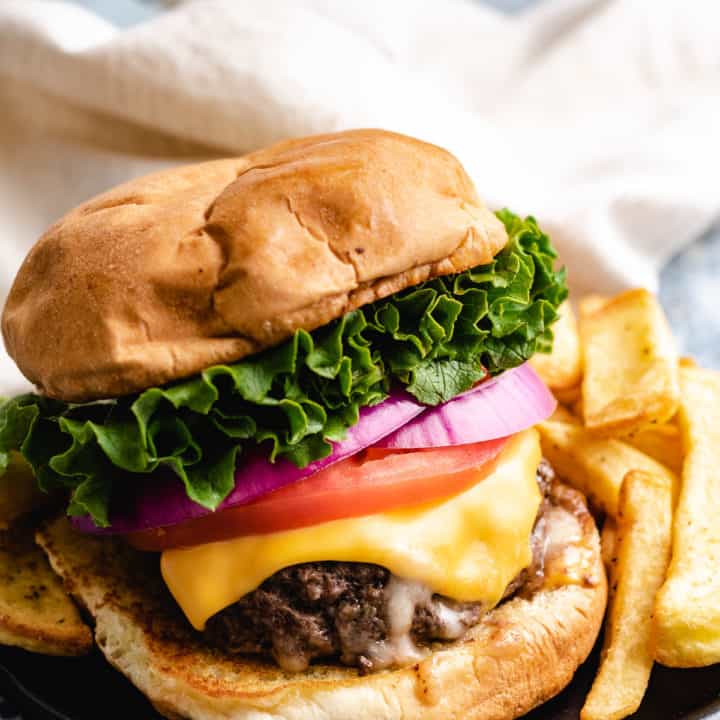 Stuffed Burgers
Stuffed Burgers are perfectly seasoned hamburger patties with melted cheese oozing from the center. Add your favorite toppings for the ultimate cheeseburger.
Ingredients
1 Pound Ground Beef (We used 90/10.)
4 Ounces Pepper Jack, cut into small cubes
4 Hamburger Buns
Add your favorite toppings
Instructions
Combine the ground beef and burger seasoning in a medium bowl. Divide the meat into 4 equal balls (4 ounces each), then divide one of the balls in half.
Flatten out the two smaller balls of meat into thin patties (2 ounces each). Place several small cubes of cheese in the center of one of the patties. Place the second patty on top of the first patty and cheese.
Pinch (crimp) the sides of the stuffed patty until completely sealed. Make sure to seal the patty well, so the cheese doesn't ooze out while the burger cooks. Repeat with the remaining meat and cheese. (You'll end up with 4 stuffed patties total.)
Place the stuffed patties onto a skillet heated over medium heat. Cook for 6 to 8 minutes on each side.
Once cooked, place stuffed burger on toasted bun, and add your favorite toppings. Enjoy immediately!
Notes
*The calories listed are an approximation based on the ingredients in the recipe card and a serving size of 1 stuffed burger with bun without extra cheese and condiments. Actual calories will vary.
*For more information, tips, and answers to frequently asked questions, please refer to the post.
Recommended Products
As an Amazon Associate and member of other affiliate programs, I earn from qualifying purchases.
Nutrition Information:
Yield:

4
Serving Size:

1 Burger
Amount Per Serving:
Calories:

551
Total Fat:

30g
Saturated Fat:

13g
Trans Fat:

1g
Unsaturated Fat:

13g
Cholesterol:

128mg
Sodium:

608mg
Carbohydrates:

24g
Fiber:

1g
Sugar:

3g
Protein:

43g
*The calories are an estimate and are based on the ingredients and serving size listed. The calories can vary depending on the brand of product purchased.