Instant Pot Honey Garlic Chicken – Tender chicken coated with a sweet, savory glaze. Skip the take out and try this!
As I've stated many times before, we all get the hankering for take-out. With that being said, I'm very picky about what I eat.
"You're a food snob," is what I've been called by someone very near and dear to my heart. We laughed about it, but she wasn't wrong.
For me, it comes down to knowing what's in my food. No offense to restaurants, but it's difficult to sit down and start eating when I don't know what went into the dish.
For that reason, we tend to eat at home, a lot. Kim and I read labels at the store, and try to select foods that we feel are safe for our family.
Very few, mainstream eateries, offer that kind of information. As a result, we started re-creating our favorite dishes at home. Enter today's recipe, honey garlic chicken.
Our little family loves Asian inspired meals, so this one fits us nicely. The chicken is tender and the sauce is savory, spicy, and sweet.
A winning trifecta in my book. While it's not exactly the same dish you'd get at your favorite restaurant, at least you'll know what went into your dinner.
In closing, I'll share a little secret I've discovered about eating at home, I have less tummy aches. Something to consider. Shall we get started?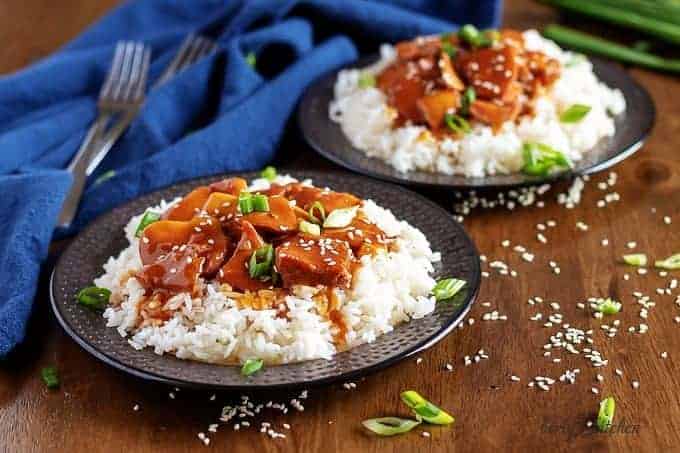 Honey Garlic Chicken Instructions:
You know what I'm about to say here; grab all your ingredients and place them close-by. Go ahead and cube your chicken and set it aside.
It's time to make the sauce or marinade; whatever you decide to call it is up to you. The honey garlic sauce is simple to prepare and only takes about 5-minutes.
Sauce:
First, in a medium sized mixing bowl, combine the soy sauce, water, honey, sesame oil, hoisin sauce, garlic, ginger, and red pepper flakes. You'll notice on the recipe card we notated that you can use ginger powder.
Personally, I prefer fresh grated ginger whenever possible. It's fragrant, spicy, and really wakes up your taste buds.
Kim and I love it so much that we make our own ginger soda.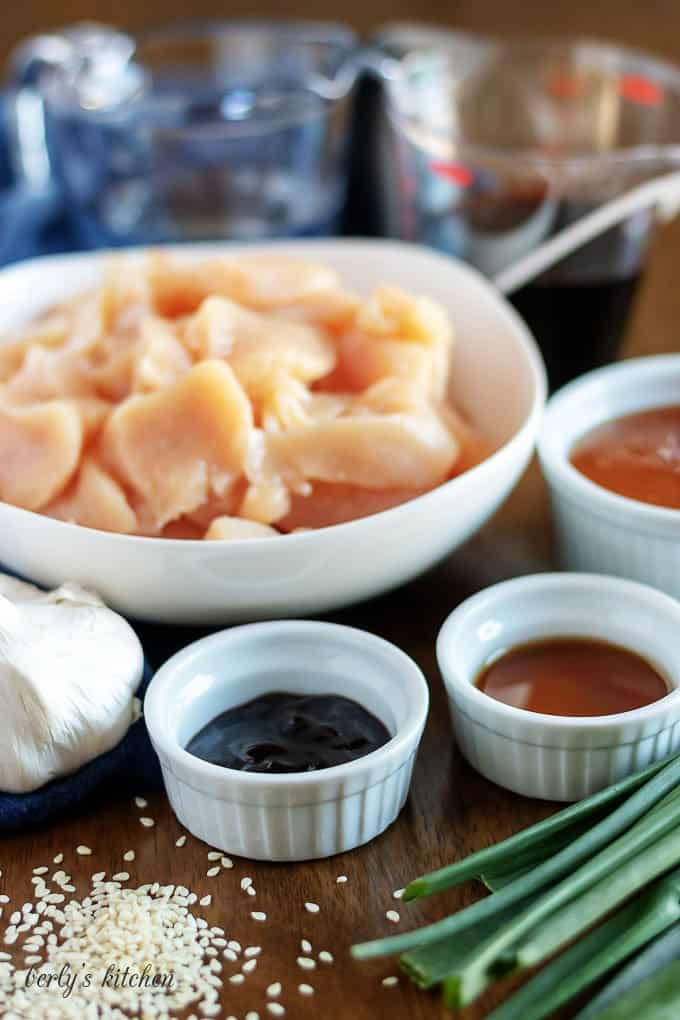 Next, add the cubed chicken to the honey garlic marinade and place it in your fridge to marinate for at least 30-minutes.
This would be a good time to get some rice going on your stove-top. Of course, you don't have to use white rice. Brown rice or even quinoa works well with this chicken recipe.
Cooking:
After the marinating process, we can get started cooking. Add the liner to your pressure cooker, then pour the chicken and sauce into the Instant Pot.
Be sure to move the poultry around to create an even layer for cooking. Then, seal the cooker and set your valve to, "sealed."
At this point, you can use your pressure cook button or manual button (depending on the brand/model of pressure cooker you own) and set it cook for 12-minutes.
Afterward, let the Instant Pot complete a natural release before you open the valve to let the remaining steam escape.
Open the lid and remove the honey garlic chicken using a fork or tongs (or a spoon as directed below).
Be careful, because the chicken and sauce will be extremely hot. Set the chicken aside and make your cornstarch slurry in a separate bowl.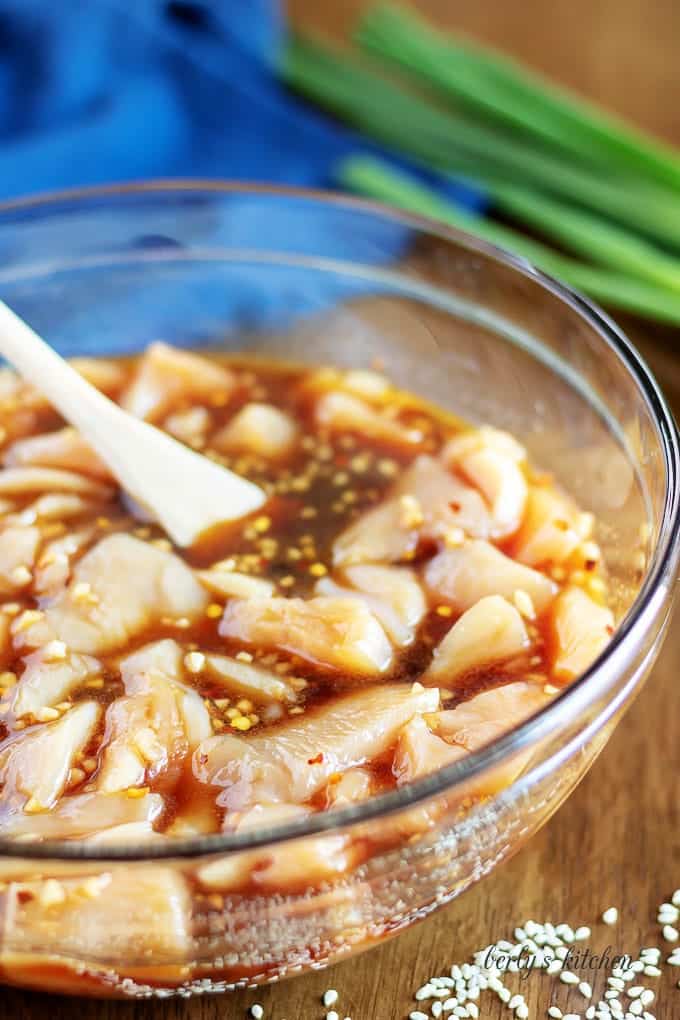 You can now turn the cooker back on, preferably to the saute function, and slowly pour in the slurry. Stir the mixture as it heats and it should thicken in a few minutes.
Last, plate the chicken and pour the finished sauce over it. Top the dish with any optional garnishes, serve, and enjoy.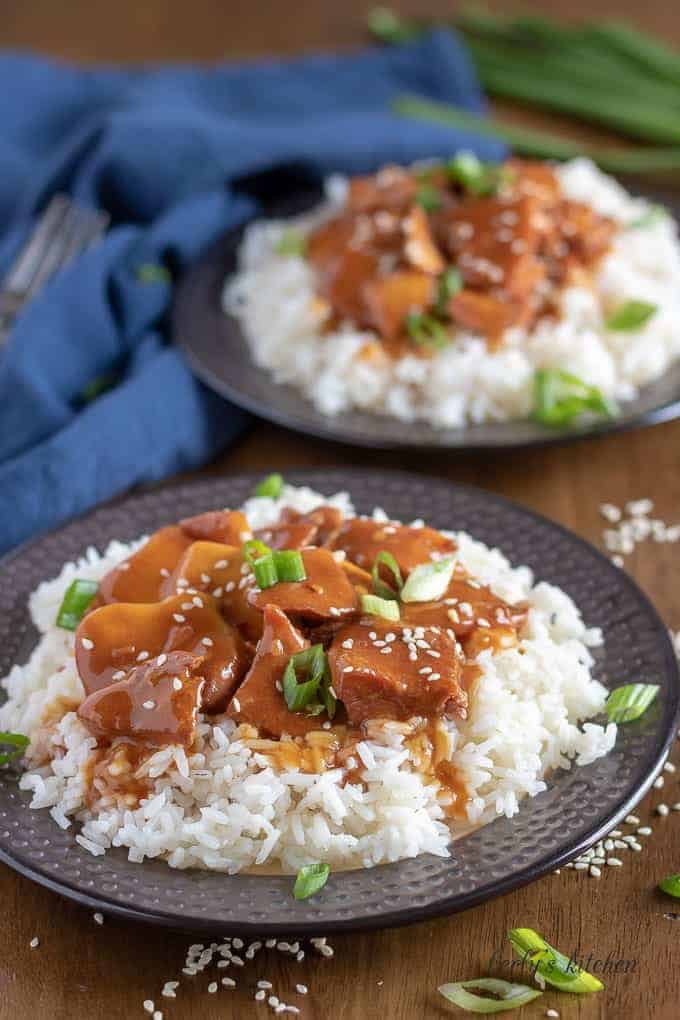 Honey Garlic Chicken Tips:
How do you make honey garlic chicken in the oven? Well, you can use this recipe as base for an oven alternative. I would recommend using chicken strips. Simply make the marinade, divide it in half. Marinate the chicken for 30-minutes, in half of the marinade, then discard that half of the sauce. Then bake the chicken, in an oven safe dish, on 325 degree F. for 25-30 minutes or until done. While the chicken cooks, grab a small saucepan, over low heat, and simmer the sauce (while stirring) until it reaches the desired thickness. Once the chicken has finished cooking, serve it over a bed of rice and pour the reduced sauce over the dish. Now, we haven't tried this, so if it works, let us know.
If you're just wanting to make the honey garlic sauce, then prepare the sauce as directed but don't add the chicken. Then grab a small saucepan and simmer it over low heat (while stirring) until it reaches a thickness you enjoy.
Okay, I'm going out on a limb here, but you if wanted to reduce the sugar in this dish, here's an option. Honey extract exists, I know this from working with low-carb recipes. Theoretically, you could use a low-carb sweetener combined with the extract to re-create a similar flavor, while cutting carbs and sugar. Just a thought.
Yield: 4 Servings
Instant Pot Honey Garlic Chicken Recipe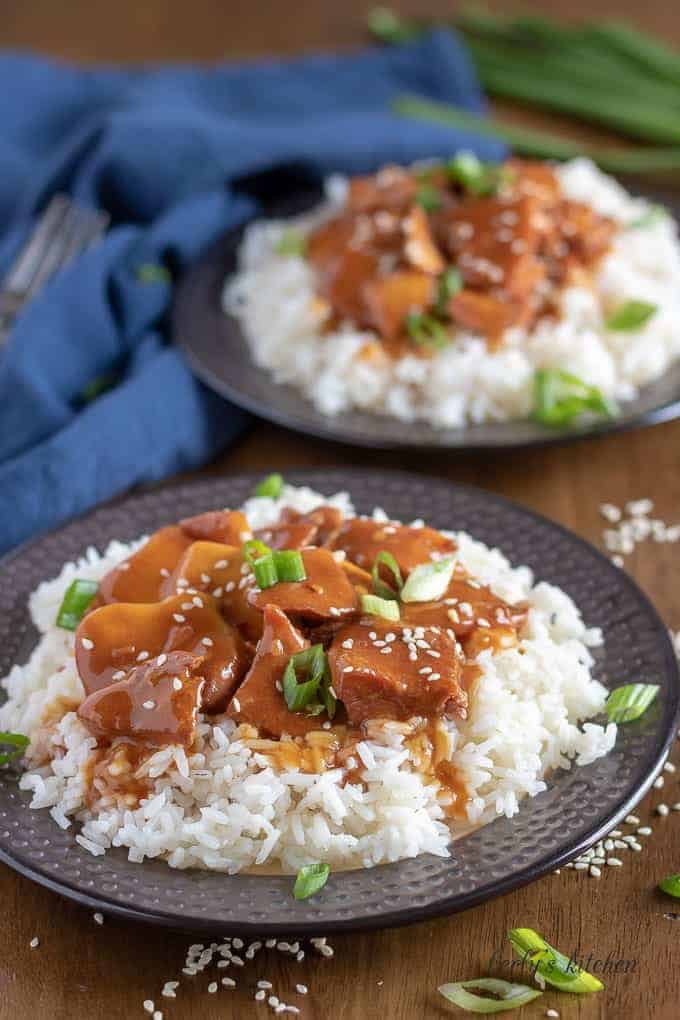 A honey garlic chicken recipe using everyone's favorite pressure cooker. Tender chicken coated with a sweet, savory glaze. Skip the take out and try this!
Come to Pressure/Natural Release
20 minutes
Ingredients
Chicken
1 Lb. Chicken Breast, (cubed)
Honey Garlic Sauce
1/2 Cup Soy Sauce
1/2 Cup Water
1/2 Cup Honey
1 Tablespoon Sesame Oil
1 Tablespoon Hoisin Sauce
1 Tablespoon Garlic, (minced)
1 Tablespoon Fresh Ginger, (or 1/4 Tsp. ginger powder)
1/4 Teaspoon Red Pepper Flakes
Cornstarch Slurry
2 Tablespoons Cornstarch
3 Tablespoons Cold Water
Garnish
1 Tablespoon Sesame Seeds
4 Teaspoons Green Onion, (thinly sliced)
Instructions
Honey Garlic Sauce
In a medium bowl, whisk together the soy sauce, water, honey, sesame oil, hoisin sauce, garlic, ginger, and red pepper flakes.
Place the cubed chicken in a large plastic, zip bag or sealable container, and cover with the sauce. Refrigerate the chicken for 30 minutes.
Cook
Pour the chicken and sauce mixture into the Instant Pot. Arrange the chicken pieces in an even layer in the bottom of the liner. Close the lid, making sure the valve is set to sealing.
Use the manual (pressure cook) button to adjust the time to 12 minutes on high pressure. After the time is up, allow a natural pressure release for 10 minutes before opening the valve for a quick release of the remaining pressure. Turn off the Instant Pot.
Carefully, open the lid and remove the chicken pieces with a slotted spoon. In a small bowl, combine the cornstarch and water to make the slurry.
Turn the Instant Pot back on using the saute function. Pour in the slurry and whisk to combine. The sauce will thicken as it heats.
Serve the chicken and sauce over rice or whatever you like. Garnish with sesame seeds and green onions.
Notes
The calories listed are an approximation based on the ingredients and a serving size of only 1-cup of the chicken. Furthermore, the calories count DOES NOT included the rice seen in the photos. Actual calories will vary. The honey garlic chicken can be stored in your fridge for up to 3-days in a sealed container.
Recommended Products
As an Amazon Associate and member of other affiliate programs, I earn from qualifying purchases.
Nutrition Information:
Yield:
4
Serving Size:
1 Cup
Amount Per Serving:
Calories:

347
Total Fat:

7g
Saturated Fat:

1g
Unsaturated Fat:

0g
Cholesterol:

72mg
Sodium:

1823mg
Carbohydrates:

43g
Sugar:

36g
Protein:

27g