*This post may contain affiliate links. As Amazon Associates we earn from qualifying purchases.
Quick, easy and delicious! Our Instant Pot vegetable soup has all the flavor of a slow cooked veggie soup in half the time.
Kim and I have been trying new recipes lately and this one is going into our Winter cooking routine.
Similar to our Instant Pot vegetable beef soup, we used a semi-homemade method to create a flavorful soup for your whole family.
Best of all, this Instant Pot veggie soup, is completely vegetarian! That's right, there's no meat in this recipe.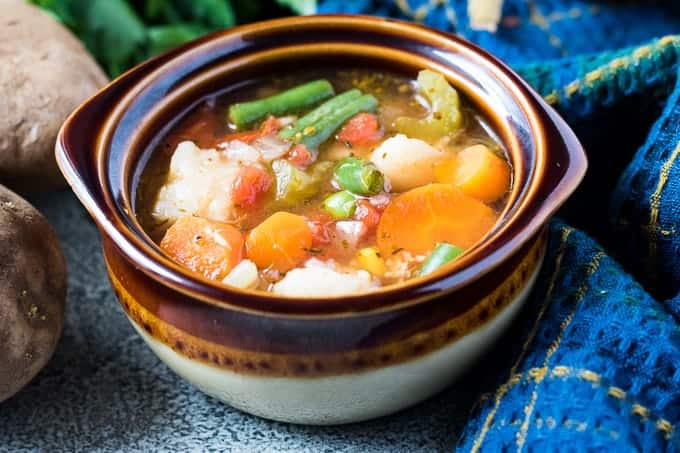 For some reason, it's tough to find Instant Pot vegetarian recipes. Trust me, we've tried. Now, Kim and I aren't vegetarians, but sometimes we don't want meat for dinner.
For example, we just made a Instant Pot creamy tortellini soup that's vegetarian and we loved it!
After searching around, we noticed there weren't a lot of pressure cooker vegetarian recipes with good reviews.
So, Kim decided to start developing our own. In fact, we already have a couple of meatless IP recipes.
I'll provide you with a list of them at the end of the post. For now, let's get cooking!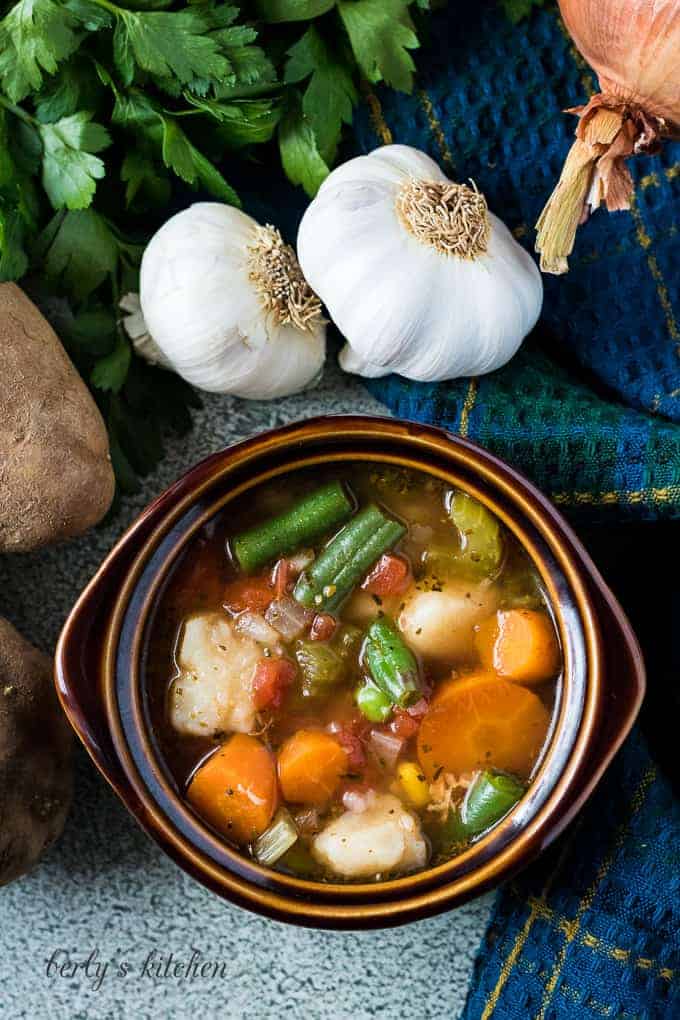 How to make IP veggie soup?
First, start by prepping all your vegetables. You know, mince the garlic, peel and dice the potatoes, chop the carrots, you get the idea.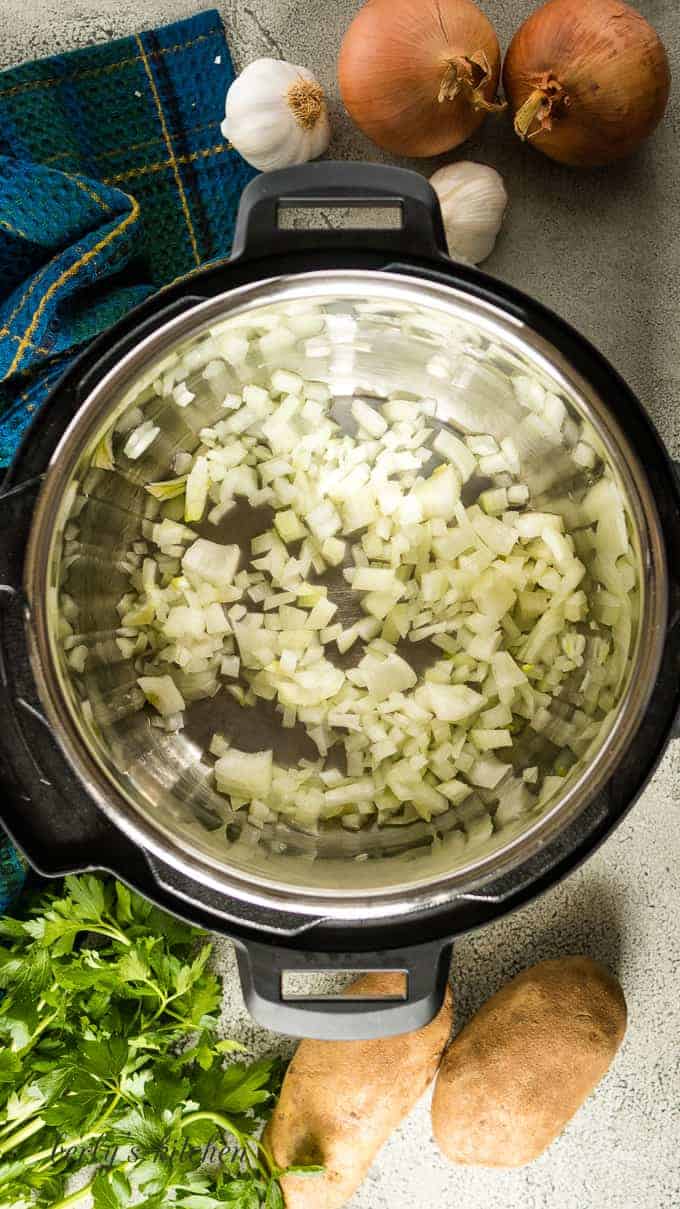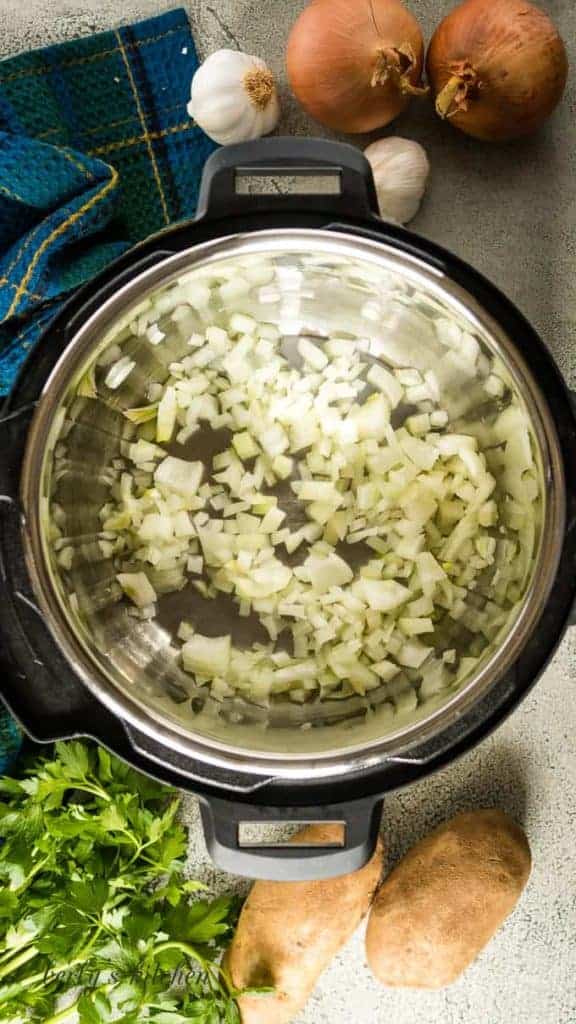 Next, once everything is prepped, place the stainless steel liner into your pressure cooker and press the saute button.
When the liner heats up, pour in the oil and add the onions. Let them saute for about three (3) minutes, then add the garlic, Italian seasoning, and salt and pepper.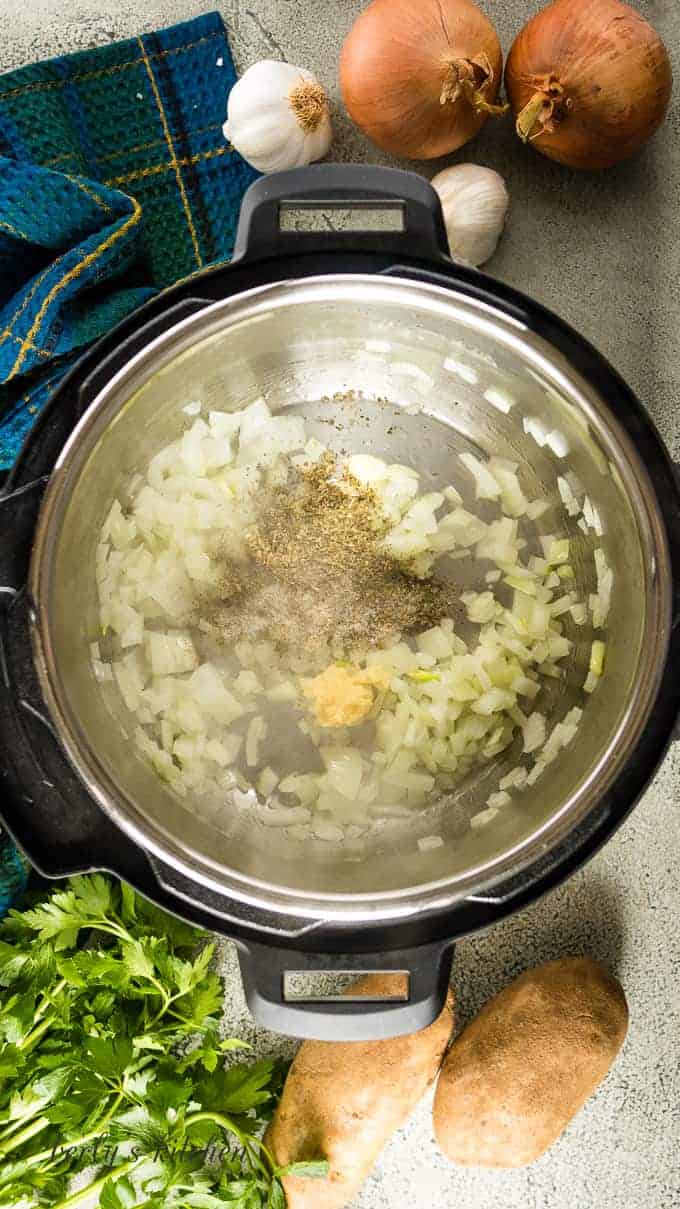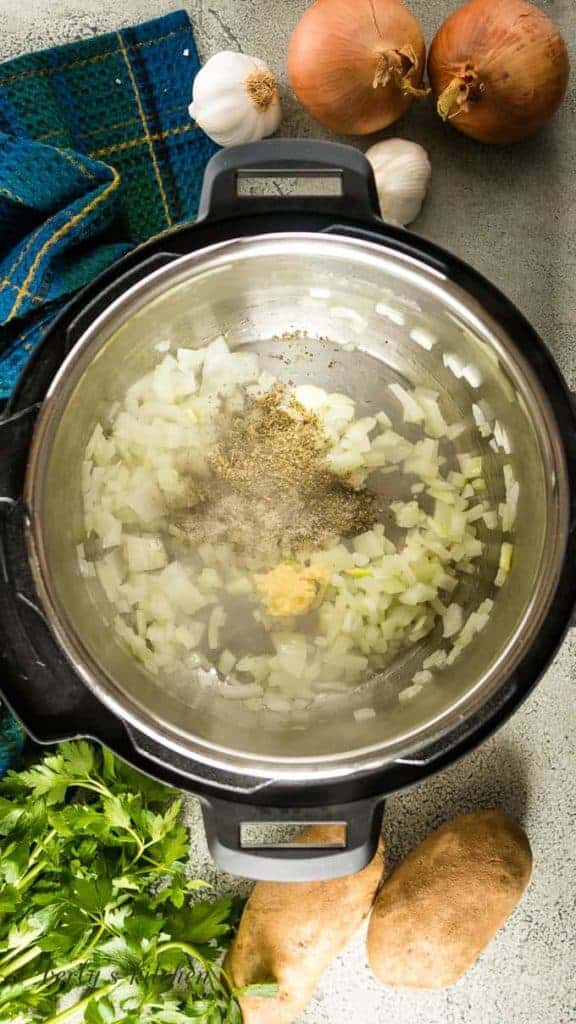 After that, let the garlic cook for about thirty (30) seconds, then turn off the machine.
At this point, you can toss in the potatoes, carrots, celery, tomatoes, and vegetable broth. But, DO NOT STIR the ingredients.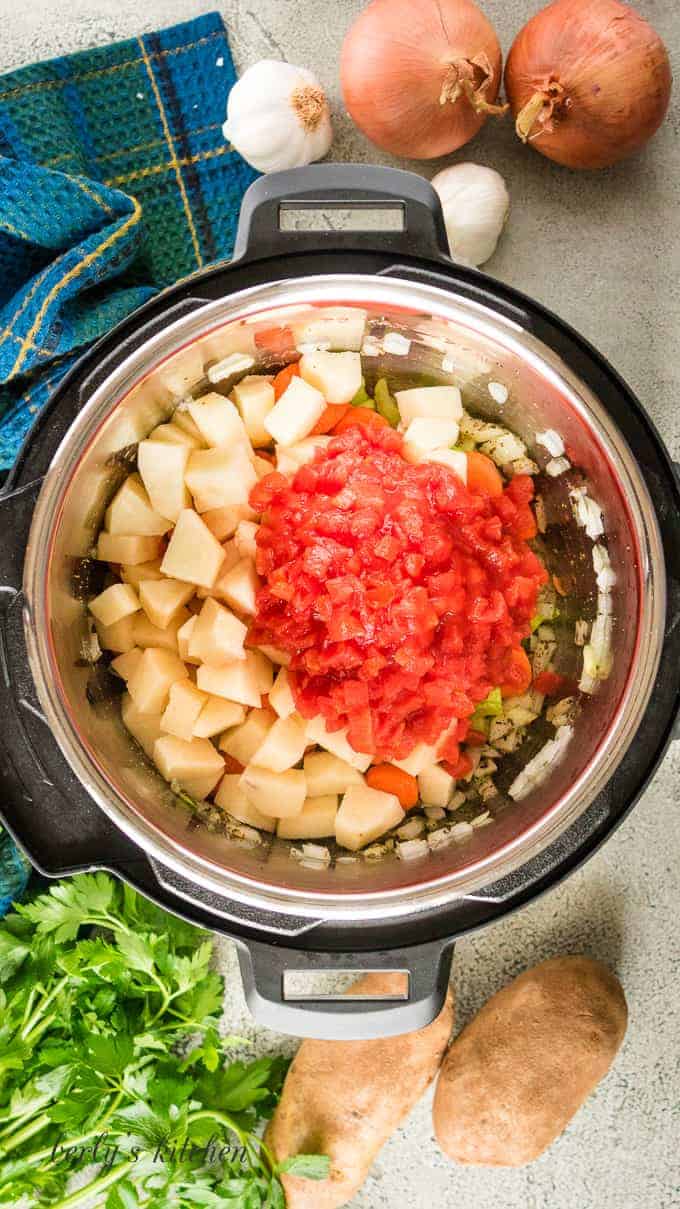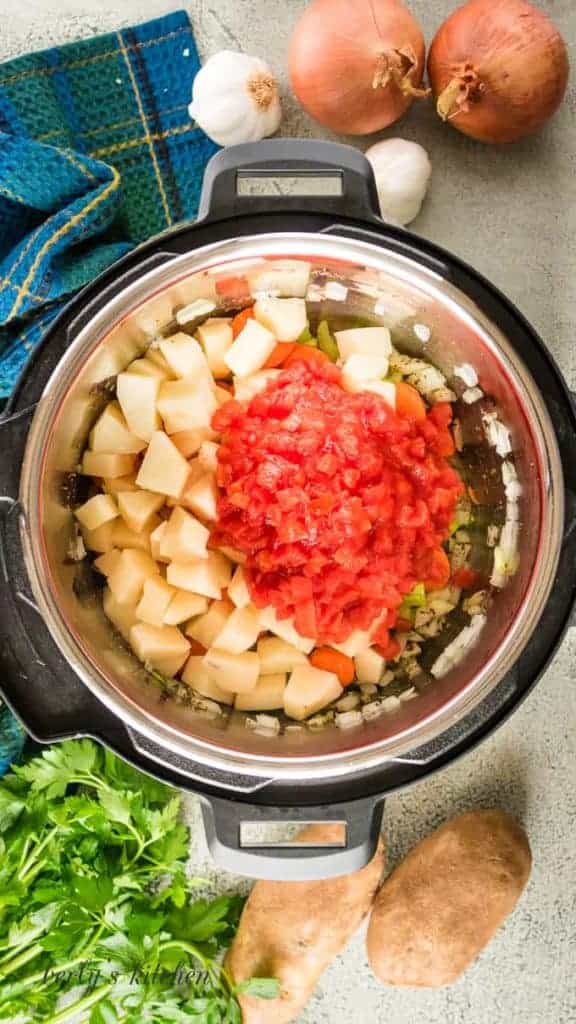 During our time working with a pressure cooker, we've learned that ingredients like tomatoes can easily stick to the bottom of the liner.
So, if you stir everything, the tomatoes may stick and burn during the pressure cook! Take a look at the photo below as a reference.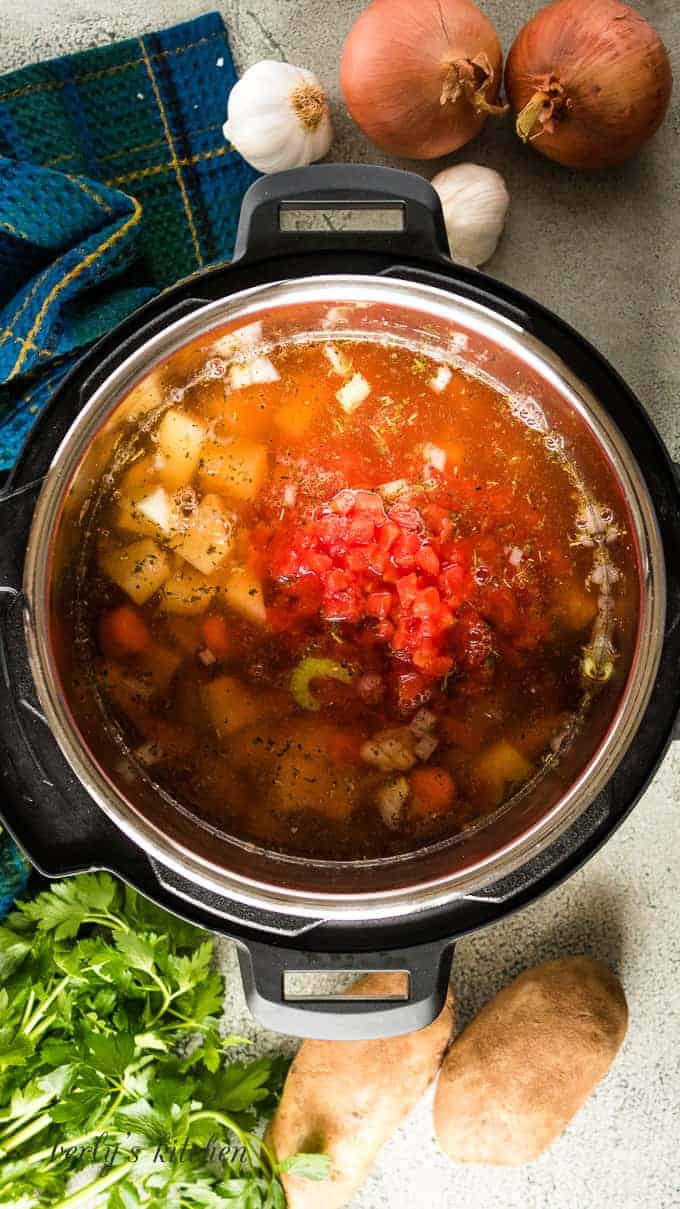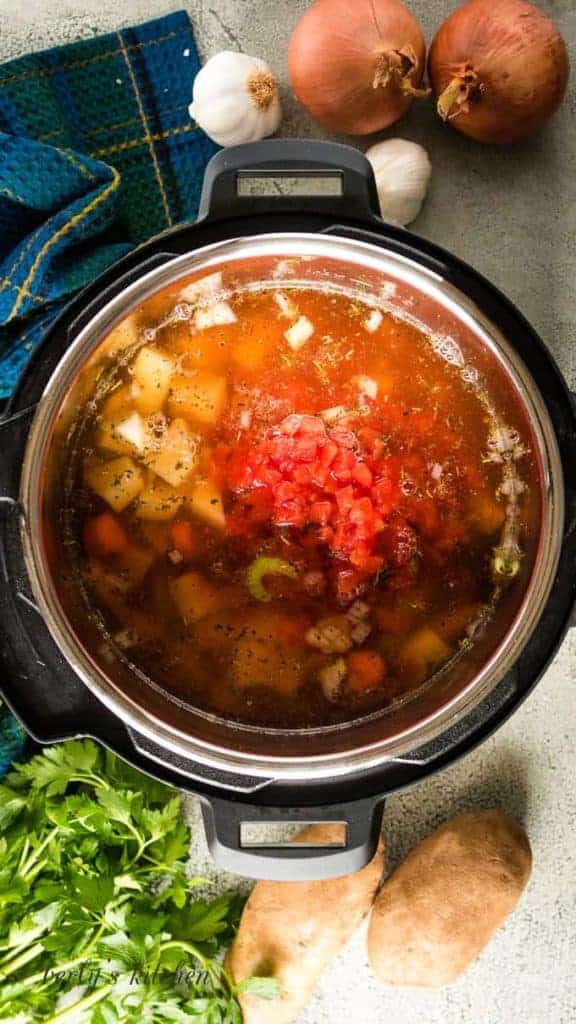 Then, make sure the rubber seal is seated properly on the lid. Put the lid on the machine, and lock it into place.
Pressure cooking the soup:
Now, seal the valve and press the manual or high pressure cook button on the Instant Pot. Set the cook time for two (2) minutes.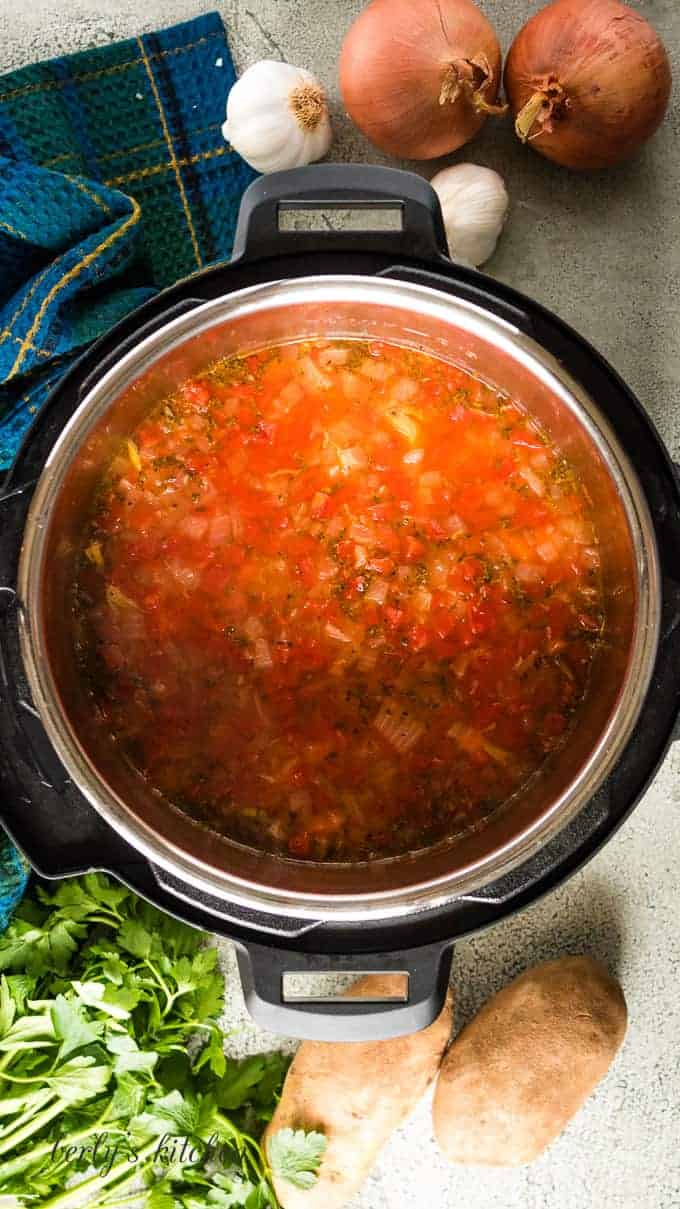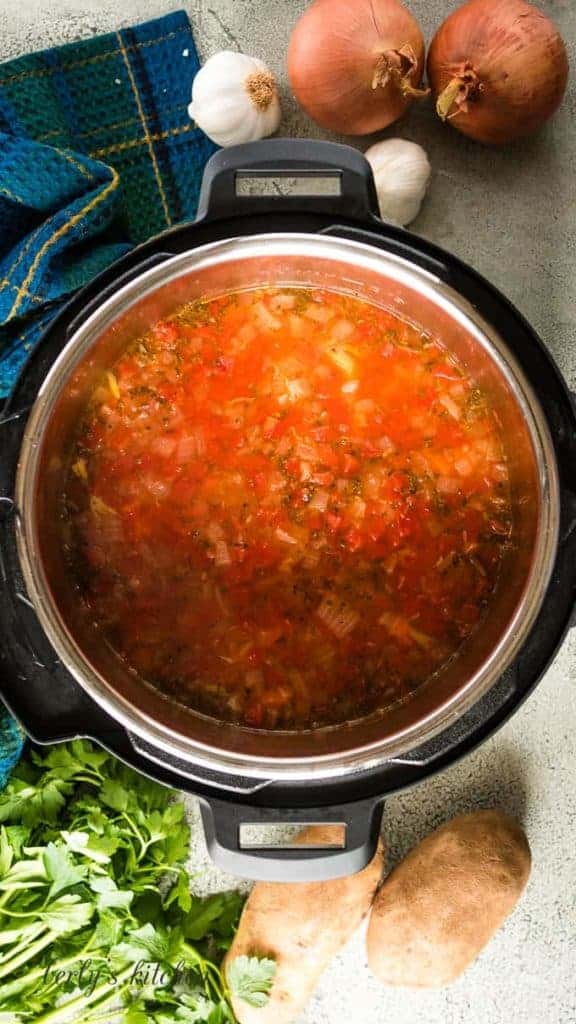 This Instant Pot vegetable stew does require a ten (10) minute natural release to ensure the potatoes have thoroughly cooked.
Afterward, when the natural release is done, carefully open the valve and remove the lid.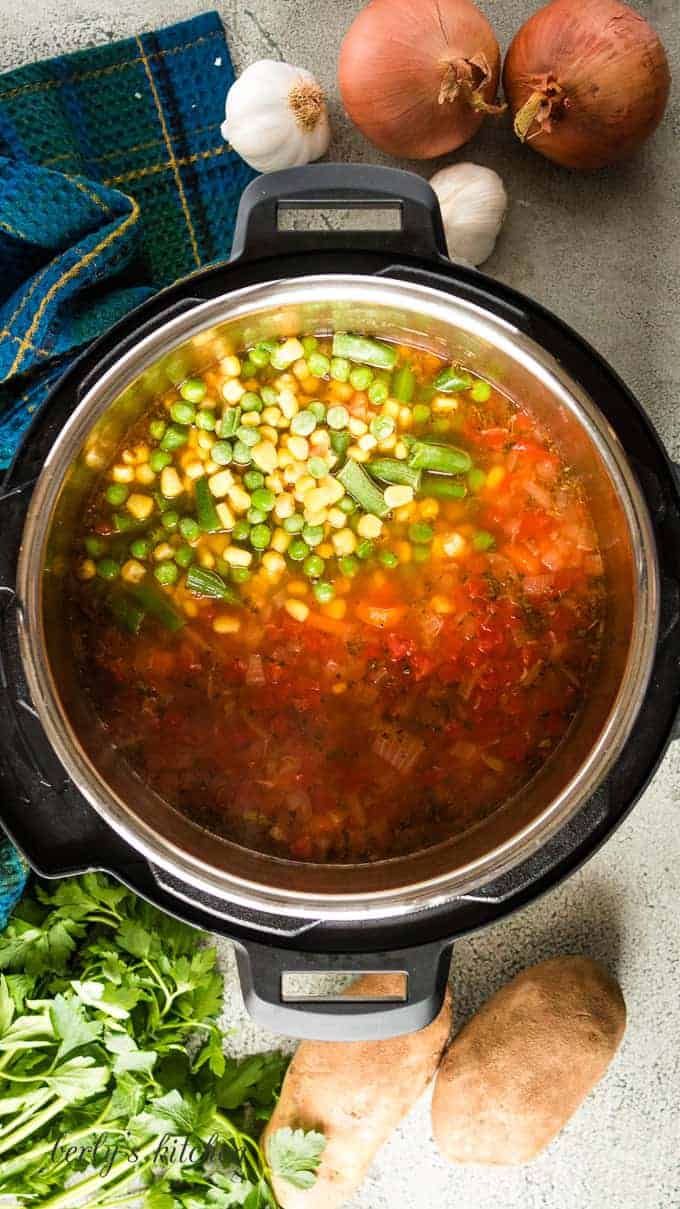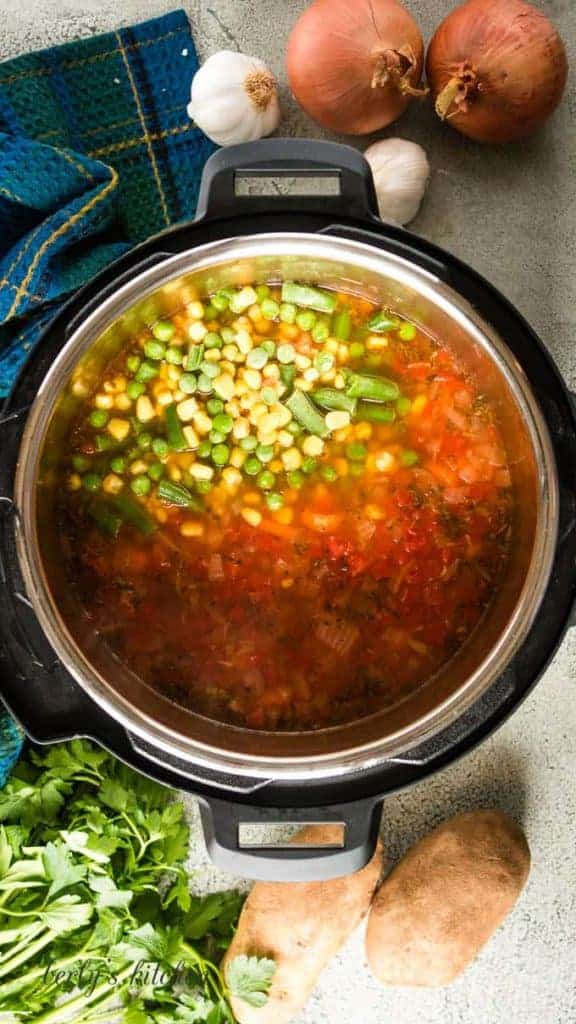 Last, stir in the frozen mixed vegetables for a minute or two (2) to make sure they cook in the hot broth.
That's it your Instant Pot vegetable soup recipe is done! Serve it with crackers, corn bread or whatever you want.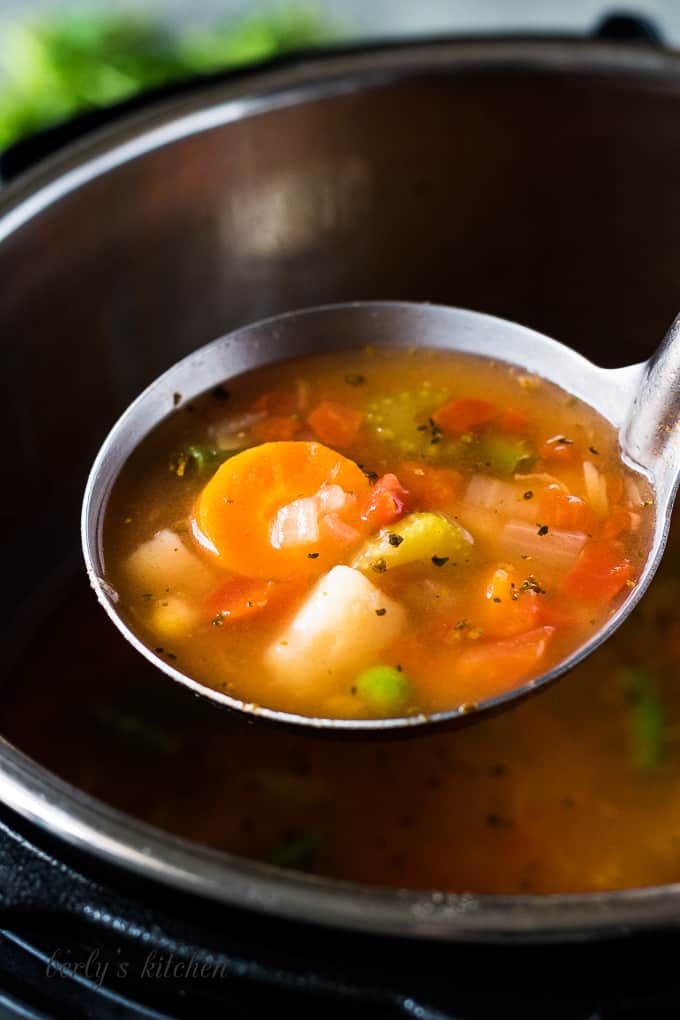 Kim and I hope you enjoy the soup and wish you all the best 🙂 As promised, I've included a list of vegetarian recipes you can make in the IP. Simply scroll to the bottom of the post.
How do you make instant soup?
You can use this recipe and replace all the vegetables with frozen veggies and use jarred garlic instead of fresh.
Simply dump everything into the IP. Skip the saute steps and set the pressure cook time for two (2) minutes.
Skip the natural release since your using frozen veggies. Open the valve, take off the lid and stir the ingredients. That's it, instant soup in two (2) minutes!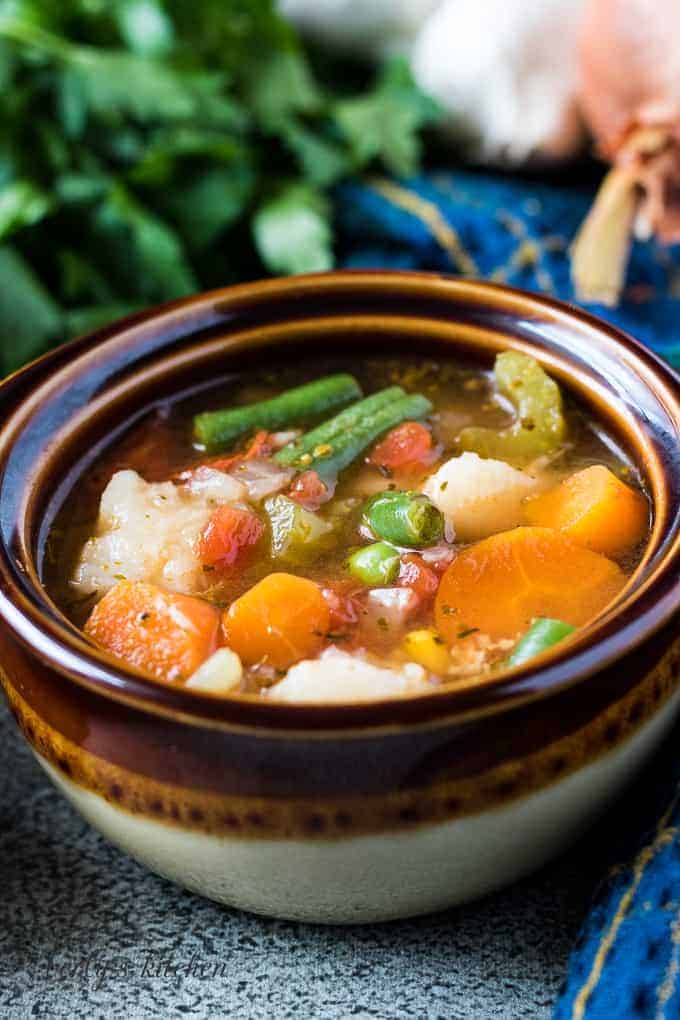 If you like this recipe, please leave us a comment and rate the recipe card. You can also find us on Facebook, Pinterest, Twitter and Instagram searching for Berly's Kitchen!
Join our Facebook group for more recipes from Berly's Kitchen, our new site More Than Meat and Potatoes, and some of our blogger friends!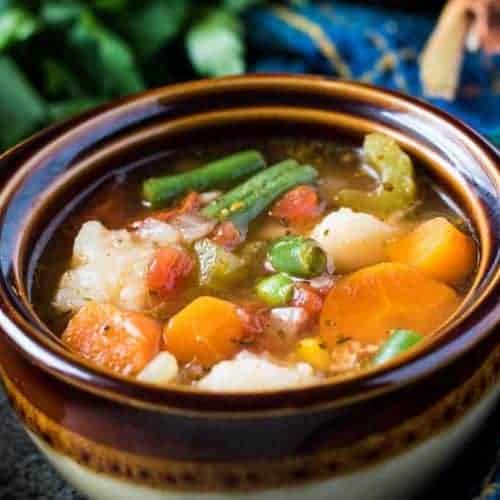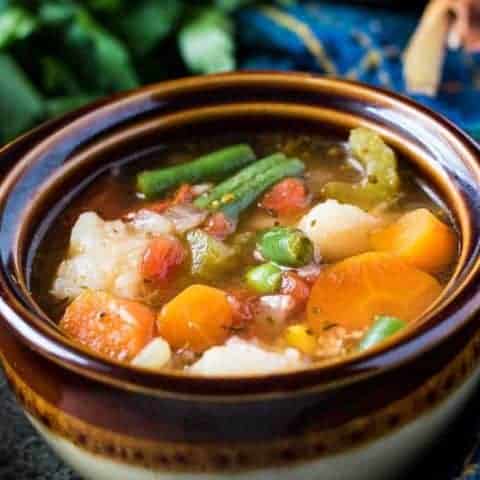 Instant Pot Vegetable Soup Recipe
Come to Pressure and Natural Release:
25 minutes
Quick, easy and delicious! Our Instant Pot vegetable soup has all the flavor of a slow cooked veggie soup in half the time.
Ingredients
1 Tablespoon Cooking Oil
1 Cup White Onion, (medium sized onion diced)
1 Large Garlic Clove, (minced)
2 Teaspoons Italian Seasoning
2 Teaspoons Salt, (or to taste)
1/2 Teaspoon Black Pepper, (or to taste)
1 Lb. Potatoes, (russet, cut in 1/2 inch chunks)
2 Large Carrots, (peeled and chopped)
1/2 Cup Celery, (chopped)
6 Cups Vegetable Broth, (low-sodium)
15 Ounces Diced Tomatoes, (1 can, undrained)
12 Ounces Frozen Mixed Vegetables, (any variety you like)
Instructions
Turn on the Instant Pot using the saute function. After the stainless steel insert gets hot, add the oil and onion. Cook the onions until it they soften, about 3 minutes, then add the garlic, Italian seasoning, salt, and pepper. Cook for an additional 30 seconds, then turn off the Instant Pot.
Add the potatoes, carrots, celery, vegetable broth, and tomatoes. DON'T STIR. Close the lid, set the valve to sealing, and press the manual (pressure cook) button. Adjust the time to 2 minutes. After the time is up, allow a 10 minute natural pressure release before opening the valve to release any remaining pressure.
Carefully open the lid and pour in the frozen vegetables. Stir to combine, and ensure the frozen vegetables are thoroughly heated.
Notes
The calories listed are an approximation based on the ingredients and a serving size of one and half (1.5) cups of the soup. Actual calories will vary. The Instant Pot vegetable soup can be stored in your fridge, in a sealed container, for up to three (3) days.
Recommended Products
As an Amazon Associate and member of other affiliate programs, I earn from qualifying purchases.
Nutrition Information:
Yield:

8
Serving Size:

1.5 Cups
Amount Per Serving:
Calories:

112
Total Fat:

2g
Saturated Fat:

1g
Unsaturated Fat:

0g
Sodium:

1407mg
Carbohydrates:

21g
Fiber:

5g
Sugar:

5g
Protein:

4g
Looking for more Instant Pot soup recipes?