Learn how to make a creamy, cheesy potato side dish with our easy recipe for Potatoes Au Gratin with Ham. Sliced potatoes are layered with a simple cream sauce along with cheese and ham for a well-rounded comfort food side dish that can be served for the holidays or alongside any meal!
Potatoes au gratin is a classic French dish of potatoes oven-baked with cream, broth, or cheese. It can be prepared with thinly sliced or diced boiled potatoes layered with salt, pepper, and fresh herbs such as thyme.
Our recipe uses sliced potatoes and layers them with a homemade cream sauce and a mix of cheddar and gruyere cheese. Diced ham is also added to add a rich smoky and salty flavor that brings the dish together.
Whenever you pair potatoes with a cream sauce and cheese, you really can't go wrong! Serve this decadent side along with your holiday feast or add it to your weeknight side rotation when you're needing some creamy comfort. This dish can be made ahead and freezes well.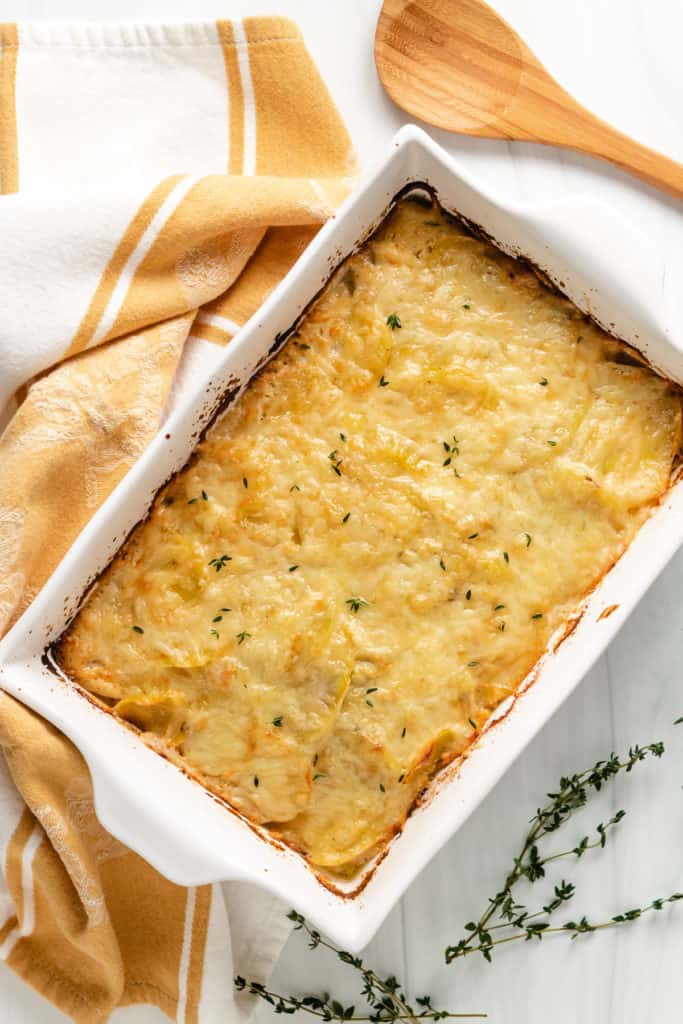 Why You'll Love This Recipe
This creamy decadent side is the perfect dish to bring over for a holiday meal or to serve at your own holiday feast.
The ingredients are simple and can be found in most grocery stores.
You can customize the flavor by adding any herbs or cheeses you enjoy.
A great way to use up any leftover ham.
Ingredients You'll Need
Heavy Cream – This dense milk makes up the creamy base of the white sauce in this decadent side dish.
Unsalted Butter – When added to the cream, it gives the sauce a rich buttery flavor that pairs well with sliced potatoes and garlic.
Garlic Cloves – Infuses the dish with fresh garlic flavor when cooked into the creamy sauce.
Salt & Pepper – Used to enhance all of the flavors in the dish and can be used to taste.
Potatoes – Thinly sliced potatoes make up the base of this dish offering a satisfying starch that gets layered with a creamy cheese sauce.
Mozzarella Cheese – Adds a mellow cheese flavor that melts well inside the dish.
Gruyere Cheese – This cheese is used for casseroles and baked dishes as it melts very well and gives the dish a creamy and salty texture.
Diced Ham – This cured meat pairs perfectly with cheese and potatoes giving it a salty and smoky bite.
Fresh Thyme – Freshly chopped thyme is layered into the dish for a bold herb flavor that ties everything together.
How To Make Potatoes Au Gratin
Make the creamy sauce: In a small saucepan, add the heavy cream, garlic, butter, salt, and pepper. Turn to low heat and let the butter melt. Do not bring it to a point where the cream begins to bubble or it will thicken too quickly. Once melted, set aside.
Prepare for baking: Preheat the oven to 350°F. Grease an 11×7-inch baking dish with nonstick cooking spray or butter.
Prepare the cheese: In a medium-sized bowl, add both shredded cheeses. Mix with tongs or a rubber spatula to combine them together evenly.
Layer the ingredients: To the greased baking dish, add ⅓ of the sliced potatoes to the bottom in an even layer. Then, add ⅓ of the cream mixture on top followed by ¾ cup of the mixed cheese. Then, layer half of the ham and sprinkle a ½ teaspoon of thyme on top. Repeat this step for the second and third layers, but do not add cheese or thyme to the top layer.
Bake the potatoes: Cover the baking dish tightly with foil, then bake in the preheated oven for 1 hour or until the potatoes are fork-tender and cooked through. Then, remove the foil layer from the top and bake for an additional 10-15 minutes or until the cheese is browned on top.
Cool and serve: Remove from the oven and let the dish cool for 10 minutes to set before serving.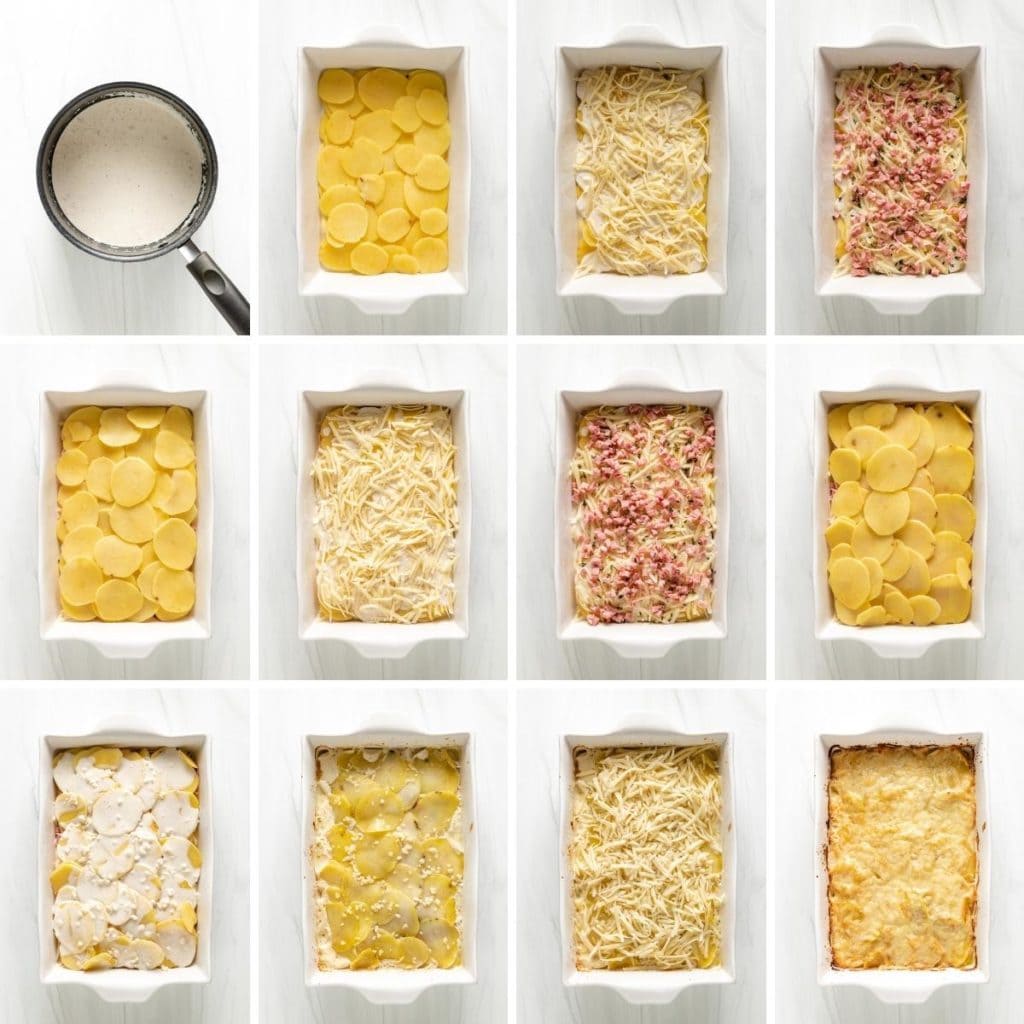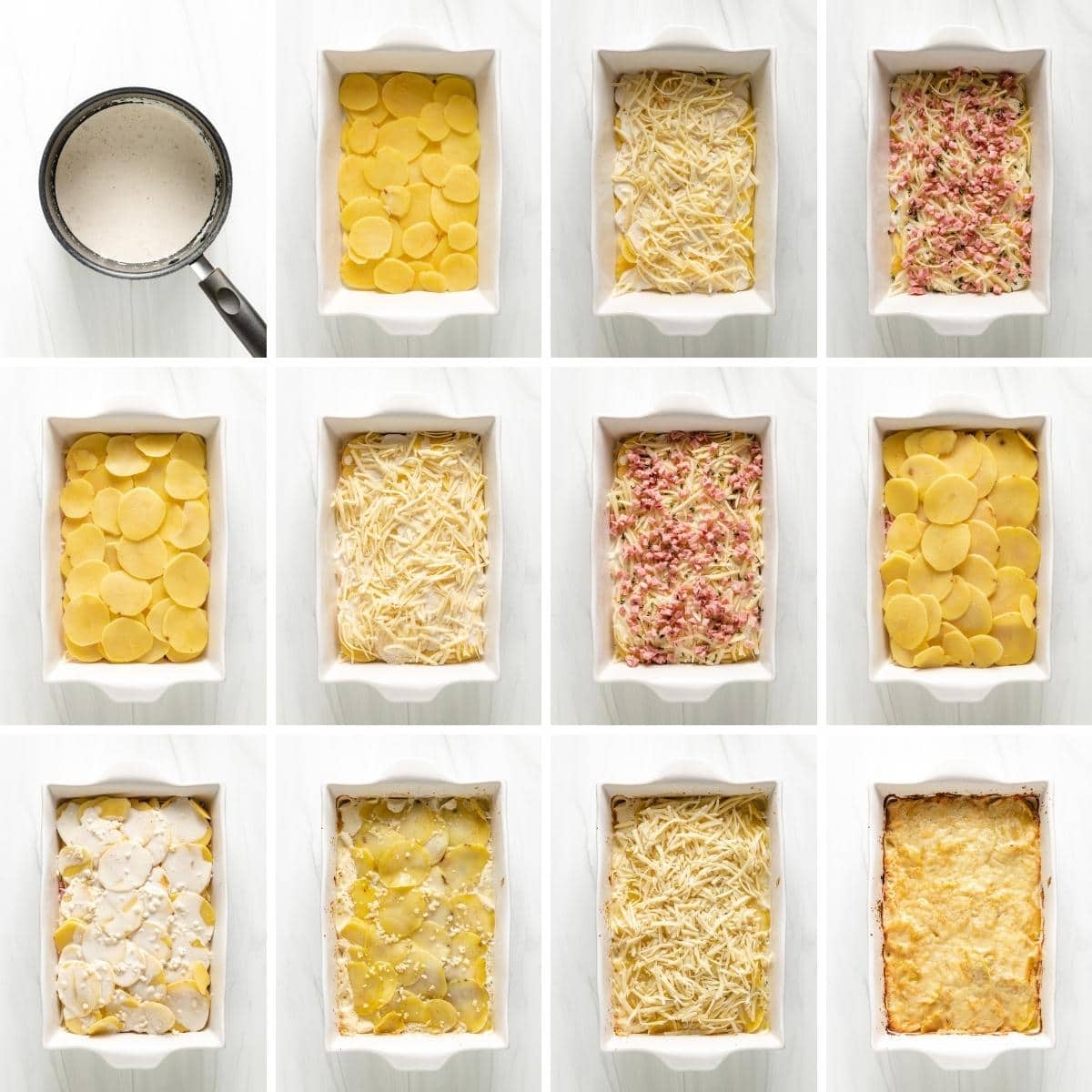 Recipe Tips
When thinly slicing the potatoes, make sure you're either using a sharp knife or a mandolin to make sure everything is roughly the same size.
When making the cream sauce, it's very important to cook over low heat just until the butter is melted. If the sauce thickens too much, it will reduce too much leaving you with not enough to layer the dish properly.
For the freshest taste, grate the mozzarella cheese and gruyere from scratch as it won't contain any caking agents that may be in bagged shredded cheese.
When you remove this dish from the oven you'll need to let it rest for at least 10 minutes. This will give the cheese and cream time to set and thicken as it cools for the perfect serving.
The amount of potatoes used can vary anywhere from 3-4 large potatoes to 10-12 small potatoes. The best way to ensure you're using the correct amount is to weigh the potatoes on a kitchen scale.
Variations
Change up the herbs: We love using the fresh citrusy taste of thyme in this dish, but feel free to use any herb you enjoy such as rosemary, sage, or parsley. You can also mix and match the herbs to your desired taste.
Bump up the veggies: To add more color and fresh taste, try adding some cooked peas or broccoli to the ham layer.
Change up the cheese: The mix of mozzarella and gruyere is a match made in cheesy heaven, but you can use any cheese you enjoy including cheddar, swiss, gouda, pepper jack, or even parmesan cheese.
Change up the protein: Salty and smoky ham pairs well with cheese and potatoes, but so does cooked ground beef, bacon, or sausage.
Some caramelized onions in between the layers will infuse the dish with a sweet onion flavor that enhances the entire dish.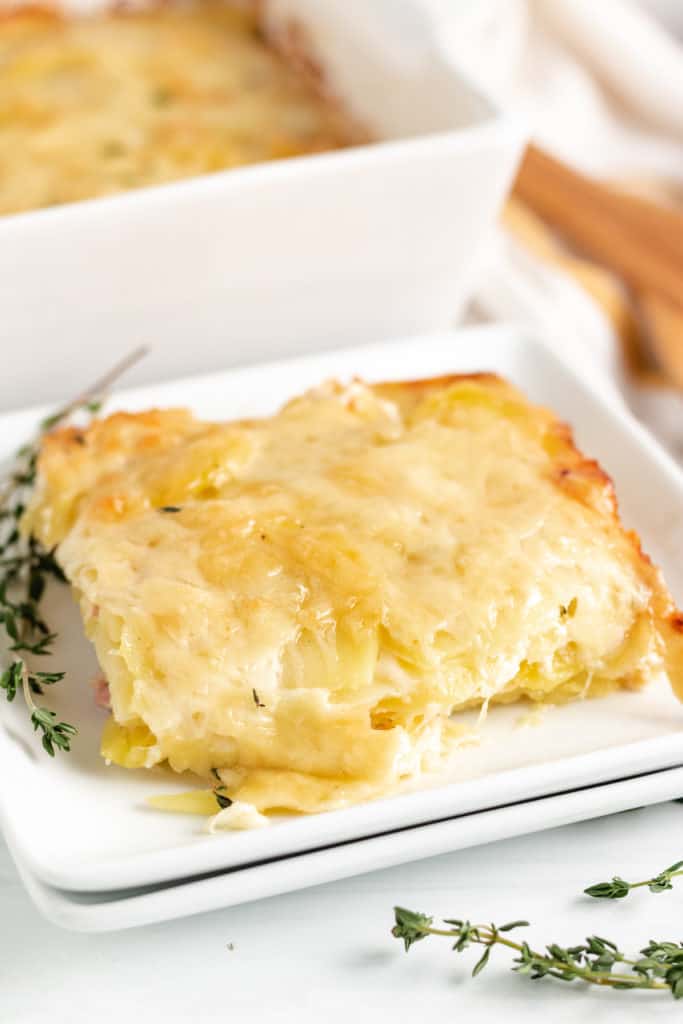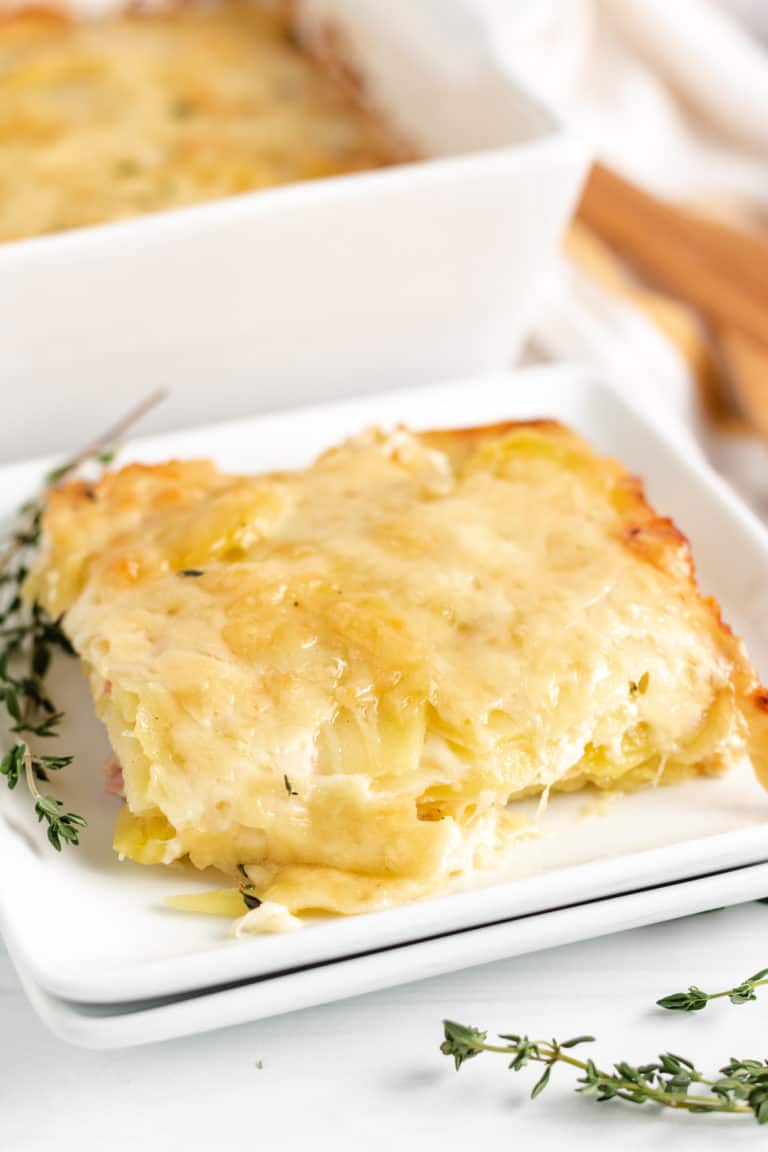 What are the best potatoes to use for potatoes au gratin?
Sturdy white potatoes such as russet potatoes work great in this dish. They hold up well while baking and don't release too much moisture.
Do you need to peel the potatoes before slicing?
This depends on personal preference. Some like a more rustic look and some like a clean white look. Either way will still produce a delicious dish.
What's the difference between scalloped potatoes and au gratin potatoes?
Scalloped potatoes are traditionally cooked in just a cream sauce whereas au gratin potatoes have the addition of creamy cheese.
Storing and Freezing
Storing: Cooled leftover potatoes au gratin can be stored in an airtight container in the fridge for 3-4 days before reheating and serving.
Freezing: If you'd like to make this dish ahead of time, or if you need to freeze any leftovers, simply wrap the cooled casserole dish tightly with plastic wrap and a layer of aluminum foil for up to 3 months. Let it defrost in the fridge overnight before reheating and serving.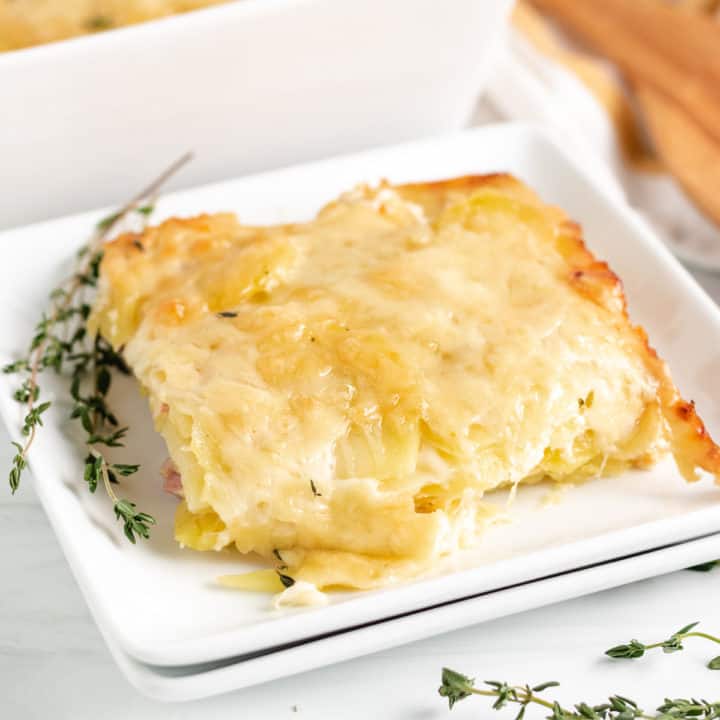 Potatoes au Gratin
Cook Time:
1 hour
15 minutes
Total Time:
1 hour
30 minutes
Learn how to make a creamy, cheesy potato side dish with our easy recipe for Potatoes Au Gratin with Ham. Sliced potatoes are layered with a simple cream sauce along with cheese and ham for a well-rounded comfort food side dish that can be served for the holidays or alongside any meal!
Ingredients
1 ½ cups heavy cream
2 tablespoons unsalted butter
3-4 cloves garlic, minced
Salt and pepper, to taste
2 ½ pounds gold potatoes, peeled and thinly sliced (*See note.)
1 ½ cups mozzarella cheese, shredded
1 cup Gruyere cheese, shredded
1 cup ham, diced
1 teaspoon fresh thyme
Instructions
In a small saucepan over low heat, combine the heavy cream, butter, garlic, salt, and pepper. Heat just until the butter melts. Don't let the cream begin to bubble; otherwise, it will thicken.
Preheat the oven to 350°F, and grease an 11x7-inch baking dish. Mix both cheeses together in a bowl.
Layer ⅓ of the sliced potatoes into the baking dish, followed by ⅓ of the cream mixture. Sprinkle ¾ cup of the cheese (mixture of both), ½ cup of diced ham, and ½ teaspoon of thyme over the potatoes and cream. Repeat for the second and third layer, but don't add any cheese or thyme to the third layer.
Cover tightly with foil, and bake for 1 hour or until the potatoes are soft and cooked through. After an hour, uncover, add the remaining cheese, and bake for another 10-15 minutes until the cheese is bubbly and browned.
Allow the potatoes to set for 10 minutes before serving.
See post storage options.
Notes
*The calories listed are an approximation based on the ingredients in the recipe card and a serving size of 1 cup of potatoes au gratin. Actual calories will vary.
*For more information, tips, and answers to frequently asked questions, please refer to the post.
*We used a mandolin to slice the potatoes to ¼-inch thick. A knife may also be used.
*Russets are a great substitute for gold potatoes.
Recommended Products
As an Amazon Associate and member of other affiliate programs, I earn from qualifying purchases.
Nutrition Information:
Yield:

12
Serving Size:

1 cup
Amount Per Serving:
Calories:

303
Total Fat:

20g
Saturated Fat:

12g
Trans Fat:

0g
Unsaturated Fat:

6g
Cholesterol:

66mg
Sodium:

301mg
Carbohydrates:

22g
Fiber:

2g
Sugar:

2g
Protein:

11g
*The calories are an estimate and are based on the ingredients and serving size listed. The calories can vary depending on the brand of product purchased.