A simple cream bechamel sauce recipe made using only six ingredients and infused with the flavors of rich butter, smooth cream, and aromatic nutmeg.
In our kitchen, we have been making bechamel sauces for a long time. They are the perfect blend of a hearty roux and luscious flavor.
Furthermore, a good bechamel can be the base for a multitude of different dishes.
For example, both our homemade cheese sauce and our cajun alfredo sauce start with bechamel. Once you master this easy sauce, your cooking skills can take flight.
The key to a great bechamel is to make sure you don't break the sauce. If you have read my posts, then you have heard me talk about this a lot.
Breaking the sauce occurs when the mixture is heated to such a high temperature that the fat separates and forms into little globules that stick to your fork. As a result, the bechamel loses its creamy texture and the flavors separate.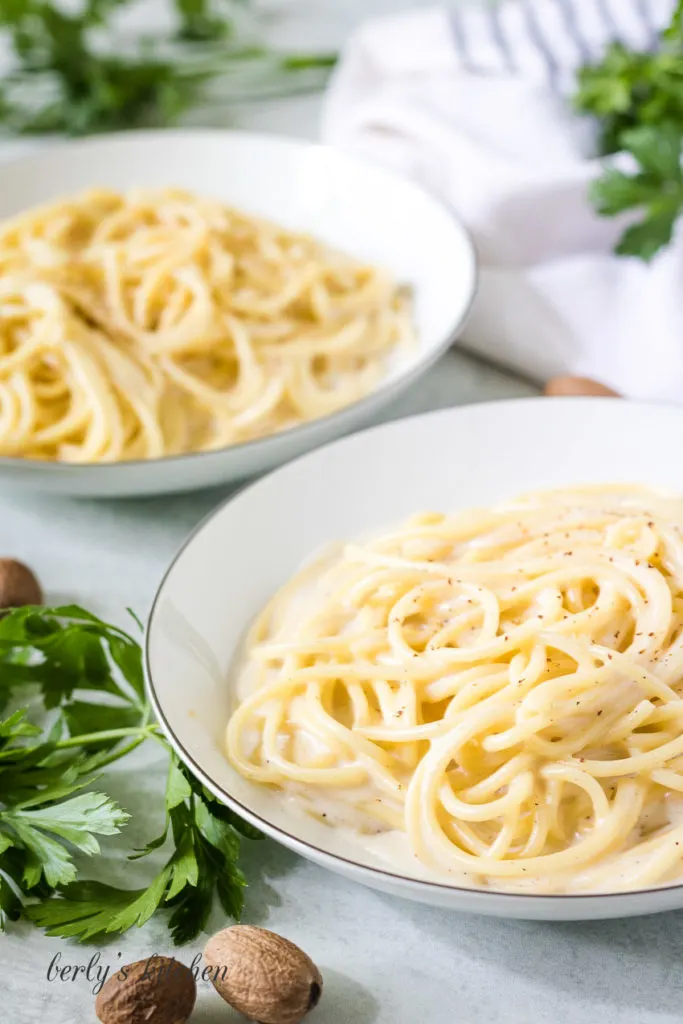 Needless to say, it's pretty unappealing. The best way to keep the pasta sauce from separating is to heat it slowly and keep it moving.
I prefer to use a whisk. You can make faster strokes with your wrist, and the wires break up the flour and butter causing them to blend with the cream and milk.
Once the bechamel is properly cooked, it will be silky and can be flavored using a variety of spices. Since I had planned on making an alfredo sauce with this base, I chose to only season it with nutmeg.
Which, by the way, made an awesome sauce. It was so good; I prepared some spaghetti noodles for a tasty pasta dish. In closing, this recipe might take some practice to master.
However, just remember, once mastered a great bechamel can be eaten as is or become a vehicle for tons of other recipes, like creamed spinach.
So, I hope you enjoy today's offering from our kitchen. It is truly a labor of love.
How to Make a Simple Cream Bechamel Sauce:
A simple cream bechamel sauce can be tricky, but it's certainly not out of anyone's league to learn. First, in a small stockpot or large saucepan add the butter to melt on low to medium-low heat.
After the butter has completely melted, add the flour and let the mixture cook for about 1 minute, so the flour taste cooks out. You are creating a roux which will thicken the sauce.
Remember, the longer you cook a roux, the thinner the sauce will become.
For example, gumbo tends to be somewhat thin when compared to a gravy. This because the roux is cooked until it is golden brown.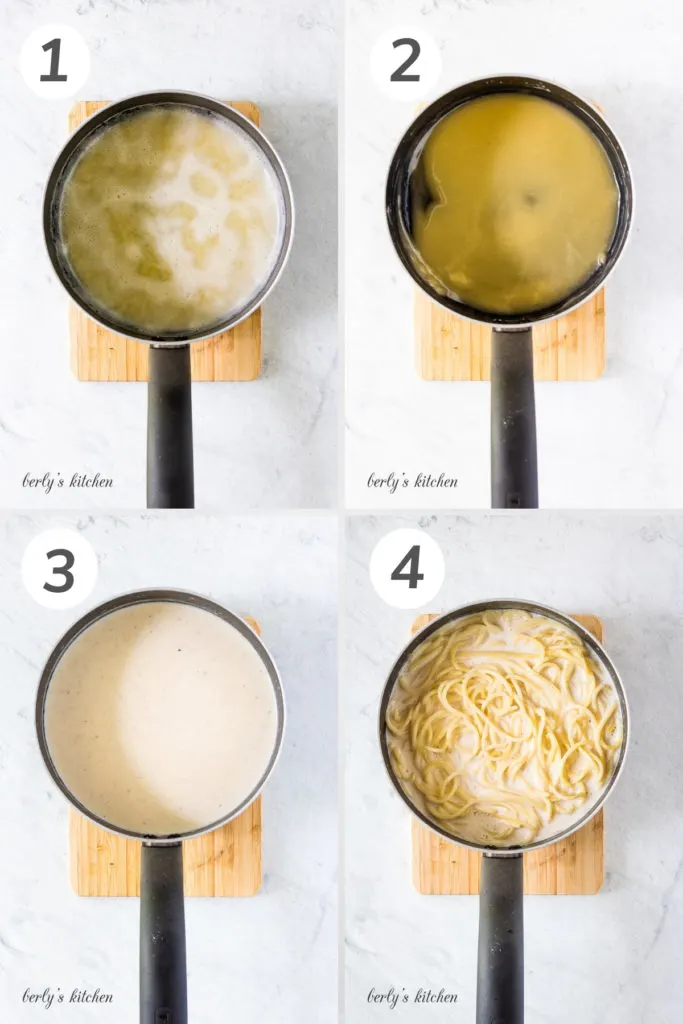 We are not going for that thin texture. We want a cream sauce.
Next combine the milk, heavy cream, salt, pepper, and nutmeg with the cooked flour roux. Make sure to stir in each ingredient using a whisk or wooden spoon.
Let the sauce cook for an addition 10 to 15 minutes on medium heat.
As time passes, the sauce will begin to thicken. Do not let it come to a boil or the bechamel will break!
Continue to stir the sauce as it cooks to the desired consistency. If you're using this recipe as a base for another sauce, like a cheese sauce or alfredo, you may want to remove it from the heat before it becomes completely thick.
Any additional cheese will melt and thicken the sauce as well. Just something to keep in mind if this dish is just a base for another recipe.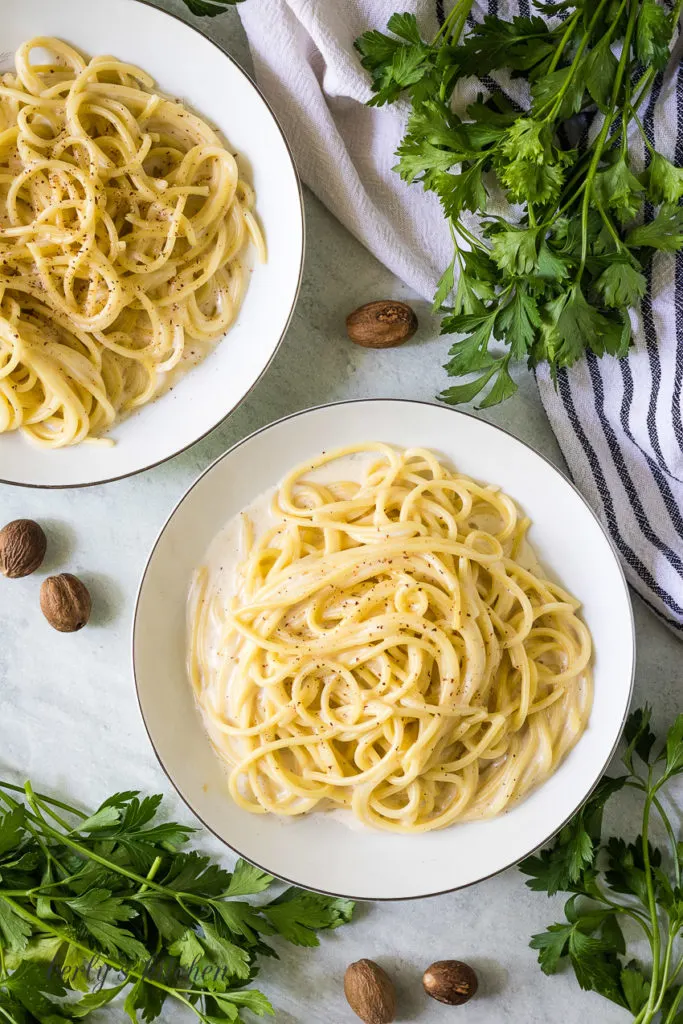 Once the sauce has reached the thickness, you desire, taste test it and add salt and pepper as needed. I listed the amounts that I use in the recipe, but it's totally up to you.
Now that you have a completed bechamel sauce feel free to serve it over a bed of pasta, use it a dipping sauce, add parmesan cheese to it for an alfredo, use some of it to thicken soups, etc. You get the idea.
All in all, it is a "moderate" level recipe for a beginner cook, but if you can learn it, you will be that much better in the kitchen.
After you've mastered the basic bechamel sauce, you'll be able to make Smoky Chipotle Chicken Pasta or Baked Macaroni and Cheese with ease.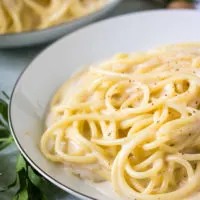 Simple Cream Bechamel Sauce
Print
Save
Saved!
Pin
I earn a commission from Amazon and Instacart from qualifying purchases.
Ingredients
5

tablespoons

unsalted butter

5

tablespoons

all-purpose flour

1

cup

milk

whole or 2%

1

cup

heavy cream

1/4

teaspoon

ground nutmeg

or to taste

1/4

teaspoon

kosher salt

or to taste

1/4

teaspoon

ground black pepper
Instructions
In a large saucepan melt the butter over low heat.

5 tablespoons unsalted butter

Add the flour to melted butter and let cook for about 1 minute.

5 tablespoons all-purpose flour

To cooked flour mixture, add milk, cream, nutmeg, salt, and pepper. Let simmer on medium heat for 10 to 15 minutes while stirring.

1 cup milk

1 cup heavy cream

1/4 teaspoon ground nutmeg

1/4 teaspoon kosher salt

1/4 teaspoon ground black pepper

When sauce reaches desired thickness, remove from heat and serve over pasta or add use as base thickener for other recipes.

Can be stored in sealed container in refrigerator for up 2 days.
Notes
*The calories listed are an approximation based on the ingredients in the recipe card and a serving size of .5 cups of sauce. Actual calories will vary.
*For more information, tips, and answers to frequently asked questions, please refer to the post.
Nutrition
Serving:
0.5
cup
|
Calories:
320
kcal
|
Carbohydrates:
9
g
|
Protein:
4
g
|
Fat:
30
g
|
Saturated Fat:
19
g
|
Polyunsaturated Fat:
1
g
|
Monounsaturated Fat:
8
g
|
Trans Fat:
0.5
g
|
Cholesterol:
90
mg
|
Sodium:
238
mg
|
Potassium:
132
mg
|
Fiber:
0.2
g
|
Sugar:
4
g
|
Vitamin A:
1129
IU
|
Vitamin C:
0.3
mg
|
Calcium:
97
mg
|
Iron:
0.4
mg