For our creamed spinach recipe, we took a simple bechamel sauce and combined it with sauteed fresh spinach to create a dish that's satisfying and tasty!
If you're looking for the perfect side dish for your next chicken dinner, then look no further.
This homemade spinach recipe is easy to prepare and comes together in about thirty (30) minutes.
All you need to do is create a bechamel sauce then saute some spinach and you're good to go. So, shall we get started?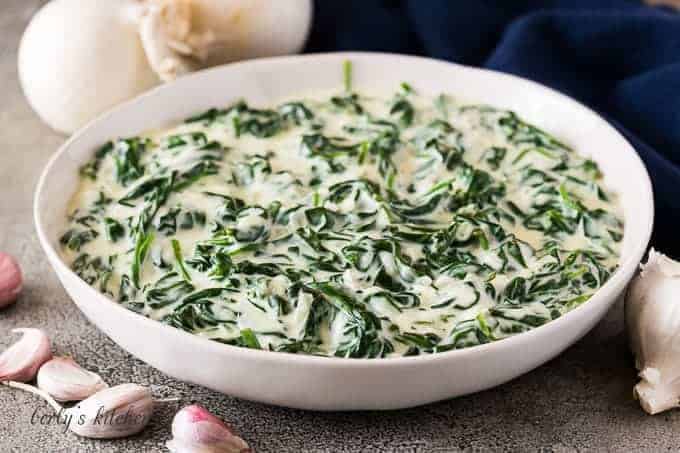 How to make a creamed spinach recipe?
First, start by mincing your garlic and prepping the rest of your ingredients. You want to be able to pay attention to the sauce and not get distracted.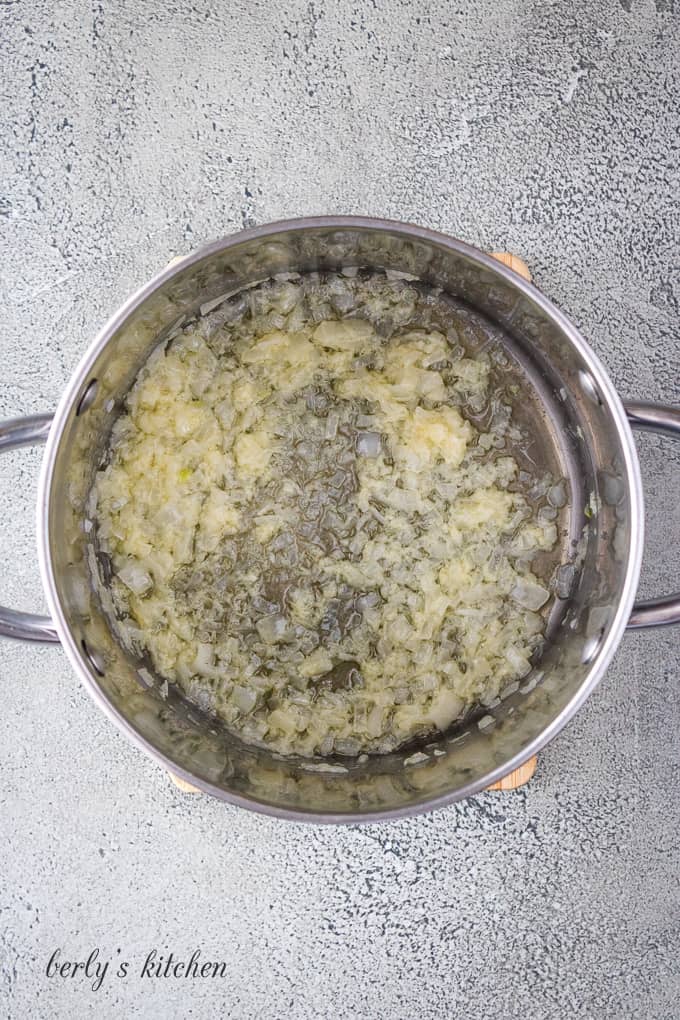 After that, grab a large saucepan and place it over low heat. Add the butter to the pan and let it melt. It's going to be very similar to creating an alfredo sauce.
Next, toss in the diced onion and let it cook for about four (4) minutes. Now, add the minced garlic and let the mixture cook for another thirty (30) seconds.
At this point, you want to sprinkle in the flour while stirring the ingredients. Keep stirring while the flour cooks for about five (5) minutes.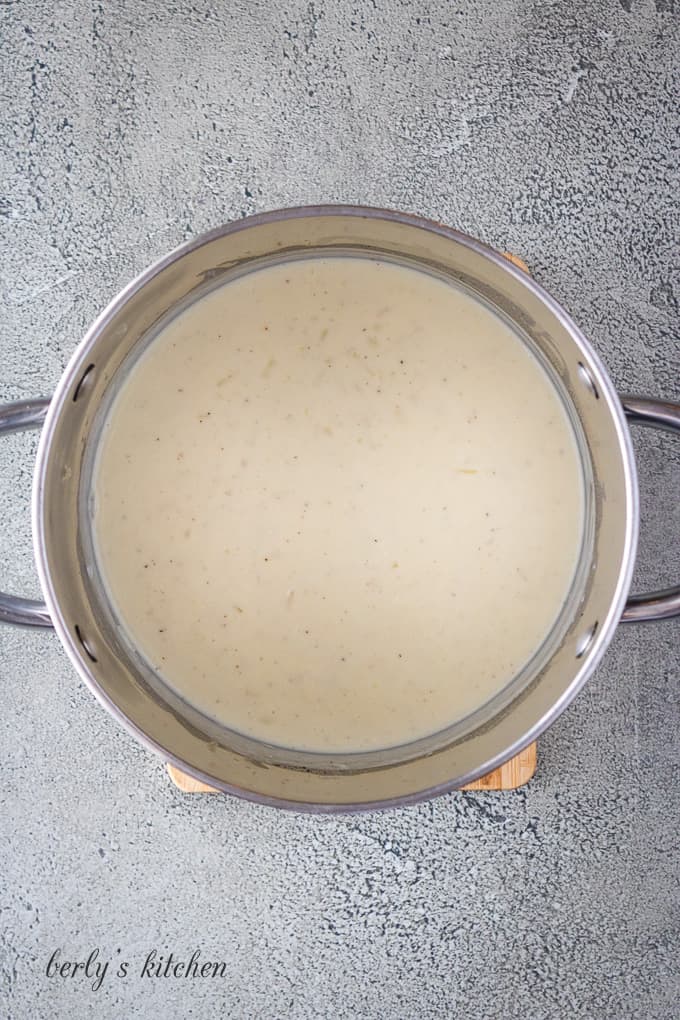 Once all the raw flour has cooked, whisk in the heavy cream and milk. Then, whisk in the nutmeg, pepper, and salt.
As the mixture continues to cook, it will thicken. Don't let it come to a boil; otherwise, the sauce will break
Stir the bechamel as it cooks for about six (6) minutes. Now, remove it from the heat. It's time to saute the spinach.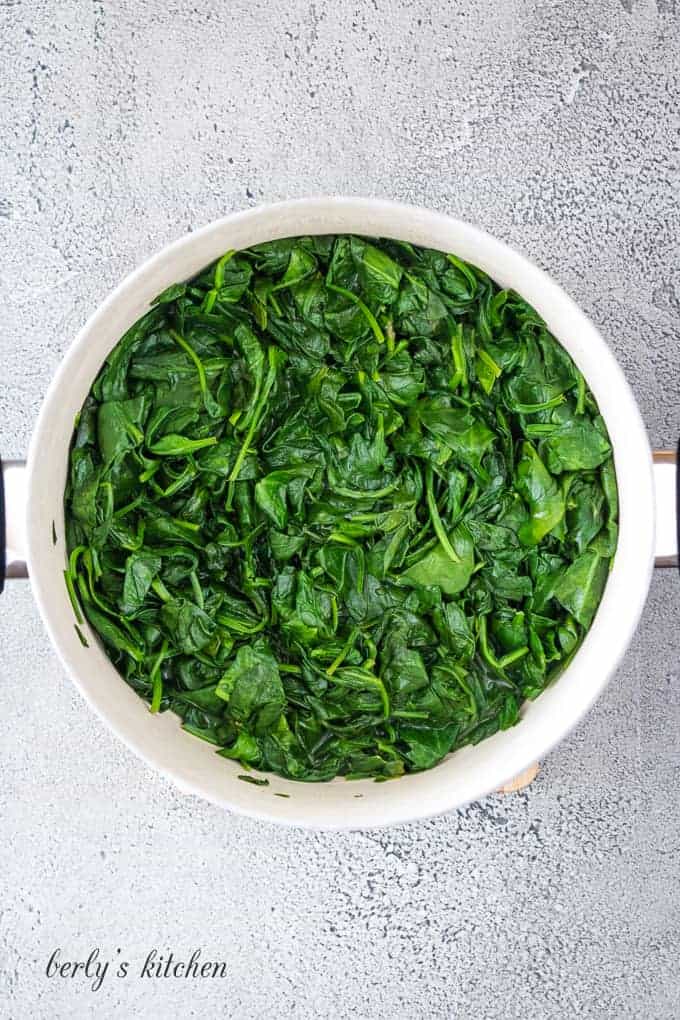 Grab a large skillet and place it over low-medium heat. Toss in the butter and let it melt.
When the butter has melted, sprinkle in the washed spinach. Saute it long enough for the spinach to wilt.
You'll need to stir it while it sautes to ensure all the spinach is properly cooked down. It should only take about ten (10) minutes.
Last, remove the pan from the heat, strain away the excess liquid, and stir the vegetable into the bechamel sauce.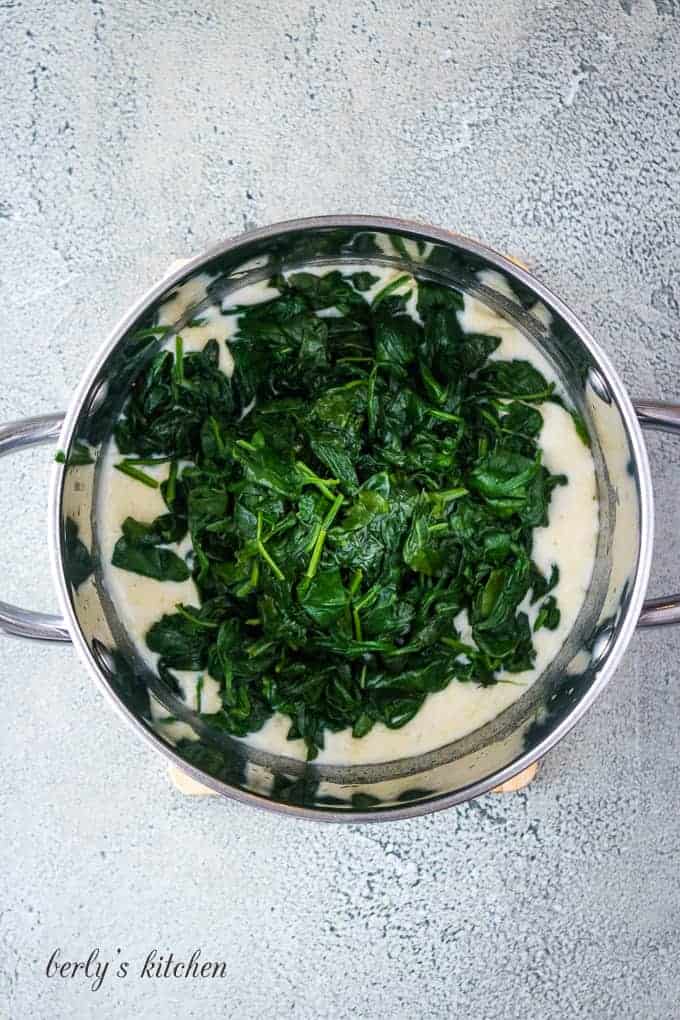 That's it your homemade creamed spinach recipe is done! Kim and I hope you enjoy the side dish and wish you all the best 🙂
Recipe Tips:
If you're concerned about making a bechamel, then try using cream cheese and milk instead. It's a little easier and more stable when heated.
You can use frozen spinach, however, you need to thaw it out and drain it first.
In our recipe we say to use salt and pepper to taste. What I recommend is to wait until the spinach and cream have been mixed together, taste it, then add the amount of salt and pepper you desire.
If you like our homemade creamed spinach recipe, please leave us a comment and rate the recipe card. You can also find us on Facebook, Pinterest, Twitter and Instagram searching for Berly's Kitchen!
Yield: 8 Servings
Homemade Creamed Spinach Recipe
For our creamed spinach recipe, we took a simple bechamel sauce and combined it with sauteed fresh spinach to create a dish that's satisfying and tasty!
Ingredients
6 Tablespoon Unsalted Butter, (divided)
1/2 Cup White Onion, (diced)
2 Large Garlic Cloves, (minced)
4 Tablespoons All-Purpose Flour
1 Cup Milk, (we used whole)
1 Cup Heavy Cream
1/4 Teaspoon Ground Nutmeg
Salt and Pepper to Taste
16 Ounces Spinach, (fresh, washed, dried)
Instructions
In a large, heavy bottomed saucepan heat 4 tablespoons of butter over low-medium heat. Add the onion and cook until the onion begins to soften and become translucent, about 4 to 5 minutes. Add the garlic and cook an additional 30 seconds just until the garlic becomes fragrant.
Next, sprinkle in the flour, and stir to combine. Cook the mixture for 4 to 5 minutes to remove any raw flour flavor. Then, pour in milk and heavy cream. Whisk to combine, making sure there are no lumps of flour and the mixture is smooth. Add the nutmeg, salt, and pepper, and continue to whisk until the mixture begins to thicken, about 5 to 7 minutes. Don't let the liquid bubble or boil. Otherwise, it may separate and curdle. After the mixture thickens, remove it from heat and set aside.
In a separate large pan, melt the remaining 2 tablespoons of butter over low-medium heat. Add as much spinach to the pan that will fit. As the spinach wilts, add any remaining spinach until all the spinach has been added. Stir the spinach until all the spinach is wilted, about 10 minutes. Drain any excess liquid off the spinach, then transfer to the pan with the cream sauce. Toss the spinach in the cream sauce to evenly coat. Serve hot.
Notes
The calories listed are an approximation based on the ingredients and a serving size of half (1/2) a cup of the creamed spinach. Additionally, the calorie count does NOT include the extra garlic cloves seen in the photos as garnish. Actual calories will vary. The cream spinach can be stored in your fridge, in a sealed container, for up to three (3) days.
Recommended Products
As an Amazon Associate and member of other affiliate programs, I earn from qualifying purchases.
Nutrition Information:
Yield:
8
Serving Size:
0.5 Cup
Amount Per Serving:
Calories:

229
Total Fat:

21g
Saturated Fat:

13g
Unsaturated Fat:

0g
Cholesterol:

66mg
Sodium:

145mg
Carbohydrates:

8g
Fiber:

2g
Sugar:

2g
Protein:

4g