Craving a spicy fettuccine alfredo? We took a traditional alfredo sauce and infused it with creole seasonings to create a spicy dish guaranteed to please.
When Kim and I first met, one of our favorite places to eat was Red Lobster. Kim enjoyed an angel hair pasta recipe, while preferred a dish with a little more kick.
As time has gone by, their menu items have changed and so have we. As a result, Kim and I go to different restaurants now.
However, from time to time, I get a craving for one of those old menu items. Specifically, the spicy Cajun fettuccine alfredo.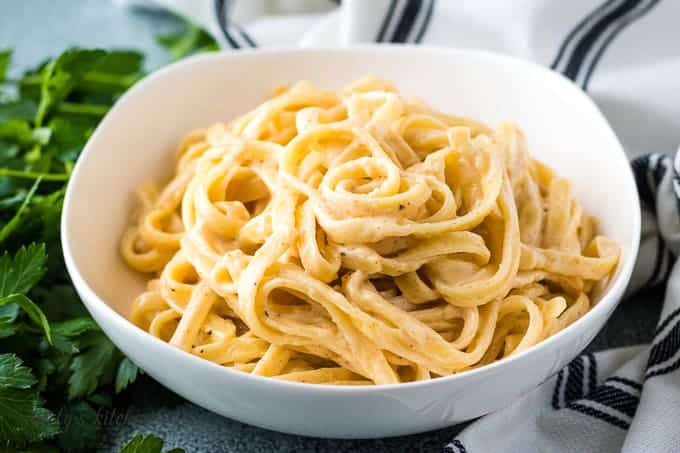 Spicy alfredo sauce tossed with al dente fettuccine noodles. In my opinion, pasta night doesn't get much better than that.
For today's recipe, we're sharing our version of this classic dish. I started with a simple cream sauce and spiced it up with Cajun seasonings.
As I noted in the tips below, you can toss in any type of protein you like. Blackened chicken breast works perfectly to create a spicy chicken alfredo recipe.
So, shall we get started on this Cajun pasta sauce?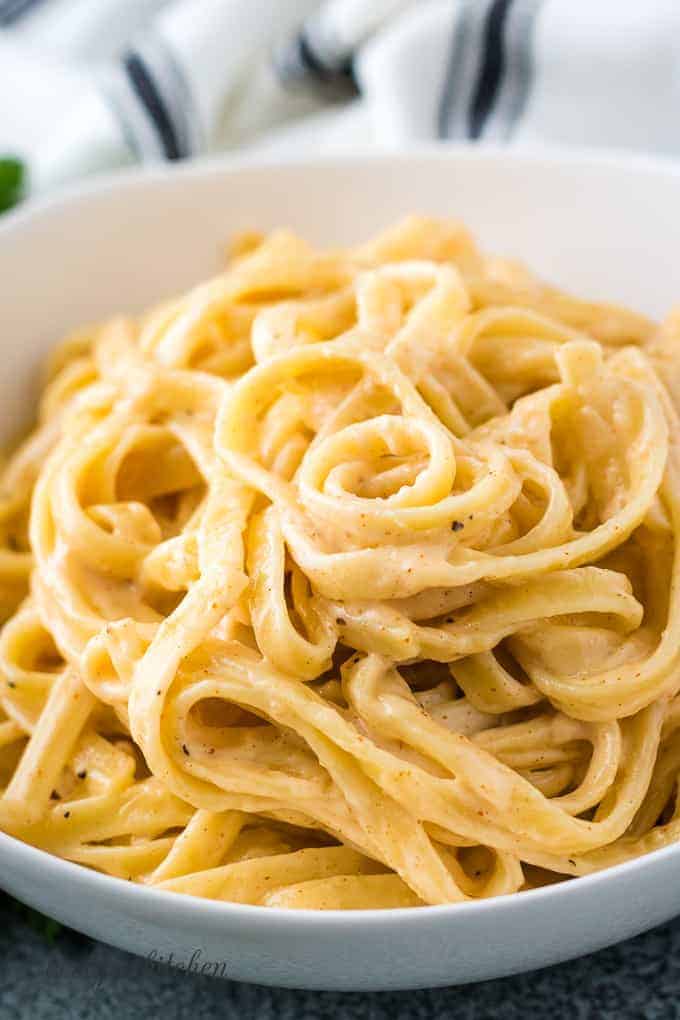 How to make spicy fettuccine alfredo:
First things first, go ahead and prepare the pasta noodles, per the box instructions. Drain the fettuccine noodles and set them aside.
If you have experience making a simple bechamel sauce, then you could make this spicy alfredo while the noodles cook.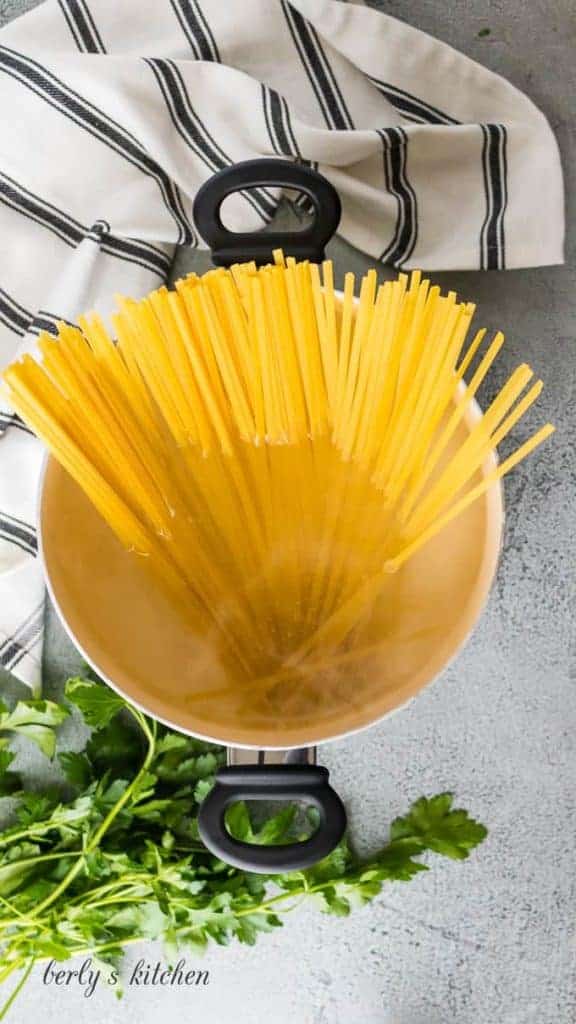 After that, go ahead and shred the Parmesan cheese. If you're using pre-shredded or shaved, that's okay too.
Next, in a medium saucepan, add the butter and let it melt on low to medium-low heat.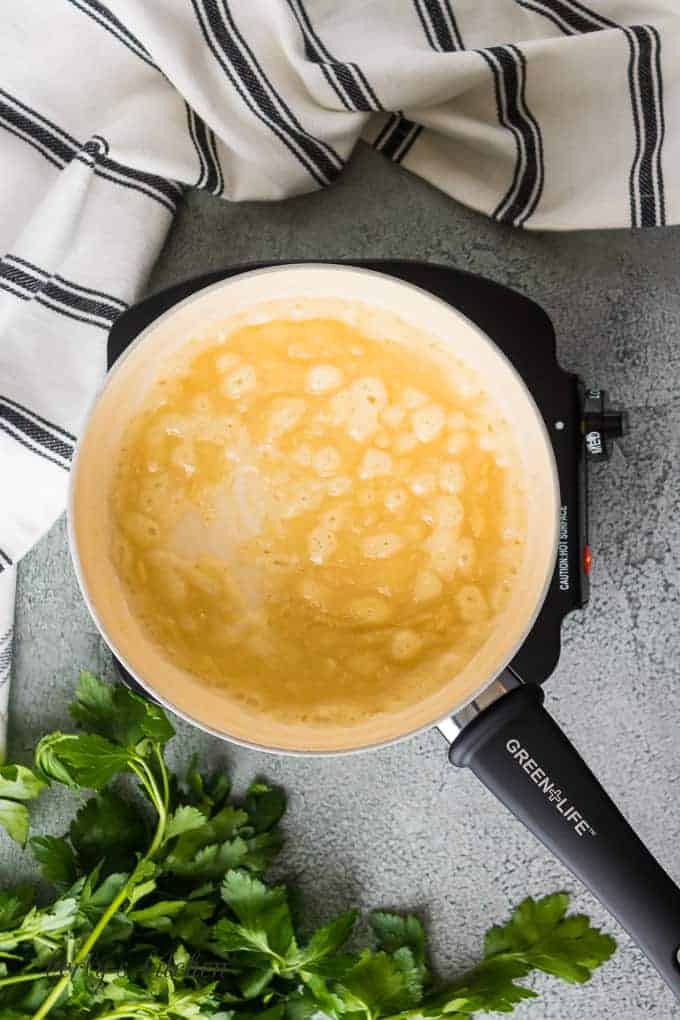 Once the butter has melted, whisk in the flour and let the mixture cook for approximately two minutes.
Keep whisking the blonde roux as the flour cooks. This mixture will thicken the sauce.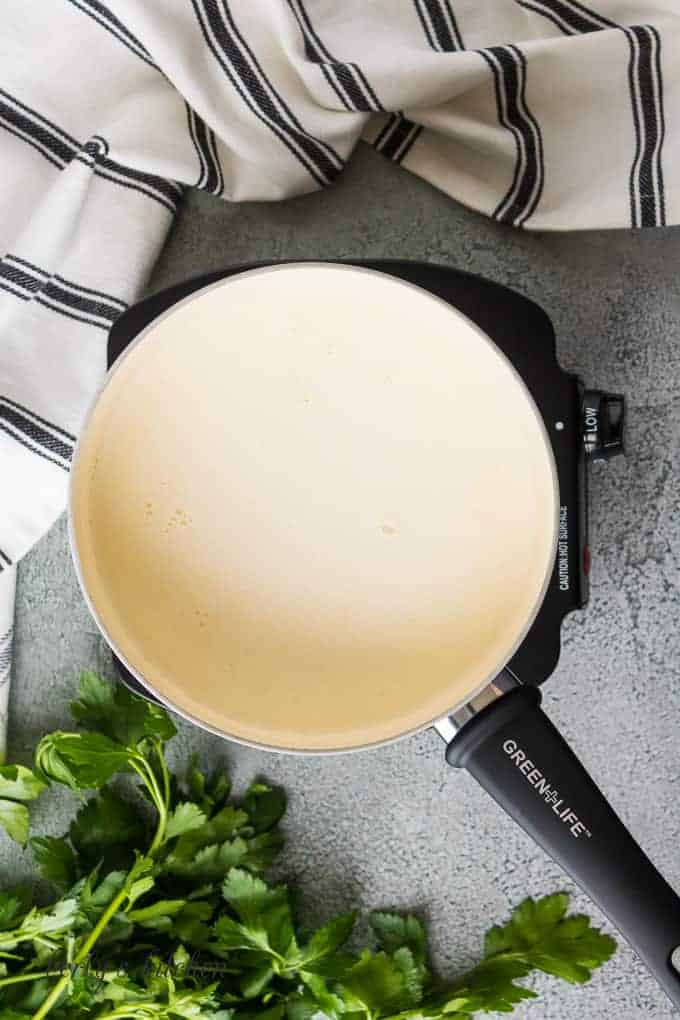 Now, stir in the milk, heavy cream, Cajun or creole seasonings. Keep whisking the ingredients as they cook for an additional seven to ten minutes.
The liquid should start to steam lightly. Don't let it come to a boil or your spicy fettuccine will break.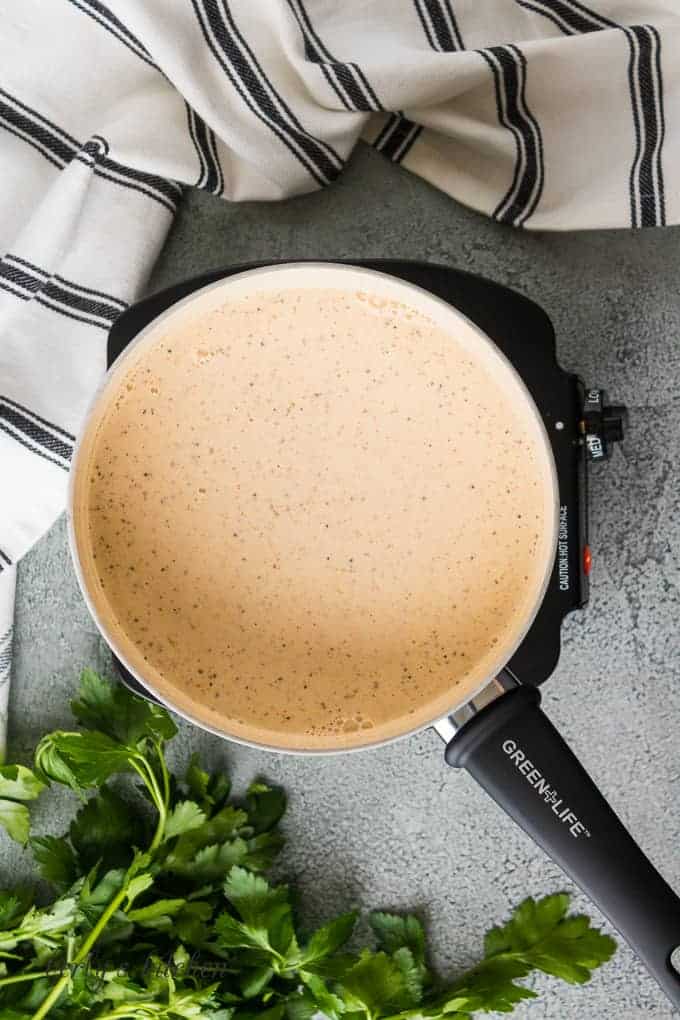 Then, start adding the Parmesan cheese. Add small handfuls of cheese, one at a time, while whisking the sauce. Make sure to melt all the Parmesan before adding more.
Because, if too much cheese gets added too quickly, it won't melt. Instead, it will stick to the bottom of the pan and burn.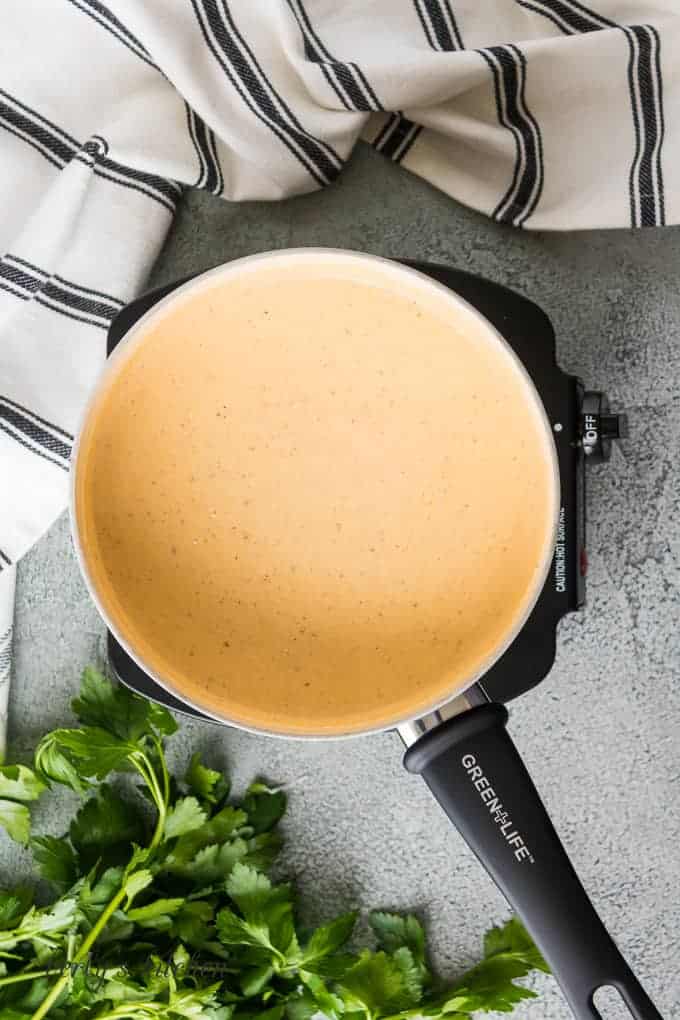 Last, after all the Parmesan has melted, stir the sauce until the alfredo thickens to your desired consistency.
Serve the spicy Cajun pasta sauce over the fettuccine noodles. Also, I recommend serving this Cajun fettuccine recipe with copycat cheddar bay biscuits!
What's the difference between alfredo sauce and bechamel sauce?
The main differences are that a traditional bechamel sauce contains freshly ground nutmeg and no Parmesan cheese. It's a simple buttery, cream-based sauce.
Whereas, an alfredo sauce does not contain nutmeg in the recipe. Furthermore, grated or shredded Parmesan cheese is melted into the butter and cream based sauce.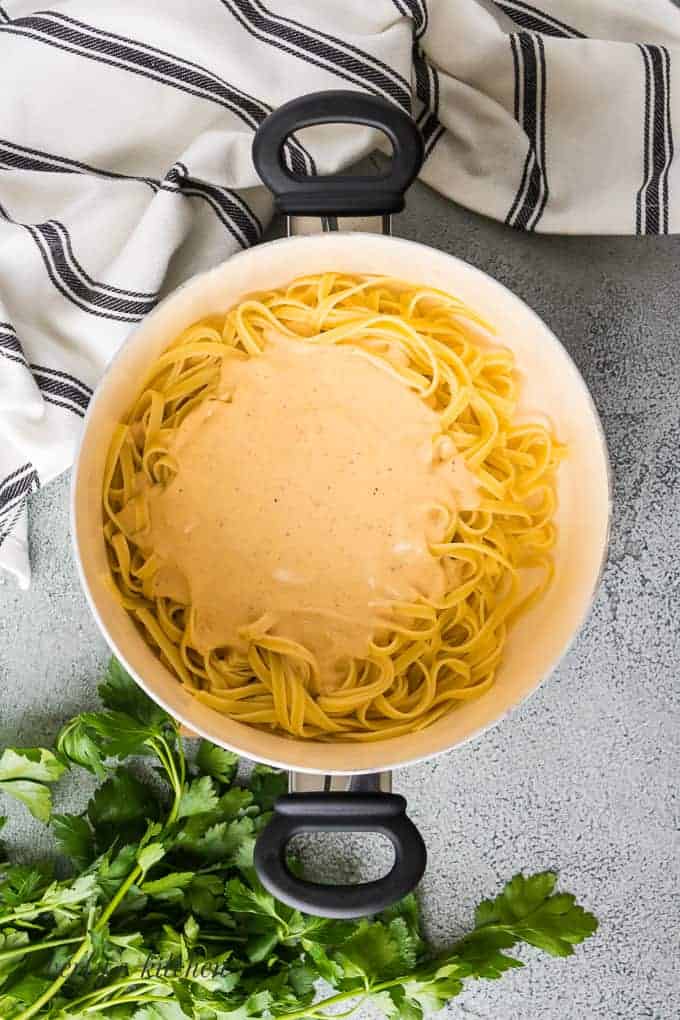 Spicy Fettuccine Alfredo Recipe Tips:
You can create a similar sauce by combining a jar of store-bought alfredo sauce with a teaspoon of Cajun seasonings. If needed, taste test the sauce and add more spice if you want.
To reheat our sauce, place it in a small saucepan over low heat. Then add two (2) to three (3) tablespoons of milk to the chilled sauce. Stir the spicy alfredo pasta as it warms up. The added liquid will help keep the sauce from breaking as it reheats.
Feel free to add chicken, shrimp, or even white fish to your pasta. Cooking is all about being creative and making something you'll enjoy. so experiment and have fun!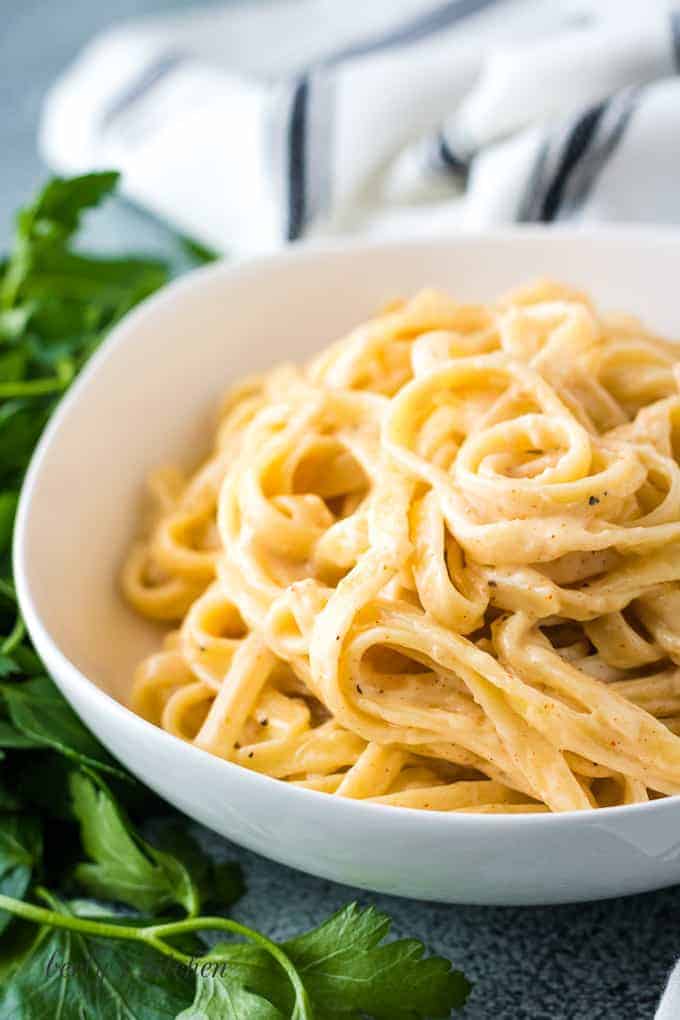 Don't forget to check out our Spicy Fettuccine Alfredo web story!
Yield: 4 Servings
Spicy Fettuccine Alfredo Recipe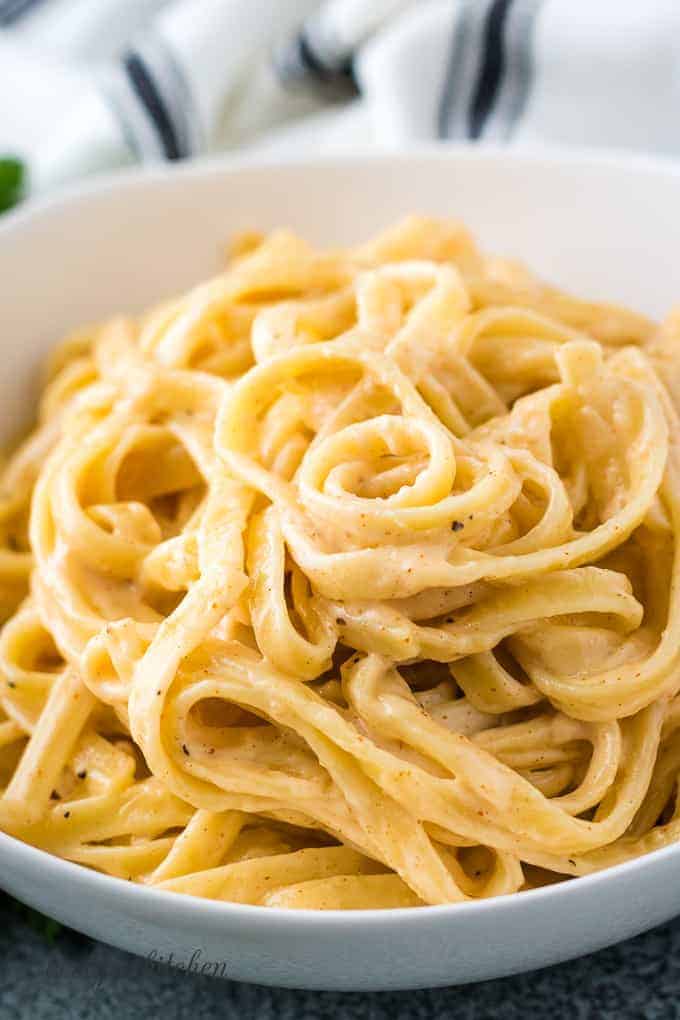 Craving a spicy fettuccine alfredo? We took a traditional alfredo sauce and infused it with creole seasonings to create a spicy dish guaranteed to please.
Ingredients
8 Ounces Dry Fettuccine, (then cooked per box instructions)
3 Tablespoons Unsalted Butter
3 Tablespoons All-Purpose Flour
1 Cup Milk, (whole)
1 Cup Heavy Cream
1 Teaspoon Cajun Seasoning, (or to taste)
2 Cups Parmesan Cheese, (shredded)
Instructions
Cook fettuccine noodles according to package directions, drain, then set aside.
While the noodles cook, make the sauce. In a medium saucepan, melt the butter over low-medium heat. Add the flour and whisk until combined. Continue to whisk for an additional 2 to 3 minutes to cook out the raw flour taste.
Pour in the milk, heavy cream, and Cajun seasoning. Whisk continuously until the mixture begins to steam slightly (don't let it boil). Add small handfuls of cheese and whisk between each handful until the cheese is completely melted. Repeat until all the cheese is used. Continue to cook over low heat until the sauce reaches the desired thickness. Remove from heat.
Pour the sauce over the cooked noodles and toss to combine. Serve hot!
Notes
The calories listed are an approximation based on the ingredients and a serving size of two (2) ounces of pasta tossed with one-fourth (1/4) of spicy alfredo sauce. You should have about a cup of the finished sauce leftover once all four (4) servings have been eaten. Leftovers can be stored in a sealed container, in your fridge, for up to three (3) days. Actual calories will vary.
Recommended Products
As an Amazon Associate and member of other affiliate programs, I earn from qualifying purchases.
Nutrition Information:
Yield:
4
Serving Size:
2 Ounces
Amount Per Serving:
Calories:

482
Total Fat:

48g
Saturated Fat:

29g
Unsaturated Fat:

0g
Cholesterol:

192mg
Sodium:

937mg
Carbohydrates:

51g
Fiber:

2g
Sugar:

5g
Protein:

30g