In about 20 minutes you can create a simple angel hair pasta recipe with endless possibilities. Delicious as-is or add meat and veggies for a filling dish!
I was looking through our catalogue of recipes and realized, we don't have an aglio e olio recipe. Which is kind of strange when think about how many pasta dishes we have in our library.
So, when Kim decided to make a simple angel hair pasta recipe, I was completely on board.
Tender pasta tossed with extra virgin olive oil, crushed red pepper, minced garlic, and Italian parsley. Best of all, it's done in less than thirty minutes.
How can you go wrong with a combination like that?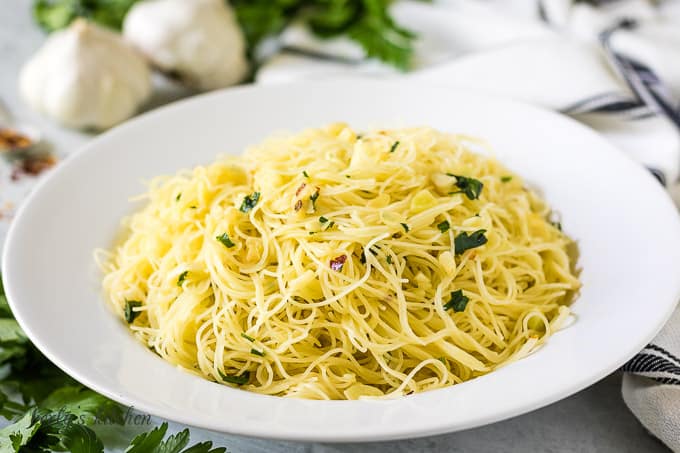 How to make our angel hair pasta recipe:
First, boil the angel hair pasta per the package instructions. Personally, I usually add at least two (2) tablespoons of sea salt to my pasta water.
It helps to flavor the noodles and keeps you from over salting the dish later on. Once the pasta is done, drain it and set it aside.
I do the same thing fr lasagna noodles, as well. Also, remember to keep a fourth of a cup (1/4) of the pasta water reserved, just in case you need it to finish the aglio olio.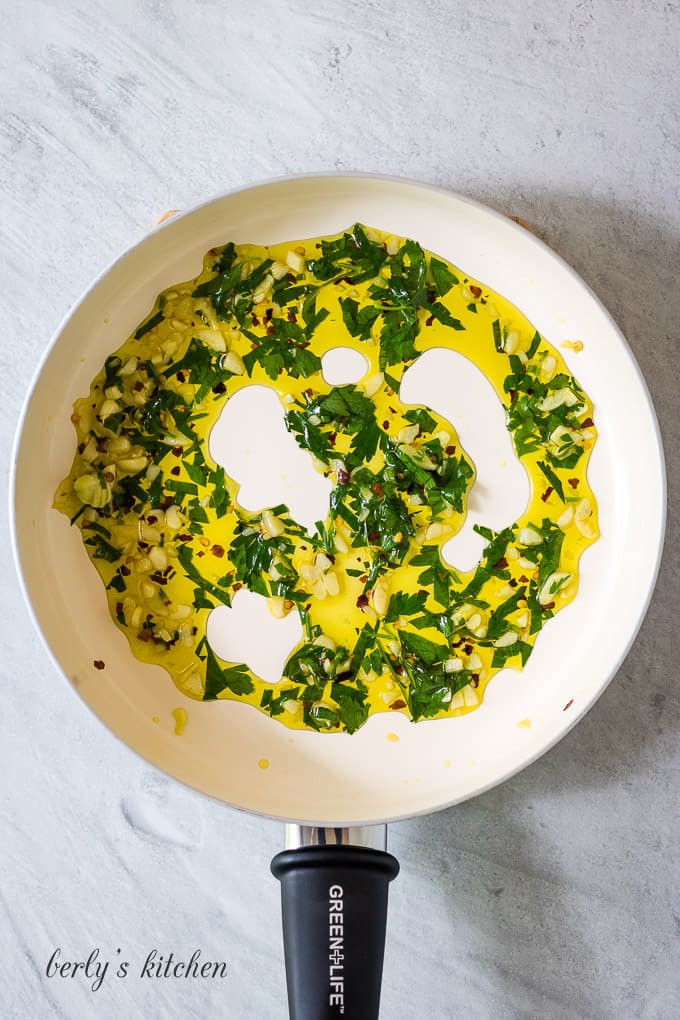 Next, grab a large skillet and place it over low-medium heat. Add the olive oil and let it heat a little before adding the garlic.
However, if at any point, the oil starts to smoke, then it's too hot and will scorch the garlic and herbs. At that point, you would need to start over.
Once the oil is warm, add the garlic and let it cook for about two (2) minutes. Now, add the chopped parsley and red pepper flakes.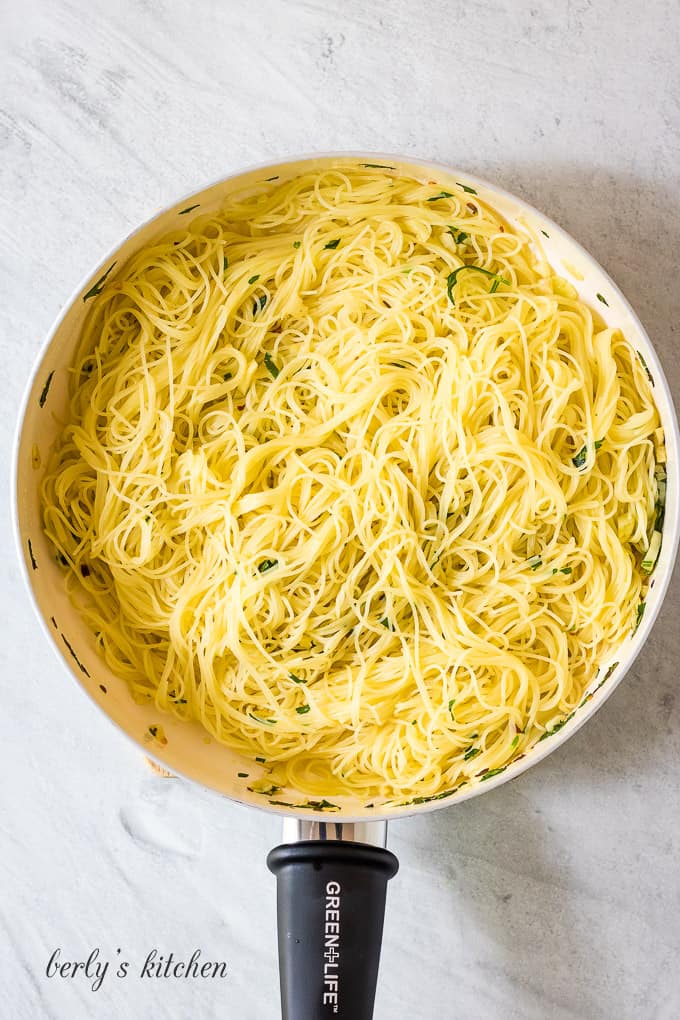 Then, remove the skillet from the heat and toss in the pasta. Place the skillet back on the burner and stir the angel hair to coat it in olive oil.
If the aglio e olio seems too dry than add splashes of the reserved pasta water to the pan.
Last, once the noodles are properly coated, turn off the heat and serve the dish with any toppings you desire.
That's it, your angel hair pasta recipe is done! Kim and I hope you enjoy the meal and wish you all the best 🙂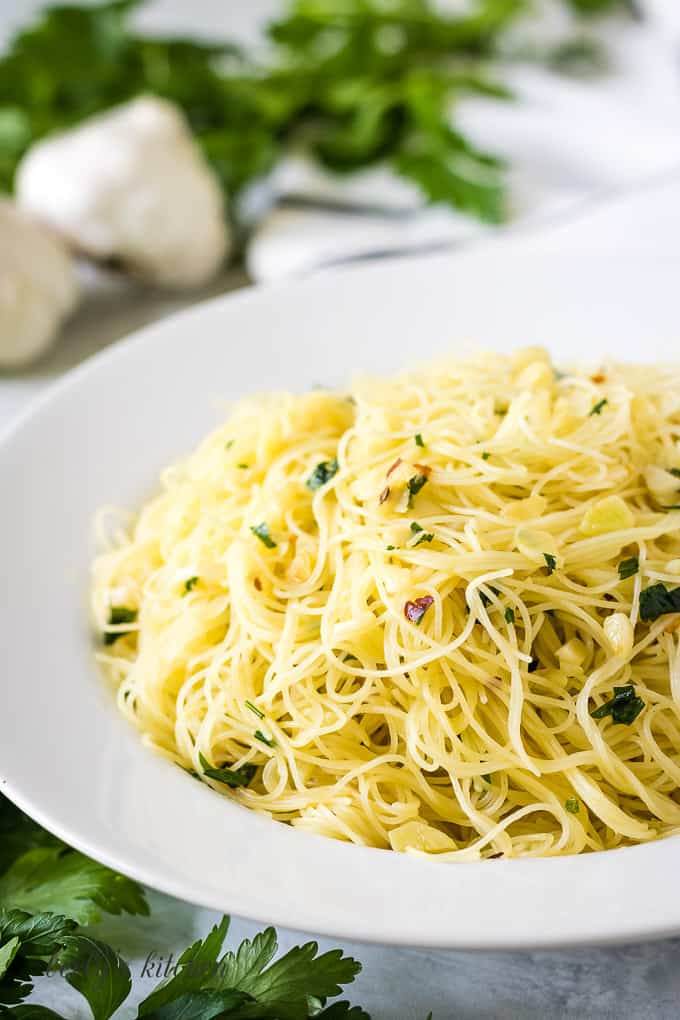 Pasta Topping Ideas:
Spanish Olives
Sauteed or Broiled Shrimp
Grilled Chicken
Parmesan Cheese
Sun Dried Tomatoes
Sauteed Onions
Fresh Arugula
Fresh Spinach
Feta Cheese
What Can I substitute for angel hair pasta?
For this recipe, you can use cappellini, fettuccine, or spaghetti. It won't be as light but, it will still work just fine.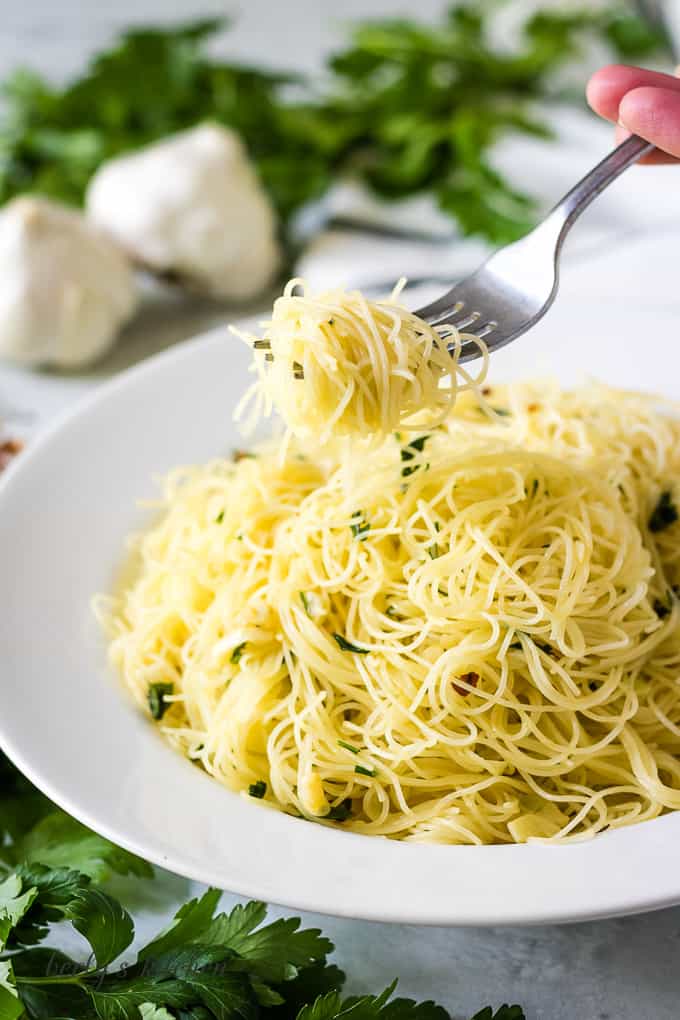 Don't forget to check out our Angel Hair Pasta web story!
If you like our angel hair pasta recipe, please leave us a comment and rate the recipe card. You can also find us on Facebook, Pinterest, Twitter and Instagram searching for Berly's Kitchen!
Yield: 4 Servings
Angel Hair Pasta Recipe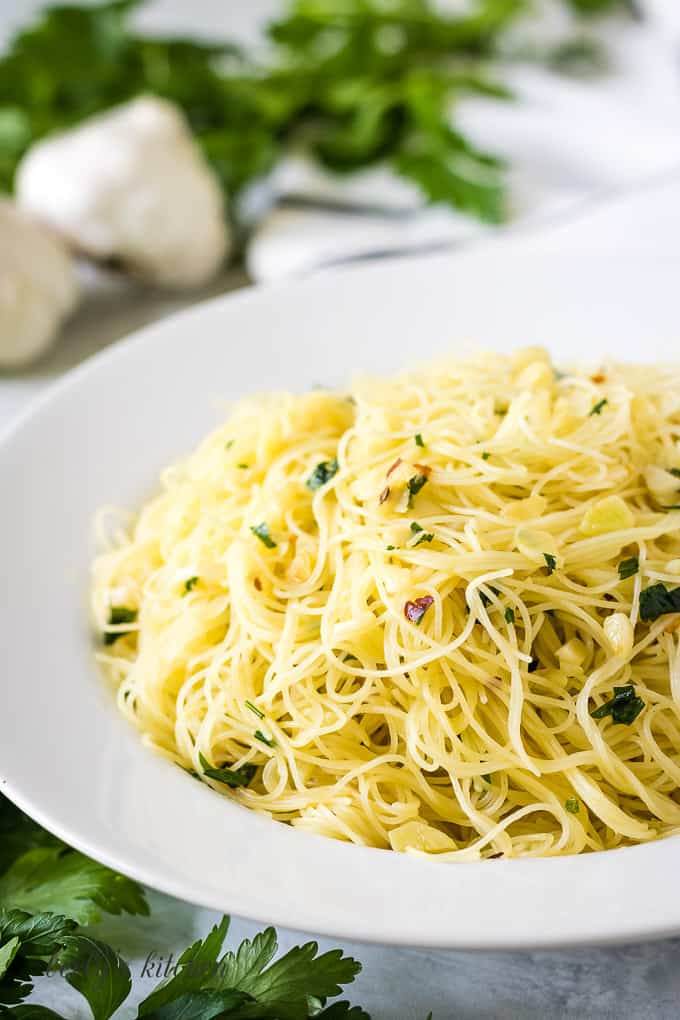 In about 20 minutes you can create a simple angel hair pasta recipe with endless possibilities. Delicious as-is or add meat and veggies for a filling dish!
Ingredients
8 Ounces Angel Hair Pasta
4 Tablespoons Extra Virgin Olive Oil
6 Medium Garlic Cloves, (minced, or six ((6)) teaspoons of minced)
1/2 Teaspoon Red Pepper Flakes, (or to taste)
1/8 Cup Italian Parsley, (fresh, finely chopped)
1/4 Cup Pasta Water, (reserved)
Salt and Pepper to Taste
Instructions
Cook the angel hair in salted water according to the package directions. Reserve ¼ cup of the pasta water, and set aside the drained pasta.
In a large skillet, heat the olive oil over low-medium heat. Add the garlic, and cook for 2-3 minutes. Take care not to let the garlic turn brown. Add the red pepper and parsley, then remove from heat.
Add the drained pasta to the garlic and olive oil mixture, then return to low-medium heat. Toss the noodles with the oil to coat. Pour in splashes of pasta water as needed to loosen the sauce.
Serve immediately with freshly grated Parmesan cheese, salt and pepper to taste.
Notes
The calories listed are an approximation based on the ingredients and a serving size of two (2) ounces of angel hair pasta. Actual calories will vary. The finished aglio olio (angel hair pasta recipe) can be stored in your fridge, in a sealed container, for up to three (3) days.
Recommended Products
As an Amazon Associate and member of other affiliate programs, I earn from qualifying purchases.
Nutrition Information:
Yield:
4
Serving Size:
2 Ounces
Amount Per Serving:
Calories:

342
Total Fat:

15g
Saturated Fat:

2g
Unsaturated Fat:

0g
Sodium:

10mg
Carbohydrates:

44g
Fiber:

2g
Sugar:

2g
Protein:

8g