Treat yourself to our vanilla cake donuts with fudgy Nutella glaze for a decadent, sweet treat. It's perfect for breakfast or dessert!
Vanilla cake donuts have always been a guilty pleasure of mine. They are dense, flavorful, and not overly sweet.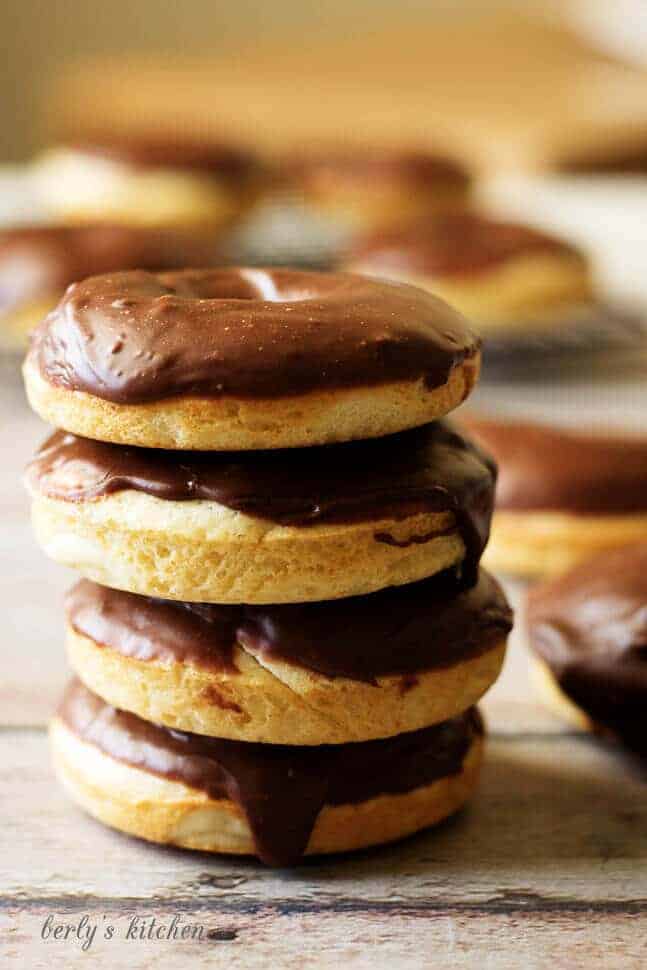 While they are usually served with a simple glaze, Kim decided to take her version up to a new level.
She originally got the idea to make cake donuts from another blogger.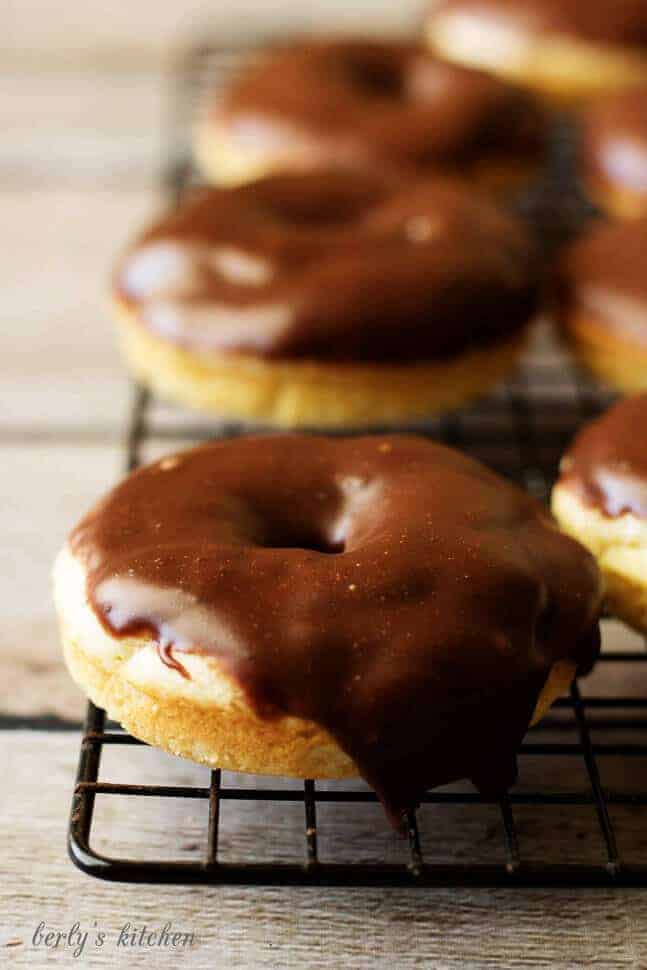 The Domestic Rebel has a delicious and straightforward cake donut recipe that Kim adapted for our post. The original recipe can be found by clicking this link.
I encourage you to check the website because there are a lot of great dishes! I am not sure why Kim decided to use Nutella in the glaze, but I am glad she did.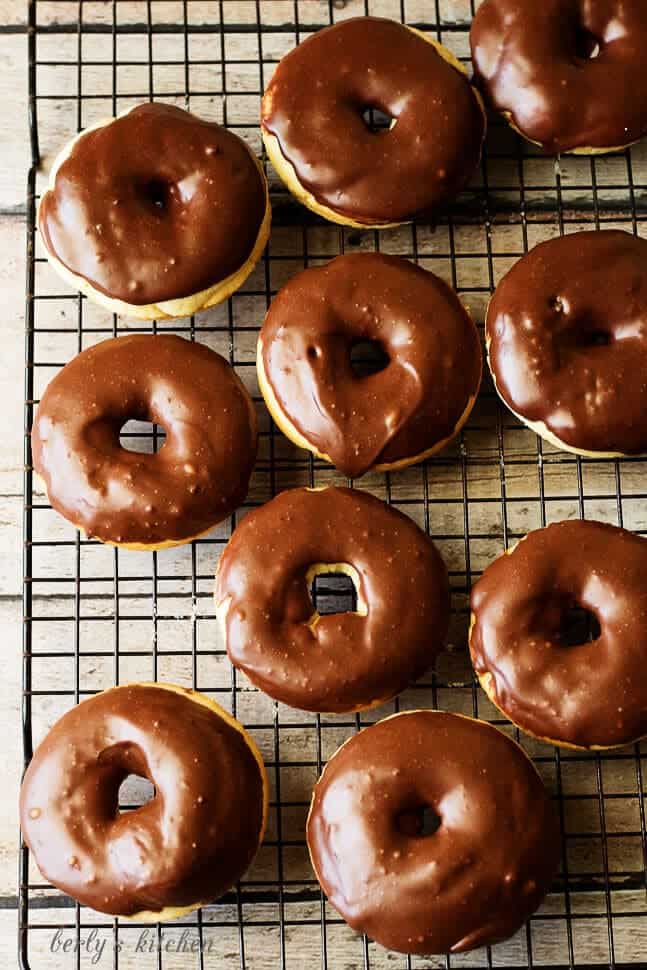 The chocolate fudge and hazelnut combination works perfectly on the somewhat tart donuts. Furthermore, the glaze is not quite as sweet as it appears.
Don't get me wrong; it's rich but not as overwhelming as something you would get at your local grocery store. You could also use Nutella frosting instead of the glaze.
Density is important when it comes to cake donuts, and this dough delivers.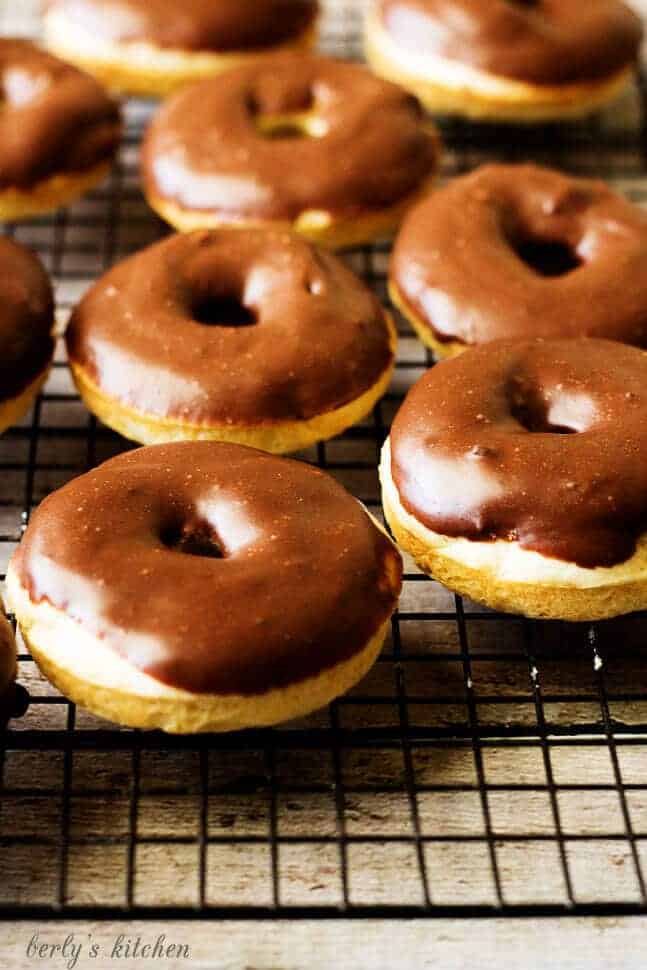 Vanilla Cake Donut Tips:
I am not going to get into the instructions here because they are already listed on the recipe card. However, I will offer a few tips.
Try not to substitute buttermilk for milk. Kim tried that on the first batch of donuts and they stuck to the pan and crumbled apart.
We are not exactly sure why that happened, but we suspected the liquid swap. Types of liquid and batter thickness can have an impact on this recipe.
Similar to our breakfast tacos, you don't want the batter to be too thick. Otherwise, it won't cook up properly.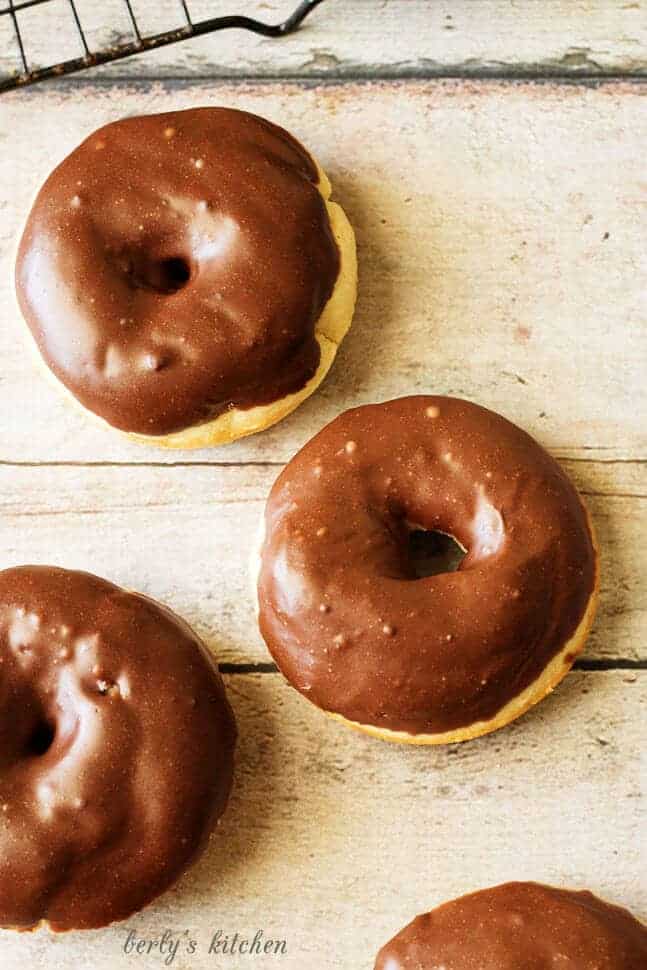 Additionally, a pastry bag isn't necessary for this vanilla cake donuts recipe. If you have a large Ziplock bag, then put the dough into it and slice off one tip to make a bag.
Also, you could use a cupcake decorator as Kim used. It works really well. That's about all there is to it.
The main thing to remember is if things don't work the first time, try again. As always, I wish everyone a long life, love everlasting, and a full tummy!
Looking for another decadent sweet treat? Then check out our Brownie Mix Turtle Brownies!
If you like this recipe, please leave us a comment and rate the recipe card. You can also find us on Facebook, Pinterest, Twitter and Instagram searching for Berly's Kitchen!
Yield: 12 Servings
Vanilla Cake Donuts with Fudgy Nutella Glaze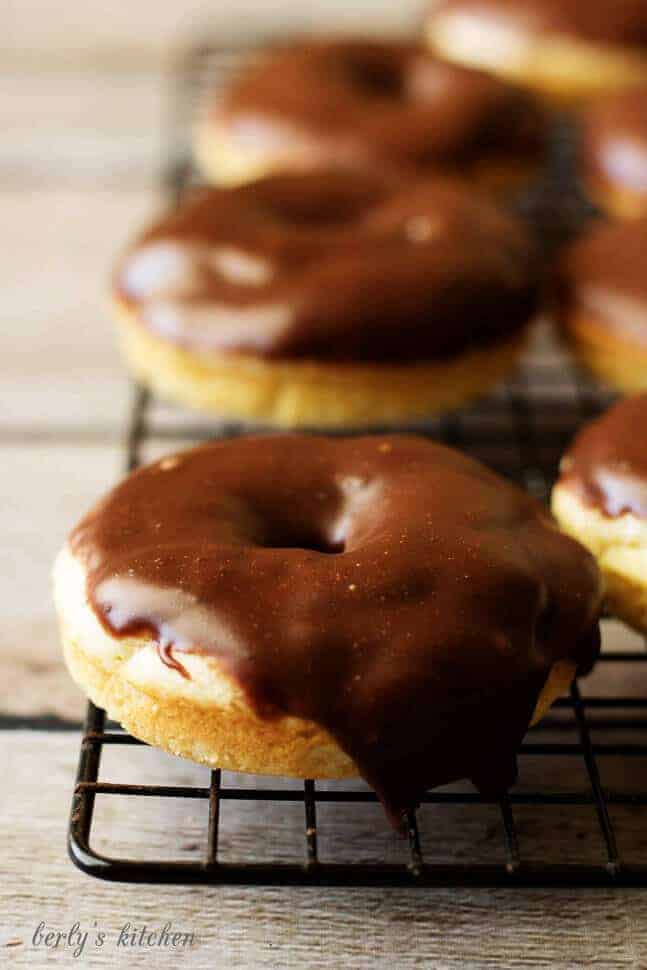 Treat yourself to our vanilla cake donuts with fudgy Nutella glaze for a decadent, sweet treat. It's perfect for breakfast or dessert!
Total Time
1 hour
10 minutes
Ingredients
Donuts
2 Cups All-purpose Flour
1/2 Cup Cake Flour
3/4 Cup Granulated Sugar
2 Teaspoons Baking Powder
1/2 Teaspoon Salt
1/2 Teaspoon Baking Soda
4 Tablespoons Unsalted Butter, (very cold, cubed)
2 Large Eggs
1 Cup Sour Cream
1 Tablespoon Vanilla Extract
Fudgy Nutella Glaze
3/4 Cup Powdered or Confectioner's Sugar
4 Tablespoons Nutella
2-3 Tablespoons Milk, (depending on desired thickness)
2 Tablespoons Unsweetened Cocoa Powder
Instructions
Donuts
First, preheat oven to 350 degrees F.
Next, grease donut pan(s) with non-stick cooking spray.
After that, combine both flours, granulated sugar, baking powder, salt, and baking soda in a large bowl. Whisk all the ingredients together.
Then, add the butter to the bowl using a pastry cutter. The mixture should look like grainy sand.
Afterward, in a separate bowl, whisk the eggs until they are frothy and then add the sour cream and vanilla. Stir everything together to make sure they are smooth and creamy.
Now, mix the wet and dry ingredients together to create the dough.
Lastly, put the dough into a pastry bag and fill the donut pan(s) with the batter. Each donut should be filled 2/3 full so that they can rise properly. Bake them for about 10 to 15 minutes. Remove the pan(s) from the oven so they can cool off before you glaze the donuts.
Fudgy Nutella Glaze
First, in a small bowl, sift together the powdered sugar and cocoa powder to remove any lumps.
Next, in a separate small bowl, warm the Nutella in the microwave for 10-15 seconds on high (just enough to make it easier to stir).
Now, combine the powdered sugar, cocoa, Nutella and milk and stir them together. If the glaze is too thick, add additional milk (1 teaspoon at a time). However, if the mixture is too thin, then add extra powdered sugar (1 teaspoon at a time).
Last, dip the top of one donut into the glaze and let the excess drip off. You can place on a cooling rack to set. Continue the process with the remaining donuts.
Notes
The calorie count listed is an approximation based on the listed ingredients. The prep time includes the time needed for the donuts to cool before adding the glaze. This recipe makes about 12 donuts. You can store donuts in an airtight container for up to 3 days. The recipe was adapted from another blogger's website listed here.
Recommended Products
As an Amazon Associate and member of other affiliate programs, I earn from qualifying purchases.
Nutrition Information:
Yield:
12
Serving Size:
1 grams
Amount Per Serving:
Calories:

282
Unsaturated Fat:

0g