A warm, comforting cup of hot cocoa made with everyone's favorite chocolate hazelnut spread. It also has hints of cinnamon and a little added cocoa powder.
Have I mentioned we love Fall? I'm pretty sure that's a running theme on our blog from September to December.
Eventhough, December is technically Winter; we still enjoy all those amazing colors and flavors.
It just so happened the other day Kim, and I were sitting on the couch talking, and the conversation turned to hot cocoa.
Have you seen the Instant Pot Hot Cocoa or Pumpkin Spice Spiked Hot Cocoa already on the blog? They are great, but this one is different.
Kim has a wonderful homemade hot cocoa recipe we use, but I wanted to add a twist to it before sharing it on the blog.
Besides, we have to keep some of our recipes secret for the cookbook, right? After thinking about it, the idea seemed a little too good to be true.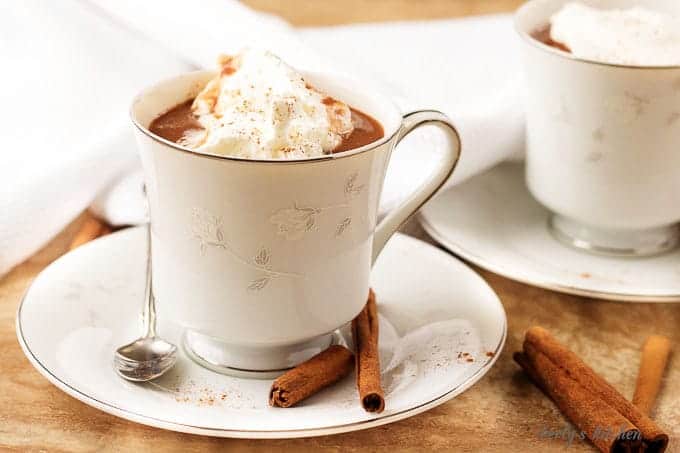 In spite of my original hesitation, we decided to add chocolate hazelnut spread and few other ingredients to the hot cocoa recipe. Fortunately, the results were amazing.
The spread melts perfectly into the drink and the extra touch of cinnamon and cocoa powder perks up the beverage.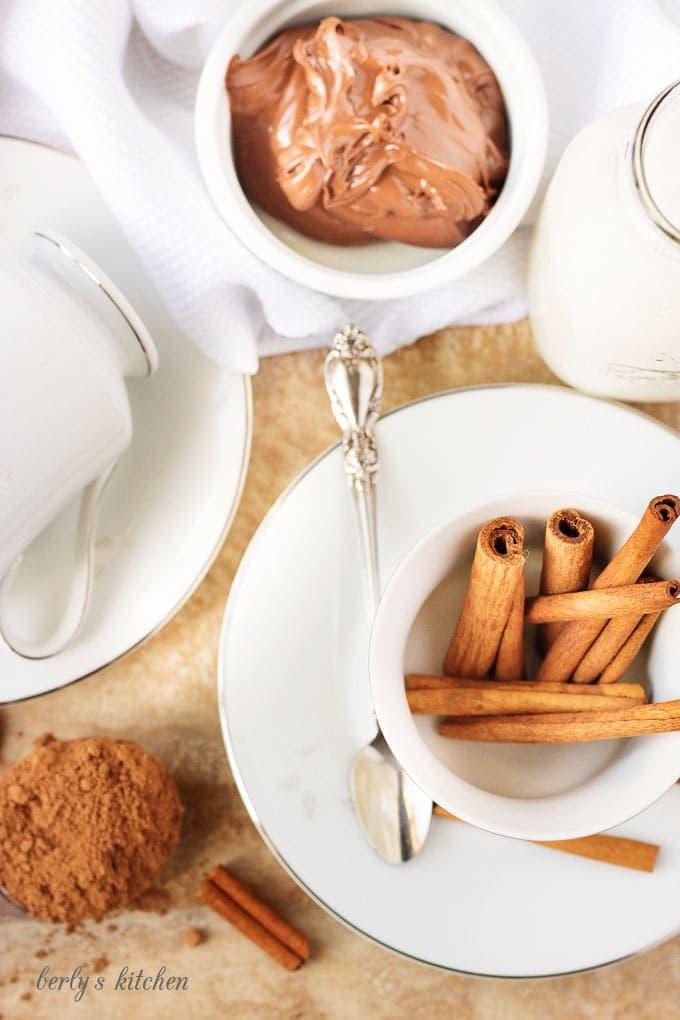 Instructions for Chocolate Hazelnut Hot Cocoa:
Preparing the hot cocoa could not be any easier. While it's "homemade," it takes so little time and effort, the process seems "semi-homemade."
First, grab the chocolate hazelnut spread, cinnamon, cocoa powder, and milk. In regards to the milk, we did use coconut milk instead of whole milk.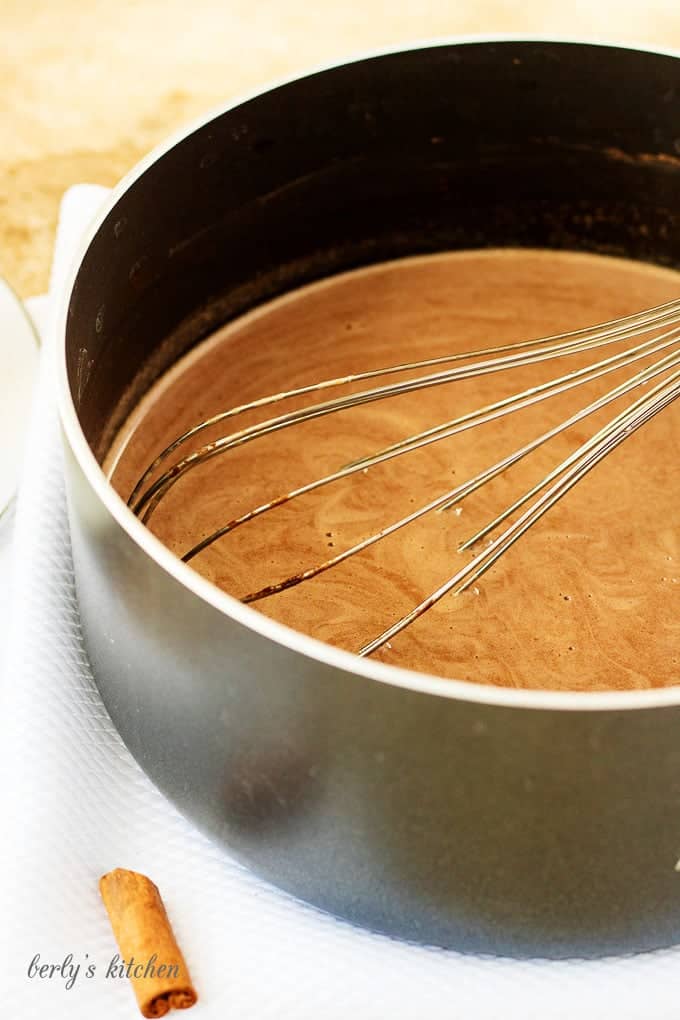 I am happy to report; it works well. Just keep in mind, dairy milk seems to work better when it comes to adding richness to the drink.
Next, add the cocoa ingredients to a medium saucepan. Then, slowly heat the mixture over medium heat while stirring everything together.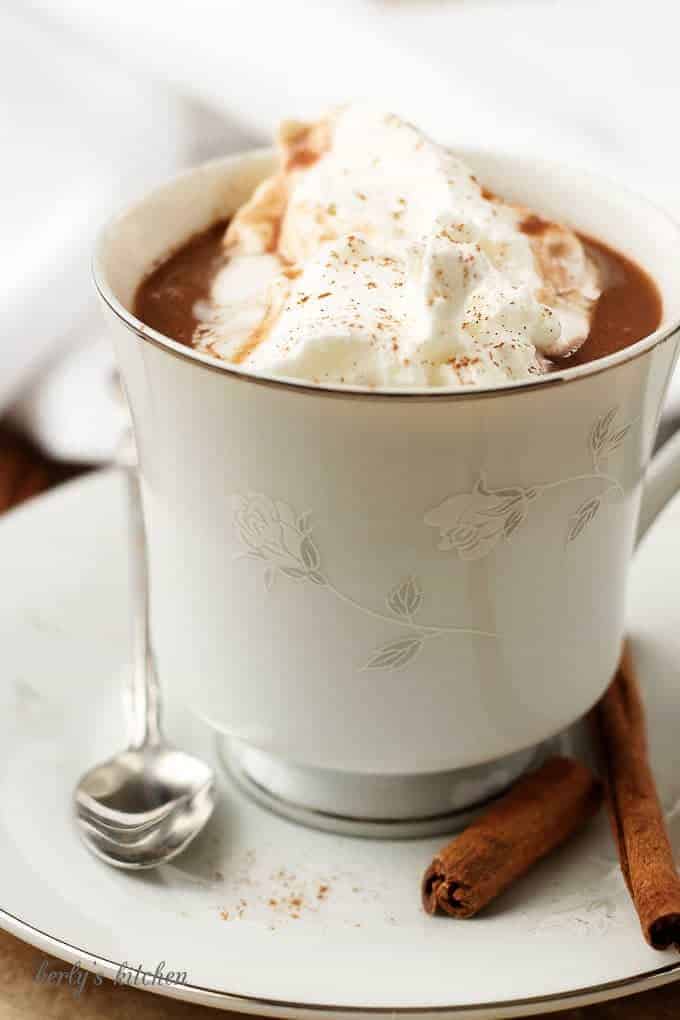 It only takes about five to seven minutes. Once the hot cocoa starts to steam, remove it from the heat and serve.
Don't let it boil. Last, you can garnish it with whipped topping, chocolate shavings, ground cinnamon, or anything else you desire.
In closing, I wish everyone a long life, love everlasting, and a belly full of warm cocoa.
If you like this recipe, please leave us a comment and rate the recipe card. You can also find us on Facebook, Pinterest, Twitter and Instagram searching for Berly's Kitchen!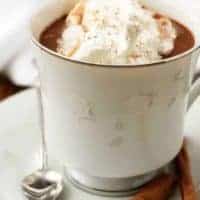 Chocolate Hazelnut Hot Cocoa
Print
Save
Saved!
Pin
I earn a commission from Amazon and Instacart from qualifying purchases.
Ingredients
4

tablespoons

Chocolate Hazelnut Spread

(we used Nutella)

16

ounces

Coconut or Whole Milk

(we used coconut milk)

1/2

teaspoon

unsweetened cocoa powder

(we used Nestle)

1/4

teaspoon

ground cinnamon

(plus a little extra for garnish)
Instructions
First, in a medium saucepan, combine the chocolate hazelnut spread, milk, cocoa powder, and ground cinnamon.

Next, heat the mixture over medium heat for about five to seven minutes. Stir constantly to make sure all the ingredients blend. Let the hot cocoa begin to steam.

Last, carefully pour the hot cocoa into four-ounce cups and serve. You can garnish it with ground cinnamon, whipped cream, chocolate shavings, or anything you like.
Notes
The calories listed are based on the ingredients, using whole milk, and are served in four-ounce serving sizes. We used coconut milk for our recipe, so it was not as rich or decadent. However, we wanted to know if it would work with a non-dairy milk product. The difference is small.
Nutrition
Serving:
4
ounces
|
Calories:
169
kcal
|
Carbohydrates:
17
g
|
Protein:
4
g
|
Fat:
9
g
|
Saturated Fat:
7
g
|
Cholesterol:
11
mg
|
Sodium:
56
mg
|
Fiber:
1
g
|
Sugar:
15
g