A deliciously simple whipped cream recipe made with amaretto. It takes boring whipped toppings to the next level!
If you follow our recipes then you probably already know we have other homemade whipped cream recipes.
The first one is a basic whipped topping without any frills. We also have some flavored with Irish cream, bourbon, and another flavored maple whipped cream.
Kim and I figured, why not add another flavored topping to the site? Our amaretto whipped cream is an almond flavored take on the dish.
It's perfect for after dinner drinks like decaf coffee. It doesn't take long to make and only requires a few ingredients. To be honest, I'm not sure why there aren't more flavored whipped creams on the market. But, I digress.
I assume, you're not here to chat about trends, you're here for the food. Let's get started!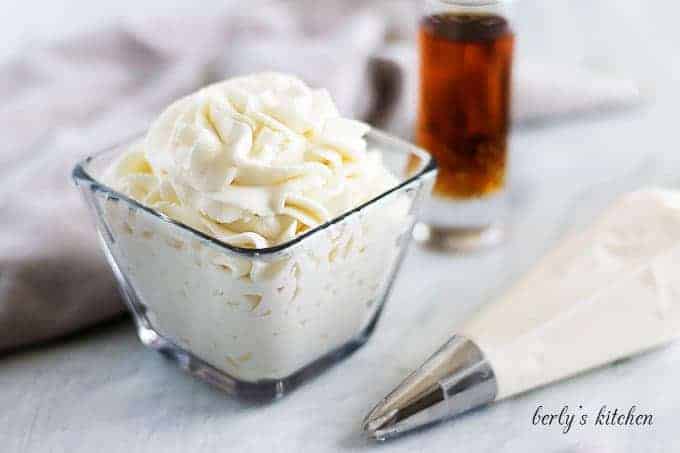 Amaretto Whipped Cream Instructions:
As I have mentioned many times before, you always start by gathering your ingredients and kitchen tools.
Measure out the amaretto, heavy cream, and powdered sugar. Go ahead and grab a hand mixer and bowl or your stand mixer.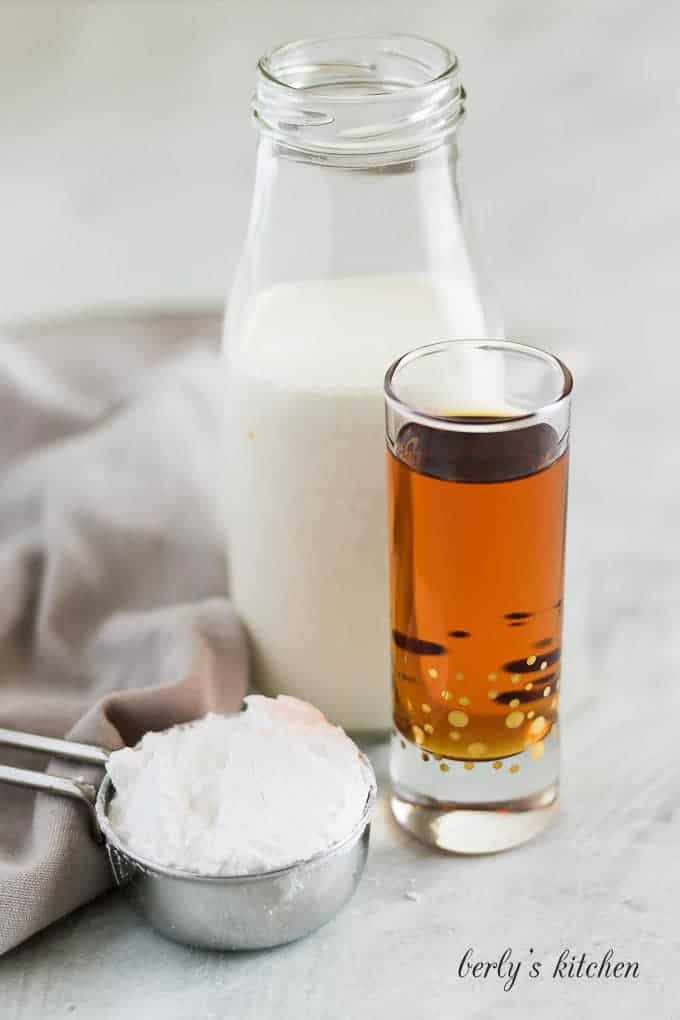 After that, combine the heavy cream and sugar in a mixing bowl. Beat them together for about 3 minutes.
The powdered sugar should be completely dissolved. Had we used granulated sugar, your amaretto whipped cream would have been grainy.
At this point, increase the mixer speed to medium and whip the cream until soft peaks form. See the picture below as a reference.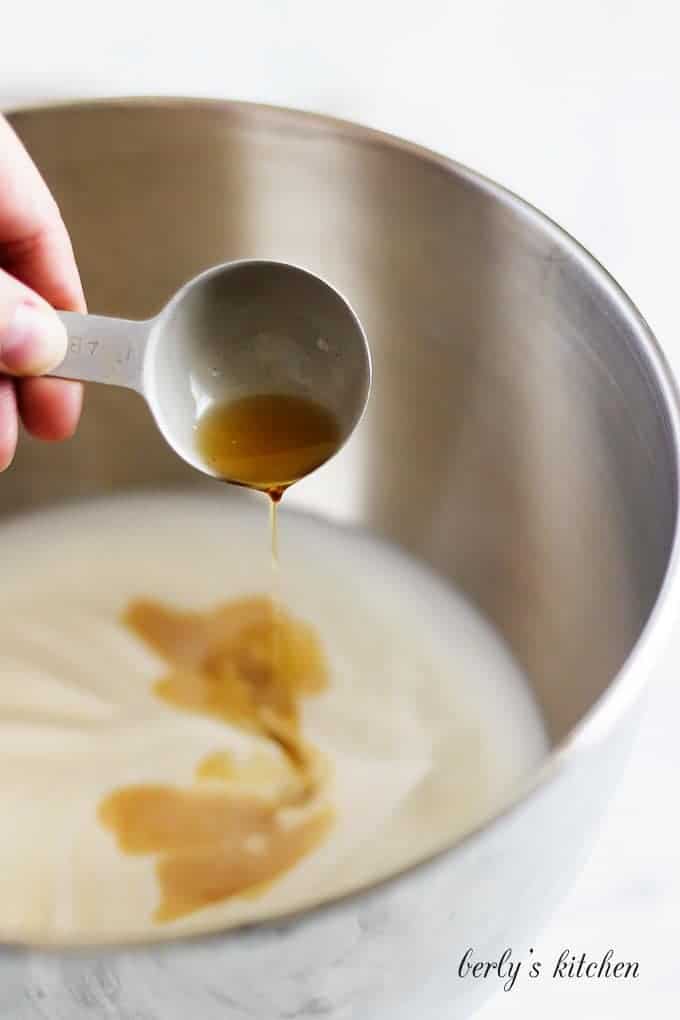 Then, turn off your mixer long enough to add the amaretto. Once it's added, continue beating the heavy cream until it forms stiff peaks.
That's it, your amaretto whipped cream is done! Kim and I hope you enjoyed the recipe and wish you all the best!!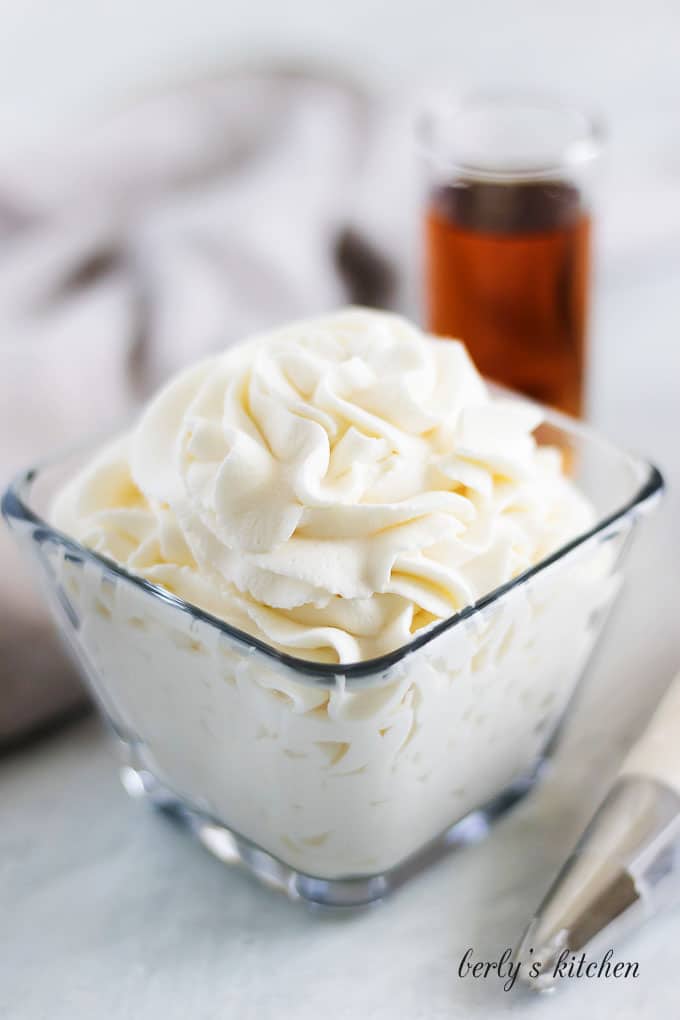 Amaretto Whipped Cream Recipe Tips:
I've been asked, "What is whipped cream made of?" Maybe not in those exact words, but it has happened in the past. Your basic recipe consists of heavy cream that is whipped with a hand or stand mixer, that's it. Variations include adding vanilla extract, sugar, various liqueurs, and flavoring extracts like hazelnut or mint.
Okay, so you want to make this recipe but don't care for alcohol. Amaretto flavoring consists of almonds. So, you can buy an amaretto extract and use it instead of the alcohol (Disaronno). However, I would not recommend using the same amount. Try folding in a 1/4 of a teaspoon, then taste test, and add more as needed.
"How long does homemade whipped cream last?" Personally, I use my own 3 day standard. After 3 days, it's questionable. Now, you might be wondering, why 3 days? Well, a long time ago, I was ServSafe certified. That's a certification in food safety that requires training and testing.
Since I can't remember the exact hold time for every single type of food, I use the standard 3 day rule. Better to be safe than sorry.
Yield: 8 Servings
Amaretto Whipped Cream Recipe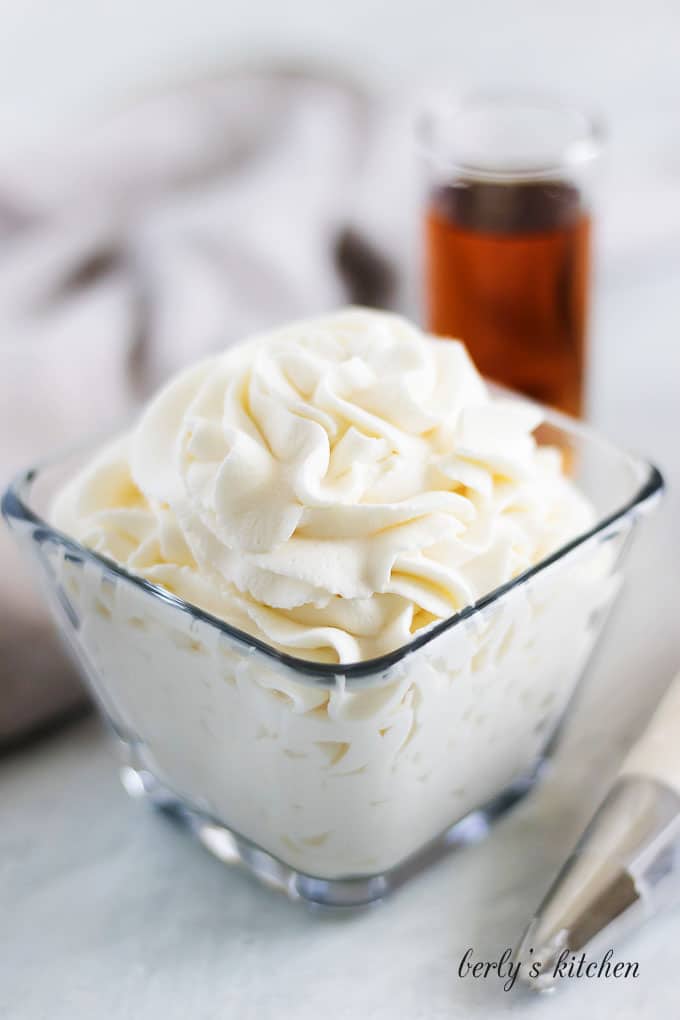 A deliciously simple whipped cream recipe made with amaretto. It takes boring whipped toppings to the next level! Click the link to elevate your dessert.
Time to whip heavy cream
10 minutes
Ingredients
1 Cup Heavy Cream
1/4 Cup Powdered Sugar, (or Confectioner's sugar)
3 Tablespoons Amaretto Liqueur
Instructions
Add heavy whipping cream and powdered sugar to the bowl of a stand mixer. Use the whisk attachment, and beat on low speed for 2-3 minutes until the sugar has dissolved and is incorporated into the heavy cream.
Next, increase the speed to medium for an additional 5-7 minutes or until the whipped cream begins to form soft peaks. Turn off the mixer.
Pour in the amaretto liqueur, and continue to mix another 1-3 minutes until stiff peaks form.
Serve immediately, and store any leftover whipped cream in the refrigerator for up to 3 days.
Notes
The calories listed are an approximation based on the ingredients and a serving size of one-fourth (1/4) of a cup. Actual calories will vary. The whipped cream can be stored in your fridge in a sealed container for up to three (3) days.
Recommended Products
As an Amazon Associate and member of other affiliate programs, I earn from qualifying purchases.
Nutrition Information:
Yield:
8
Serving Size:
0.25 Cup
Amount Per Serving:
Calories:

134
Total Fat:

11g
Saturated Fat:

6g
Unsaturated Fat:

0g
Cholesterol:

40mg
Sodium:

11mg
Carbohydrates:

6g
Sugar:

5g