This Egg Casserole with Hash Browns has all your favorites like ham, eggs, green peppers, and cheddar cheese baked in one pan!
There are some mornings when a bowl of cereal or piece of toast just won't cut it. For days like that you need a hearty breakfast bake.
This simple egg casserole with hash browns features some of our morning time favorites. Eggs combined with cured ham, hash browns, peppers, onions, and cheddar cheese.
If you're looking for something a little lighter, we've got you covered with eggs in a basket, fluffy scrambled eggs, hash brown waffles or some banana muffins.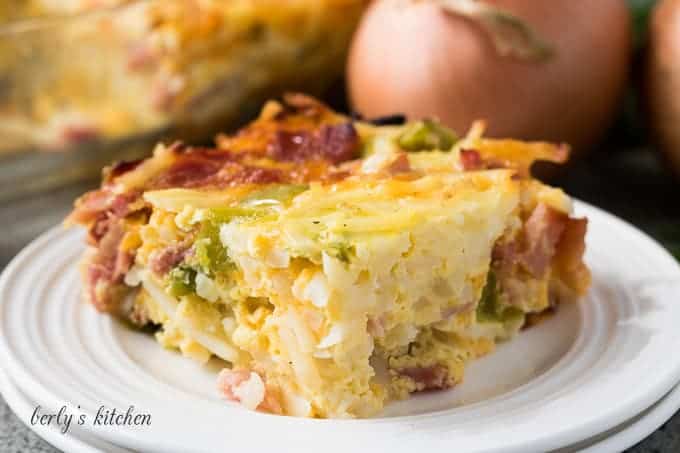 How to make an egg casserole with hash browns?
First things first, go ahead and dice the ham, onions and green peppers.
Also, shred the cheese, spray a baking dish with non-stick cooking spray and preheat your oven to 350° F.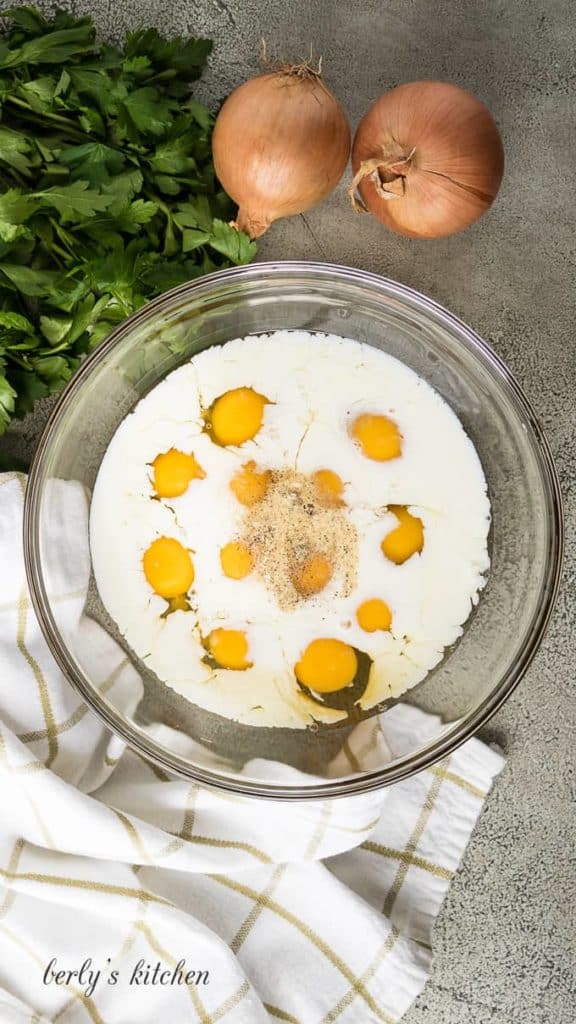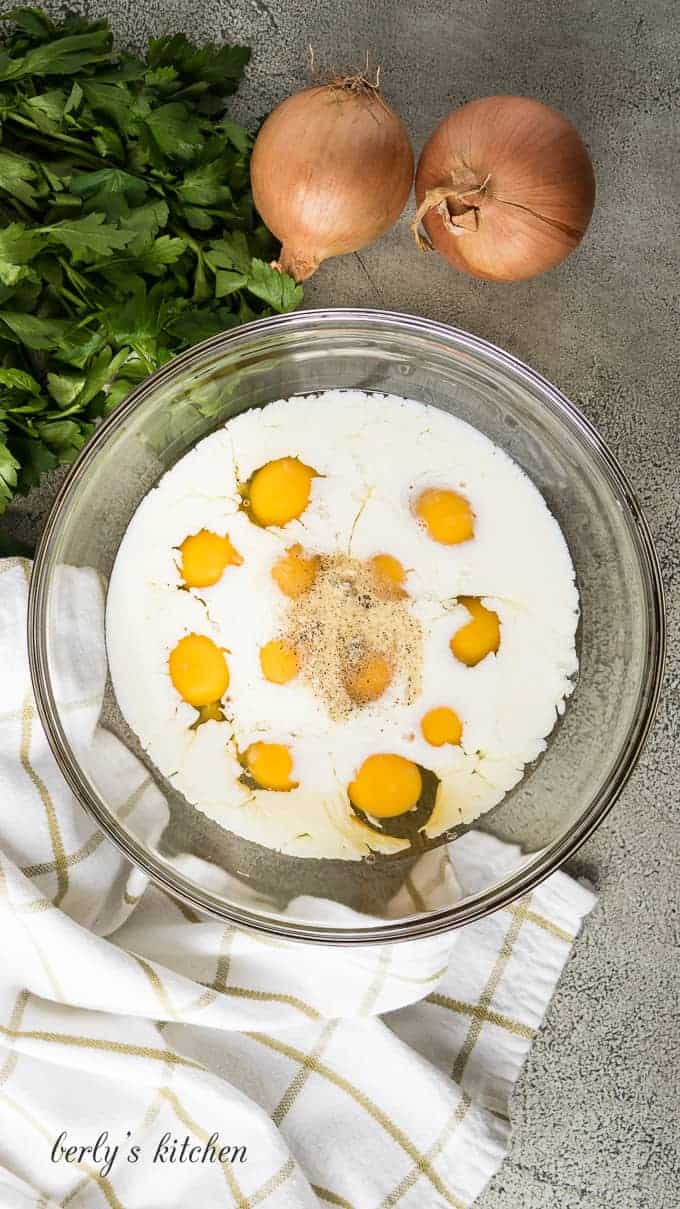 Next, grab a large mixing bowl and crack twelve eggs into the bowl. Pour in a cup of milk and add the salt and pepper.
A quick word on adding the spices. You can always wait until the casserole is done before adding salt and pepper to taste. Nobody wants over seasoned food.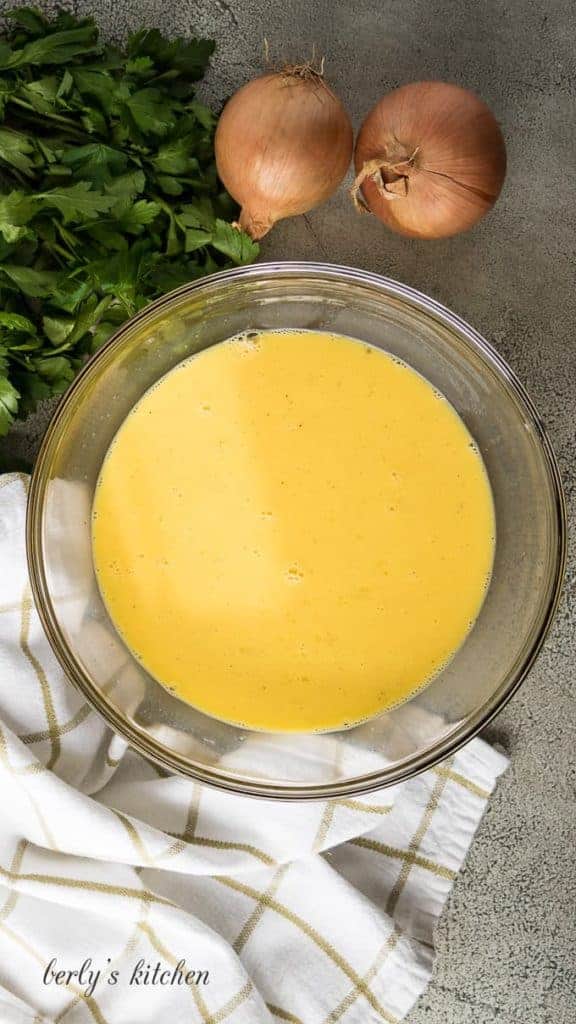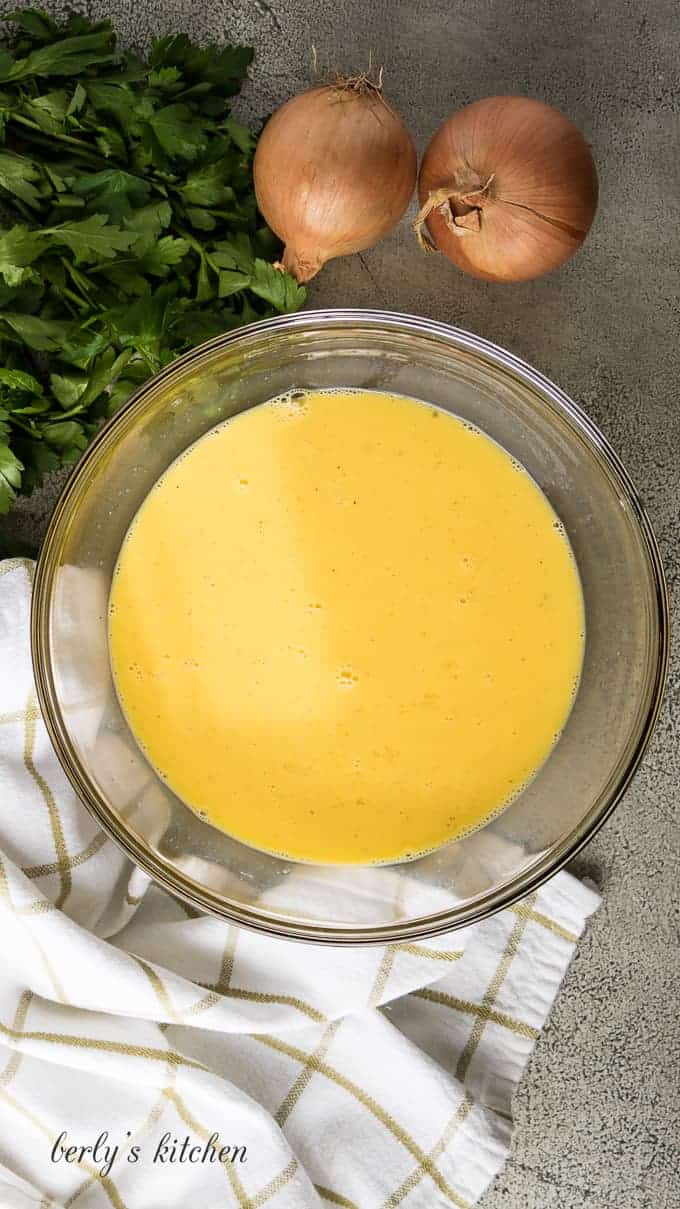 After that, in another large mixing bowl, mix the hash browns, cheddar cheese, green peppers, and onions.
When it comes to cheese, keep in mind that type and quality does make a difference. For this egg baked casserole with ham, I recommend a Cabot Brand Vermont cheddar.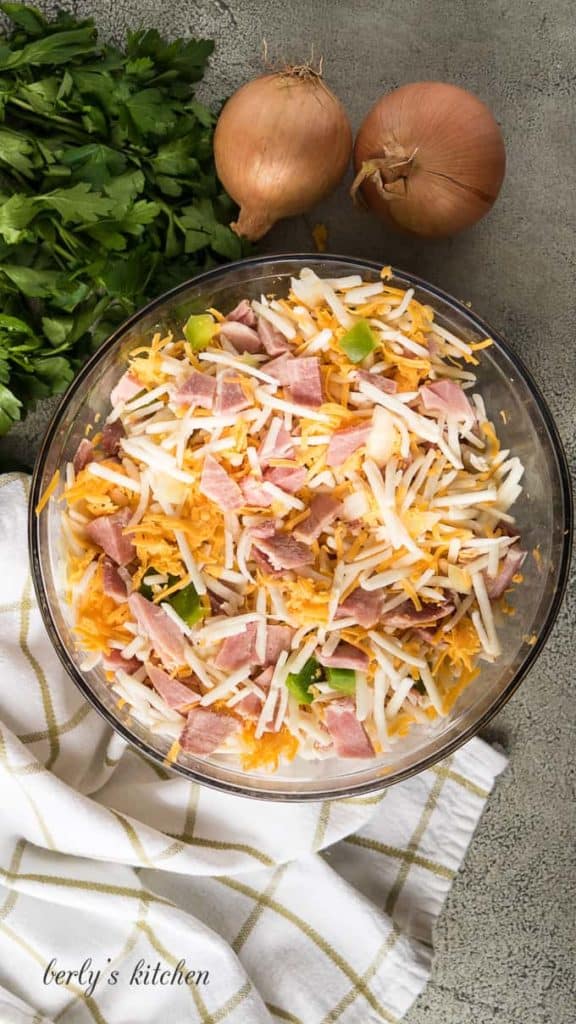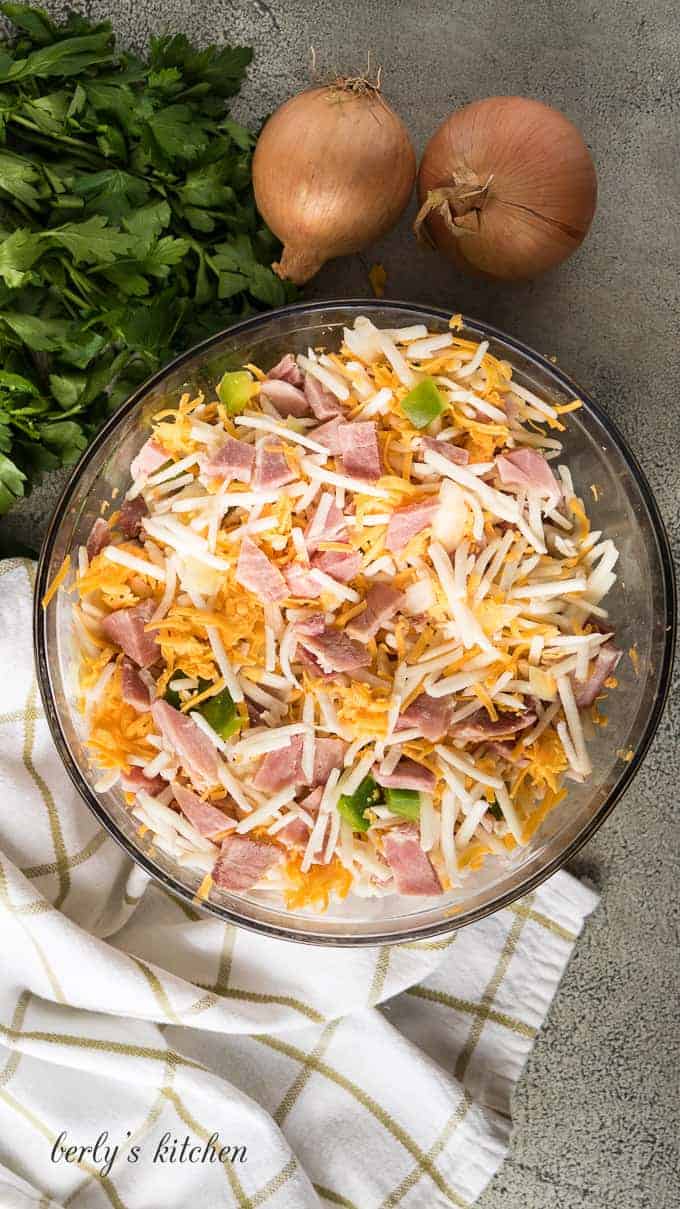 Then, once the hash browns and other ingredients are mixed, pour them into the prepared baking dish. Spread them out evenly.
Afterward, pour the egg mixture into the baking dish. Make sure to evenly pour it over all the hash browns so they can soak up the whipped eggs.
If needed, use a spatula to press the hash browns and other ingredients down into the egg mixture.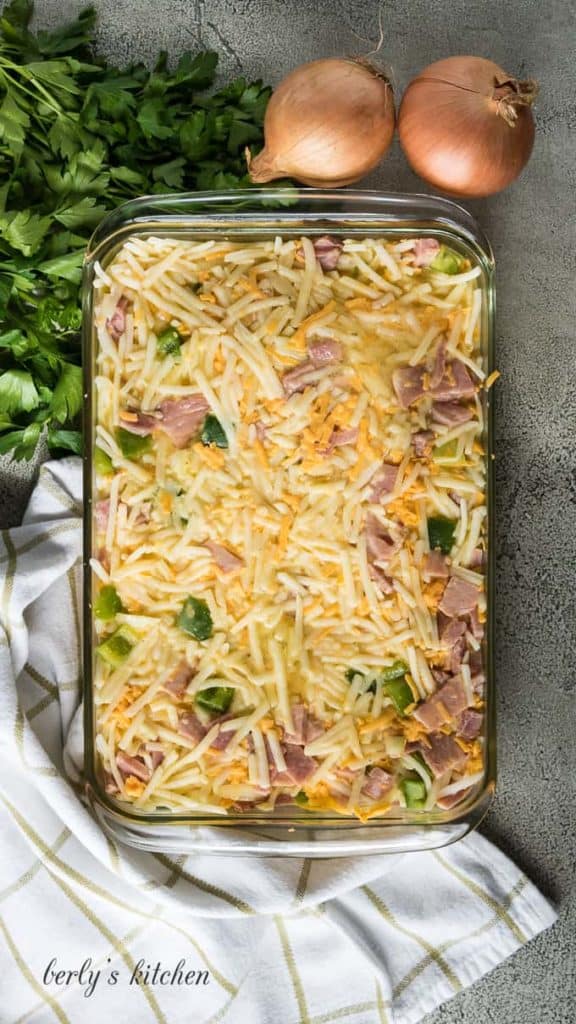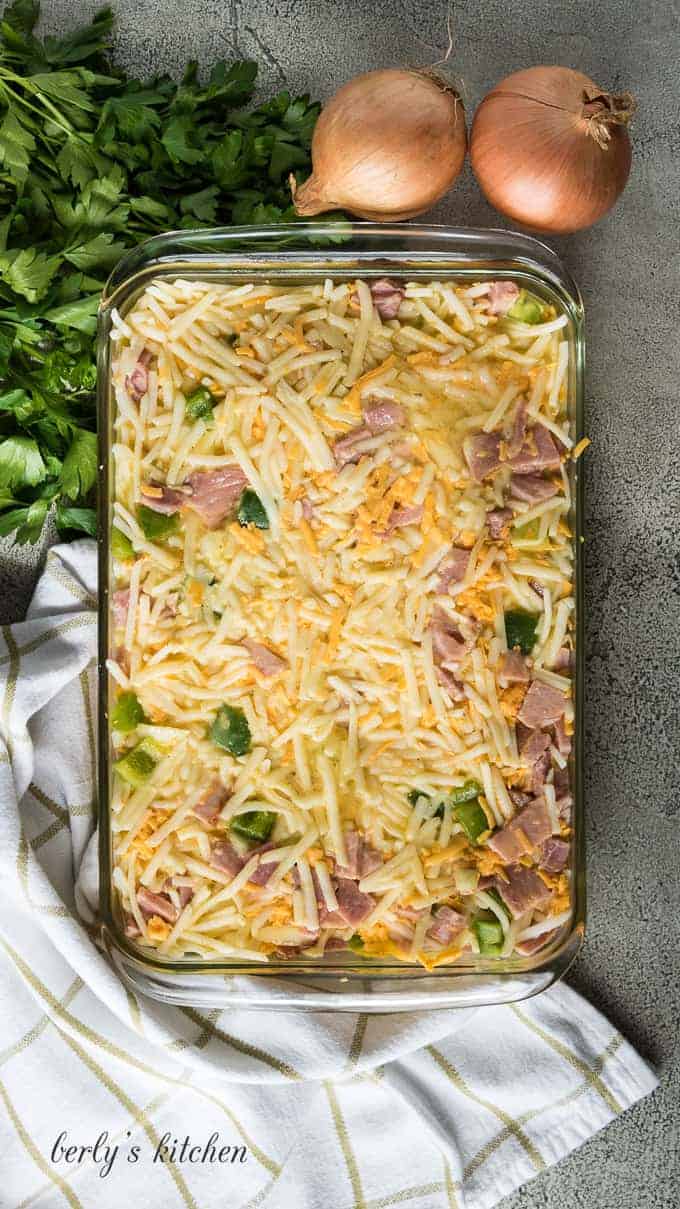 Now, place the hash brown breakfast casserole (uncovered) into your preheated oven for about an hour.
You'll know that it's done when the center no longer jiggles, the edges and top are browned, and a knife inserted in the center comes out clean. Take a look at the photo above as a reference.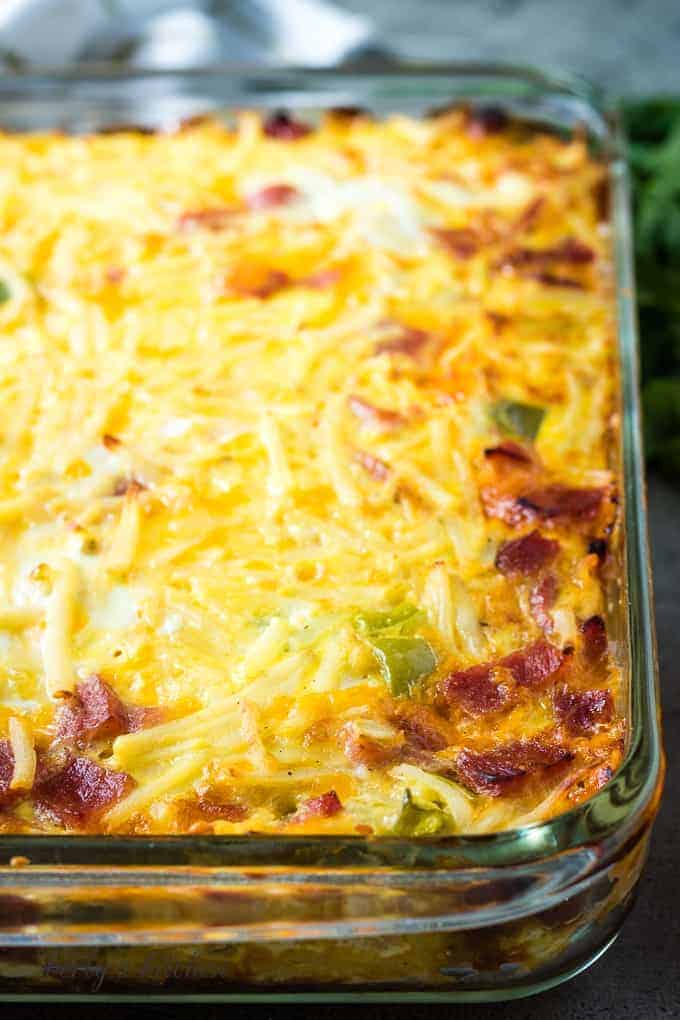 Last, remove the hash brown casserole from the oven and let it cool for about five minutes before serving.
That's it, your cheesy breakfast casserole recipe is done! Kim and I hope you enjoy the meal and wish you all the best 🙂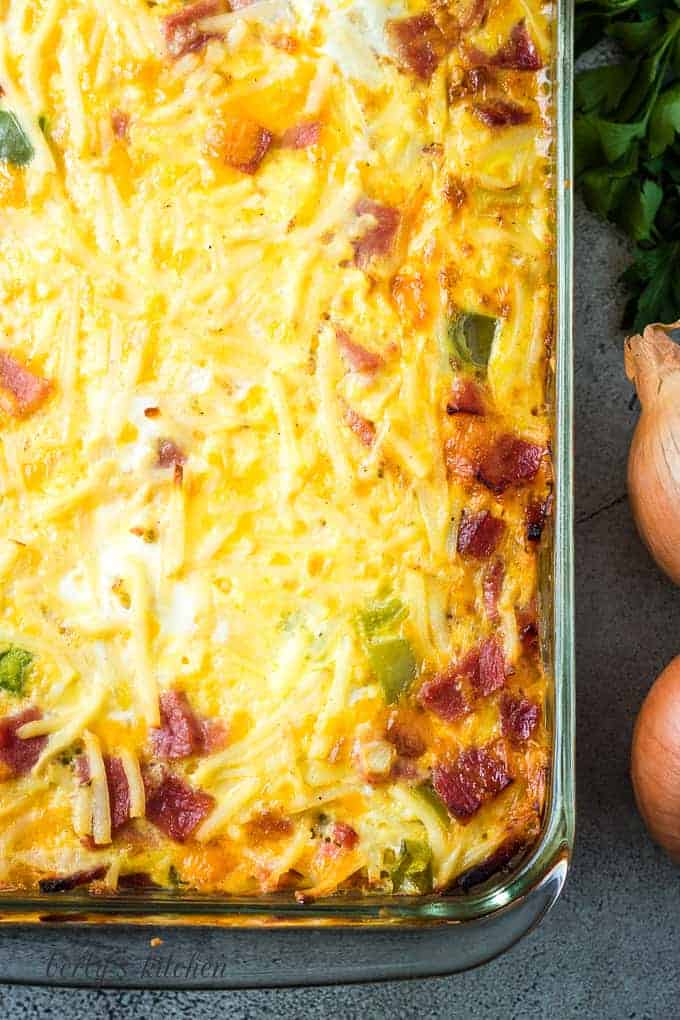 What can I put in my breakfast casserole?
The possibilities are endless. Here's a small list of add-ins you can put into your version to take it over the top.

Green Chiles
Mushrooms
Breakfast Sausage
Bacon
Swiss Cheese
Brie Cheese
Gouda Cheese
Smoked Cheddar Cheese
Pepper Jack Cheese
Jalapenos
Sweet Red Peppers
Canadian Bacon
Anything you want!
Can an egg casserole with hash browns be made in advance?
Yes, this casserole can be made in advance, wrapped tightly, and place in the refrigerator for up to 48 hours. Remove it from the refrigerator for 30 minutes before baking.
Can you use diced hash browns in place of shredded hash browns?
Yes, diced hash browns would work great in this recipe.
What should I do if the egg casserole begins to brown too quickly?
We recommend baking this casserole uncovered. However, if it starts to brown too quickly on the top, cover it loosely with a foil tent for the remainder of the cook time. The center should still be set when it's finished baking.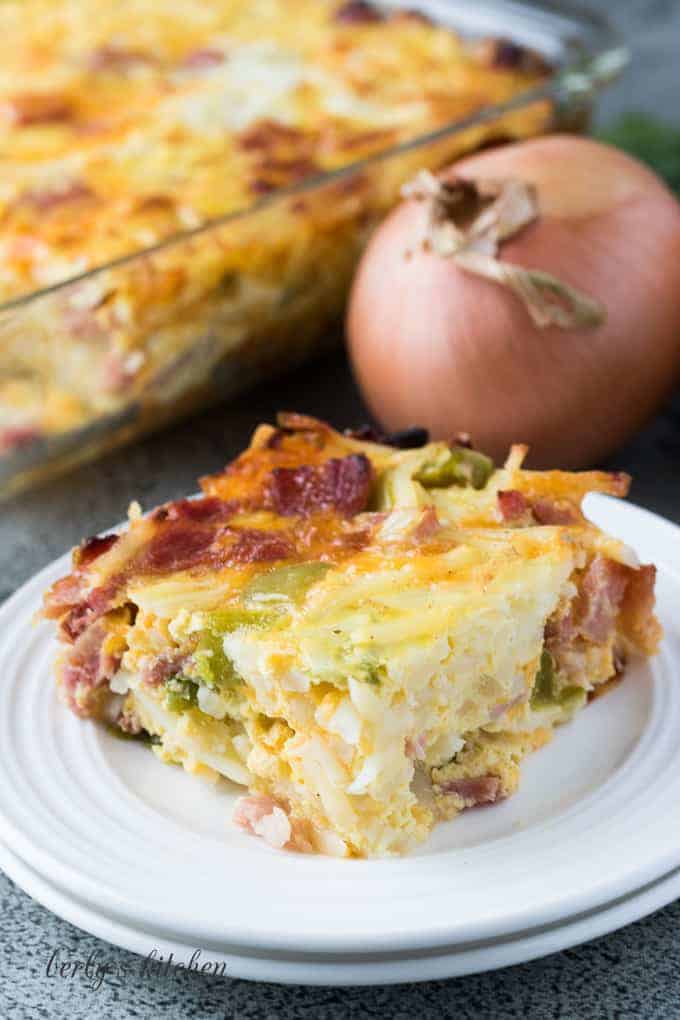 Yield: 15 Servings
Easy Egg Casserole with Hash Browns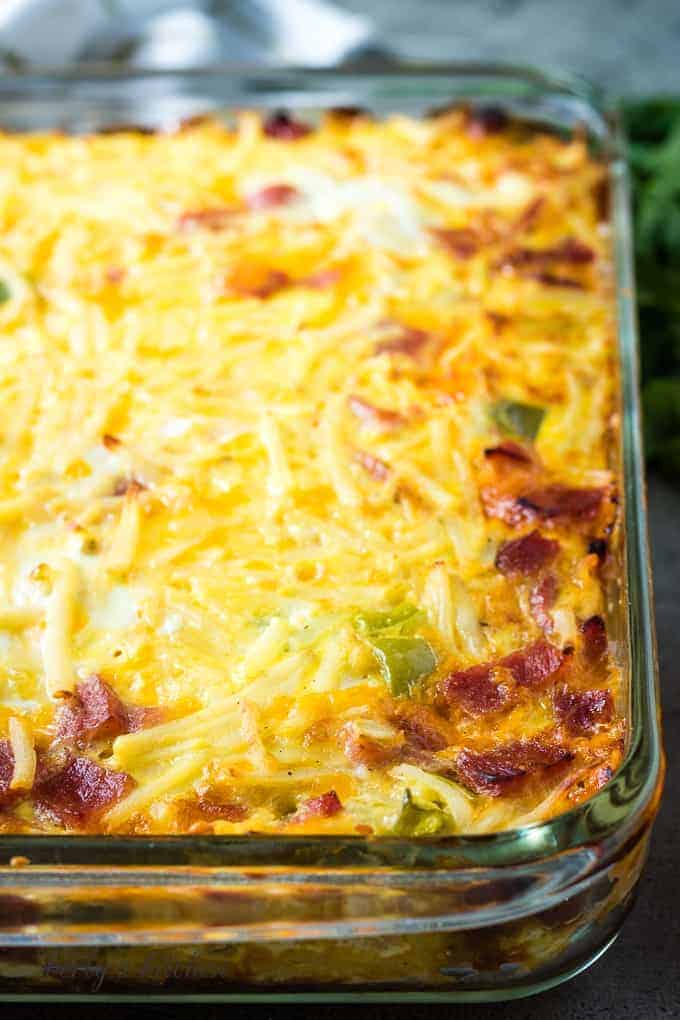 This Egg Casserole with Hash Browns has all your favorites like ham, eggs, green peppers, and cheddar cheese baked in one pan!
Total Time
1 hour
15 minutes
Ingredients
12 Large Eggs
1 Cup Whole Milk
1 Teaspoon Salt
1/2 Teaspoon Pepper
24 Ounces Hash Browns, (frozen)
16 Ounces Ham, (diced)
8 Ounces Cheddar Cheese, (about 2 cups shredded)
1 1/4 Cups Green Bell Pepper, (about 1 large pepper, diced)
1/2 Cup White Onion, (about 1/2 medium onion)
Instructions
Preheat the oven to 350 degrees, and spray a 9 x 13-inch baking dish with cooking spray. Set aside.
In a large bowl, whisk together the eggs, milk, salt, and pepper. Set aside.
In a separate large bowl, toss together the hash browns, ham, cheese, bell pepper and onion. Transfer the hash brown mixture to the prepared baking dish, then pour the egg mixture over the top. The egg mixture should soak down into the dish. If necessary, use a spatula to spread out the eggs and hash browns, so they are evenly distributed in the pan.
Bake uncovered for 50 to 60 minutes until the center is set and the edges are brown.
Notes
The calories listed are an approximation based on the ingredients and a serving size of one square piece when the casserole has been cut into fifteen (15) equal sized pieces. Actual calories will vary.
The cheesy breakfast casserole with hash browns can be stored, covered, in your fridge for up to three days.
Recommended Products
As an Amazon Associate and member of other affiliate programs, I earn from qualifying purchases.
Nutrition Information:
Yield:
15
Serving Size:
1 Piece
Amount Per Serving:
Calories:

302
Total Fat:

17.8g
Saturated Fat:

6.5g
Unsaturated Fat:

0g
Cholesterol:

184mg
Sodium:

861mg
Carbohydrates:

19.5g
Fiber:

2.1g
Sugar:

2.6g
Protein:

15.8g