*This post may contain affiliate links. As Amazon Associates we earn from qualifying purchases.
Our hash brown casserole recipe is loaded with all the things you'd expect from this comforting dish; like, gooey cheese, smokey bacon, and diced onions.
How can you go wrong with a cheesy hash brown casserole recipe?
Apparently, we did, because this post was originally published back in June of 2017. Truth be told, it really doesn't preform well in search engines.
Now, do I think any fault lies on the recipe? Absolutely not.
The hash brown recipe is cheesy, savory, and extremely comforting. It's similar to our cheesy breakfast casserole with ham.
However, given it's lack luster performance, Kim decided she wanted to redo the post.
Which, I completely support. A recipe this tasty should not get lost in the mix.
Much like my sausage gravy, it's a dish that even I indulge in from time to time. So, let's get started!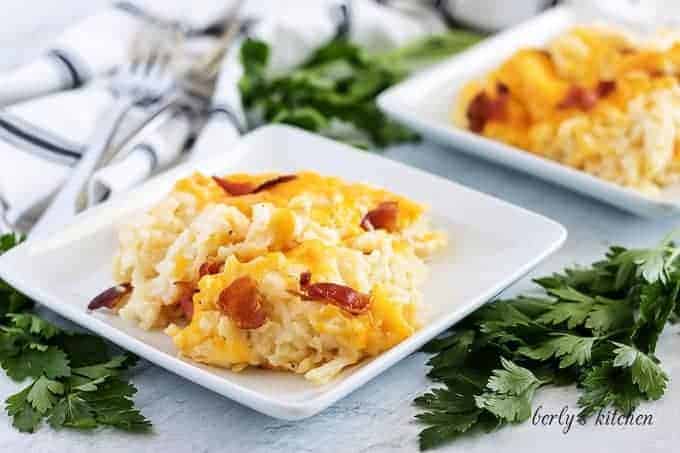 Hash Brown Casserole Recipe Instructions:
As is the case with any recipe, it's best to start with the prep work. First, remove your hash browns from the freezer and give them ample time to thaw.
The next step is to cook your bacon and dice it into small pieces. Set it aside.
After that, chop your onions, melt the butter, and shred your cheeses. By the time you're done with all that, your hash browns should be good to go.
Also, if you decide to use a cream of chicken soup substitute, now would be the time to make it.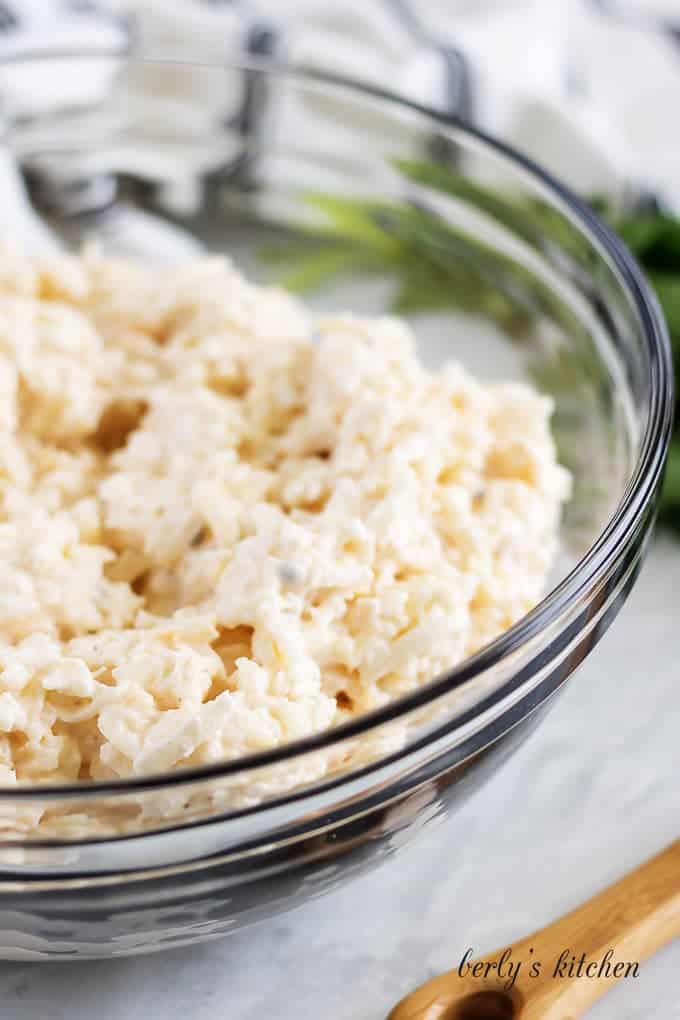 At this point, it's time to preheat your oven to three-hundred and fifty (350) degrees F. and prepare a thirteen by nine (13×9) inch casserole dish.
Simply, use a non-stick cooking spray or a tablespoon of butter to grease the pan.
Now, in a large bowl, combine the hash browns, unsalted butter, soup, sour cream, onions, hot sauce, pepper jack cheese, salt, and pepper.
Basically, everything but the bacon and cheddar cheese.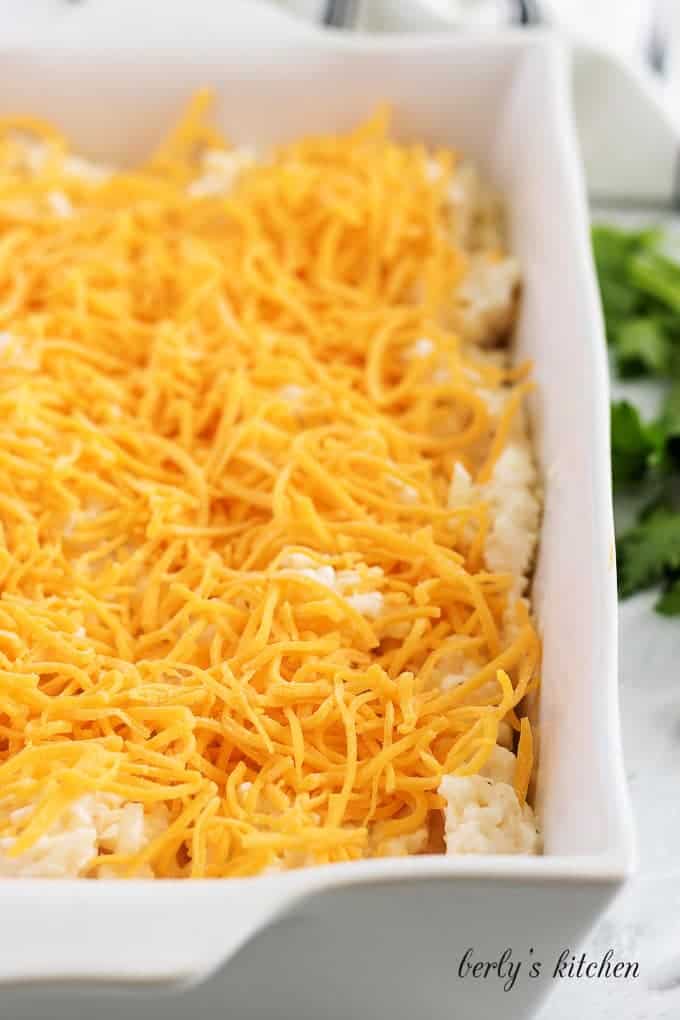 Use a rubber spatula or wooden spoon to mix all the ingredients. Then, transfer the mixture to your prepared casserole dish.
Sprinkle the cheddar cheese on top and place it in the oven for thirty-five to forty-five (35-45) minutes.
You'll know the dish is done once all of the cheese is bubbling evenly. When that happens, remove the hash brown casserole from the oven and top it, evenly, with the crumbled bacon.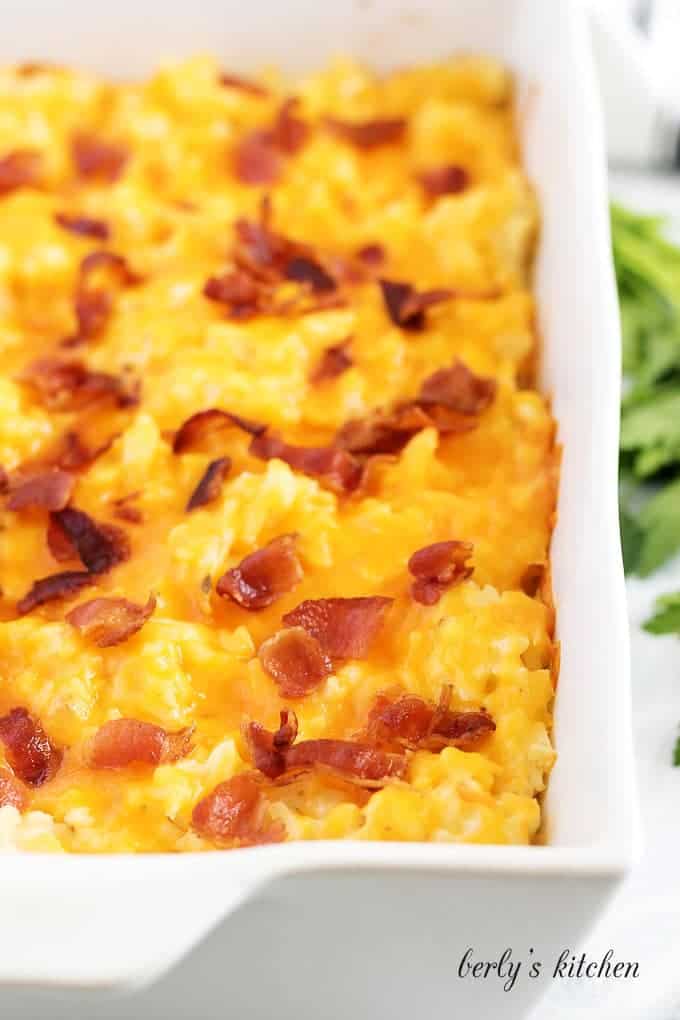 That's it, your hash brown casserole recipe is done. I recommend serving it hot with a side of toast or fresh fruit.
Hash Brown Casserole Recipe Tips:
Should I thaw frozen hash browns before cooking? I feel like that depends on the dish you're making.
For example, our hash brown casserole recipe calls for thawed hash browns. Otherwise, the casserole would be runny or watery.
On the other hand, for regular, pan fried hash browns, I never thaw them. They go right into a hot pan with melted butter.
Personally, I would simply follow the directions found on the packaging or in the recipe being used.
This recipe can be prepared ahead and stored overnight in the refrigerator. Before placing the cold dish in the oven, remove it from the refrigerator and allow to sit at room temperature for at least 30 minutes.
What goes with hash browns? Well, they're potatoes, so you can pretty much get away with adding anything to them.
As in our recipe, we used onions, bacon, and cheese. If you're wondering about side dishes, then sausage, toast and jam, or oatmeal.
You get the idea, it comes down to what you want.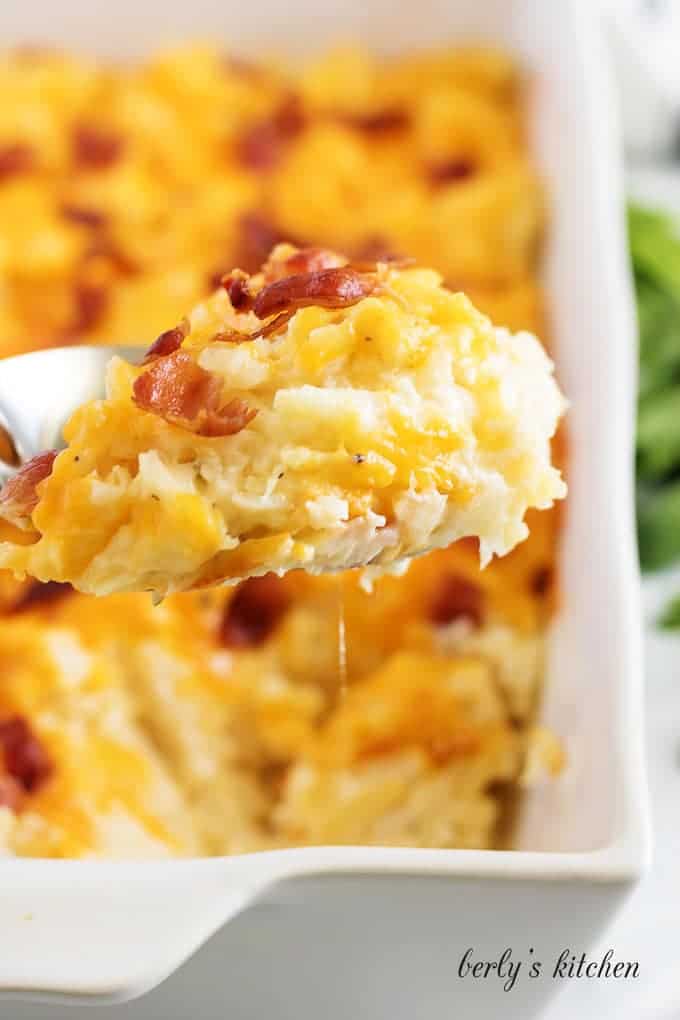 If you like this recipe, please leave us a comment and rate the recipe card. You can also find us on Facebook, Pinterest, Twitter and Instagram searching for Berly's Kitchen!
Join our Facebook group for more recipes from Berly's Kitchen, our new site More Than Meat and Potatoes, and some of our blogger friends!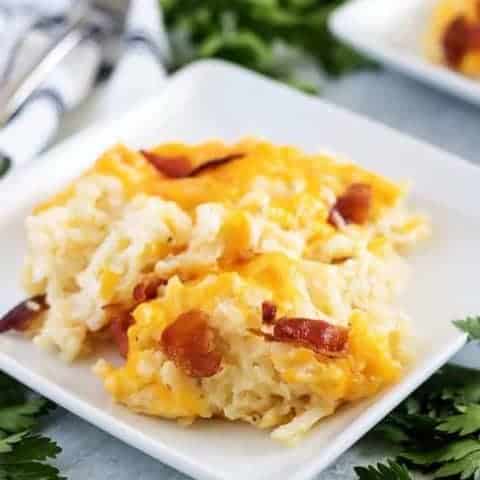 Cheesy Hash Brown Casserole Recipe
Total Time:
1 hour
30 minutes
Our hash brown casserole recipe is loaded with all the things you'd expect from this comforting dish; like, gooey cheese, smokey bacon, and diced onions.
Ingredients
30 Ounces Hash Browns, (thawed)
4 Tablespoons Unsalted Butter,, (melted, cooled)
10.5 Ounces Cream of Chicken Soup, (one can)
8 Ounces Sour Cream
.5 Cup White Onion, (medium sized, diced)
1 Tablespoon Hot Sauce, (Similar to Frank's Red Hot)
4 Ounces Pepper Jack Cheese,, (shredded)
1 Teaspoon Salt
.5 Teaspoon Black Pepper
4 Ounces Cheddar Cheese, (shredded)
8 Slices Bacon, (cooked, chopped)
Instructions
Prep
Remove frozen hash browns from the freezer and allow to thaw completely, melt the butter, shred the cheeses (if needed), cook bacon the slices and cut them into bite sized pieces, and finally, dice the onions.
Assembly and Bake
Preheat oven to 350 degrees F. and prepare a 13 x 9 baking dish or large cast iron skillet with butter or cooking spray.
In an extra large bowl combine the hash browns, butter, cream of chicken soup, sour cream, diced onion, hot sauce, pepper jack cheese, salt, and pepper. Use a spoon to mix everything together
Place the mixture in your prepared dish and top it with the cheddar cheese and bake it for 35-45 minutes or until the all of the cheese is nice and bubbly.
Remove the casserole from the oven and top it with the crumbled or diced bacon. Serve the dish while it's hot.
Notes
The calories listed are an approximation based on the ingredients and a serving size of about half to three-fourths (1/2-3/4) of a cup or when the dish is cut into eight (8) equal sized portions. Actual calories will vary. The dish can be stored in your fridge in a sealed container for up to three (3) days.
Recommended Products
As an Amazon Associate and member of other affiliate programs, I earn from qualifying purchases.
Nutrition Information:
Yield:

8
Serving Size:

0.5 Cup
Amount Per Serving:
Calories:

422
Total Fat:

30g
Saturated Fat:

15g
Unsaturated Fat:

0g
Cholesterol:

73mg
Sodium:

862mg
Carbohydrates:

24g
Fiber:

1g
Sugar:

3g
Protein:

13g
Want more breakfast recipes?
Our fluffy scrambled eggs recipe is rich, buttery, and delicious. With just a few ingredients you can create restaurant quality scrambled eggs at home!
Want to make a warm breakfast treat for your family? Then try our overnight blueberry French toast casserole topped with a sweet blueberry sauce!
This Easy Cinnamon French Toast recipe is miles above the rest. It's loaded with cinnamon, nutmeg, and ginger, and topped with maple syrup.