Have you ever wanted to make a fresh green bean casserole? Well now you can using our simple recipe. A fresh side everyone will love in less than an hour!
It's November, one of my favorite food months! Today, we're sharing Kim's fresh green bean casserole recipe.
In my opinion, it's the best green bean casserole she's ever made. It's packed with fresh veggies in a creamy sauce.
All topped off with crunchy fried onions. It doesn't get much better than that!
Unless, you're looking for another casserole like our corn casserole, of course! So, shall we get started?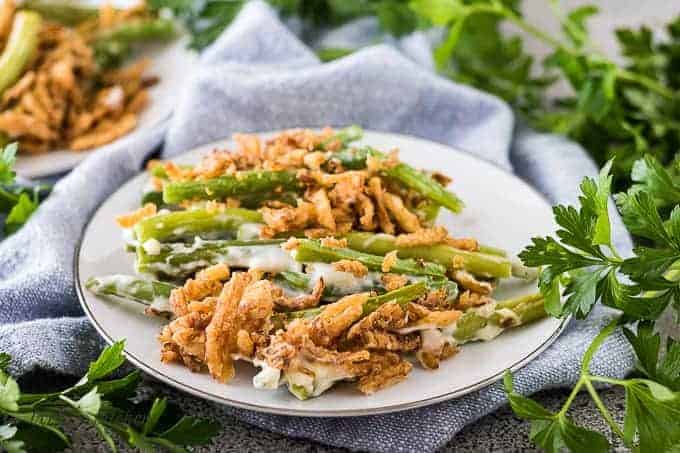 How to Make Fresh Green Bean Casserole:
First things first, if you couldn't get your green beans pre-prepped, then you'll need to wash the vegetables and trim off the ends.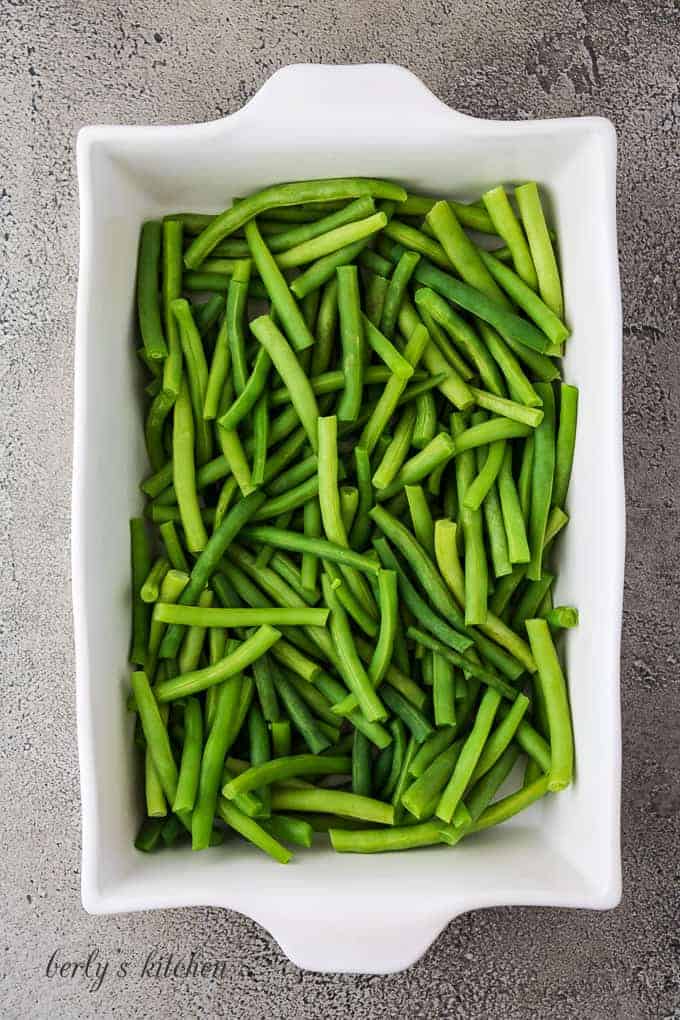 Preheat your oven to 400 degrees F. and spray a nine (9) by thirteen (13) inch casserole dish with non-stick cooking spray.
Next, grab a large pot and add about six (6) to eight (8) cups of water to it. Sprinkle in a few teaspoons of salt and place it over high heat.
Bring the water to a boil and add the prepped green beans. Let them boil for about six (6) minutes. Remove the pot from the heat and drain the beans.
Now, transfer the blanched vegetables to your prepared baking dish and set them aside.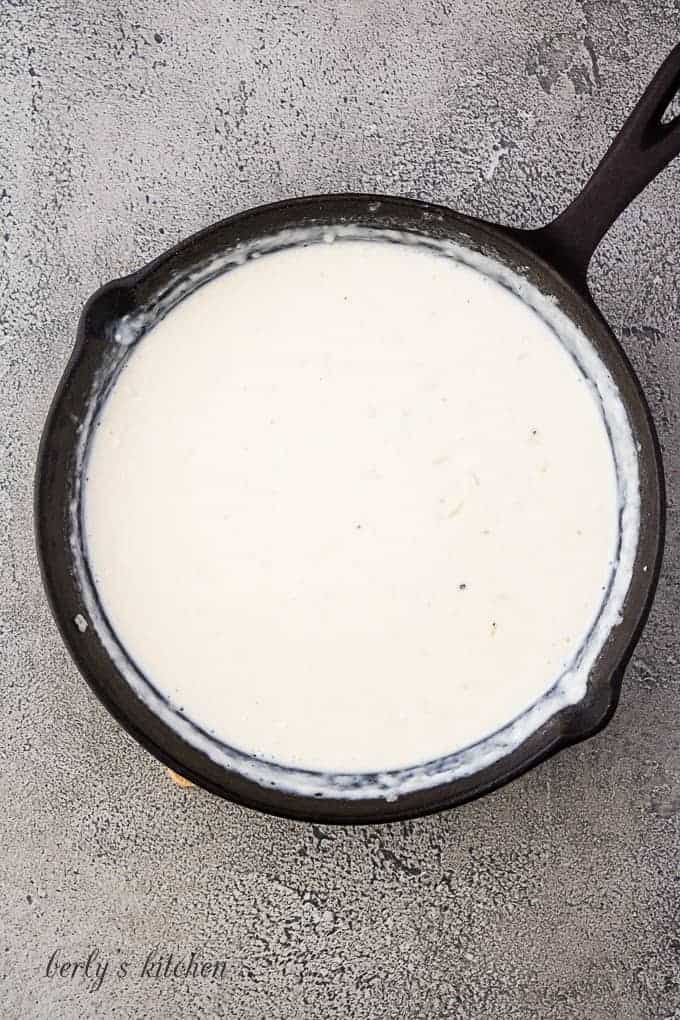 After that, place a large saucepan or skillet over low-medium heat and melt the butter. Then, add the diced onions and let them cook for five (5) minutes.
Once the onions have cooked, add the minced garlic. Let it saute for about thirty (30) seconds before whisking in the flour.
You're creating a roux that needs to cook for another two (2) minutes. After which, you can pour in the chicken broth.
At this point, continue whisking the sauce until it's smooth. When this happens, you can add the heavy cream and milk.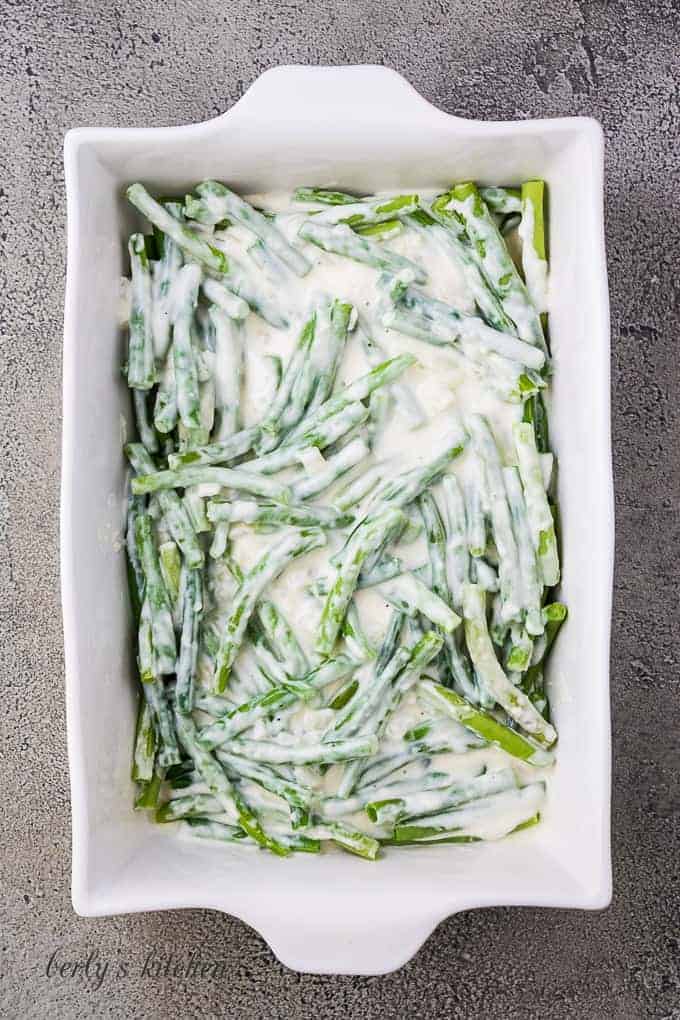 Whisk all the ingredients together while they cook. Everything should thicken up in less than ten (10) minutes.
You can do a taste test now if you like and add salt and pepper or you can wait until the fresh green bean casserole is finished.
Getting back to the sauce, once it's thickened up, carefully pour it over the green beans.
Now it's time to cover the casserole with the fried onions and place it into the oven to bake for about twenty (20) minutes.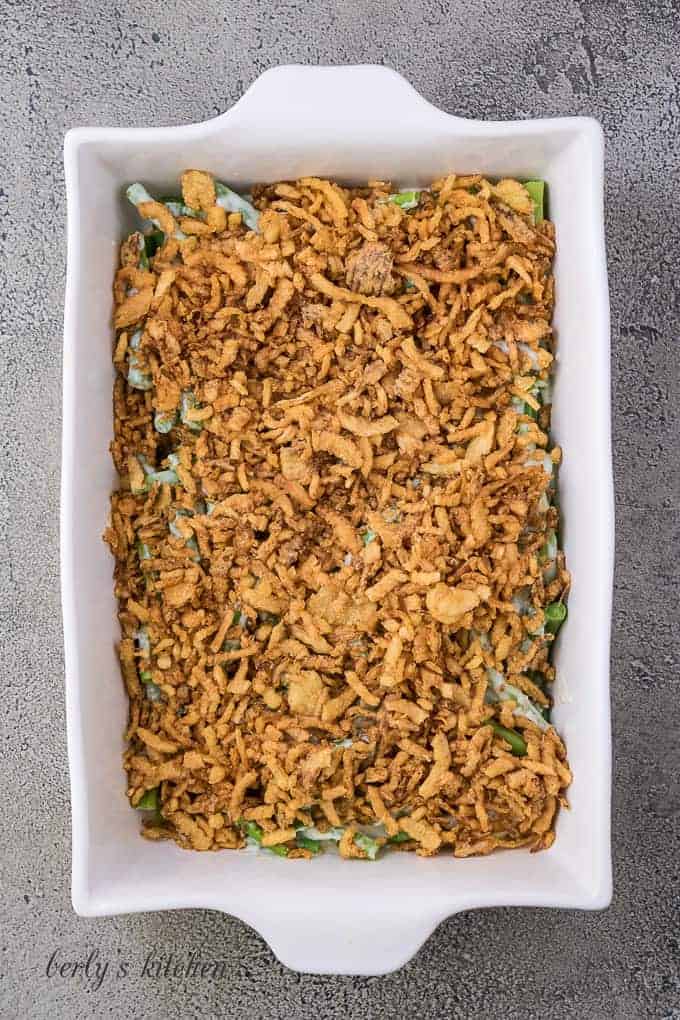 If the onions on top start turn brown too quickly, cover it will foil for the remaining cook time.
In fact, I recommend checking on the dish every ten (10) minutes just to ensure nothings burns.
Last, when the timer goes off, remove the green bean casserole from the oven. Let it cool for a few minutes before serving.
That's it your fresh green bean casserole is done! Kim and I hope you enjoy this offering and we wish you all the best 🙂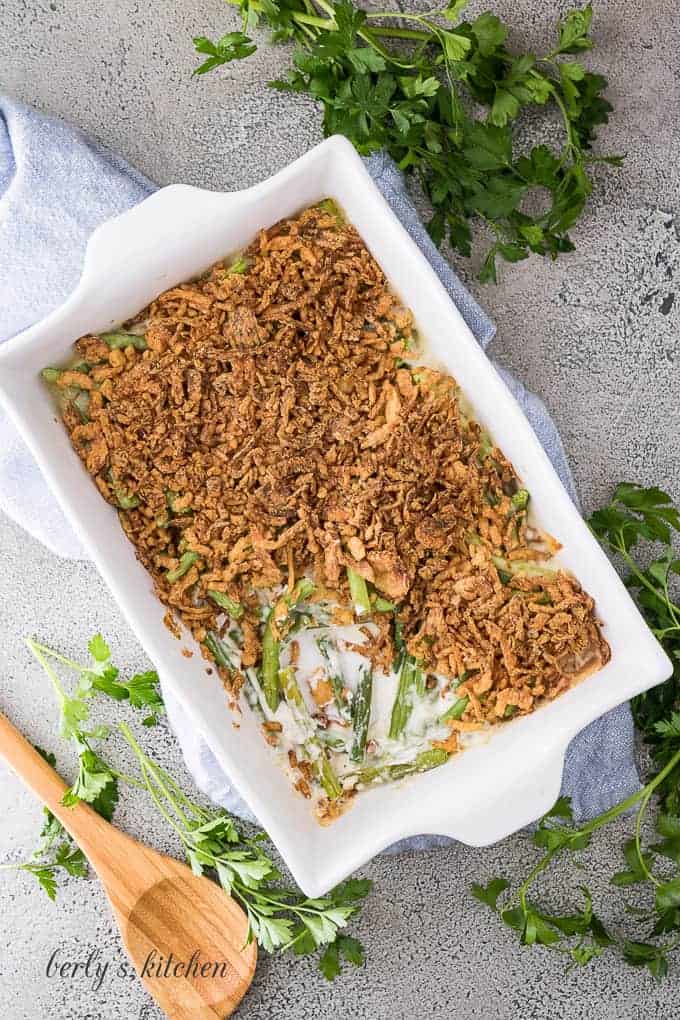 Green Bean Casserole Tips:
What can I add to my green bean casserole? Well, there are a lot of tasty extras you can add to the mix. For example, diced ham or pre-cooked bacon adds a smokey flavor to the dish. Also, diced fresh mushrooms are another great addition.
Can I use canned green beans for this recipe? Sure, simply skip the part about blanching the veggies, drain the beans, and follow the rest of the instructions, "as-is."
What can I substitute for cream of mushroom soup in a casserole? There's always the option of making your own, check our recipe. If you don't like that, then any, "cream of," style soup should work (i.e. cream of chicken, cream of onion, cream of celery soup, etc.).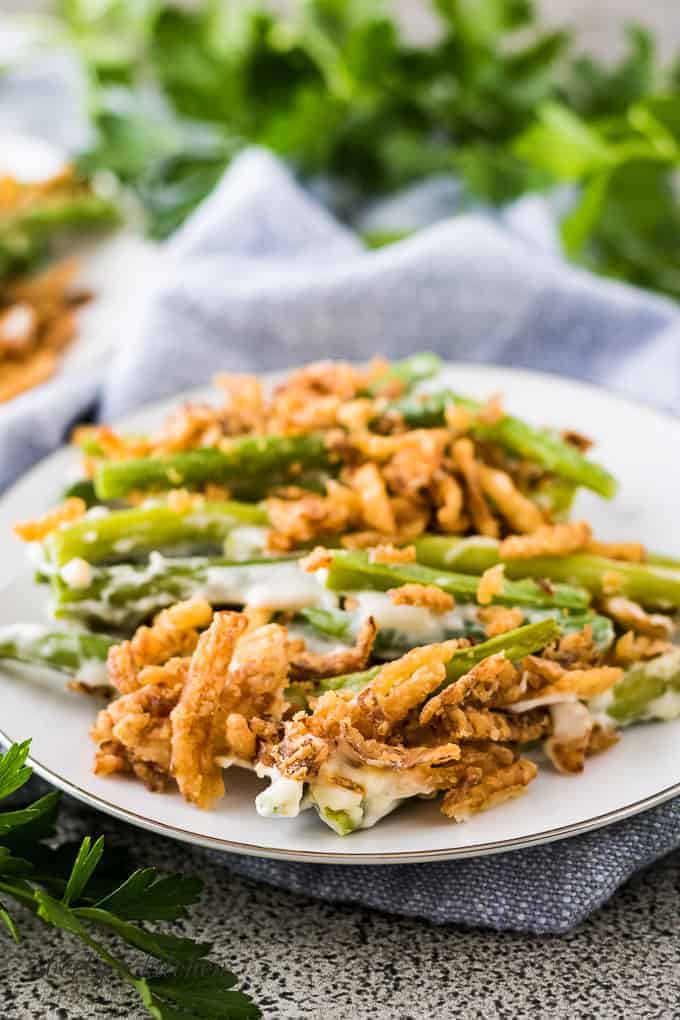 If you like our fresh green bean casserole recipe, please leave us a comment and rate the recipe card. You can also find us on Facebook, Pinterest, Twitter and Instagram searching for Berly's Kitchen!
Yield: 10 Servings
Fresh Green Bean Casserole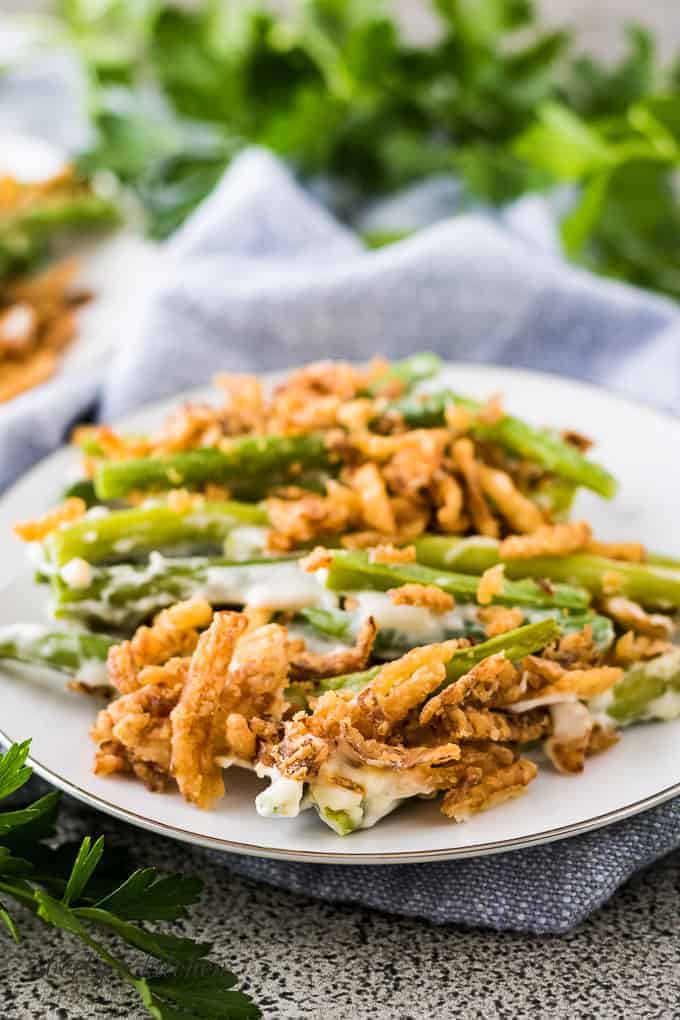 Have you ever wanted to make a fresh green bean casserole? Well now you can using our simple recipe. A fresh side everyone will love in less than an hour!
Ingredients
2 Lbs. Green Beans, (fresh, washed, trimmed)
1/2 Cup White Onion, (diced)
2 Teaspoons Garlic, (two ((2)) large cloves, minced)
2 Tablespoons Unsalted Butter
2 Tablespoons All-Purpose Flour
3/4 Cup Heavy Cream
3/4 Cup Milk, (we used whole)
1/2 Cup Chicken Broth
6 Ounces Fried Onions, (we used French's Fried Onions)
Salt and Pepper to Taste
Instructions
Preheat the oven to 400 degrees, and lightly grease a 9 x 13 - inch baking dish.
Bring a large pot of salted water to boil. Cook the green beans for 5 to 7 minutes, just enough to soften them. Drain the water, and pour the green beans into the prepared dish.
In a medium saucepan, melt the butter over low-medium heat. Add the onions, and cook until they're soft and translucent (about 5 minutes). Then add the garlic and cook an additional 30 seconds. Next, whisk in the flour, and continue to cook for 2 to 3 minutes.
Pour in the chicken broth, and whisk until smooth. Then add the milk and heavy cream. Whisk until the mixture begins to thicken (about 5 to 7 minutes). Add salt and pepper to taste, and remove from heat.
Pour the sauce over the green beans, then top with French fried onions.
Bake for 15 to 20 minutes. Cover with foil for the last 5 to 7 minutes if necessary to prevent the onions from over browning.
Serve warm, and store leftovers in the refrigerator for up to 3 days.
Notes
*The calories listed are an approximation based on the ingredients and a serving size of about half (1/2) a cup of the fresh green bean casserole. Actual calories will vary.
*We've partnered with Farmbox Direct, a fresh produce delivery service, to bring fresh and organic fruits and veggies right to your door . Receive 10% off your first order when you use code BERLYS10 at checkout!
Recommended Products
As an Amazon Associate and member of other affiliate programs, I earn from qualifying purchases.
Nutrition Information:
Yield:
10
Serving Size:
.5 Cup
Amount Per Serving:
Calories:

195
Total Fat:

13g
Saturated Fat:

6g
Trans Fat:

0g
Unsaturated Fat:

5g
Cholesterol:

28mg
Sodium:

211mg
Carbohydrates:

18g
Fiber:

4g
Sugar:

5g
Protein:

4g
*The calories are an estimate and are based on the ingredients and serving size listed. The calories can vary depending on the brand of product purchased.