Our fluffy scrambled eggs recipe is rich, buttery, and delicious. With just a few ingredients you can create restaurant quality scrambled eggs at home!
It's Monday and you know what that means? It's the start of a new week, so I decided to share a brand new recipe. For today, Kim and I wanted to post our fluffy scrambled eggs recipe.
As you may already know, we love breakfast dishes and have quite a few on the blog. But, we feel, you can never have too many food options.
From hash browns to smoothies, you'll won't get bored looking through recipes. In spite of all those options, we realized, there were no simple egg dishes.
Well, we had to do something about that situation. Kim figured, what could be better than scrambled eggs? However, I couldn't just share some boring, "eggs, water, whisk," recipe.
So, I decided to make my own personal recipe for the blog. This one has been in my repertoire for over ten (10) years and it's one of Kim's favorite dishes.
There are only five (5) ingredients and the finished eggs come together in less than twenty (20) minutes. When combined with bacon, sausage, or banana oat pancakes, you're sure to stay full for hours.
In case you're wondering why I call these, "restaurant quality," the answer is simple. That's where I learned to make them, in restaurants.
Of course, each eatery has its own version, but the combinations are very similar. Eggs, combined with full-fat dairy, cooked in butter.
Honestly, it doesn't get much better than that. Shall we get started?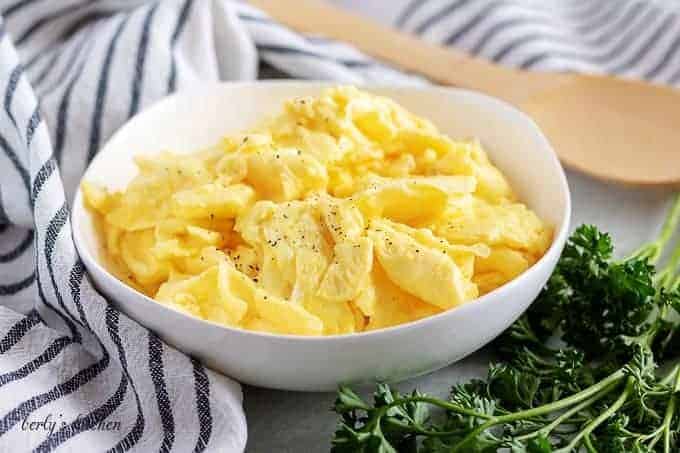 Scrambled Eggs Instructions:
First and foremost, gather your ingredients and get them measured out accordingly.
Once you've done that, grab a large glass mixing bowl and crack the eggs into the dish.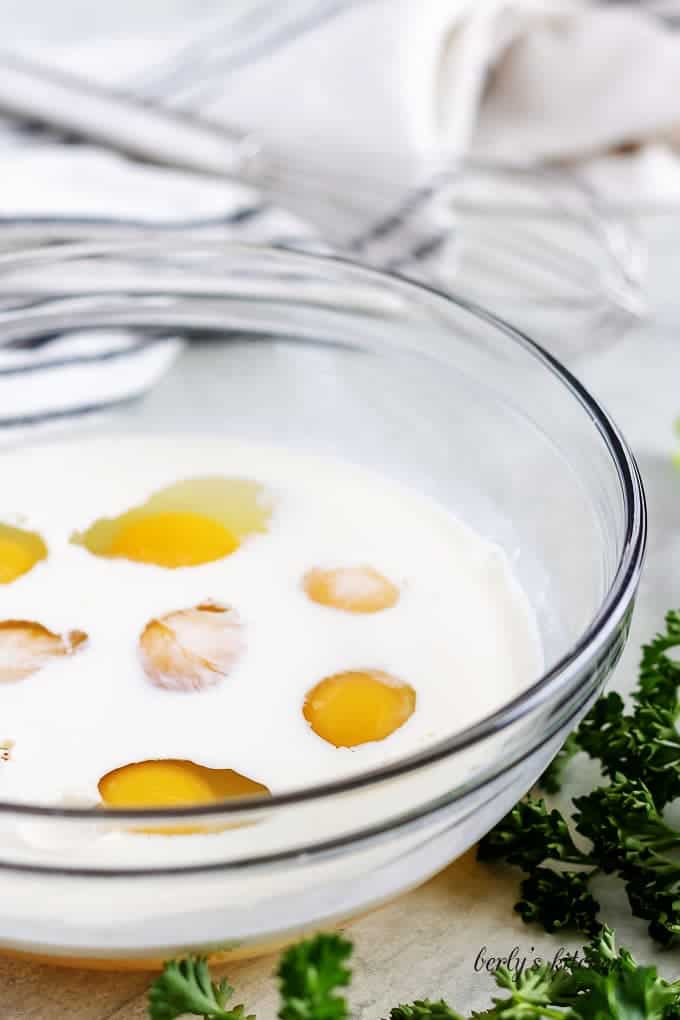 Next, add the heavy cream and sea salt. Use a whisk or fork to whip the egg mixture.
You should probably continue beating the eggs for about one (1) minute. After that, set the bowl aside and prepare your skillet.
Place the pan over medium-low heat and let the butter melt. Using a higher heat might burn your fluffy scrambled eggs, so keep it low and slow.
Then, when the butter has melted, pour in the eggs and cream mixture.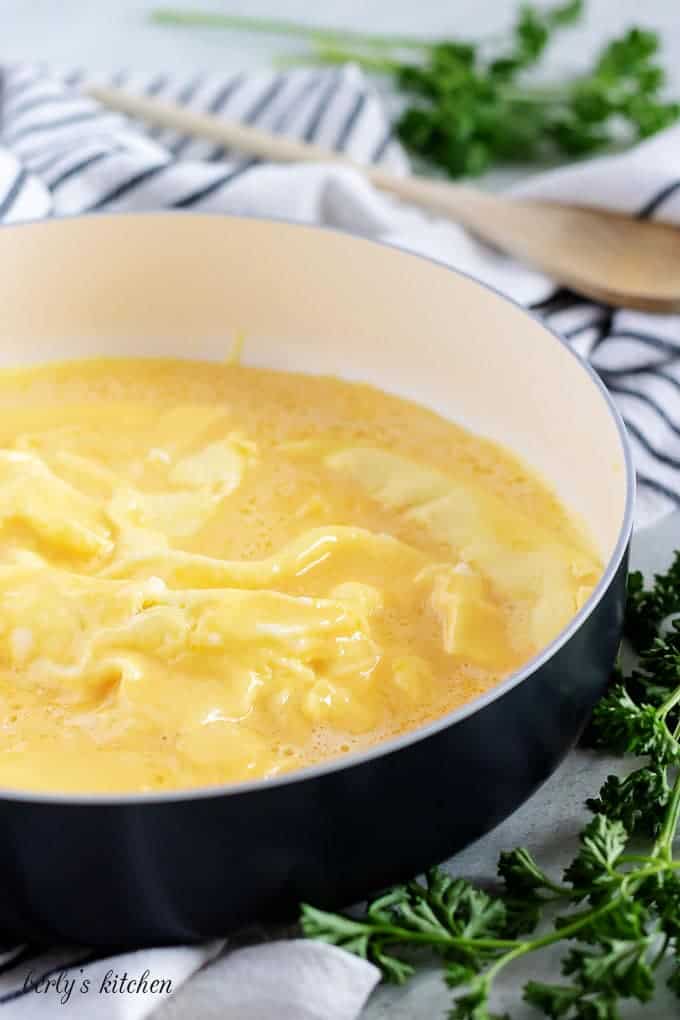 Now, let everything cook for 10-12 minutes. All the while, dragging your spatula through pan as the eggs firm up.
Last, when the eggs are completely scrambled, transfer them to a bowl and dust them with the ground black pepper. That's all, you're done with your restaurant quality scrambled eggs.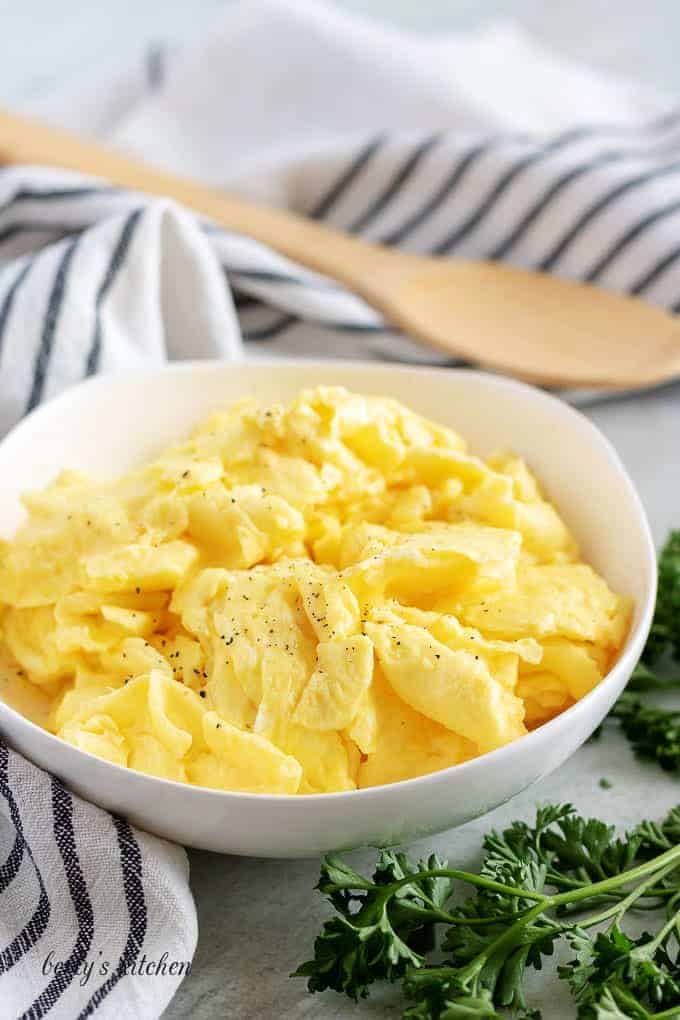 Fluffy Scrambled Eggs Tips:
Want your eggs to look like ours? Well, all it takes is a little patience and some technique. Okay, when your scrambled eggs start to cook, don't go crazy with your spatula. Simply, go around the edges of the pan and slowly drag the cooked eggs towards the center of the pan. Keep doing that over and over again, creating ruffles of egg in the skillet. Once the eggs are almost done, use your spatula to flip them over. Most importantly, avoid tearing them into small pieces.
If you want to reduce the fat in the recipe, just use cooking spray instead of butter and use milk instead of heavy cream. With that being said, the flavor will not have as much depth or richness.
For the ultimate indulgence, consider using the egg, cream, and salt combination for your omelets. However, keep in mind this is a heavy dish, in terms of flavor, and it could easily overpower omelet ingredients.
If you like our fluffy scrambled eggs recipe, please leave us a comment and rate the recipe card. You can also find us on Facebook, Pinterest, Twitter and Instagram searching for Berly's Kitchen!
Yield: 4 Servings
Fluffy Scrambled Eggs Recipe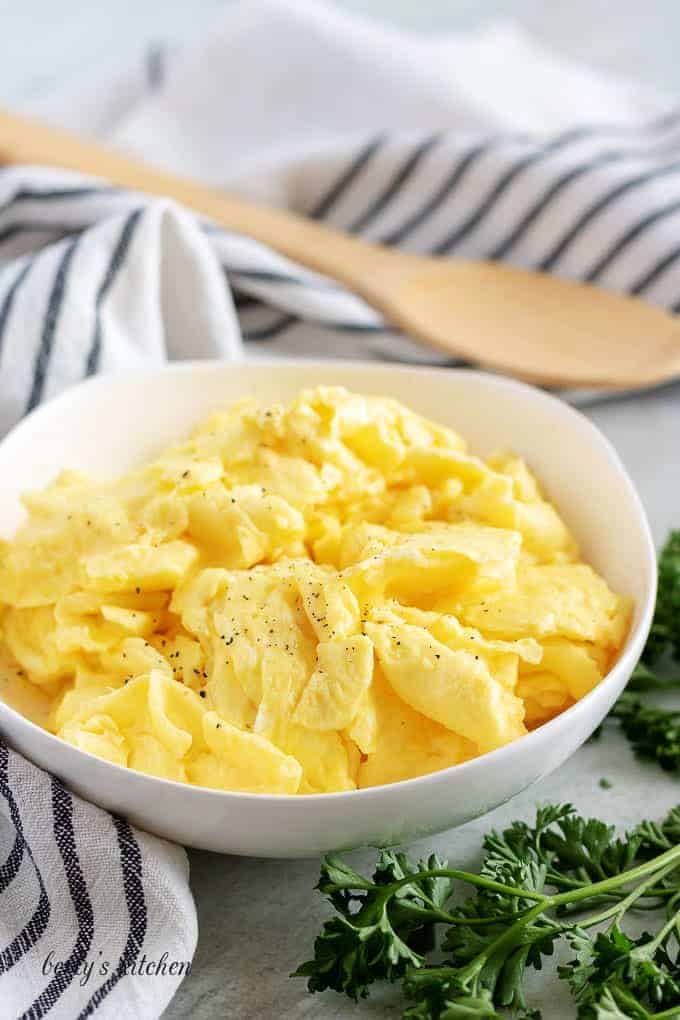 Our fluffy scrambled eggs recipe is rich, buttery, and delicious. With just a few ingredients you can create restaurant quality scrambled eggs at home!
Ingredients
8 Large Eggs
1/3 Cup Heavy Cream
1/8 Teaspoon Sea Salt
2 Tablespoons Unsalted Butter
1/8 Teaspoon Ground Black Pepper
Instructions
In a large glass mixing bowl, crack and combine the eggs, heavy cream, and salt. Whisk the mixture for about one (1) minute.
Using a large skillet over medium-low heat, melt the butter. After the butter melts, add the egg mixture.
Cook the scrambled eggs for 10-12 minutes, stirring as needed to keep the eggs from burning on the bottom of the pan.
When done, sprinkle the eggs with the ground black pepper and serve while hot.
Notes
The calories listed are an approximation based on the ingredients and a serving size of two (2) scrambled eggs (or 1/4 of the total amount). Actual calories vary. I would not recommend storing any leftovers as the eggs will become tough in your refrigerator.
Recommended Products
As an Amazon Associate and member of other affiliate programs, I earn from qualifying purchases.
Nutrition Information:
Yield:
4
Serving Size:
2 Eggs
Amount Per Serving:
Calories:

280
Total Fat:

23g
Saturated Fat:

11g
Unsaturated Fat:

0g
Cholesterol:

464mg
Sodium:

291mg
Carbohydrates:

1g
Protein:

14g