*This post may contain affiliate links. As Amazon Associates we earn from qualifying purchases.
It only takes three ingredients to create the best homemade eggnog latte. Why stand in line at your local coffee shop when you can make this treat at home?
If you're like me, you try to avoid the holiday rush. Not only does that apply to retail stores, I also avoid coffee shops this time of the year.
While I love the festive decor and special drinks. I just can't do the crowds. That's why, during the holidays, I make all my favorite coffees at home.
Like our white chocolate mocha. Well, today we're adding to that list with our eggnog latte.
A simple three (3) ingredient drink that you're sure to love! So, shall we get started?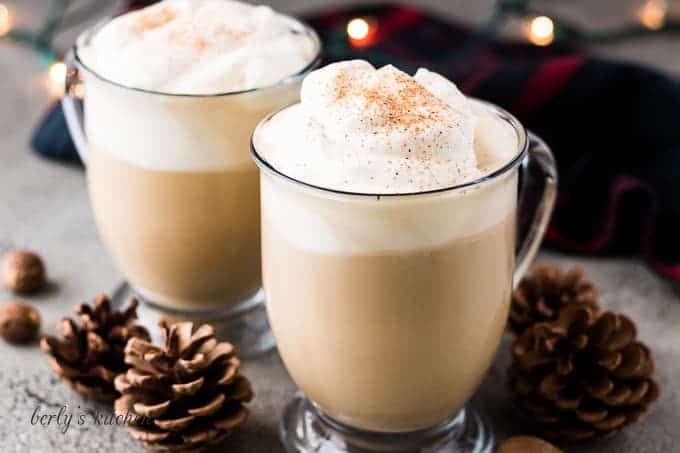 How to make an eggnog latte?
First, start by brewing your coffee. We recommend making it a little strong.
Otherwise, the eggnog and milk will drown out its flavor.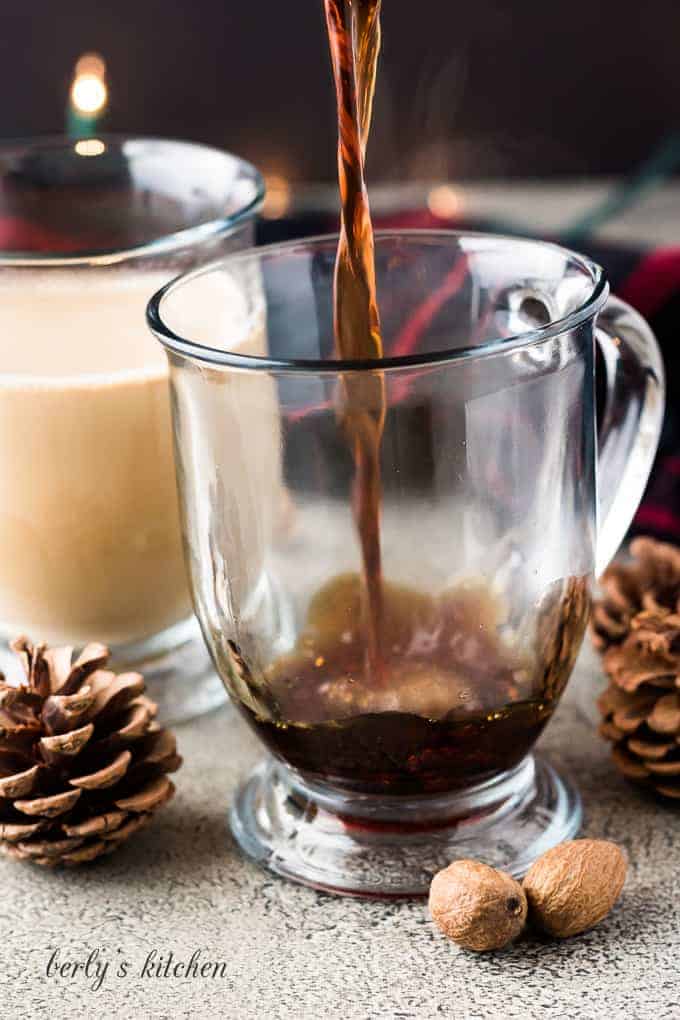 Next, pour half the coffee into a mug. After that, pour in half the eggnog.
Another recommendation we make is to warm the eggnog slightly in your microwave. If not, it might make the coffee cold.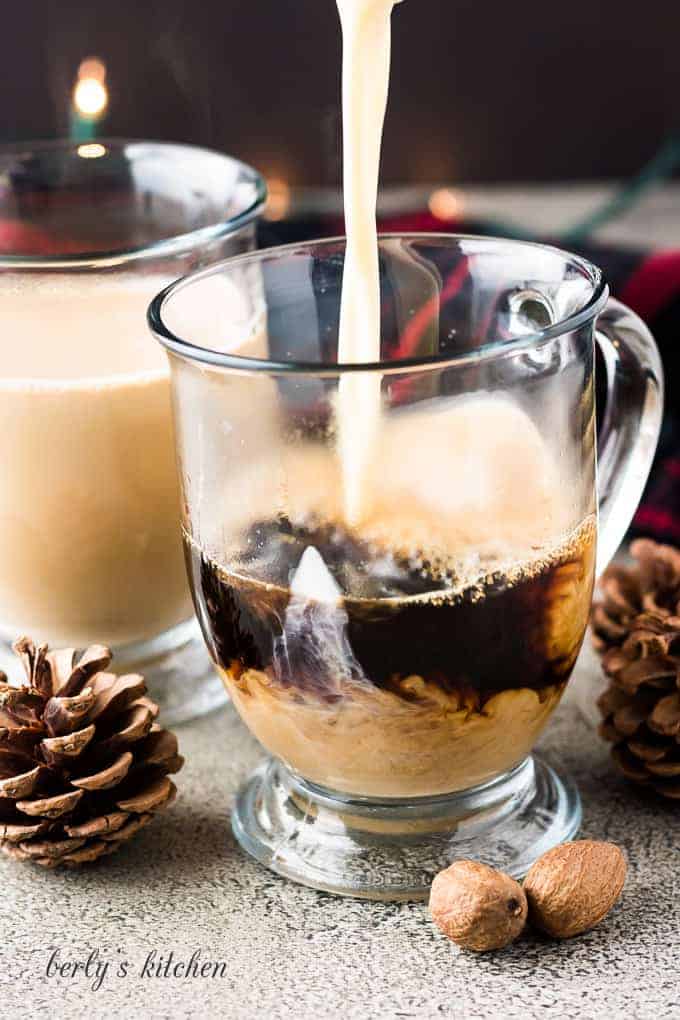 Then, pour in the milk. It wouldn't hurt to warm it a little if you wish. But we didn't and the drink turned out delicious!
Now, go ahead and stir the eggnog latte with a spoon.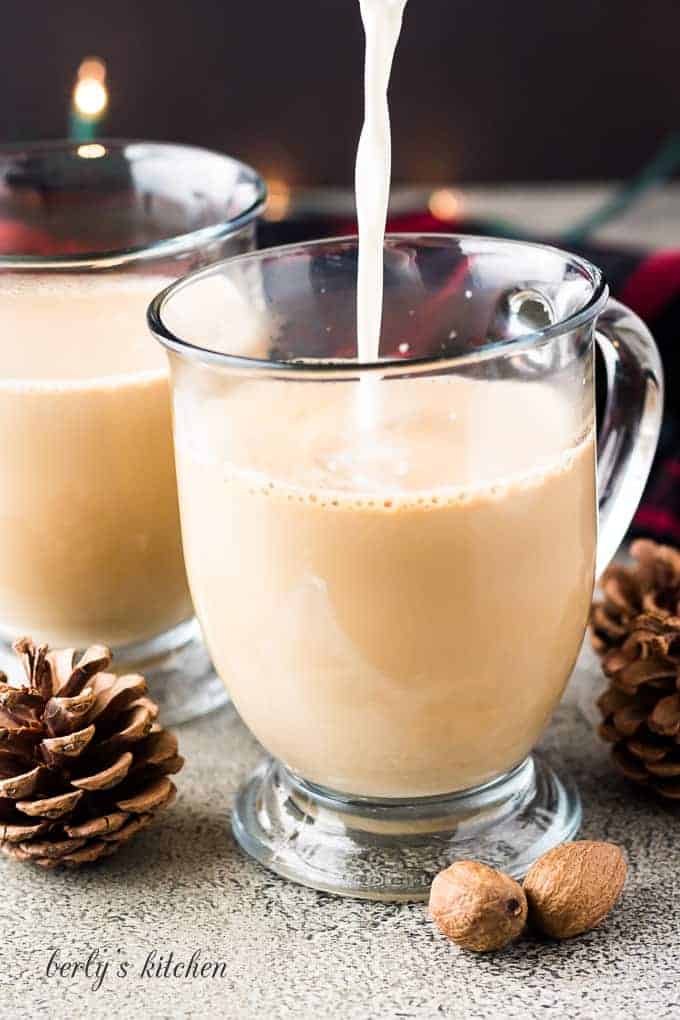 Taste test the drink and see if needs any sweeteners.
Kim wanted sweetener is hers, but I liked it just the way it was. For the record, it's her recipe 🙂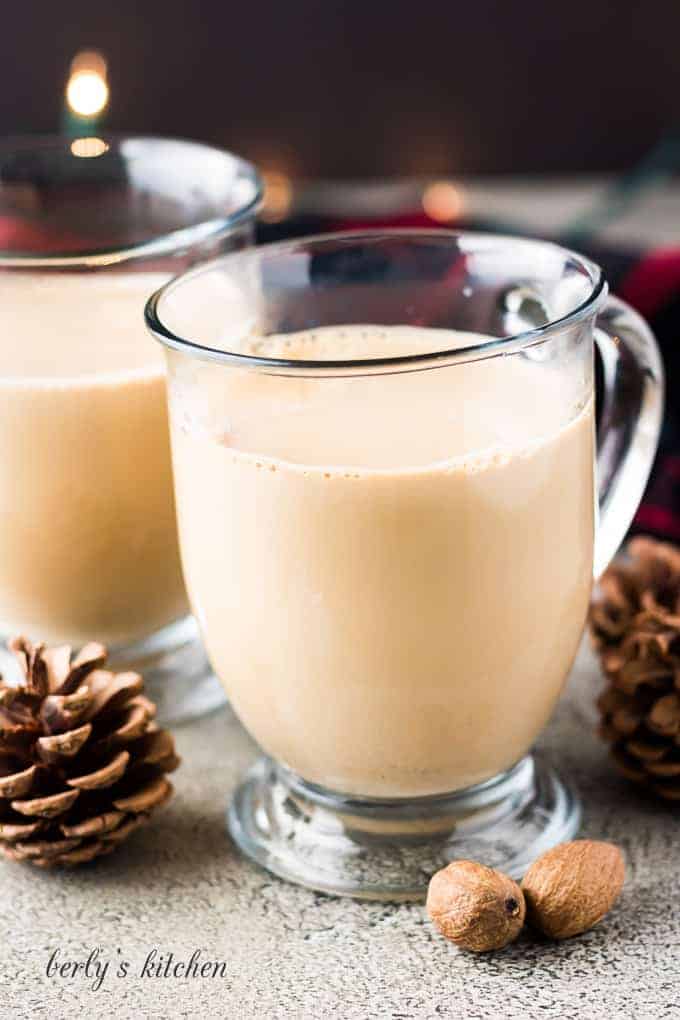 Last, serve the eggnog coffee as is or add your favorite toppings. We've added a few suggestions below.
Make your eggnog lattes look like ours:
Whipped cream
Ground Nutmeg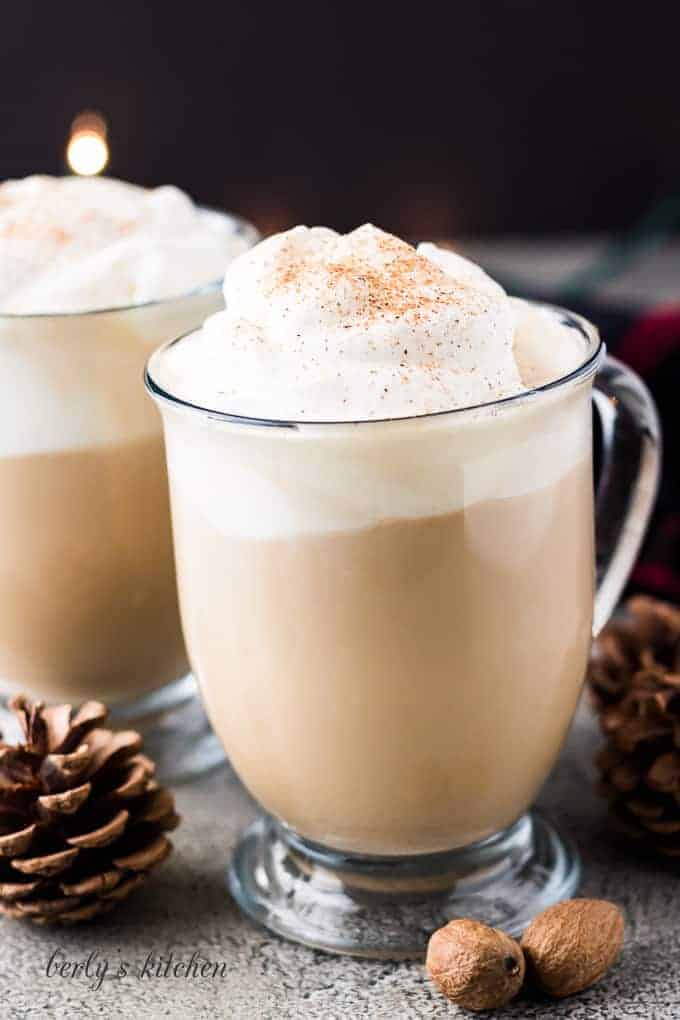 That's it, your eggnog latte recipe is done! Kim and I hope you enjoy the drink and wish you all the best 🙂
If you like our recipe, please leave us a comment and rate the recipe card. You can also find us on Facebook, Pinterest, Twitter and Instagram searching for Berly's Kitchen!
Join our Facebook group for more recipes from Berly's Kitchen, our new site More Than Meat and Potatoes, and some of our blogger friends!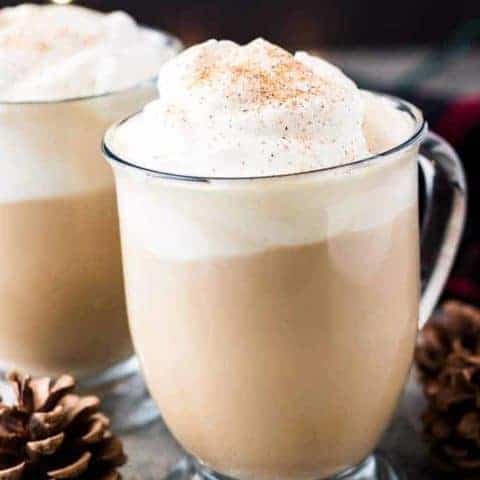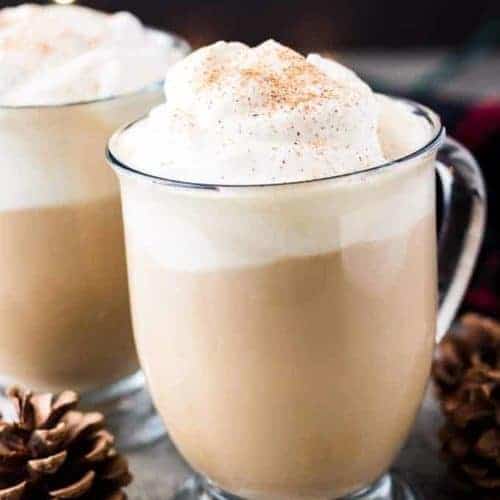 Easy Eggnog Latte Recipe
It only takes three ingredients to create the best homemade eggnog latte. Why stand in line at your local coffee shop when you can make this treat at home?
Ingredients
1 1/2 Cups Coffee, (preferably strong)
1 Cup Eggnog, (warmed)
1/3 Cup Milk, (or half and half, coconut milk, or your choice)
Instructions
Pour half the coffee, warmed eggnog, and milk to a large coffee mug and the remaining ingredients into a second large coffee mug. Stir to combine.
You can add sweetener if needed and top it with any garnishments of your choice.
Notes
The calories listed are an approximation based on the ingredients and a serving size of one (1) twelve (12) ounce eggnog latte. Additionally, the calorie count does NOT include the whipped topping or ground nutmeg seen in the photos. Actual calories will vary.
Extra Toppings:
Whipped Topping or Cream
Ground Nutmeg or Cinnamon
Recommended Products
As an Amazon Associate and member of other affiliate programs, I earn from qualifying purchases.
Nutrition Information:
Yield:

2
Serving Size:

12 Ounces
Amount Per Serving:
Calories:

138
Total Fat:

7g
Saturated Fat:

4g
Unsaturated Fat:

0g
Cholesterol:

79mg
Sodium:

90mg
Carbohydrates:

12g
Sugar:

12g
Protein:

7g
Looking for more warm, winter drinks?