A simple and sweet easy peach cobbler recipe using frozen peaches, Fall spices, and a self-rising crust. Making a peach cobbler has never been easier!
I know it's not Fall yet, but we just couldn't help ourselves. Kim and I were craving a cobbler and wanted something a little different.
She decided to adapt one of my Mom's old recipes. Originally, it used canned fruit as a filling, like cherries or blueberries.
Unfortunately, I don't buy canned fruit. I prefer to work with fresh or frozen. Since we had a bag of frozen peaches, that's went into our dish.
Now, most cobblers use a pie crust or biscuits as a topping. What set my Mom's version apart was that it used a self-rising crust.
For me, that's the best part! Seriously, who doesn't love sweet breading cooked in butter? Now, enough talk, let's get cooking!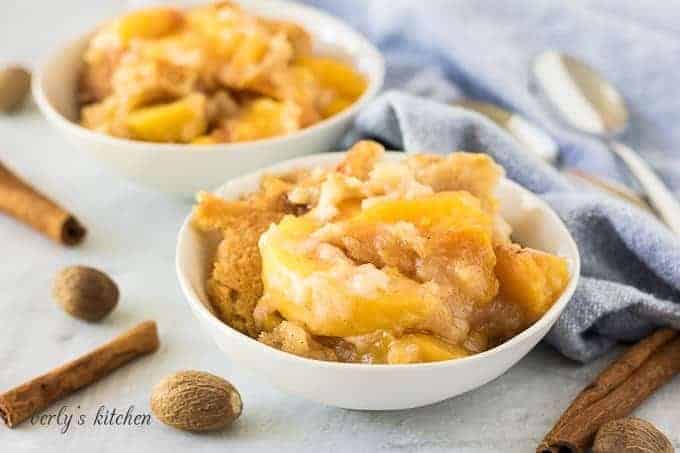 Peach Cobbler Recipe Instructions:
First, preheat your oven to 350° F. and grab a nine by thirteen (9 x 13) inch baking dish. Set it aside for now because we need to get the filling started.
Next, in a large mixing bowl, combine the peaches, cornstarch, lemon juice, salt, spices, and sugar. Toss everything together and let the peaches sit while you work on everything else.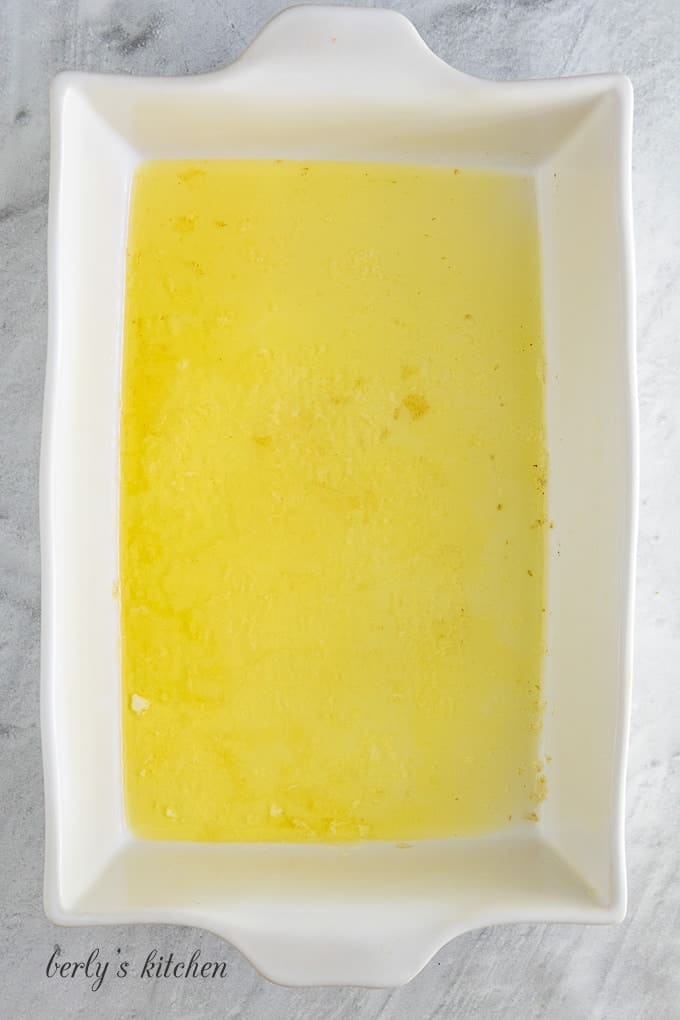 After that, lay the butter into your baking dish.
Place it into the oven for about two (2) to four (4) minutes. Basically, long enough for the butter to melt but not separate.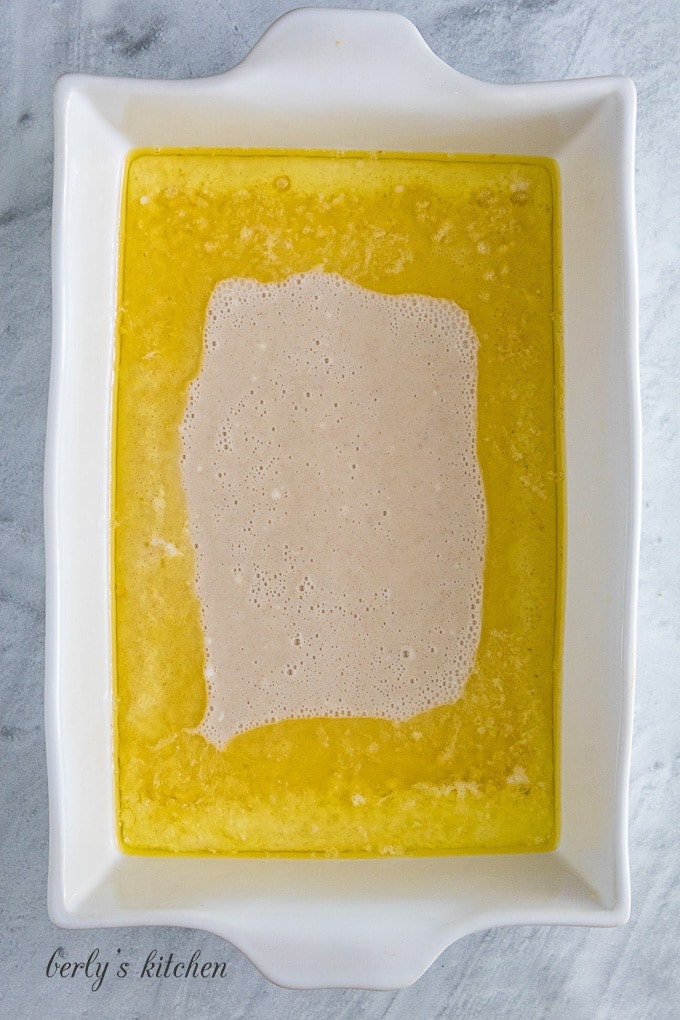 Then, in another medium to large sized mixing bowl, combine the rest of the crust ingredients. Whisk together the baking powder, cinnamon, flour, milk, salt, and sugar.
Afterward, pour the batter directly into the melted butter.
You'll want to be very careful when working with the hot butter as it can pop and sizzle. Try not to burn yourself.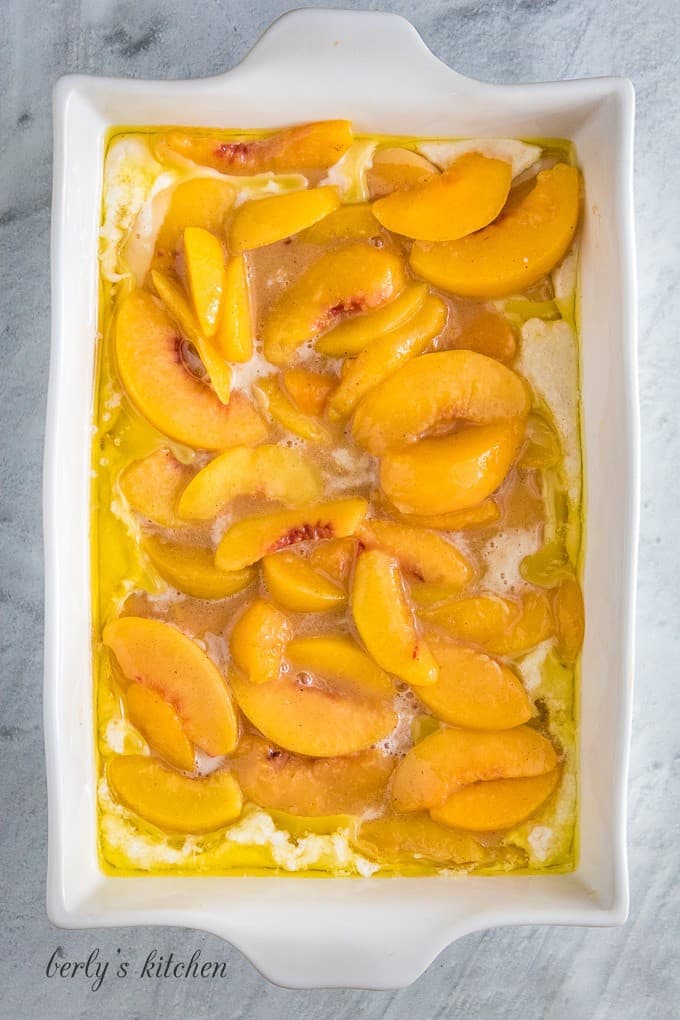 At this point, you can start to add the peaches. Layer them in, right on top of the batter.
Don't forget to pour the peach juice into the cobbler as well.
It sounds crazy, I know. But, trust me, the batter will rise over the fruit and it will be awesome!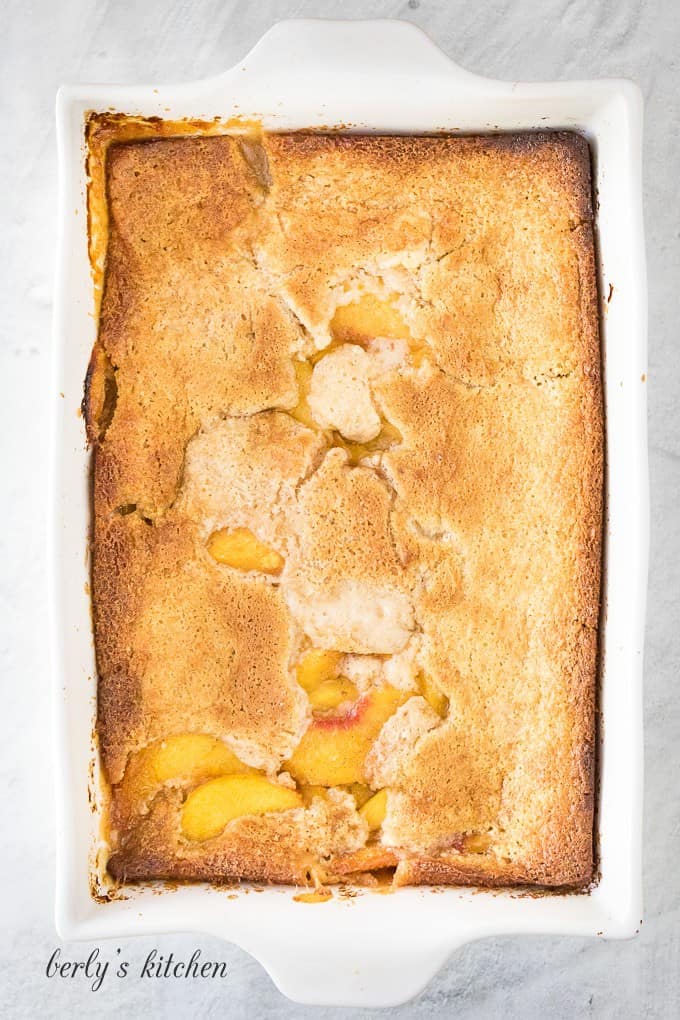 Last, pop the dessert into your oven to bake for about forty-five (45) minutes or until the topping is golden brown.
Once removed from the oven, let it cool for thirty (30) minutes before scooping.
That's it, your easy peach cobbler recipe is done! Kim and I hope you enjoy the dish and wish you all the best 🙂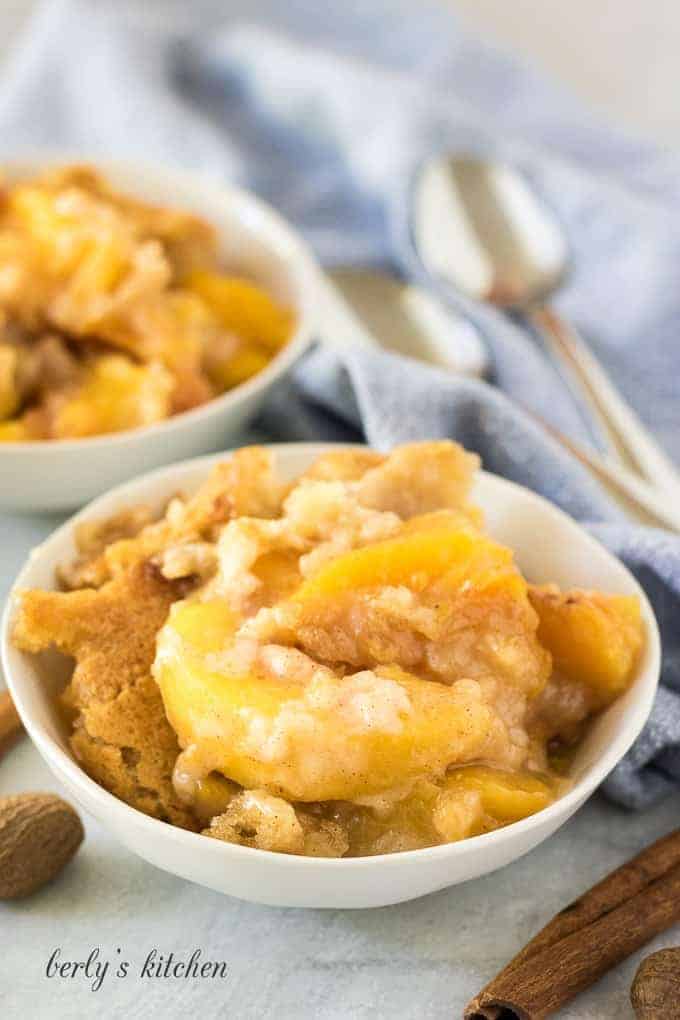 Easy Peach Cobbler Recipe tips:
When adding the peaches, be sure to leave ample space between the slices of fruit. Otherwise, the crust may not rise properly. Take a look at the fourth (4th) photo on the page and use it as a reference.
We used frozen peaches for this recipe. Make sure they're thawed out before you use them, but don't discard the liquid. You'll need it for the filling.
My last tip is to use whatever fruit you want. As I stated earlier, my Mom used to make these kinds of cobblers growing up.
She used canned pie filling, cherry and other varieties. So, don't let your creativity get stifled by a recipe. Use whatever fruit you desire.
Other Recipes Perfect for Summer:
Yield: 12 Servings
Easy Peach Cobbler Recipe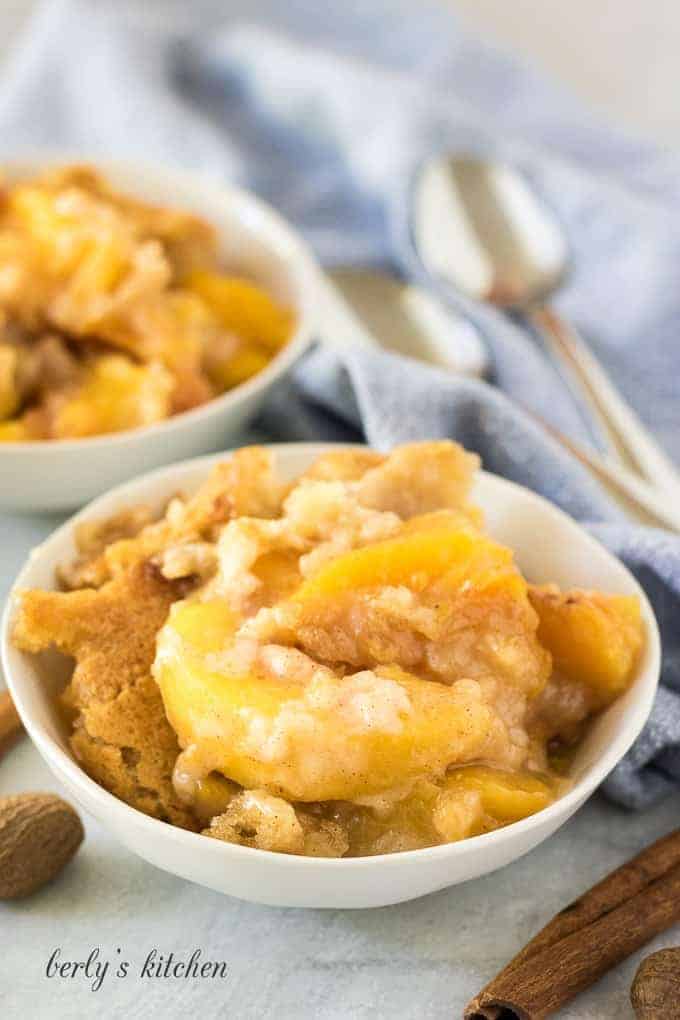 A simple and sweet easy peach cobbler recipe using frozen peaches, Fall spices, and a self-rising crust. Making a peach cobbler has never been easier!
Total Time
1 hour
25 minutes
Ingredients
Batter for Crust
1/2 Cup Unsalted Butter
1 Cup Granulated Sugar
1 Cup All-Purpose Flour
1 Tablespoon Baking Powder
1/2 Teaspoon Ground Cinnamon, (optional)
1/4 Teaspoon Salt
1 Cup Milk, (we used whole)
Peach Filling
6 Cups Peaches, (fresh or frozen, juices or liquid reserved)
1/2 Cup Granulated Sugar
2 Tablespoon Cornstarch
1 Teaspoon Lemon Juice
1/2 Teaspoon Ground Cinnamon, (optional)
1/4 Teaspoon Ground Nutmeg, (optional)
1/4 Teaspoon Salt
Instructions
Preheat the oven to 375.
In a large bowl, combine the peaches, sugar, cornstarch, lemon juice, cinnamon, nutmeg, and salt. Set aside.
Meanwhile, place the butter into a 9 x 13 - inch baking dish. Place the baking dish in the preheated oven just long enough to melt the butter. While the butter melts, make the batter.
In a medium bowl, whisk together the sugar, flour, baking powder, cinnamon, and salt. Then add the milk, and continue to whisk until just combined.
Carefully remove the baking dish from the oven (the butter may pop or splatter). Pour the batter over the melted butter, but don't stir.
Use a large spoon to layer the peaches and their juices over the batter. Don't crowd too many peaches in the center or the batter won't bake properly. Make sure the peaches are evenly distributed across the dish.
Return the baking dish to the oven, and bake for 40-45 minutes or until the crust is golden brown.
Remove from the oven and allow to cool for at least 30 minutes before serving. Serve warm with ice cream or whipped cream.
Notes
The calories listed are an approximation based on the ingredients and a serving size of about one (1) cup of peach cobbler. Actual calories will vary. The dessert can stored, in a sealed container, in your fridge for up to three (3) days.
Recommended Products
As an Amazon Associate and member of other affiliate programs, I earn from qualifying purchases.
Nutrition Information:
Yield:
12
Serving Size:
1 Cup
Amount Per Serving:
Calories:

252
Total Fat:

9g
Saturated Fat:

5g
Unsaturated Fat:

0g
Cholesterol:

22mg
Sodium:

175mg
Carbohydrates:

43g
Fiber:

2g
Sugar:

32g
Protein:

3g