*This post may contain affiliate links. As Amazon Associates we earn from qualifying purchases.
Our fresh strawberry pie recipe features slightly sweetened, plump strawberries topped with whipped cream. Strawberry season can't get here fast enough!
While it might not be strawberry season, that doesn't mean you can't enjoy a fresh dessert.
For example, you can make our four (4) ingredient strawberry sauce anytime of the year.
Getting back to the pie, it uses a mixture of cooked berries and fresh ones to create a light and delicious pie sure to please the whole family.
So, shall we get started?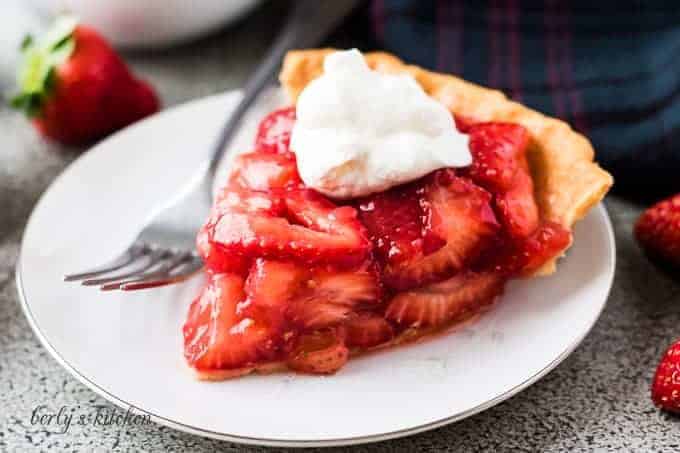 How to make a strawberry pie recipe?
First, start by washing and preparing your strawberries. You can either trim them and leave as-is or slice them. It's up to you.
Also, make sure you've already baked the crust and given it time to cool.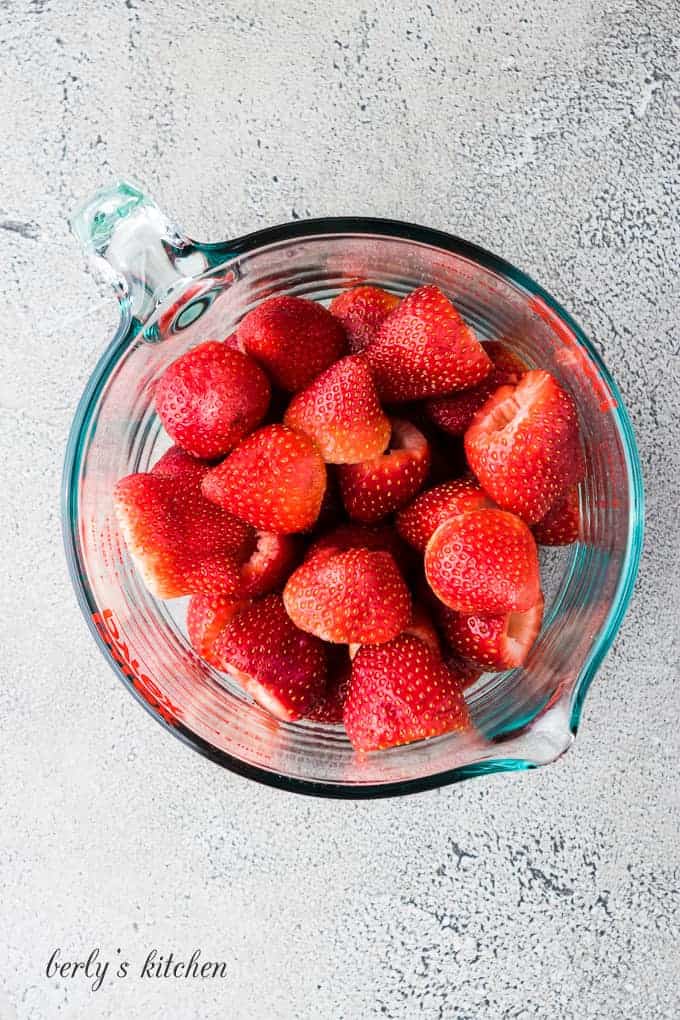 Next, separate one (1) cup of the strawberries and puree them using a food processor or blender.
Dry off the rest of the berries and set them aside in a large mixing bowl.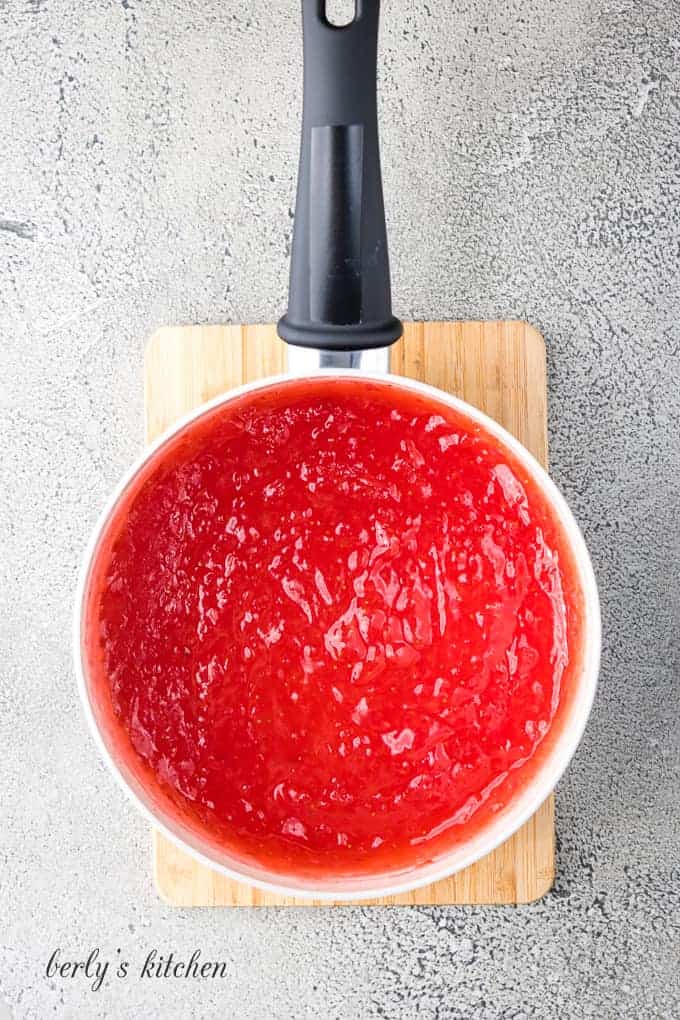 Then, in a large saucepan over low heat, combine the berry puree with the cornstarch, sugar, and water.
While stirring, let the mixture cook until it becomes really thick. It should only take about ten (10) minutes in total.
Afterward, let the mixture cool for about one (1) hour before pouring it over the fresh strawberries. Use a spoon to mix everything together.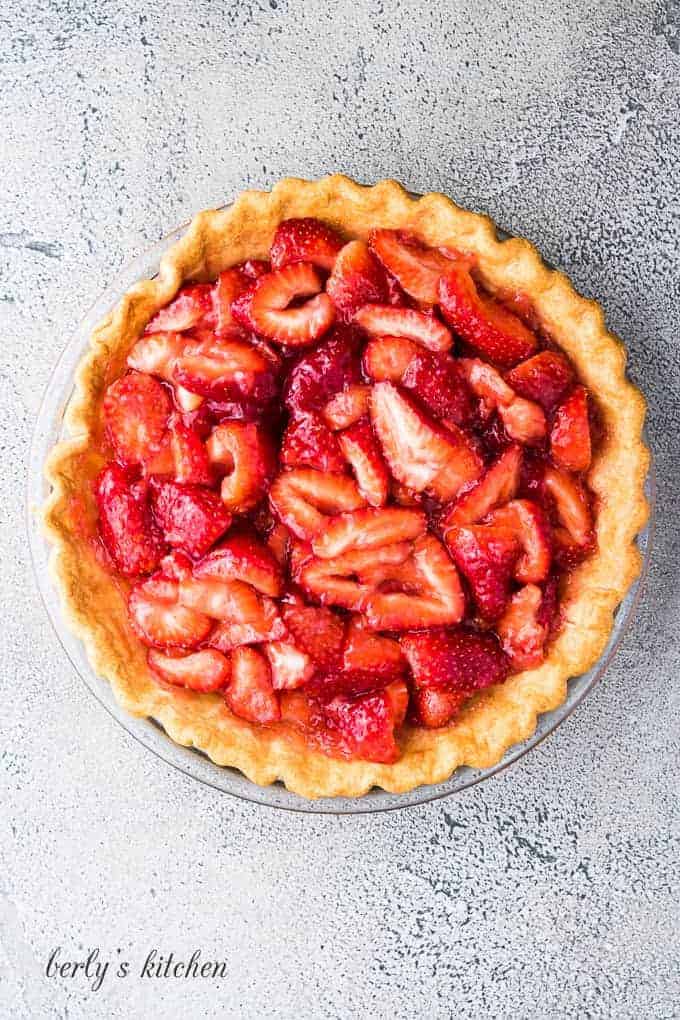 Now, transfer the mixture to the prebaked pie crust and place the pie into the fridge to chill for at least four (4) hours.
Last, remove the pie from your fridge and serve it with whipped topping.
That's it, your fresh strawberry pie recipe is done! Kim and I hope you enjoy the dessert and wish you all the best 🙂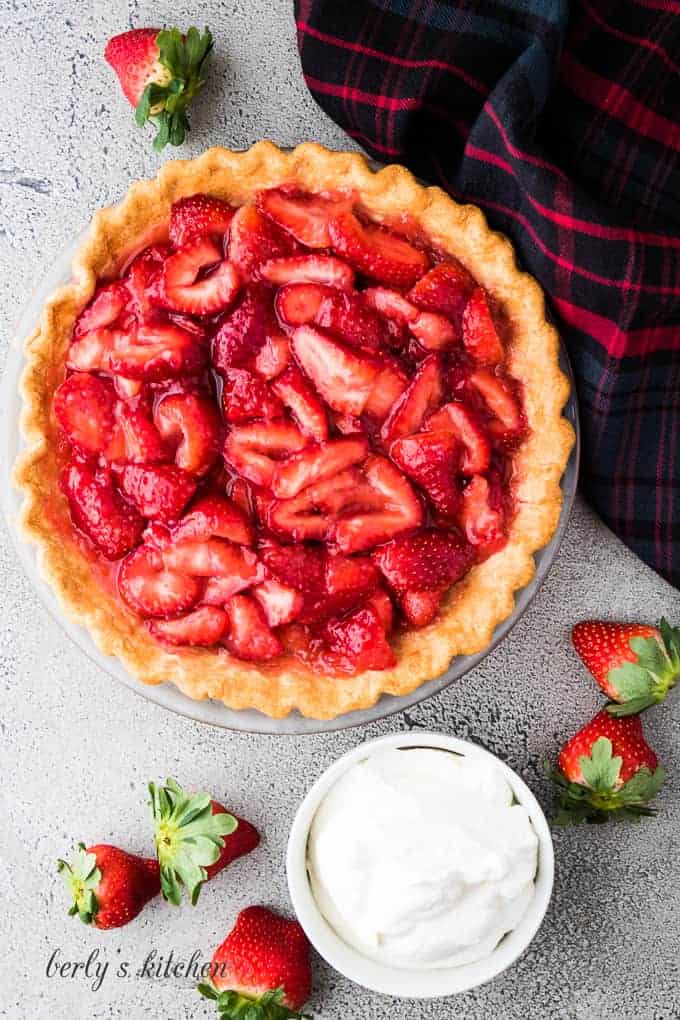 Recipe Tips:
Since the pie doesn't have to be baked, it can be served chilled or stored in the freezer for a cold treat on a hot day!
We used a cup of sugar for our strawberry pie recipe; however, I recommend taste testing a little of the filling before chilling it. You may need to add a little more sugar if the berries aren't sweet.
I don't recommend using frozen strawberries for this recipe. Once thawed, they will release a lot of extra moisture into the crust, turning it into mush.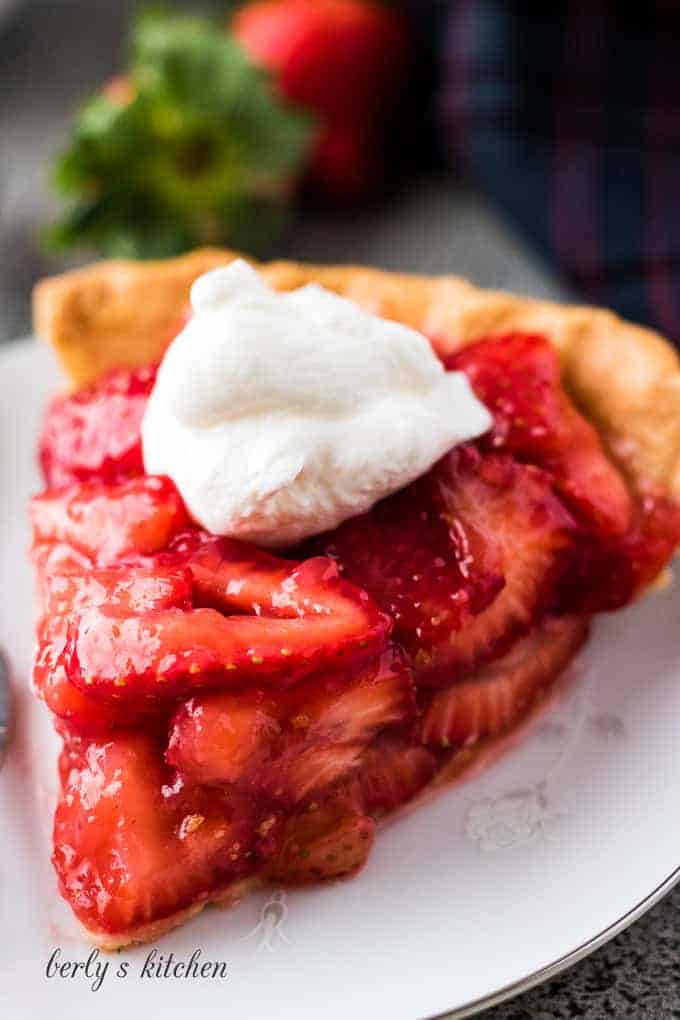 If you like our fresh strawberry pie recipe, please leave us a comment and rate the recipe card. You can also find us on Facebook, Pinterest, Twitter and Instagram searching for Berly's Kitchen!
Join our Facebook group for more recipes from Berly's Kitchen, our new site More Than Meat and Potatoes, and some of our blogger friends!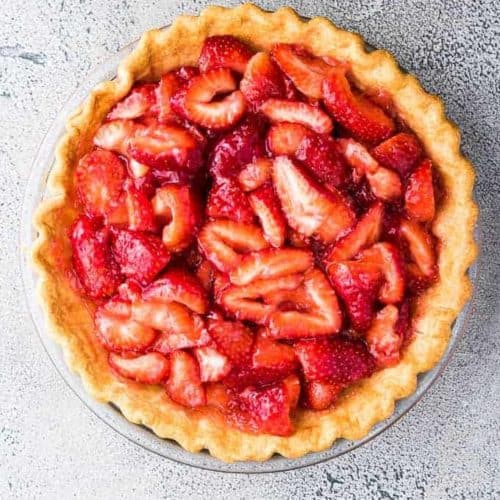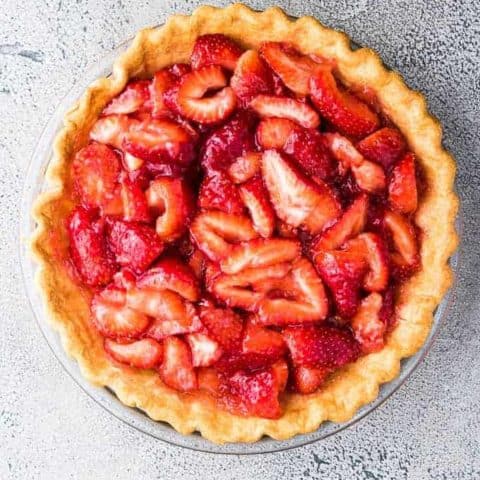 Fresh Strawberry Pie Recipe
Puree Cooling and Pie Chilling Time:
5 hours
Total Time:
5 hours
25 minutes
Our fresh strawberry pie recipe features slightly sweetened, plump strawberries topped with whipped cream. Strawberry season can't get here fast enough!
Ingredients
8 Cups Fresh Strawberries, (about 2.5 lbs, washed, dried, tops trimmed)
1 Cup Sugar
1 Cup Water
3 Tablespoons Cornstarch
1 Cup Whipped Topping
Instructions
Make sure you've baked the crust and given it time to cool.
Puree 1 cup of strawberries in a food processor until smooth. Place the remaining strawberries (either whole or sliced) into a large bowl. Set aside.
Transfer the pureed strawberries to a large saucepan over low heat, and add the sugar, water, and cornstarch. Stir to combine, and bring the mixture to a boil. Continue to stir for about a minute, then remove from heat. Let the mixture cool until it's warm, not hot, about an hour.
After the mixture has cooled, carefully pour it over the strawberries in the bowl. Stir to ensure the strawberries are evenly coated then transfer to the baked pie shell. Return the pie to the refrigerator to set, about 4 hours. Serve with fresh whipped cream.
Notes
The calories listed are an approximation based on the ingredients and a serving size of one (1) slice of the pie, topped with two (2) tablespoons of whipped topping (when the pie has been cut into eight ((8)) equal sized slices). Actual calories will vary. The dessert can be stored in your fridge for up to three (3) days.
Notes: The 8 cups of strawberries after the tops have been cut off and they've been hulled.
Recommended Products
As an Amazon Associate and member of other affiliate programs, I earn from qualifying purchases.
Nutrition Information:
Yield:

8
Serving Size:

1 Slice
Amount Per Serving:
Calories:

290
Total Fat:

8g
Saturated Fat:

3g
Unsaturated Fat:

0g
Cholesterol:

1mg
Sodium:

113mg
Carbohydrates:

53g
Fiber:

4g
Sugar:

34g
Protein:

3g