Learn how to make caramel apples the easy way. It's a very simple recipe every aspiring home cook should learn to prepare. Get your kiddos into the kitchen for this one!
Halloween is fast approaching and teaching the little ones how to make caramel apples is a wonderful way to a spend a cool Fall evening.
Since our recipe doesn't use the oven or stove-top it's perfect for new cooks and kids alike.
Similar to our Nutter Butter mummy cookies, all you need are few simple ingredients to create this festive treat.
So, shall we get started?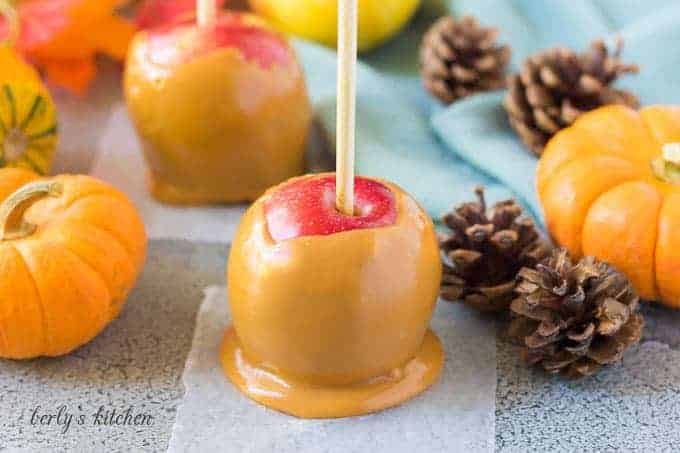 How to make caramel apples?
First, wash the apples and do your best to remove as much of the wax seal as possible. A vegetable scrubber works well, but if you don't have one that's okay too.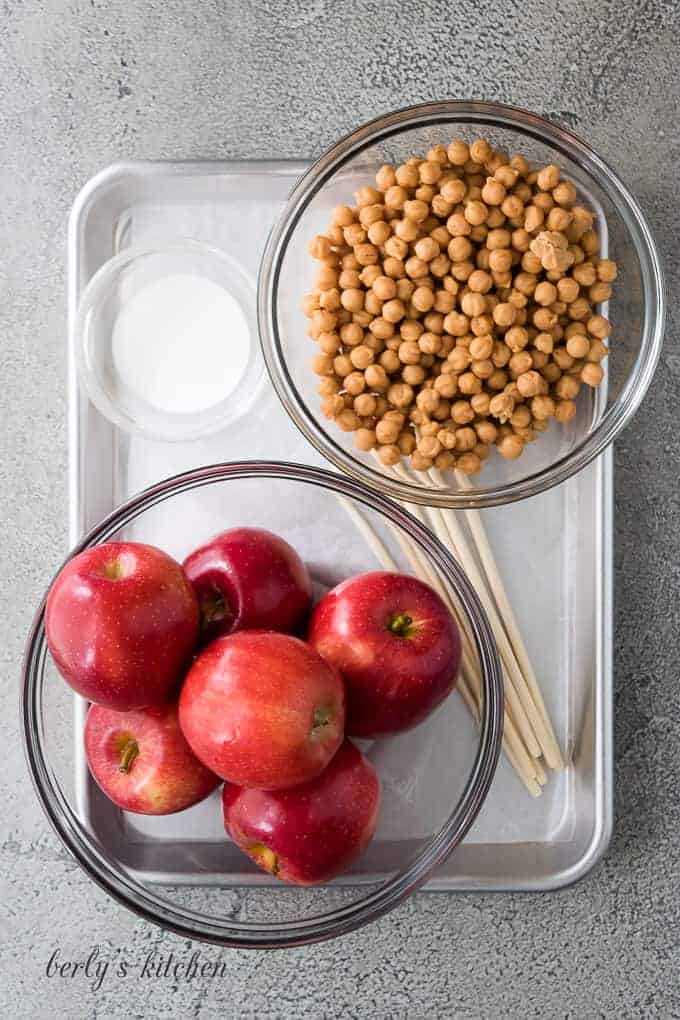 Next, prep your wax paper by spraying it with non-stick cooking spray. We placed ours on sheet pan, but your kitchen counter is fine.
After that, press the skewers into the apples. You'll only want to go about two-thirds (2/3) of the way into the apple. Not all the way through.
Now, grab a microwave safe bowl and add the caramel and cream to the bowl. Stir the mixture, as it heats, every twenty (20) seconds.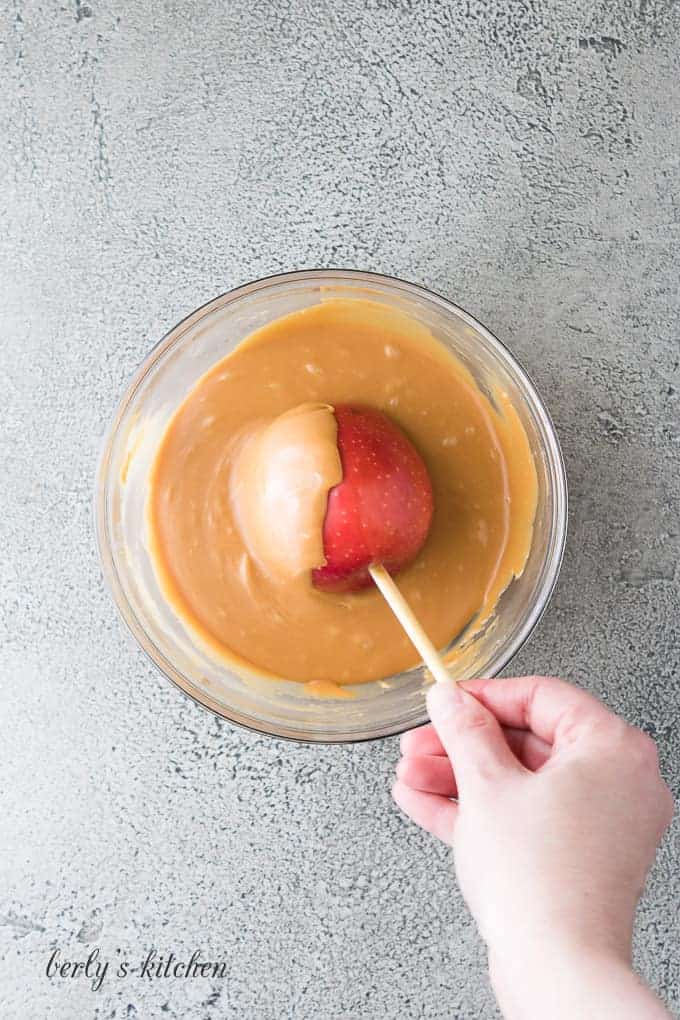 In other words, stop the microwave every twenty (20) seconds, stir the mixture, and restart it. Continue this process until the caramel has melted.
Then, just like the photos above and below, dip each apple into the caramel. Slowly rotate it until it's evenly coated.
If you were adding extra toppings (like chopped peanuts) you would then dip the apple into the toppings. I've added a list of possibilities below.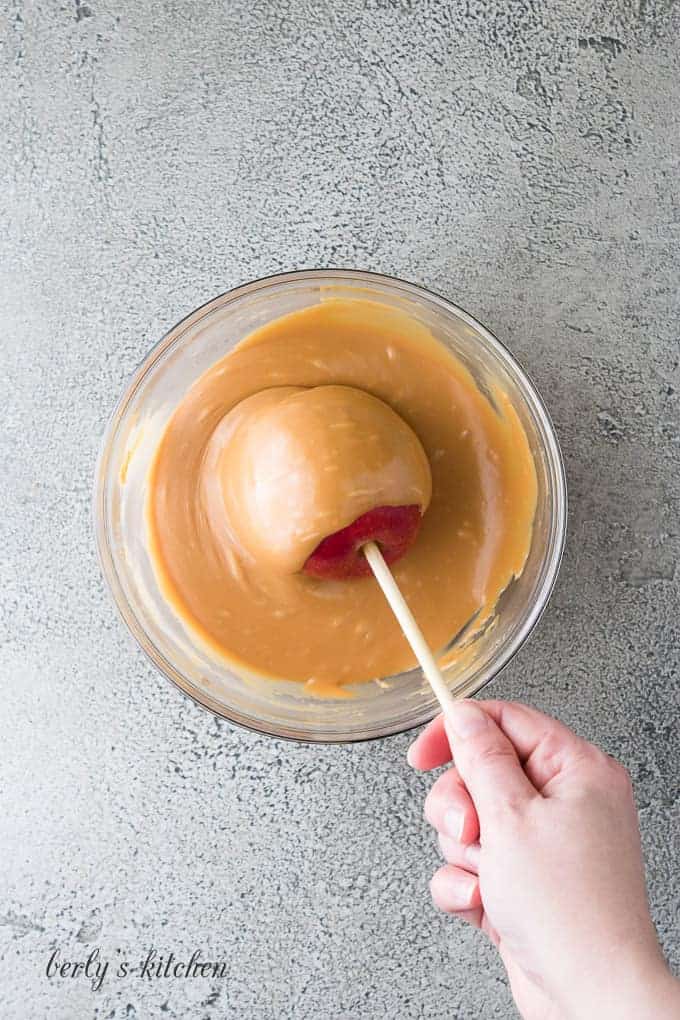 Otherwise, place the caramel apple onto the wax paper to cool. You'll want to place it stick side up.
If you have any questions feel free to contact us. Last, let the treat cool. They can be stored in your fridge for up to three (3) days.
That's it, now you know how to make caramel apples. Kim and I hope you enjoy this Fall dessert and wish you all the best 🙂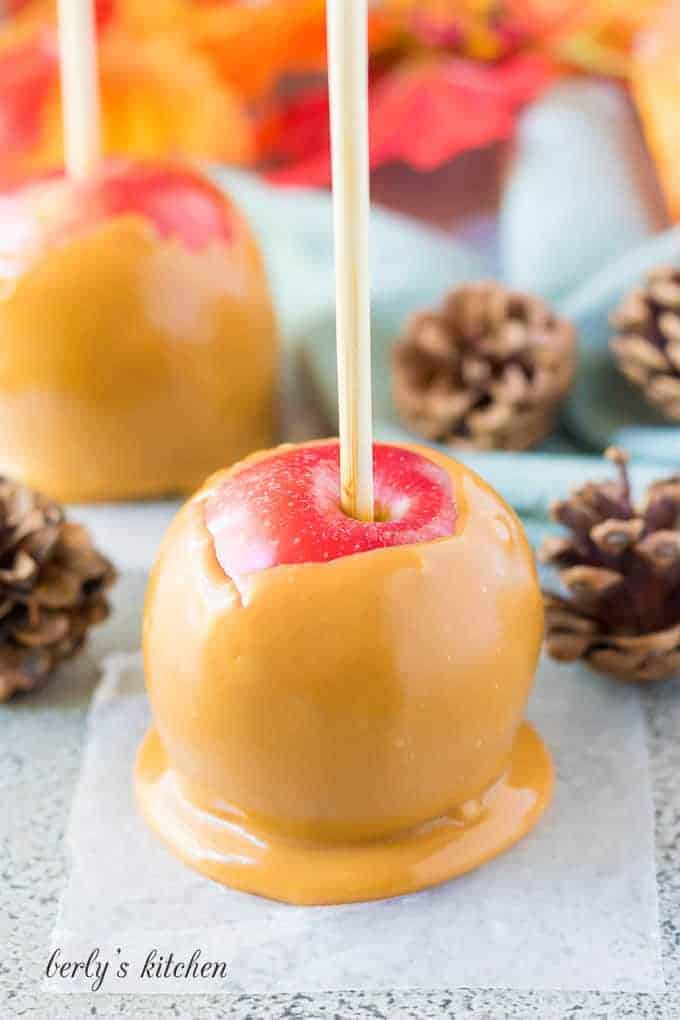 What toppings go on caramel apples?
Chopped Peanuts
White Chocolate Drizzle
Mini Chocolate Chips
Crushed Chocolate Cookies
Mini Chocolate Candies
Anything else you desire!
If you like our caramel apples recipe, please leave us a comment and rate the recipe card. You can also find us on Facebook, Pinterest, Twitter and Instagram searching for Berly's Kitchen!
Join our Facebook group for more recipes from Berly's Kitchen, our new site More Than Meat and Potatoes, and some of our blogger friends!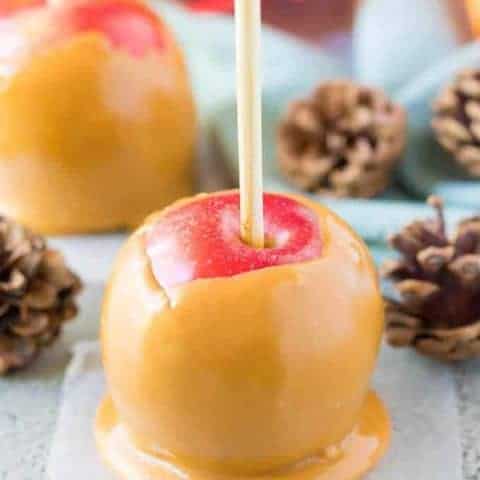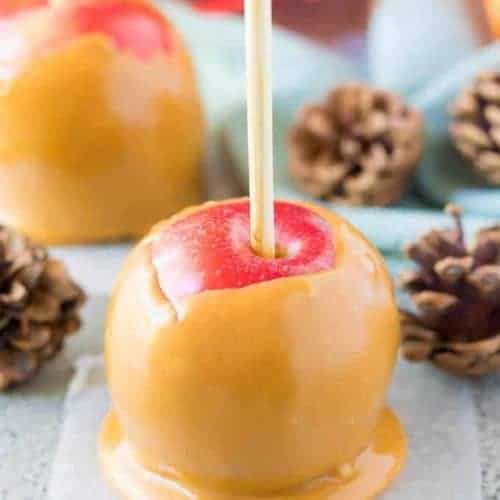 How to Make Caramel Apples
Total Time:
1 hour
18 minutes
Learn how to make caramel apples the easy way. It's a very simple recipe every aspiring home cook should learn to prepare. Get your kiddos into the kitchen!
Ingredients
6 Large Apples, (any variety you desire)
11 Ounces Caramel Bits, (or squares)
1.5 Tablespoons Heavy Cream, (or half and half)
Instructions
Wash the apples, and scrub off all the wax with a vegetable scrubber. Pat dry.
Prepare a baking sheet with waxed paper, parchment paper, or a silicone mat. If using wax or parchment paper, spray it lightly with cooking spray.
Carefully insert the skewers into each apple, pushing it about ⅔ of the way through. Set the apples aside
In a small microwave safe bowl, melt the caramels and heavy cream. Stir every 20 seconds to prevent burning. Continue to microwave and stir in intervals until completely melted and smooth (about 3 minutes total).
Working quickly, dip each apple into the hot caramel and turn it on its side. The entire apple except the very top should be covered as you turn the apple to coat. Use a butter knife or spoon to scrape any excess caramel off the apple. Repeat until all the apples and caramel are used.
Place the dipped apples onto the lined baking sheet, and place in the refrigerator for 1 hour to firm. Serve cold or room temperature.
Notes
The calories listed are an approximation based on the ingredients and a serving size of one (1) finished caramel apple. Actual calories will vary. The caramel apples can be stored in your fridge for up to three (3) days.
Recommended Products
As an Amazon Associate and member of other affiliate programs, I earn from qualifying purchases.
Nutrition Information:
Yield:

6
Serving Size:

1 apple
Amount Per Serving:
Calories:

327
Total Fat:

6g
Saturated Fat:

2g
Unsaturated Fat:

0g
Cholesterol:

9mg
Sodium:

131mg
Carbohydrates:

71g
Fiber:

5g
Sugar:

57g
Protein:

3g
Looking for other Halloween treats?
These adorable Nutter Butter mummy cookies are so easy to make. All you need are some candy decorations, frosting, and white chocolate!
Need for a festive Halloween themed party mix that isn't going to gross out some of the party goers? Then take a look at our simple, sweet, snack mix.
Our caramel corn popcorn is the prefect recipe to satisfy your craving for a salty, sweet snack. Be sure to give it a try and see how tasty popcorn can be!