Instant Pot applesauce is quick, simple, and made with fresh apples and ground cinnamon. In less than 20 minutes you can enjoy homemade applesauce!
Every year a town in Northwest Arkansas holds an even called the Apple Festival. It's a wonderful arts, crafts, and food festival that celebrates all things apple.
In honor of that fun little event, Kim decided to make an Instant Pot applesauce recipe and a slow cooker applesauce recipe.
Super simple and totally tasty, is how I would describe it.
How to make Instant Pot applesauce:
First, you'll want to weigh out two pounds of fresh apples, wash them, core them, and cut the apples into chunks.
Okay, you can either skin them now or skin them after they cook. As you can see in the photos, Kim decided to skin her apples after they cooked in the pressure cooker.
The instructions are written than way too. Next, dump the apples into the liner of the cooker.
Toss them with lemon juice and pour in the water. Then, close the lid, seal the machine and press the manual or high pressure cook button. Set it to cook for four minutes.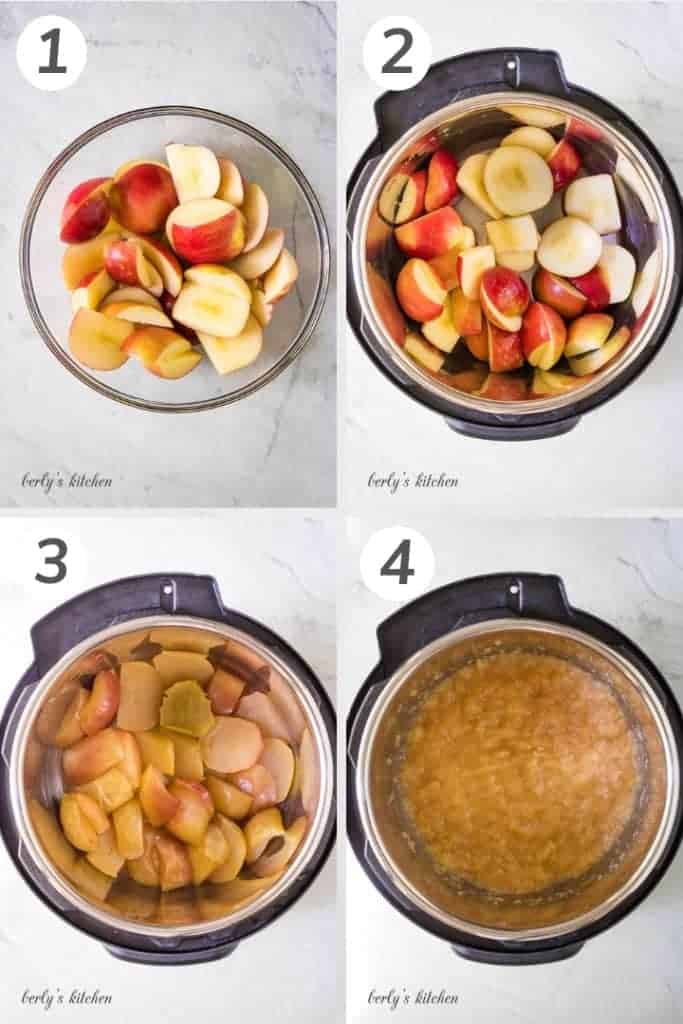 Afterward, allow the machine to complete a five minute natural release before completing a controlled release. A controlled release happens when you open and close the valve multiple times until all the steam is gone.
This keeps sugary or starchy foods from spraying food and hot liquid all over the kitchen. At this point, you can add the cinnamon, sugar, and skin the apples.
The skins should come off easily using a fork or tongs. Last, use a potato masher to crush the soft apples into an applesauce.
That's it your Instant Pot applesauce is done! Kim and I hope you enjoy the recipe and wish you all the best 🙂