Use our Apple Pie Spice to make all of your favorite fall season treats taste amazing. This delicious blend of ground cinnamon, nutmeg, allspice, and ginger adds warmth to everything from pies to muffins. Bring a cozy flavor that's sure to please everyone with this simple combination!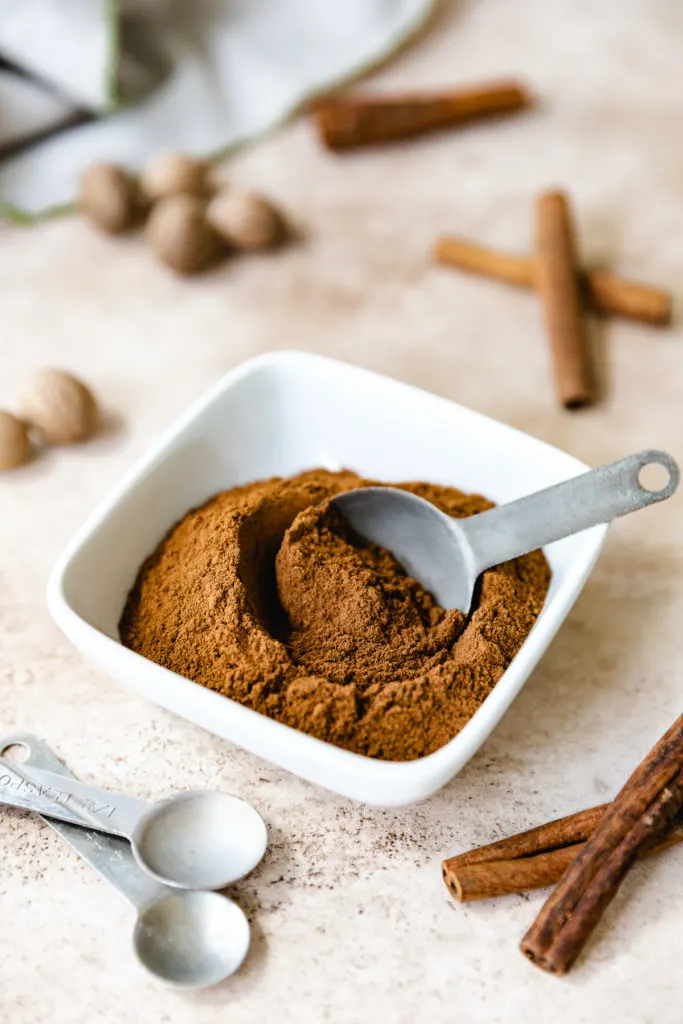 Best Apple Pie Spice Recipe
A few months from now, it will be time for fall baking. Why not get a head start by preparing some spice blends?
This recipe includes ginger in addition to the standard apple pie spices of cinnamon, nutmeg, and allspice, to make it taste so much better!
We love to keep this apple pie seasoning as a pantry staple during the baking season along with a jar of Homemade Pumpkin Pie Spice. It's our go-to spice blend for Apple Crisp and Granny Smith Apple Pie and all of our apple recipes!
What's in Apple Pie Spice?
Our homemade spice blend has 4 simple ingredients! Bonus: you may already have them available in your pantry. Feel free to adjust any of these to fit your tastes.
Ground Cinnamon: The base for this blend with a slightly sweet, woody, and spicy flavor.
Ground Nutmeg: Only a couple of teaspoons of this nutty, woody, clove-like spice is all you need.
Allspice: Just a touch of this berry with notes of cinnamon, cloves, nutmeg, star anise, and fennel will do.
Ground Ginger: While completely optional, ground ginger adds brightness to this spice blend. Too much ginger and the seasoning mix becomes spicy.
How to Make Apple Pie Spice:
This apple pie seasoning recipe is incredibly easy to make and stores well, too. It makes about ⅓ cup and consider the servings to be 1 teaspoon each.
Scroll to the recipe card below for ingredient amounts and full instructions.
Place the ground cinnamon, nutmeg, allspice, and ginger (if using) into a small bowl or jar. Give the spices a good stir.
Store the apple pie spice mix away for later or use it to add warming flavors to your favorite fall desserts.
Tips and Variations:
For the most flavorful apple pie seasoning, start with fresh spices. Using spices that are several months old or stale results in a less flavorful spice blend.
Adjust the spices as desired. Our apple pie spice is versatile.
Try adding cloves, cardamom, star anise, or Chinese 5 spice for more flavor depth. Finally, consider adding dried orange or lemon peel for a hint of citrusy brightness!
Ways to Use Apple Pie Spice:
Here are a few ways to use any leftover apple pie seasoning.
Add a pinch to an unbaked pie crust for extra flavor.
Use in place of cinnamon in a Dutch Apple Pie.
Try it in a batch of Cinnamon Apples or Crock Pot Cinnamon Apples.
Out of pumpkin pie spice? This blend makes a great substitute!
Sprinkle it over a bowl of warm oatmeal.
Add half a teaspoon to ground coffee just before brewing for a large pot of apple spice-flavored coffee. It's perfect for fall!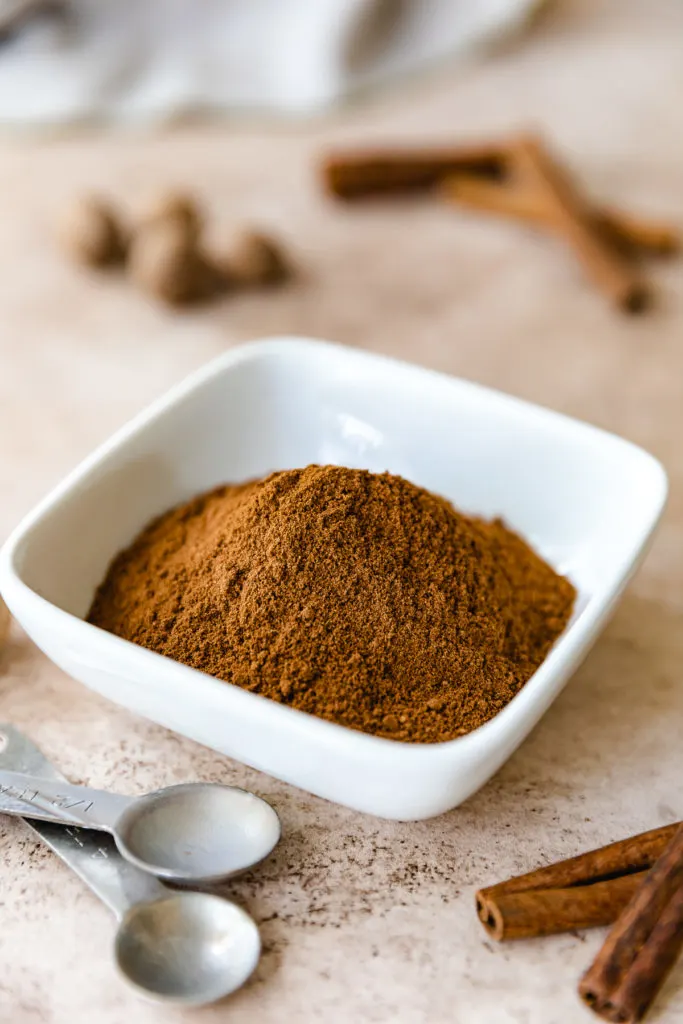 Storage
Storage: Homemade apple pie spice stores well in a sealed container for about 6 months at room temperature. Make sure to place it in a cool, dark cabinet.
If you make the seasoning blend with spices that are already opened, the shelf-life may be shorter. Spices stay fresh for about 6 months once they've been opened.
What is apple pie spice made of?
Store-bought apple pie spice is generally a blend of warm, aromatic spices like cinnamon, nutmeg, and allspice. It's often used to enhance the flavor of apple pies and other desserts.
For a homemade spice blend, the exact ingredients may vary depending on the recipe but usually include elements such as cinnamon, nutmeg, allspice, ginger, cloves, or cardamom.
Are apple pie spice and allspice the same thing?
No, apple pie spice and allspice are not the same things.
Apple pie spice is a mixture of spices such as cinnamon, nutmeg, cloves, and sometimes even ginger that are used to season an apple pie.
Allspice, on the other hand, is a single dried berry that has flavor notes of cinnamon, nutmeg, and cloves making it taste like a combination of these spices.
Therefore, although they may have similar flavors they are still distinctly different ingredients.
Can you use apple pie seasoning in place of cinnamon?
Yes, it is possible to use apple pie seasoning in place of cinnamon.
Apple pie spice typically contains a blend of spices, including cinnamon, nutmeg, ginger, and allspice.
So while it may not give the same flavor as using pure cinnamon, the result will be similar.
Switch out cinnamon with an equivalent amount of apple pie seasoning for your recipe.
Looking for a Savory Seasoning Blend?
You may love one of these:
Other Fall Inspired Recipes to Try: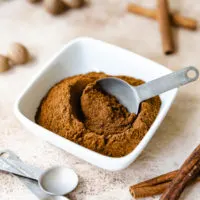 Apple Pie Spice (without Cardamom)
Print
Pin
I earn a commission from Amazon and Instacart from qualifying purchases.
Ingredients
¼

cup

ground cinnamon

2

teaspoons

ground nutmeg

1

teaspoon

allspice

½

teaspoon

ground ginger

,

optional
Instructions
Place all ingredients in a small bowl and stir to combine. Use in pies, cobblers, or other desserts.

¼ cup ground cinnamon

2 teaspoons ground nutmeg

1 teaspoon allspice

½ teaspoon ground ginger

Scroll up and see the post for tips, storage options, and FAQs.
Notes
*The calories listed are an approximation based on the ingredients in the recipe card and a serving size of 1 teaspoon. Actual calories will vary.
*For more information, tips, and answers to frequently asked questions, please refer to the post.
Nutrition
Serving:
1
teaspoon
|
Calories:
11
kcal
|
Carbohydrates:
3
g
|
Protein:
0.2
g
|
Fat:
0.1
g
|
Saturated Fat:
0.1
g
|
Polyunsaturated Fat:
0.01
g
|
Monounsaturated Fat:
0.02
g
|
Sodium:
1
mg
|
Potassium:
19
mg
|
Fiber:
2
g
|
Sugar:
0.2
g
|
Vitamin A:
12
IU
|
Vitamin C:
0.2
mg
|
Calcium:
38
mg
|
Iron:
0.3
mg
Don't Lose This Recipe!
Save it on Pinterest! Follow us at @berlyskitchen!