This homemade taco seasoning is a savory blend of spices featuring all your Tex-Mex favorites like chili powder, garlic and onion powders, and many more!
Have you ever been out to a restaurant and gotten a burger or a nice steak and tried to replicate that same flavor at home but couldn't get it quite right?
Most of us can't and its because we aren't trained chefs. We also don't have access to the same quality food, equipment, and materials many restaurants use.
Now, with this recipe, you can at least recreate a quality taco seasoning mix at home. Let's get started!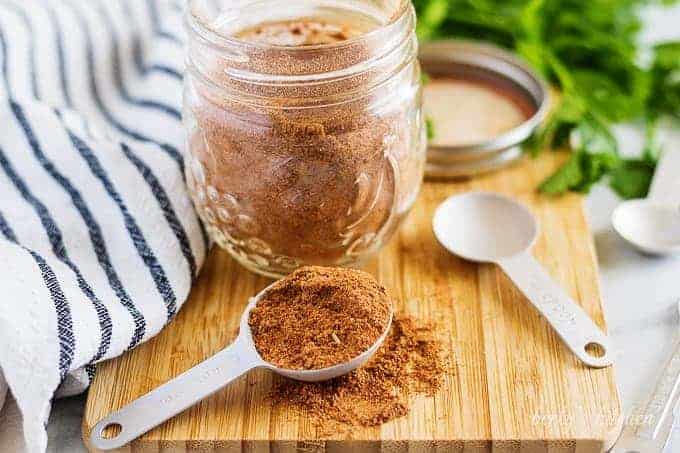 How to Make Homemade Taco Seasoning:
Place the chili powder, garlic powder, onion powder, cumin, paprika, oregano, salt, chipotle, cayenne, and pepper in an airtight container or jar and make sure to tighten the lid. Shake to mix!
If you don't a jar, use a small bowl with a spoon or whisk to mix the ingredients. Store it in an airtight container.
This recipe makes enough to use for several servings. That's all there is to making it at home.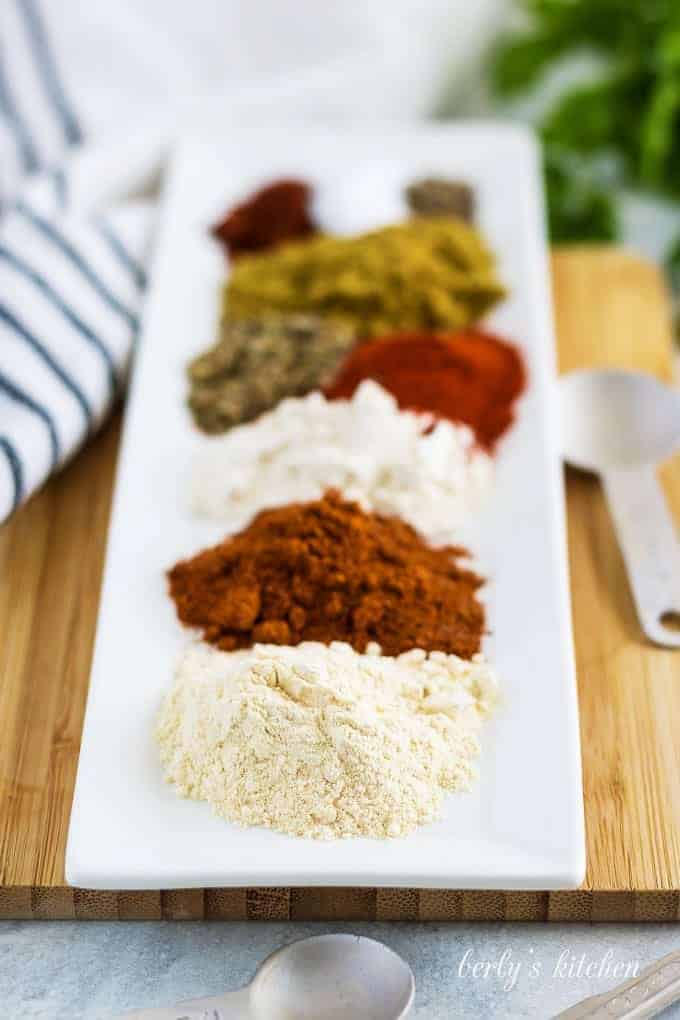 Honestly, we use this blend in most of our Tex-Mex meals. Whether it's enchilada filling, fajitas, or tacos this recipe is our go-to spice blend.
As you can see, our homemade taco seasoning is easy to make. The best part is that it is versatile so that you can adjust it to your family's tastes.
All you need are a few spices, an airtight container and five minutes to make a taco seasoning. I'd love to know what you think or how you've changed it to make it your own!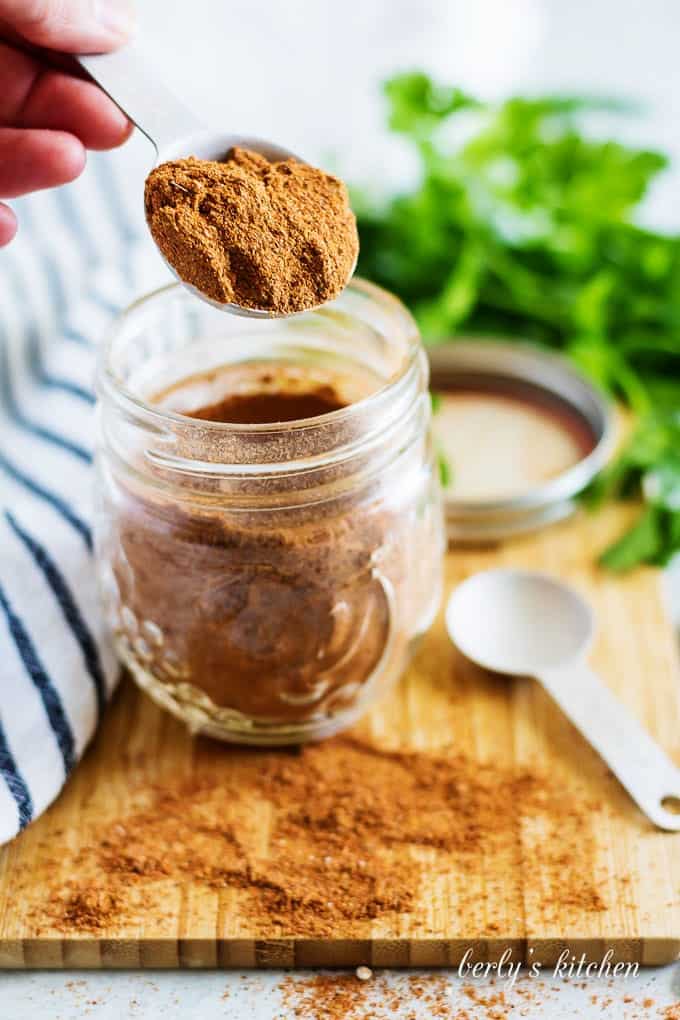 Why is my homemade taco seasoning darker in color?
The brand of chili powder you use for this recipe will determine the overall color of the final mix. For example, some brands will cause the mix to be more red than others.

The same goes for how spicy the taco seasoning will be. Some chili powder brands tend to be hotter than others. Just keep that in mind. I recommend using your favorite brand, that way you're already familiar with the heat.
How can I change up the flavor of taco seasoning?
Try adding an extra half a teaspoon of chipotle powder, Mexican oregano in place of regular oregano, add some red pepper flakes, brown sugar, or smoked paprika in place of sweet paprika.
How long does homemade taco seasoning last?
When stored properly in an airtight container in a cool dry place, taco seasoning will last about 6 months.
What if you don't have all the ingredients? Are there substitutions?
We found a recipe that only uses 7 ingredients (that's 7 including the salt and pepper). This
taco seasoning
recipe is super simple with less ingredients in case you happen to missing an item in your pantry.
Yield: 8 Servings
Easy Homemade Taco Seasoning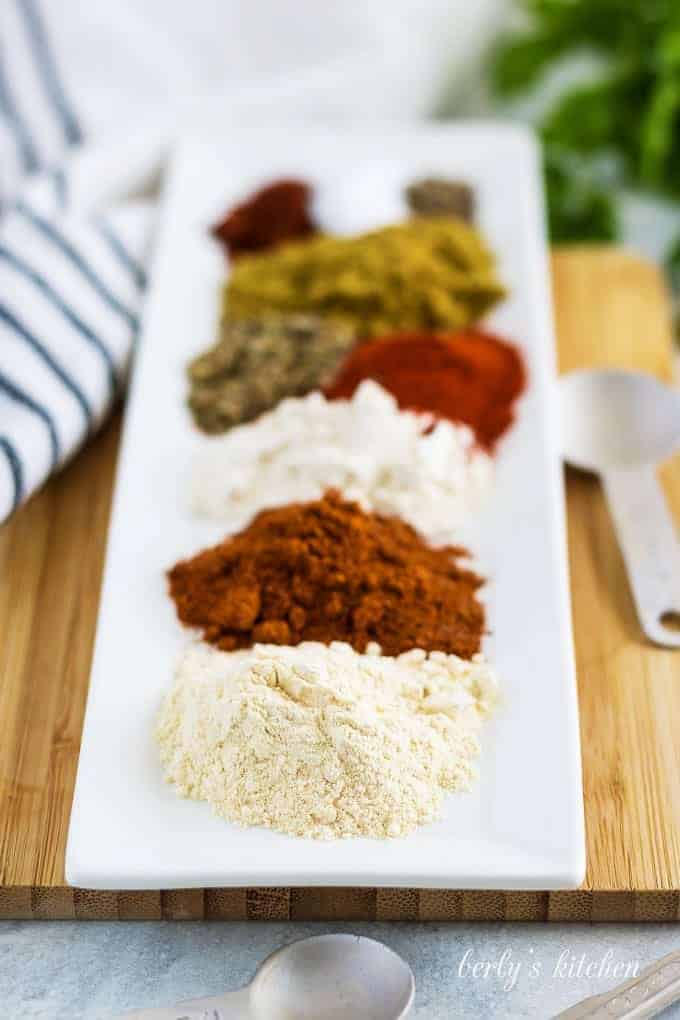 This homemade taco seasoning is a savory blend of spices featuring all your Tex-Mex favorites like chili powder, garlic and onion powders, and many more!
Ingredients
1/2 cup chili powder
1 Tablespoon garlic powder
1 Tablespoon onion powder
1 Tablespoon cumin
2 teaspoons paprika
1 teaspoon oregano
1 teaspoon salt
1/4 teaspoon chipotle
1/8 teaspoon cayenne
pinch of black pepper
Instructions
Place all spices together in an airtight container and tighten the lid. Shake to mix!
Adjust flavors to taste.
Store in an airtight container for up to six months.
Notes
*The calories listed are an approximation based on the ingredients in the recipe card and a serving size of 1 ounce. Actual calories will vary.
*For more information, tips, and answers to frequently asked questions, please refer to the post.
Recommended Products
As an Amazon Associate and member of other affiliate programs, I earn from qualifying purchases.
Nutrition Information:
Yield:
8
Serving Size:
1 Ounce
Amount Per Serving:
Calories:

11
Unsaturated Fat:

0g
Sodium:

296mg
Carbohydrates:

2g